Hints and Short-Cuts for Baking Cookies
It hit me as I was reading through the old scrap books my father sent me last summer. My Dad got the "pack rat" gene from his father, my Grandpa Abe! I was looking for the notes Grandma Bess put together for the classes she taught at the Wausau (WI) Technical Institute. I found the document I was looking for, Hints and Short-Cuts for Baking Cookies, in an old scrapbook  Grandpa Abe put together of Cookies by Bess letters, newspaper articles, pictures, etc.  All of the things my father also kept and sent me…like father like son!!  🙂
When my father sent me all the other the Cookies by Bess paraphernalia, he included two scrapbooks that my Grandpa Abe put together. It's just amazing how much both my Dad and Grandfather saved related to Cookies by Bess! I'm not complaining, I'm sure glad they both saved all this stuff. It just goes to show you how much they loved and respected what Bess what doing! ?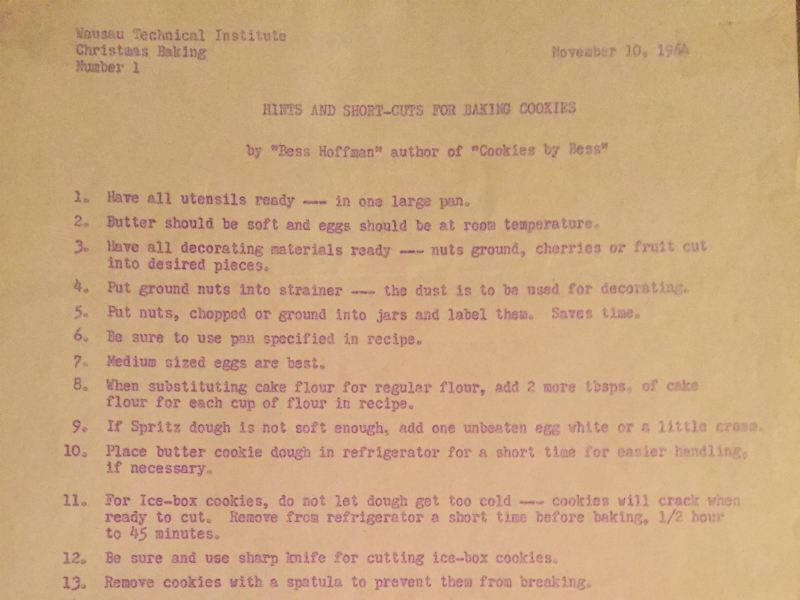 I was looking for the Hint and Short-Cuts for Baking Cookies document because I wanted to share with you all some of the wonderful information Bess shared with young women and new housewives, way back in the early 1960's, when she taught a Christmas Baking class at the Wausau Technical Institute. In one of her interviews, Bess said she always felt it was important for young women to feel comfortable in the kitchen. The more comfortable they were, the easier it would be to manage the home and take care of the family.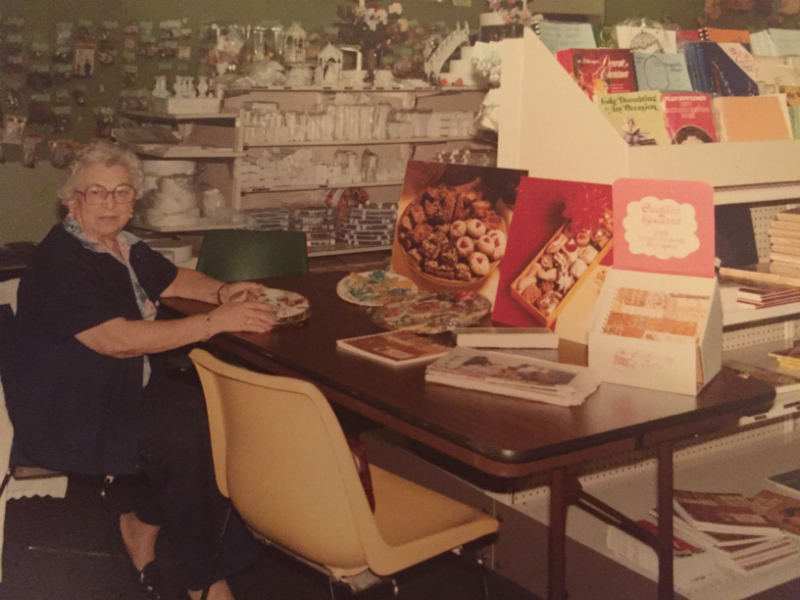 Its just amazing to me how willing Bess was to share her recipes. Every newspaper article I've read through from 1960 to 1984 not only has a fun story about Bess and her baking, but it also had several of Bess's favorite cookie recipes. To Bess, it was all about helping others, sharing her secrets, and making people happy with her cookies. What a wonderful legacy and way to be remembered!
My Grandpa Abe saved several documents from Bess's baking classes between 1960 and 1964, which I believe where hand-outs for class participants. The one I'm sharing here is solely focused on baking cookies. Others are focused on storing, freezing, and packing cookies, general baking hints, and others on cakes and breads. I'll share these in future blog posts!
For now, here are Bess's the Hints and Short-Cuts for Baking Cookies…I'm typing the list word-for-word as Bess had it on her hand-outs. Here we go!
Wasuau Technical Institute
Christmas Baking
November 10, 1964
HINTS AND SHORT-CUTS FOR BAKING COOKIES
By "Bess Hoffman" author of "Cookies by Bess
1. Have all utensils ready. (I've been diligently using this hint each time I bake!)
2. Butter should be soft, and eggs should be at room temperature.
3. Have all decorating materials ready – nuts ground, cherries or fruit cut into desired pieces.
4. Put ground nuts into strainer – the dust is to be used for decorating.
5. Put nuts, chopped or ground, into jars and label them. Saves time.
6. Be sure to use pan specified in recipe.
7. Medium sized eggs are best. (I have also heard Bess say that large eggs are best – I always use large eggs)
8. When substituting cake flour for regular four, add 2 more Tbs of cake flour for each cup of flour in recipe.
9. If Spritz dough is not soft enough, add one unbeaten egg white or a little cream.
10. Place butter cookie dough in refrigerator for a short time for easier handling, if necessary.
11. For Ice-box cookies, do not let dough get too cold – cookies will crack when ready to cut. Remove from refrigerator a short time before baking, ½ hour to 45 minutes.
12. Be sure and use sharp knife for cutting ice-box cookies.
13. Remove cookies with a spatula to prevent them from breaking.
14. When using maraschino cherries for decorating, be sure all the juice is drained.
15. Mark off bar cookies to size wanted while they are still hot.
16. Cut bars when cool – not cold.
17. Be sure to have moist sponge handy – also hand towel.
18. Place cookies to cool on wire cake rack. That will prevent moisture to accumulate.
19. Do not over bake cookies, they get too dry and crisp.
20. Use floured hands for patting dough in bar pans. Go over dough with rolling pin.
21. Cookie dough is much softer when using an electric mixer. Some times a little extra flour may have to be added.
22. When pastry flour is called for, use ½ recipe regular and ½ recipe cake flour.
23. Be sure to add eggs one at a time, beating well after each addition, to avoid curdling.
24. When using a rolling pin, be sure it is cleaned of excess dough at all times.
25. Flour may or may not be sifted. It is best to spoon flour into measuring cup.
26. Use standard measuring utensils.
I will admit that I learned a few things when I first read this list. Some are common sense to me, like No. 13, using a spatula to remove cookies and No. 18, using a wire rack to cool cookies. Others have really helped save time, like No. 1, having utensils ready and No. 3, having all decorating materials ready. And others are just good to know, like No. 21, cookie dough is softer when using an electric mixer and No. 15, marking off bar cookies to size wanted while they are still hot.
I have read all the notes and newspaper articles my Dad sent me, but now realize that I need to read them again and again to ensure that I am really taking advantage of all the great information Grandma Bess shared all those years ago. One big thing I've learned, is that no matter if it's 1960 or 2018, baking cookies is still baking cookies. What worked then still works now…and most importantly, great homemade cookies never go out of style!
Here's to you Grandma Bess! Thank you so much for sharing all your Hints and Short-Cuts for Baking Cookies with me and everyone else!
I'd love to hear your baking hints and short-cuts! Please send them to me by going to our Join The Community page…
XXOO!
Janet