The tradition of baking cookies has been in my family for years and years…you can even say generations! Of course, my Grandma Bess has been baking cookies since she was a child growing up in Pittsburg, PA way back in the early 1900's. I also have many memories of my maternal grandmother, Grandma Harriet, baking cookies! When she would come to visit, we always made Toll House Chocolate Chip cookies.
I grew up making cookies with my mom and then I continued to bake cookies every year, making my own baking traditions for my husband and his family too. Every year I bake at least one batch of my favorite cookie recipes and use them as gifts, share them in cookie exchanges, and bring them to our family gatherings.
The next generation of baking in the Hoffman family continues on with my niece Ella and nephew Jonah. Every year, Mom, Ella, and Jonah get together to make Rich Flavor Christmas Cookies. My dad, now retired, is there to help and take pictures!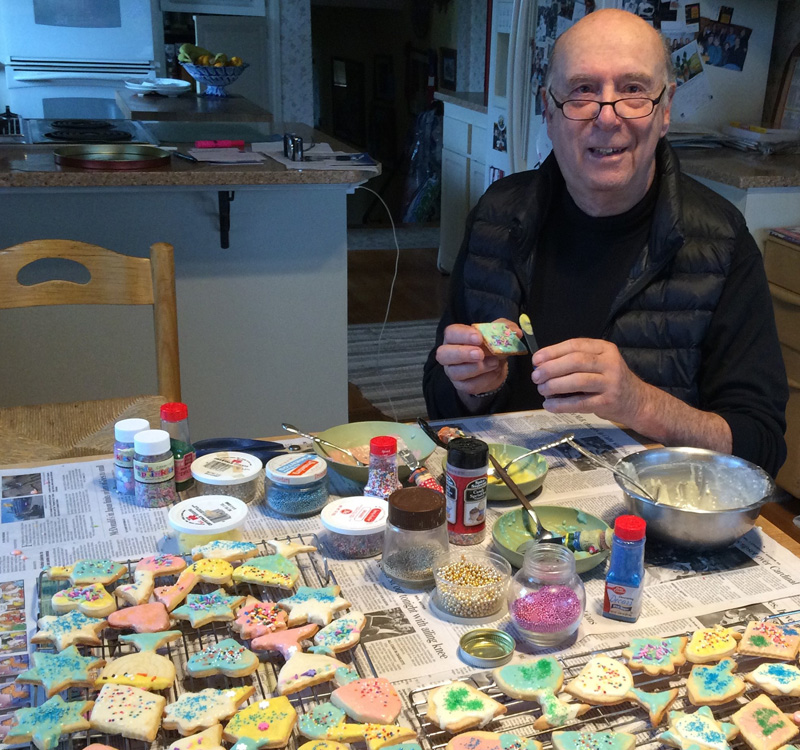 My mom uses the Rich Flavor Christmas Cookie recipe to make Halloween, Thanksgiving, and Hanukkah cut out cookies each year. The recipe is a basic butter cookie recipe that works great for any and all holidays and occasions throughout the year. My Grandma, mom, me and now Ella and Jonah use the Juice Frosting recipe when frosting these cookies. The orange and lemon juices with the confectioner's sugar are a perfect combination and make this frosting sweet and tart at the same time! Stay tuned to cookiesbybess.com over the next few weeks for my blog about both these recipes!
As the holidays are rapidly approaching, I want to mention how grateful I am for the family traditions we have…whether it's bringing our family together for Thanksgiving, playing music after our Thanksgiving meal, or baking Hanukkah cookies…I'm so thankful for my family, the love we share, and the closeness we feel!
A very happy and healthy Thanksgiving to you and all my family and friends around the world!
XXOO!
Janet