Another amazing cookie by Cookies by Bess!  Gold Cookies rank right up there with Gold Crispies…What?  Yep!  Gold Cookies and Gold Crispies are similar recipes…so similar, I thought I was having a Déjà vu while I was making them!
I realized the similarities when I was rolling the cookies in the cinnamon and nuts mixture. The cinnamon and nuts didn't stick well to the cookie dough balls, I felt like this had happened before.  I went back to the Cookies by Bess and found the Gold Crispies recipe.   Very similar recipes including the cinnamon and nuts mixture and it not sticking to the dough balls.
Just like Gold Crispies, I am rating Gold Cookies 2-stars for cookie difficulty. There are a few steps in the process that warrant the 2-star rating, the most difficult is trying to get the cinnamon and nuts to stick! This time around I found a simple solution that worked great!
I pulled all ingredients together and got started mixing the butter and then egg yolks.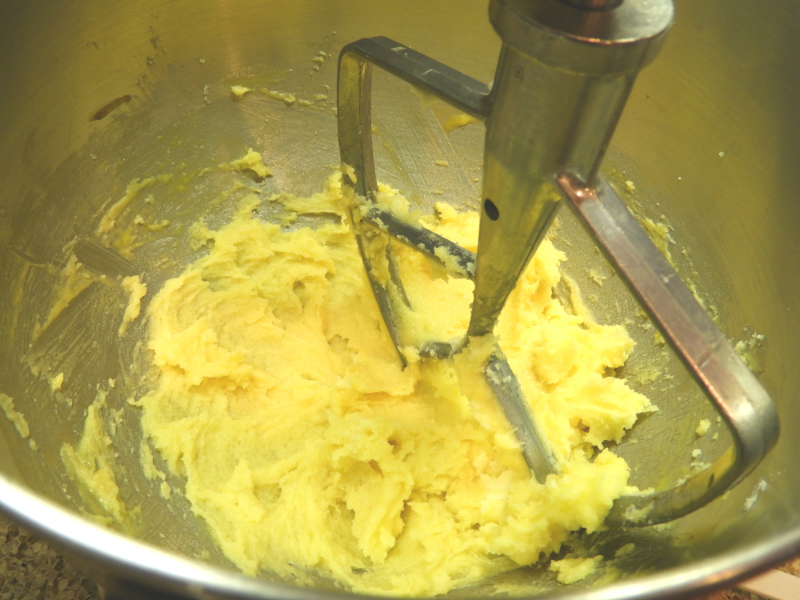 The egg yolks are what make the gold color…so rich and smooth!
The dough came together nicely…it was almost a bit dry, but perfect for rolling the dough balls!
Next, I mixed the cinnamon and nuts together to get ready for rolling.
As you can see, the cinnamon and nuts didn't stick to the dough.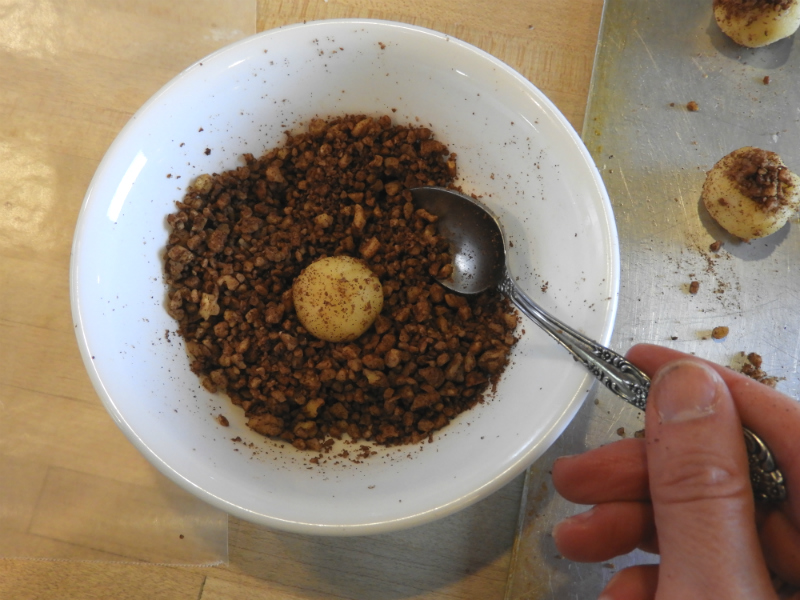 I tried several times to get the mixture to stick to the dough…nothing really worked.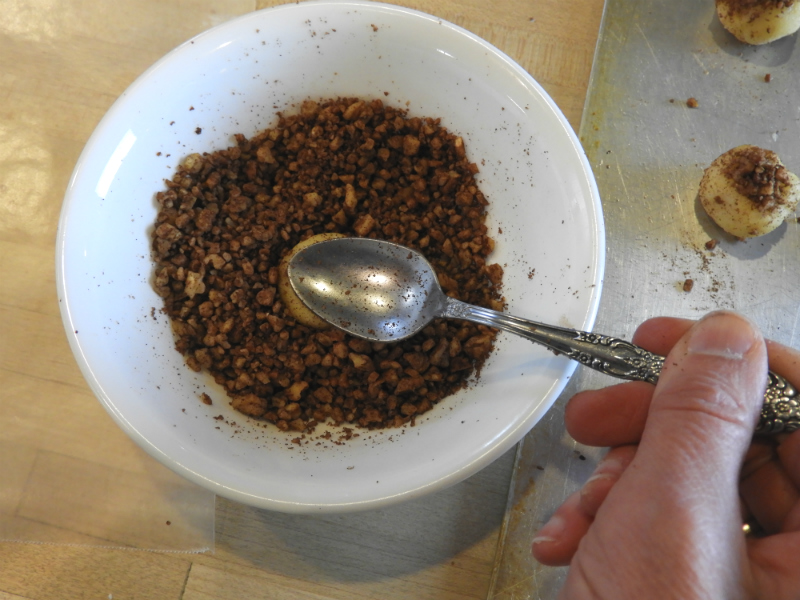 I decided to use a used a teaspoon to flatten the dough ball a bit.
Then I took a bit of the cinnamon and nuts mixture and piled it on top of the flatten surface.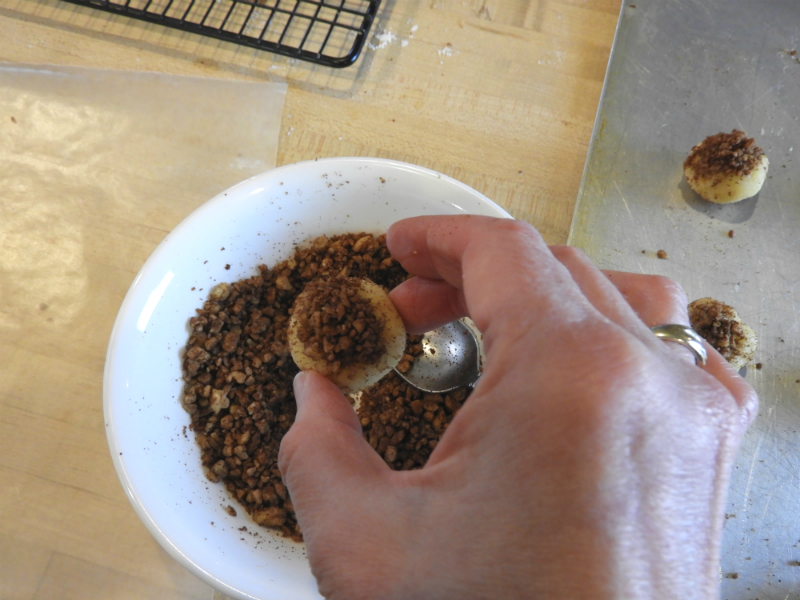 Next, I carefully placed the cookie on the greased cookie sheet.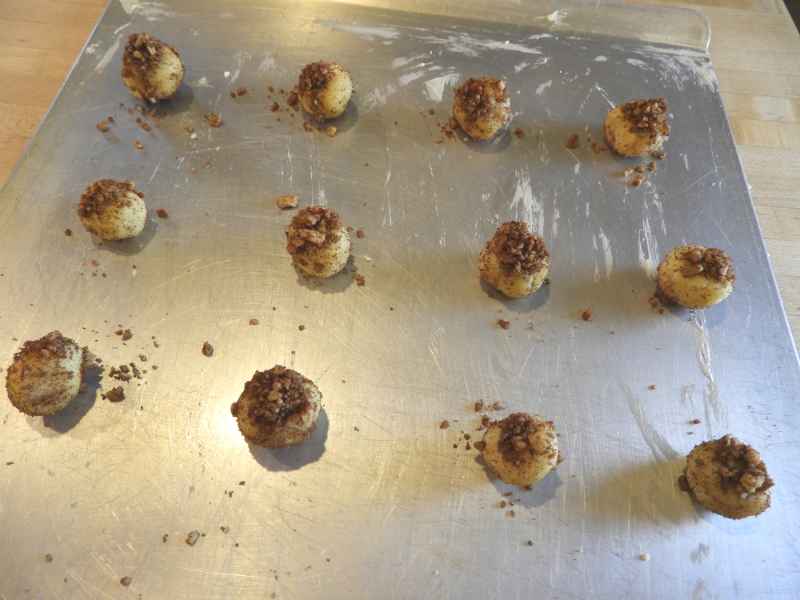 I was finally ready to bake!
Just check out the texture and how yummy these cookies look!  Can't you just taste them!
The cookies spread out and puffed up a bit in the oven.  I wasn't surprised since we added 3 teaspoons of baking powder!
The cookies baked up quickly and were easy to remove from the cookie sheets.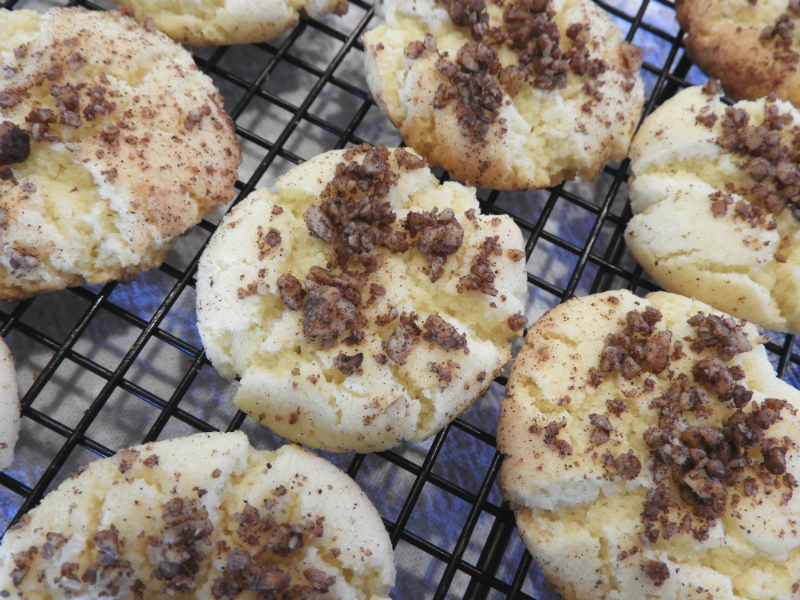 I love the golden color next to the rich color of the cinnamon and nuts mixture.  Again, can't you just taste the flavors?!?!
Gold Cookies are a wonderfully rich and creamy cookie that is a bit crispy.  Gold Cookies are a perfect treat for any occasion!  Easy to make and unique flavors…a perfect combination!
I hope you'll try Gold Cookies and share them with all your family and friends!
XXOO,
Janet
Print
Gold Cookies
Ingredients
½ cup butter

1 cup sugar

4 egg yolks

1 tsp vanilla

1 ½ cups all purpose flour

3 tsp baking powder

¼ tsp salt

½ cup nuts, finely chopped

2 tsp cinnamon
Instructions
Cream butter. Add sugar and blend thoroughly. Add egg yolks and mix well. Add vanilla. Sift flour, baking powder and salt together. Add to creamed mixture. Mix thoroughly. Combine chopped nuts and cinnamon. Form dough into balls about the size of a small walnut. Roll in the nut and cinnamon mixture. Place balls three inches apart on greased cookie sheets. Bake at 350 degrees about 12 to 15 minutes. Makes about 5 dozen.
Recipe Yield
Make about 4 - 5 dozen cookies
Cookie Category:  Molded or shaped