Who doesn't love chocolate and nuts? I'm not the biggest chocolate fan…yes, I actually admit it, but put chocolate and nuts together in a cookie and I'm like most others who can't resist. Fudge Balls from Cookies by Bess are a wonderfully chocolaty nutty cookie that will satisfy anyone's chocolate cravings!
The one unique ingredient in Fudge Balls is the cold coffee. The cold coffee pairs perfectly with the unsweetened dark chocolate resulting in a flavor that familiar yet unique. Add the oatmeal and nuts and you've got one awesome cookie!
One slight bit of difficulty I had making Fudge Balls was forming the dough into different shapes. The recipe instructions say to form the dough into balls, cones, or S shaped logs. I tried to make these shapes but ended up sticking with the simple ball shape as it was easiest and kept it's shape best while baking. I figured this was okay since the name of the recipe is "Fudge Balls", not "Fudge Cones"! ?
I'm rating Fudge Balls 2-stars for cookie baking difficulty as there are multiple steps to making and baking the cookies.
I've started keeping all types of chocolate and nuts in my baking pantry, so I was able to quickly gather all my ingredients together.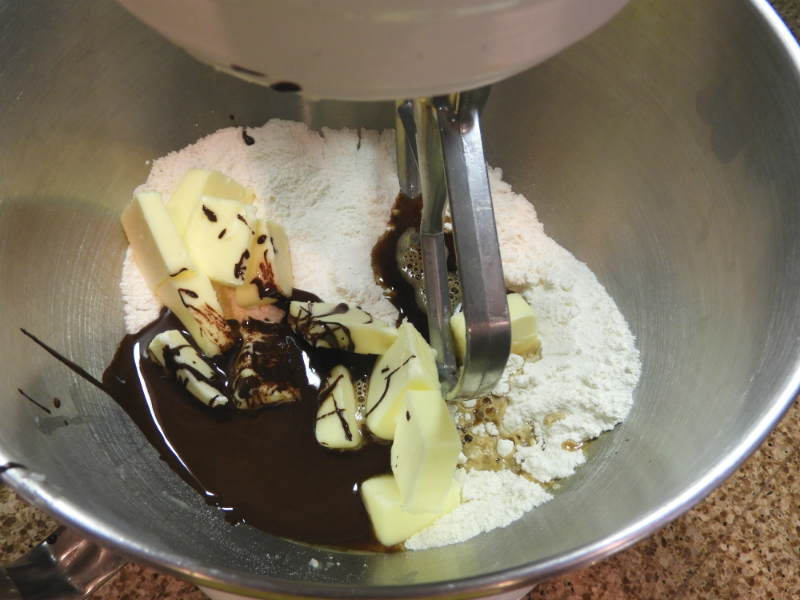 Interesting, this recipe starts with sifting all the dry ingredients together and then adding the butter an liquids. The recipe doesn't say to blend the butter and dry ingredients before adding the chocolate and coffee, so I just added it all together and started mixing.
The dough turned out a wonderful chocolaty color!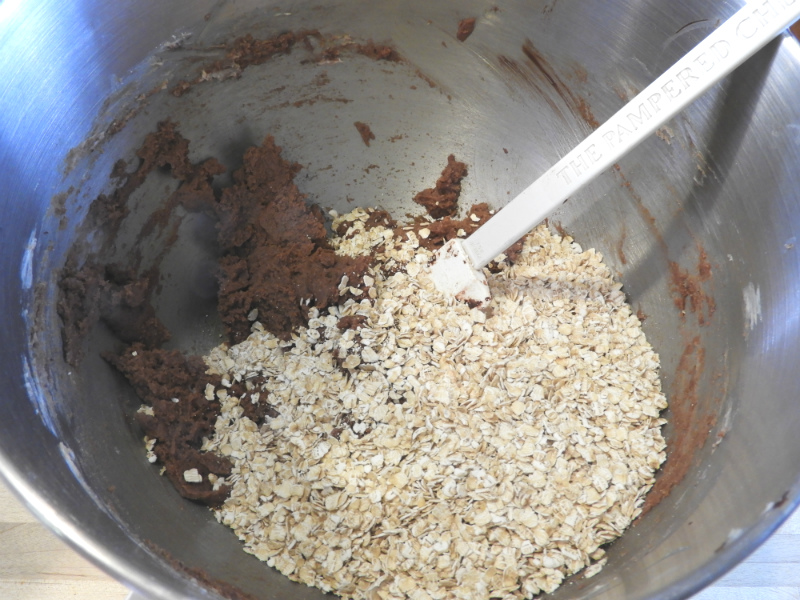 Adding the oatmeal provided a nice contrast in color with the dark chocolate and light oats.  The oatmeal also added some nice texture.
I just love the personality of this cookie dough! The oatmeal almost looks like the dough has freckles!
The dough was a perfect consistency for rolling he dough balls. I think the oatmeal helped keep the dough from sticking to my hands.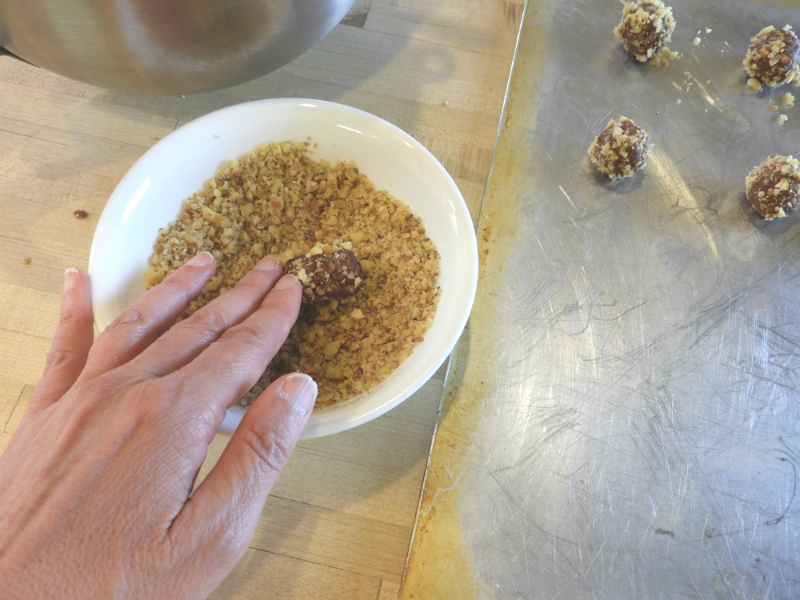 Even thought the dough didn't stick to my hands, it was moist enough for the chopped nuts to stick. I decided to use walnuts and made sure to chop them relatively fine. Pecans would all work great with the unsweetened chocolate flavors!
After trying to roll balls, cones, and S shaped logs, I was ready to bake my first batch of Fudge Balls.
The Fudge Balls baked for about 10 minutes. The balls and other shapes spread out just a bit while baking. In the end, regardless of the shape I was trying to make, they all ended up looking like plain old balls.
Just check out how yummy this cookie looks! The texture of the oatmeal and nuts with the dark color of the cookie makes Fudge Balls look rich and chocolaty!
I'm actually glad I ended up forming dough balls. I like the uniformity of the cookies on the cooling rack.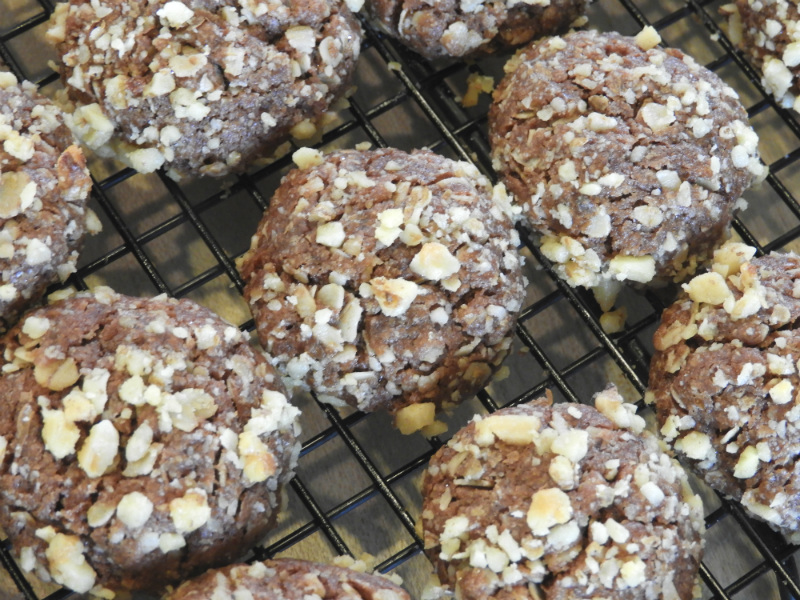 Fudge Balls are a wonderful cookie for any occasion! They are fancy enough for dessert after a gourmet dinner and simple enough for an after school snack.
Everyone with a chocolate craving is going to love Fudge Balls. The uniqueness of the chocolate and coffee flavors coupled with the oatmeal and nuts will satisfy everyone's cookie cravings!
I hope you enjoy!
XXOO,
Janet
Print
Fudge Balls
Ingredients
1 ½ cups sifted flour
1 cup sugar
½ tsp salt
¾ cup shortening
2 sq. unsweetened melted chocolate
¼ cup cold coffee
1 ½ cup quick cooking oats
Chopped nutmeats
Instructions
Sift together flour, sugar, and salt. Add shortening, melted chocolate and cold coffee. Beat until smooth. Fold in rolled oats. Shape dough in different forms, such as balls, cones, letter "S" logs. Roll in chopped nuts. Bake on ungreased cookie sheets at 350 degrees for 10 to 12 minutes.
Recipe Yield
Makes about 6 - 7 dozen cookies 1x
Cookie Category:  Molded or Shaped