Dutch Honey Butter Cookies
To be honest, I'm not used to baking or cooking with honey. I love the idea of using honey, so I was drawn to the Dutch Honey Butter Cookies recipe in Cookies by Bess. After reading the recipe a couple times, I noticed there is only ¼ cup honey. I wondered to myself if honey is a 1:1 substitute for sugar. Cookies by Bess has a Substitution page, but it doesn't mention honey.
I looked up substituting honey for sugar on Google and found for every 1 cup sugar, substitute ½ – 2/3 cup honey. Then the article went on to say you should reduce other liquids, add ¼ teaspoon baking soda, and reduce the temperature of your over by 25 degrees.
Based on this, the Dutch Honey Butter Cookies recipe, if using sugar, would call for about ½ – 2/3 cup sugar. This seems right, but to be honest (again), the recipe could have used a full cup of sugar and/or at least twice the amount of honey as the end result cookie wasn't sweet enough for me.
For the first time in all the Cookies by Bess recipes I've baked so far, I made a significant change to the recipe! I'm so sorry Grandma Bess, but I think my idea made a huge difference. As I was reading the recipe before making the cookies, I thought rolling the dough balls in granulated sugar before baking would be a good idea and would add a bit more sweetness to the cookie. To be honest, a third time, I believe I was right!
As I was baking the cookies, I ended up trying three different variations. First, I followed the recipe as written. Second, I decided to try my idea of rolling the dough balls in sugar before baking and then flattening them with a glass. Third, I decided to roll the dough balls in sugar and then bake them without flattening the dough balls. I didn't expect them to flatten on their own in the oven, but I was curious to see what would happen.
I'm rating this recipe 2-stars for cookie difficulty.  It's easy to make, but the added steps of rolling and flattening make them a 2-star cookie.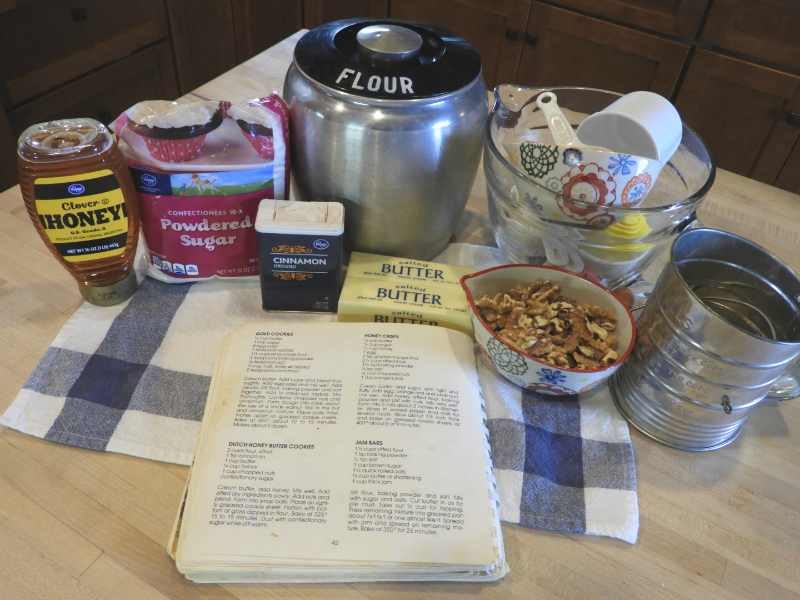 Per usual, I gathered all my ingredients together and then got started mixing the butter and honey together.
As I mentioned, I haven't baked with honey before so I was curious how the butter and honey would combine together. I used my Kitchen Aid to begin blending the butter, then added the honey. The moisture in the honey broke up the butter which resulted in a nice and creamy mixture.  What a great bright color!
Next, I added the dry ingredients and nuts and continued blending everything together. The teaspoon of cinnamon made a huge difference in the color and taste of the dough. It's not pronounced, but it isn't subtle either. I just give this cookie it's own unique taste.
Once again, this recipe calls for nuts, but doesn't specify the type. I decided to use walnuts, only because I've been using pecan quite a bit lately. The walnuts worked great, I think pecan would work great too!  Almonds would also work.
The dough was a perfect consistency for rolling the dough balls. I didn't need to add any additional flour.
As I always do, I baked a couple of cookies before filling my cookie sheets. I do this to see how far the cookies might spread, test the oven temperature, and the baking time. Once flattened, the cookies didn't spread much so I was able to fill my cookie sheets pretty full!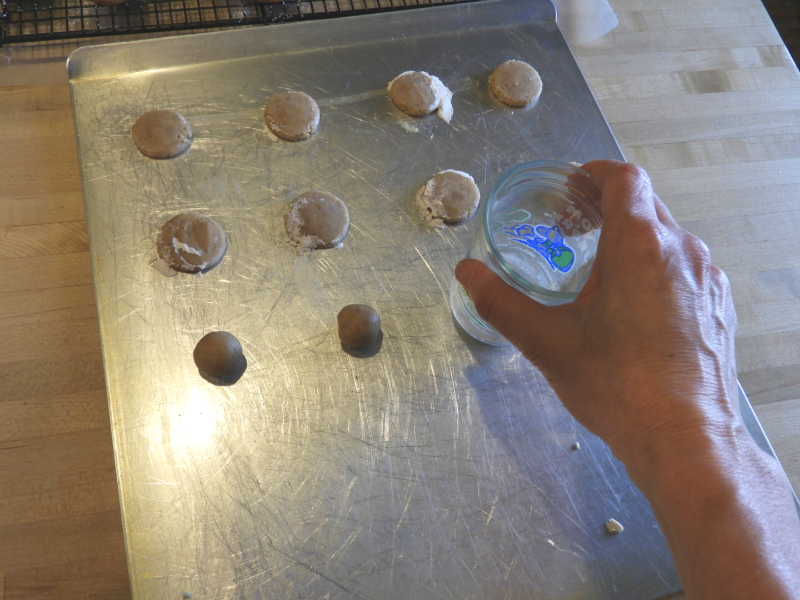 My initial batch of cookies was per the recipe as written. After rolling the balls, I flattened the dough balls with a juice glass dipped in flour.
I decided to roll the dough balls in sugar after tasting the first batch.  After rolling the balls, I flatten them with my juice glass.
Finally, I decided to experiment with not flattening the dough balls. I ended up with a cookie sheet with a variety of Dutch Honey Butter Cookies.
It was fun to be creative, but I do admit I felt a bit guilty for not staying true to Grandma's recipe. If we decide to print Cookies by Bess again, I'll make sure to keep the original Dutch Honey Butter Cookies recipe, but also provide a "suggested variation" for those that might want a sweeter cookie.
I baked the flattened cookies for 15 minutes, any more time and the bottoms of the cookies browned a bit too much for me.
The dough balls (not flattened) needed to bake for about 5 minutes longer. The extra time didn't cause the bottom of the cookies to brown. I took the cookies out at 15 minutes, but they seemed to be a bit underdone to the touch. So I stuck them back in the oven.  The extra time was needed to ensure the cookie was baked through completely.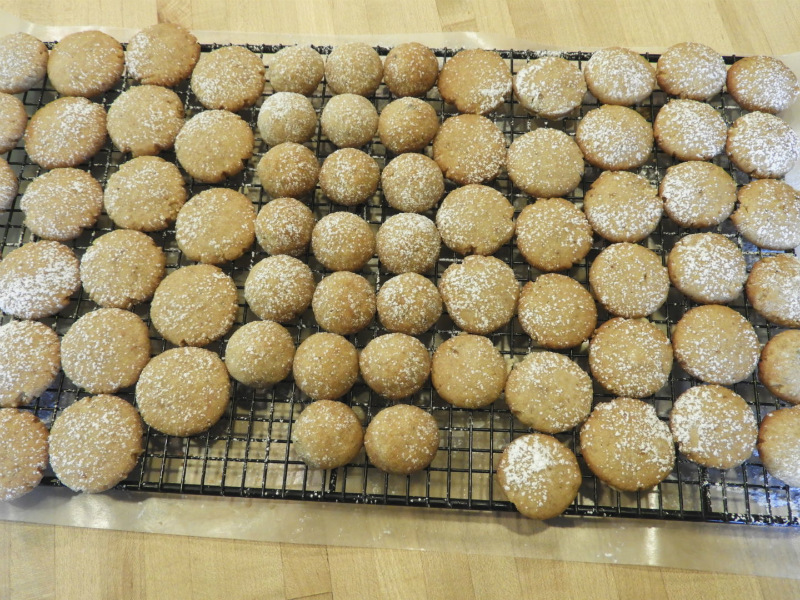 The recipe calls for sprinkling the cookies with confectionary sugar while still warm. I decided to sprinkle the first batch just minutes out of the oven. The confectionary sugar melted right into the cookie, so I decided to wait for about 10 – 15 minutes before sprinkling the sugar on the rest of the cookies.  This help to ensure so the sugar stayed on top. I think sprinkling confectionary sugar looks so nice, so I wanted to make sure it stayed on top for everyone else to see too.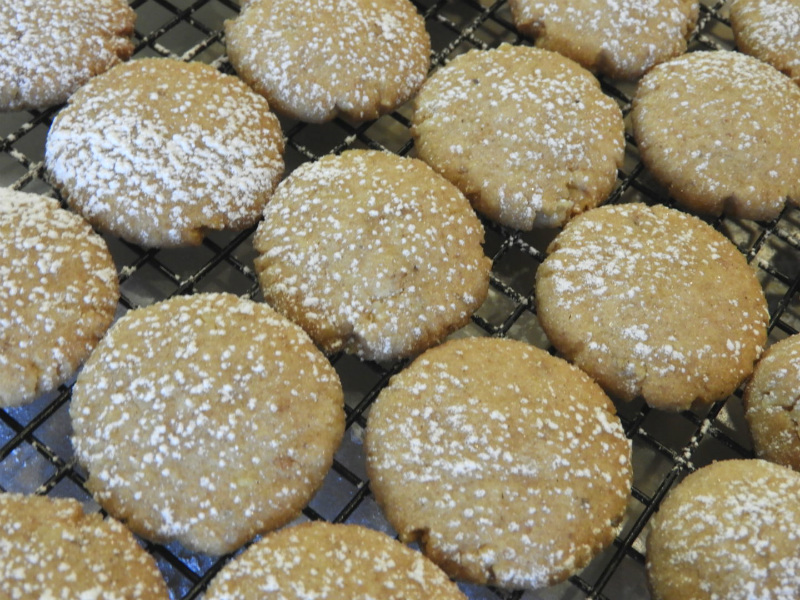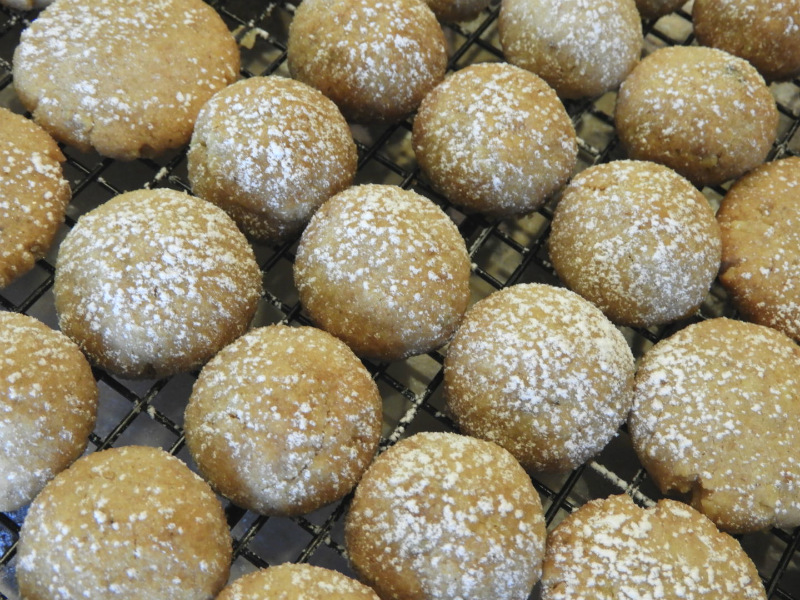 I am very happy with how the all three of the cookie variations I made! The original Dutch Honey Butter Cookie reminds me of a shortbread type cookie with cinnamon added. To me, adding the granulated sugar gave these Dutch Honey Butter Cookies just the right amount of sweetness to make them even more perfect!
Once again, I apologize Grandma Bess…I hope you don't mind my input and experimentation ?
XXOO,
Janet
Print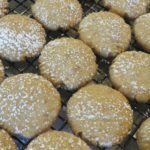 Dutch Honey Butter Cookies
Ingredients
2 cups flour, sifted
1 tsp cinnamon
1 cup butter
¼ cup honey
1 cup chopped nuts
Confectionary sugar
Instructions
Cream butter, add honey. Mix well. Add sifted dry ingredients slowly. Add nuts and blend. Form into small balls. Place on lightly greased cookie sheets. Flatten with bottom of glass dipped in flour. Bake at 325 degrees 15 to 18 minutes. Dust with confectionary sugar while warm.
Recipe Yield
Makes about 6 dozen cookies 1x
Cookie Category:  Molded or shaped