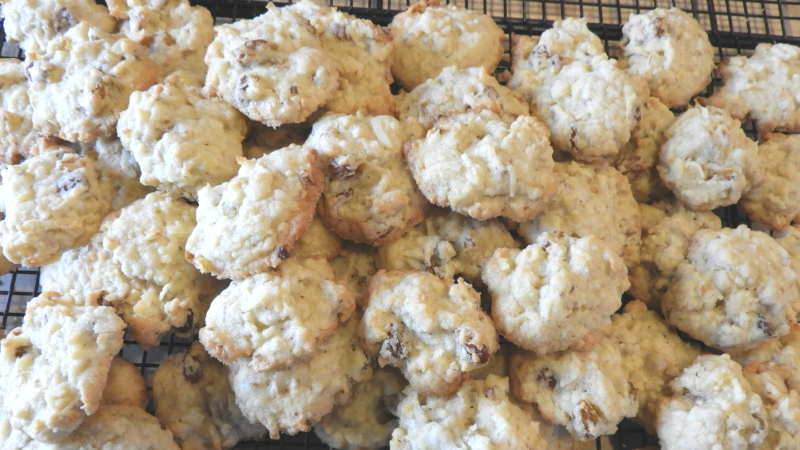 Crisp Butter Drops are another great cookie recipe from Cookies by Bess! Golden in color and filled with all kinds of flavor, this cookie is a real winner!
In my humble opinion, the title of the recipe, Crisp Butter Drops, doesn't do this cookie justice. I think I've passed over this recipe to this point because the title doesn't reflect the complete wonderfulness of this cookie!
When I read Crisp Butter Drops, I think of a basic, plan old butter cookie. But reading the recipe and seeing it includes coconut, raisins, and nuts, along with a full cup of butter really sparked my interest and I wasn't disappointed!
I am rating Crisp Butter Drops 1-star for cookie difficulty as it's a basic drop cookie and easy make.  The additional steps of chopping the nuts and raisins are also easy, it doesn't add any extra time or effort. Also, chilling the dough gives you time to make the dough and bake them as needed!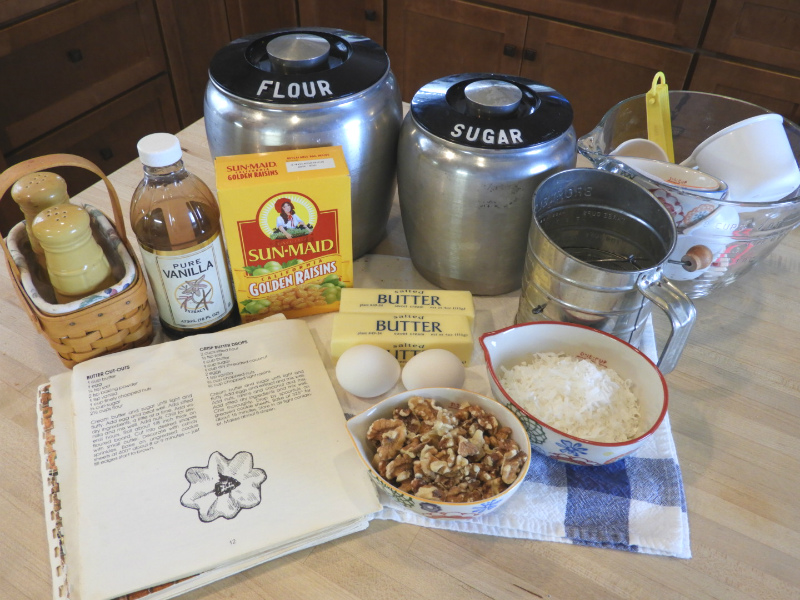 I was able to pull almost all the ingredients together from my pantry, except for having to run to the grocery store to pick up the "light raisins" called for in the recipe. I usually have raisins on hand, but not the light colored ones.
Mixing together the ingredients was easy with my Kitchen Aid! The light golden color was amazing and adding in the raisins, nuts, and coconut gave the dough a wonderful texture!  Since the recipe didn't mention the specific nut to use, I decided to use walnuts this time around.
The dough looked so good, I just had to try it…OMG, this is one of the best tasting cookie doughs I've tasted! After tasting the dough, I was super excited to taste the baked cookies!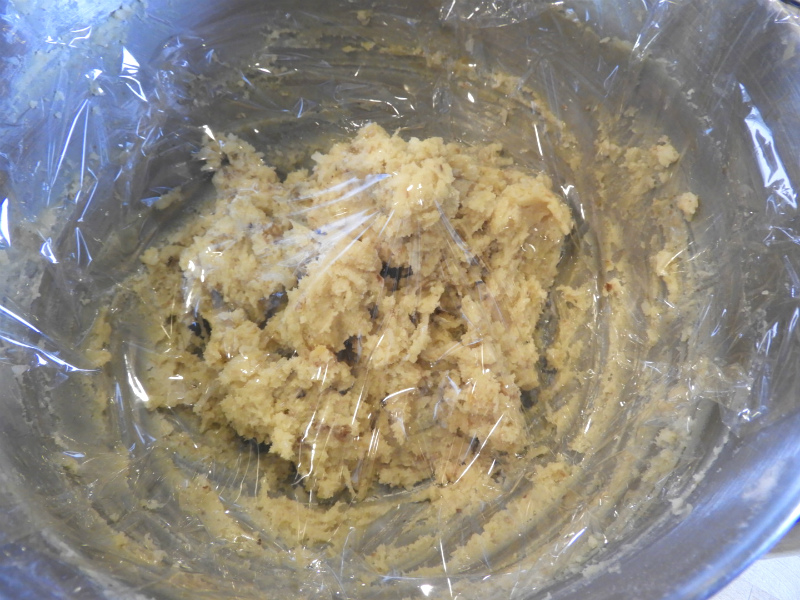 But first I needed to chill the dough. It seems the perfect consistency for baking already, but I stuck it in the refrigerator to chill thoroughly per the recipe…at least one hour.
The chilled cookie dough firmed up, but wasn't too hard, so it was easy to place spoonful's on the greased cookie sheets.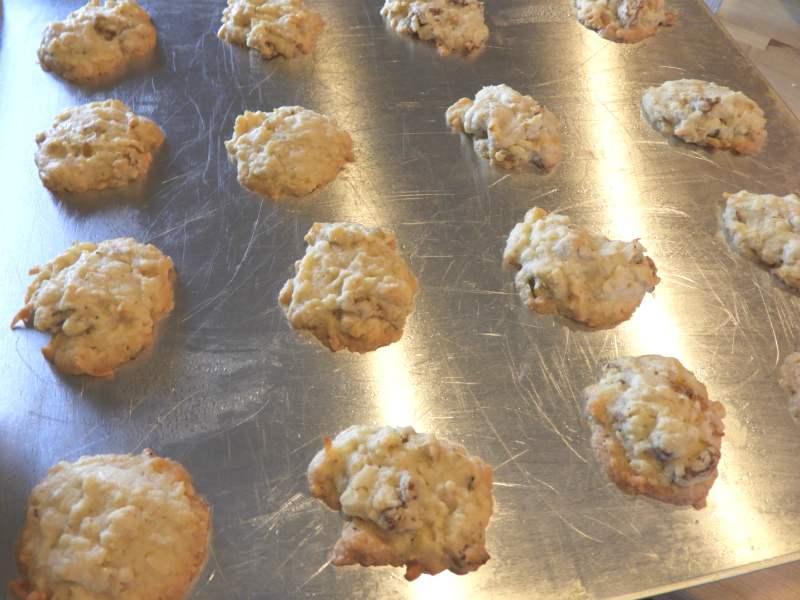 The cookies baked up nicely! They spread out just a bit on the cookie sheets. To me, 18 minutes seemed like a long time to bake these cookies, so I initially tried 15 minutes. This wasn't enough. I ended up baking each batch for the 18 minutes called for in the recipe.
The baked cookies kept their golden color, but had a slight brown around the edges. The cookies were easy to remove from the cookie sheets and the bottoms where a perfect gold/light brown color!
I was so excited to taste the cookies, I could barely wait for them to cool down! 😊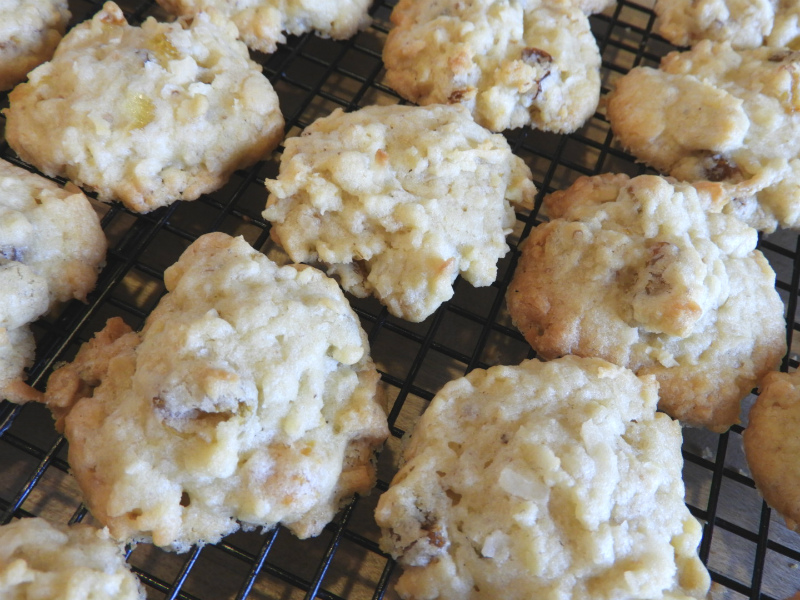 Crisp Butter Drops are a great cookie full of yummy flavors! The texture of the cookies is really something with the raisins, nuts, and coconut…and they also look great with their golden color and golden raisins!
Honestly, this Crisp Butter Drops are so much more than what the recipe title says…they are a sweet, crispy, nutty, perfect cookie that are easy to make and more than easy to eat! You will want to double the recipe so you can fill two cookie jars with these little gems!
Enjoy!
XXOO,
Janet
Print
Crisp Butter Drops
Ingredients
2 cups sifted flour

½ tsp salt

1 cup butter

1 cup sugar

1 cup dry shredded coconut

2 eggs

1 tsp vanilla

¾ cup chopped nuts

¾ cup chopped raisins
Instructions
Cream butter and sugar until light and fluffy. Add eggs and extract and beat well. Add nuts, raisins, and coconut and mix well. Add sifted dry ingredients and mix well. Chill dough thoroughly. Drop by spoonful's on greased cookie sheets. Bake at 325 degrees for about 18 minutes. Store in a tight container. Makes about 5 dozen.
Recipe Yield
About 5 dozen cookies