I'm always up for a nice and easy drop cookie recipe! Coconut Orange Cookies are a sweet and tasty drop cookie with a ton of orange flavors! I had to grate the rind of almost two oranges to get the full tablespoon and ½ called for in the recipe. Add the orange juice to top it all off and you've got one orangey cookie!
Interesting, after baking and tasting these cookies, I didn't get too much of the coconut flavors, the coconut added more to the sweetness of the cookie and provided a nice and chewy texture.
I'm rating Coconut Orange Cookies 2-stars for baking difficulty due to the need to grate the orange rind. It's not hard, but it did take a bit of time to get all that rind together.
After gathering my ingredients together, I got started blending the butter and sugar.
The egg and light corn syrup helped to create a nice light blond colored mixture. Adding the orange rind and coconut added some nice texture to the mixture.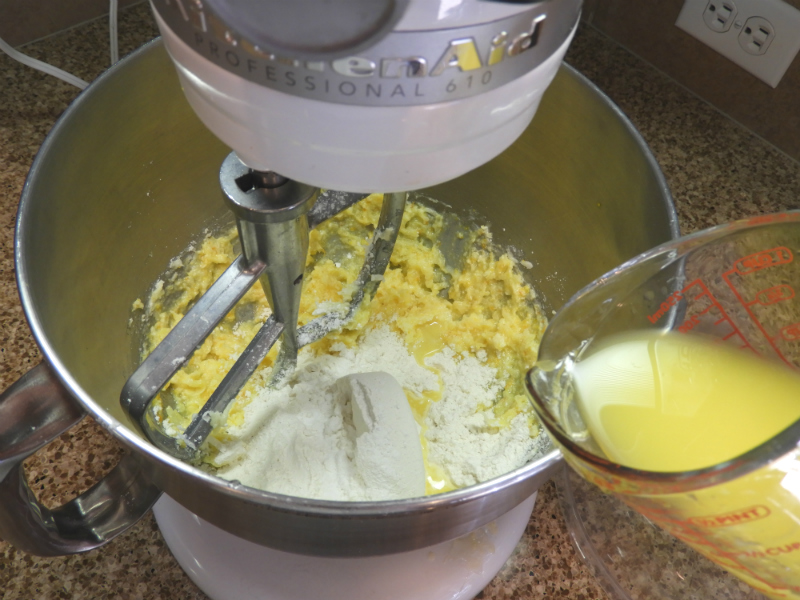 Next, I added the sifted flour and orange juice.  I decided decided to alternate tthem, just to make sure it was evenly blended.
I just love the wonderful blond colored cookie dough! It was a bit sticky after mixing, so I decided to add a little bit more flour. Being at altitude in Denver, a bit more flour can really help the baking process.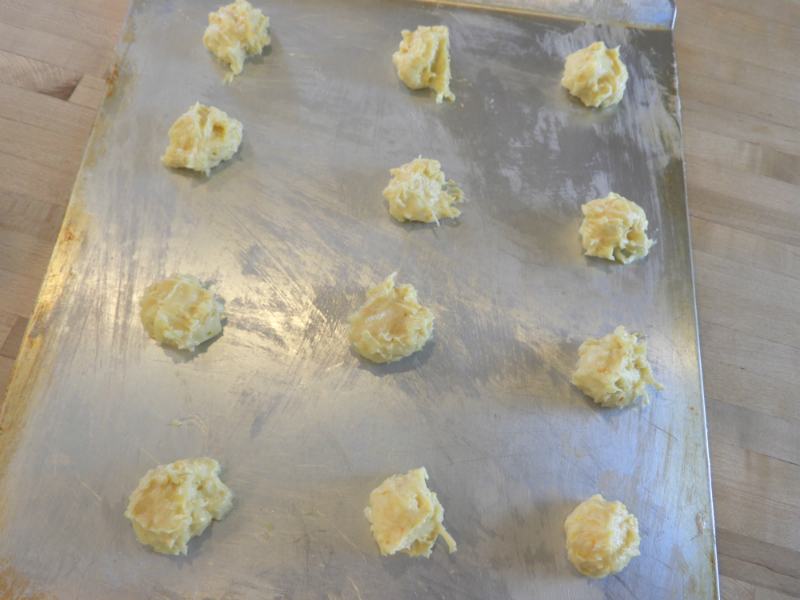 In no time I was done dropping spoonfuls of cookie dough on my greased cookie sheets and I was ready to stick the cookies in the oven.
The cookies spread out and puffed up a bit in the oven, just like you would expect from a drop cookie recipe.
I let the cookies bake for the full 12 minutes per the recipe. Some of the cookies got a little brown around the edged, which made them easy to take off the cookie sheets and I think gave the cookies some additional personality!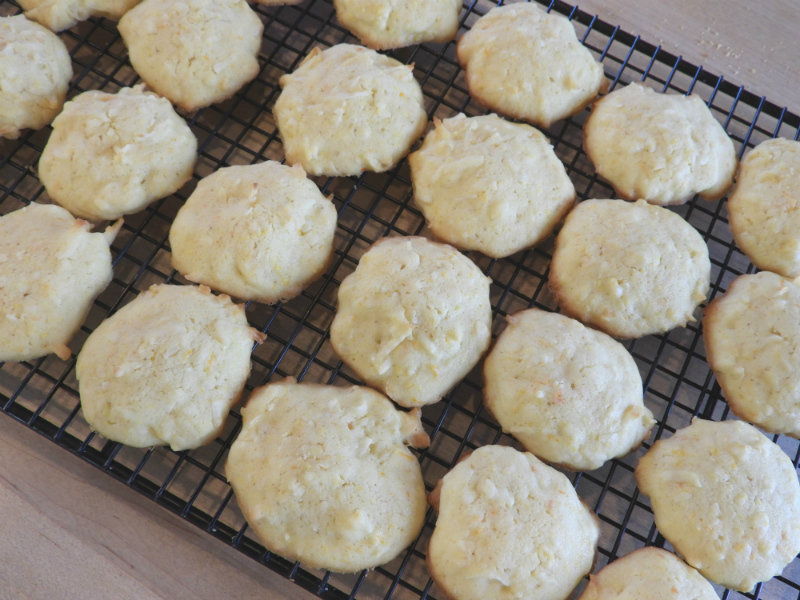 I let the cookies cool on the baking racks…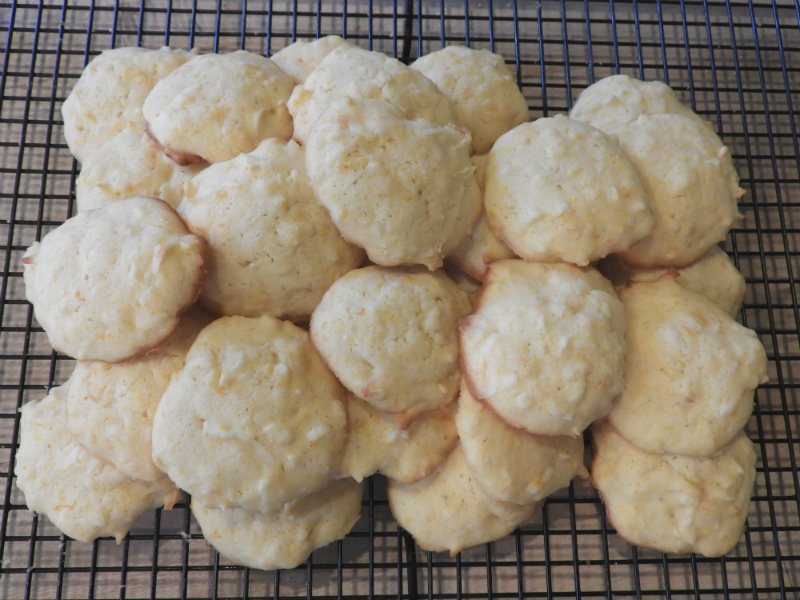 And then decided to stack them up.
Just check out the wonderful colors and texture of these Coconut Orange Cookies! The blond color makes me think of orange and the flakes of coconut give the cookies a sweet and tangy flavor and personality!
Coconut Orange Cookies are an easy to make drop cookie that will please all your family and friends! Their orangey and coconuty sweet flavors will wake up everyone's taste buds!
I hope you enjoy these fun and tasty cookie treats!
XXOO,
Janet
Print
Coconut Orange Cookies
Ingredients
1 ¼ cups sifted flour
¼ tsp baking powder
1/8 tsp salt
½ cup butter
¼ cup sugar
½ cup light corn syrup
1 cup coconut, dry
1 ½ Tbs grated orange rind
¼ cup orange juice
1 egg
Instructions
Cream butter and sugar until light and fluffy. Add beaten egg and syrup and mix well. Add coconut and orange rind and mix well. Add sifted dry ingredients with orange juice and mix well. Drop by spoonfuls on greased cookie sheet. Bake at 350 degrees for about 12 minutes.
Recipe Yield
Makes about 4 - 5 dozen cookies 1x