The Cocoa Bars recipe from Cookies by Bess calls for a full ½ cup of cocoa giving these cookies a deep chocolate flavor you don't always find in a cookie! So dark and so full of chocolate flavor you will think you are biting in to a chocolate cake tops with fudge frosting.
When baking Cocoa Bars, I wasn't sure what to expect. The batter was so rich and thick I thought I was making fudge brownies. After baking, I realized I was actually making a chocolate cake! Cutting the cake into small squares, gave me little mini cakes full of rich chocolate flavor.
The recipe mentions frosting the bars with your favorite frosting while lukewarm. This time around, I decided to sprinkle powdered sugar instead of frosting the bars. But after cutting the bars and seeing they are more like a cake than a brownie, I decided to frost the bars with a vanilla frosting. I didn't frost the bars while they were warm, but will next time as I think it will make a difference in the texture of the bars and the overall presentation.
I'm rating Cocoa Bars 2-stars for cookie baking difficulty. I generally rate bar type cookie recipes 2-stars because the preparation and baking time is less than with other cookie types. Cocoa Bars are quick and easy to prepare with a couple added steps for making the buttermilk and sifting the dry ingredients together.
I've gotten in the habit of keeping cocoa in my baking pantry, so I was good to go with all the ingredients. Just want to mention, as I do with all the recipes, I substituted butter for shortening.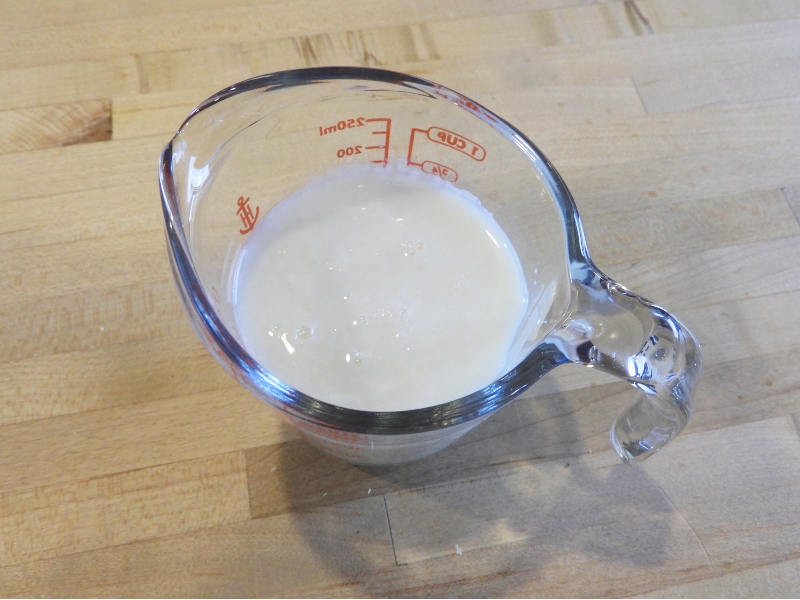 Before beginning to blend the butter, sugar, and egg yolks, I prepared the buttermilk. To do this, I combined the ¾ cup milk with 1 tablespoon vinegar and let it sit for about 5 minutes.

Then added the milk to the butter, sugar, and eggs.

This resulted in a very loose mixture and the butter didn't blend completely.

Next, I sifted the ½ cup cocoa with the other dry ingredients.
Resulting in a nicely blended dry ingredients.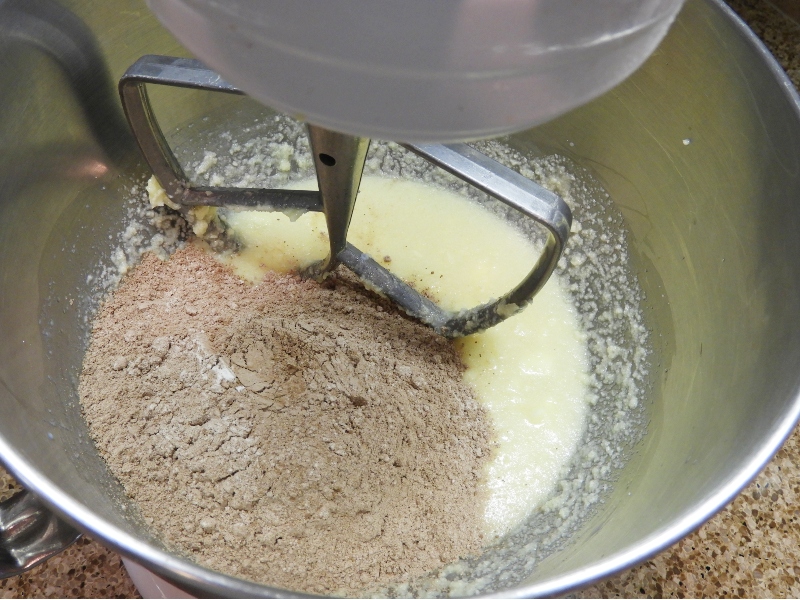 Then added the sifted dry ingredients to the buttermilk mixture.

The mixture turned in to a rich and thick chocolatey batter.  Based on the consistency of the batter, I thought I was going to have some rich chocolate brownie type bars.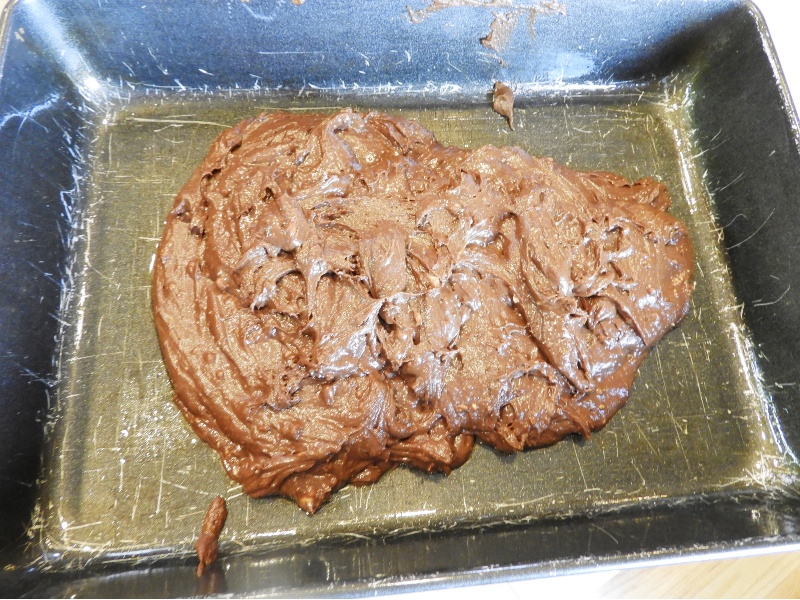 I scooped the batter into the greased baking pan and spread it evenly.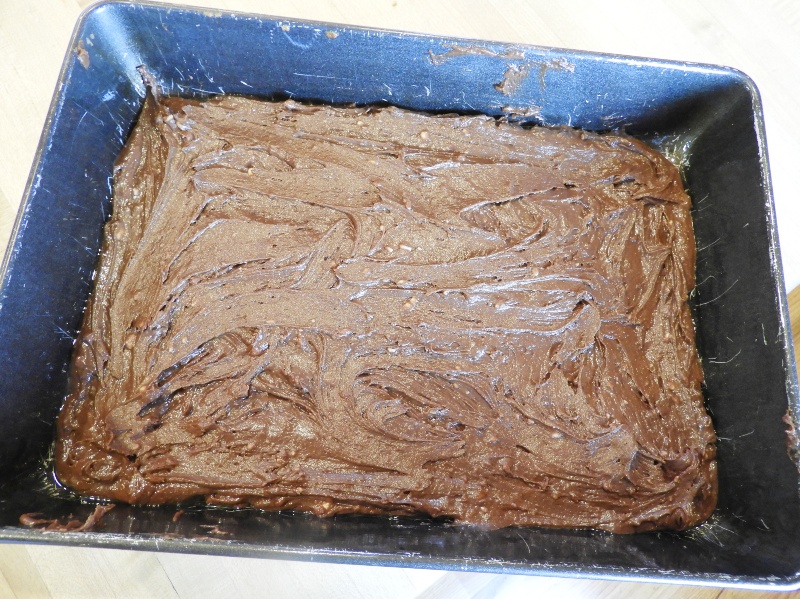 I was ready to bake!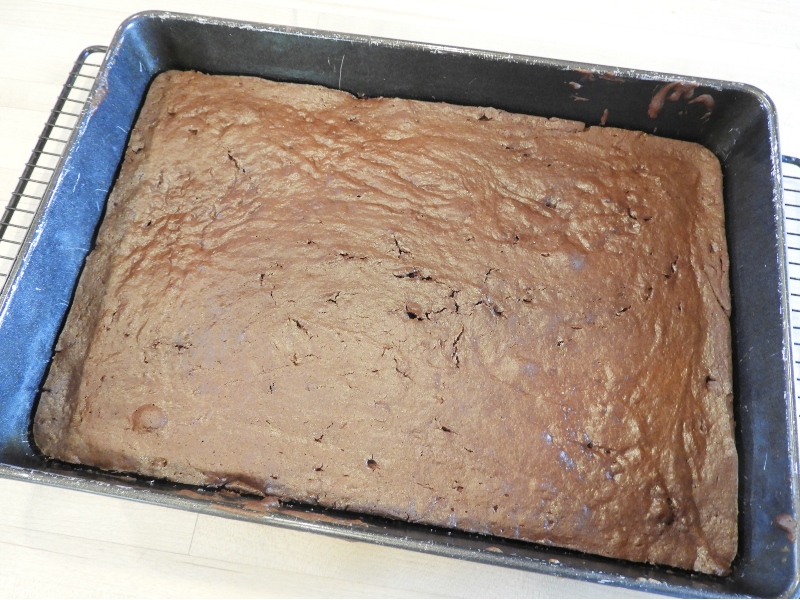 The bars baked up nice and even and actually looked like fudge brownies.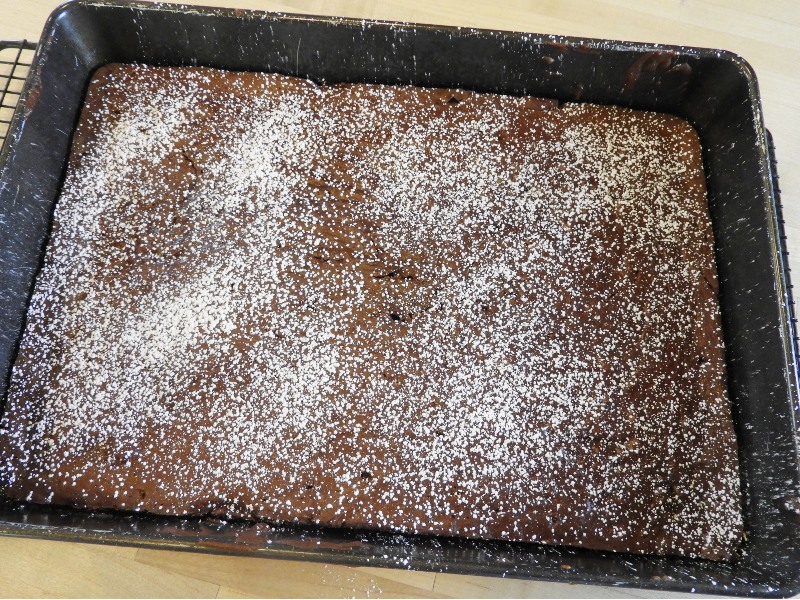 As I mentioned above in the introduction, rather than frost the bars, I decided to sprinkle powdered sugar after the bars had fully cooled.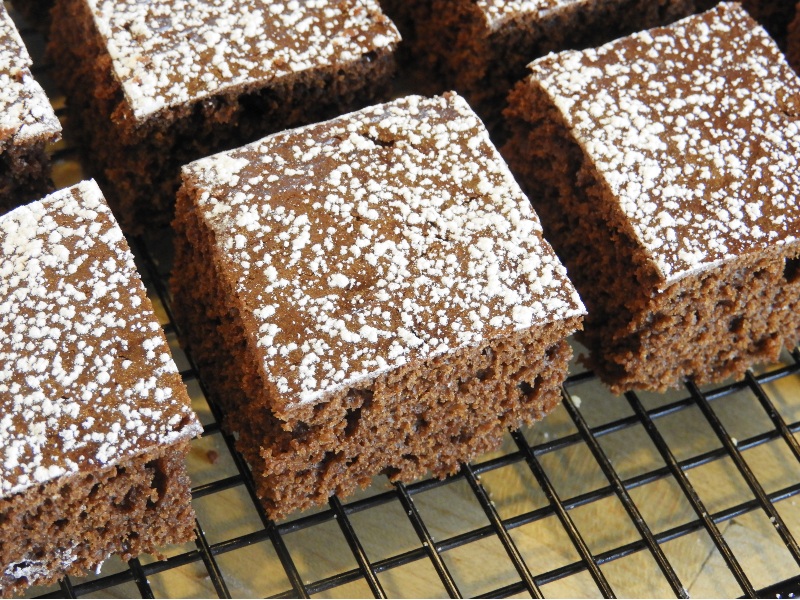 Check out the cakey texture of the bars. And just look how pretty they are with the powdered sugar on top!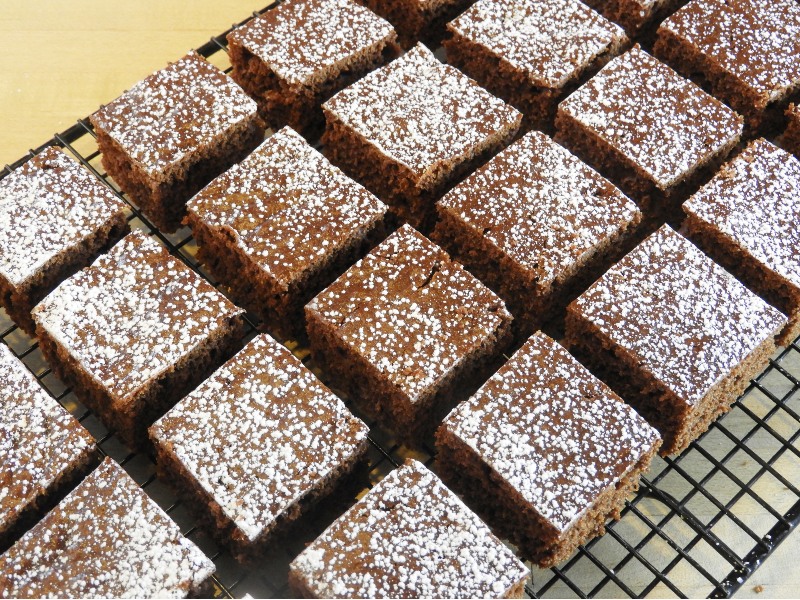 The bars cut so nicely! Like little cakes! All I needed was a fork!

After tasting the bars and experiencing the fierce chocolate cocoa flavor, I thought it would be fun to frost some of the bars with a vanilla frosting. I didn't think more chocolate was necessary and that the contrast of the dark chocolate and white vanilla would be just beautiful! I think I was right!
It was a little difficult to frost the bars, as you can see some cake crumbs in the frosting. That doesn't bother me one bit…I think it makes the frosting look like it has flecks of chocolate…which it now does ?
Cocoa Bars are a wonderful deep chocolate cakey bar cookie that will satisfy any chocolate lovers chocolate cravings. With or without your favorite frosting, everyone will love these bars!
Enjoy!
XXOO,
Janet
Print
Cocoa Bars
Ingredients
½ cup shortening
1 cup sugar
1 egg
¾ cup buttermilk or sour milk
1 tsp vanilla
1 ½ cups flour
½ tsp baking soda
½ tsp salt
½ cup cocoa
Instructions
Cream shortening, sugar, and egg. Stir in buttermilk and vanilla. Mix well. Add sifted dry ingredients, which have been sifted together. Mix well. Spread in greased pan 13x9x2. Bake at 350 degrees 20 to 25 minutes. Frost with your desired frosting while lukewarm.
Recipe Yield
Makes about 4 - 5 dozen cookies 1x