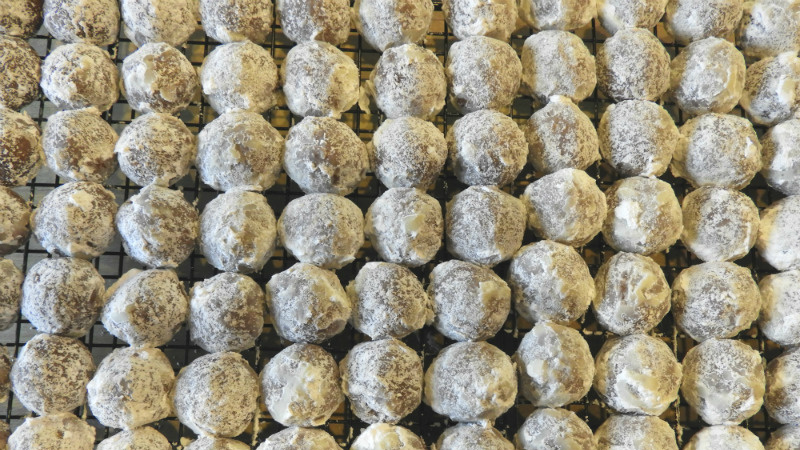 This Cocoa Balls recipe is like a lot of other Cookies by Bess recipes.  You roll up the dough balls, bake them, and then while warm, roll them in powdered sugar. But, this particular "ball" cookie is different from the rest because it is FULL of cocoa chocolate and pecans…literally 2 full cups of pecans!
For me, recipes that call for rolling the dough into small balls are my favorite cookies to make. I actually find it relaxing to roll the dough. I tend to make cookies on Sunday afternoons, so I'm rolling the cookie balls while watching football…a perfect way to multi-task ?
The 2 cups of chopped pecans in Cocoa Balls coupled with the cocoa chocolate and then wrapped in powdered sugar really makes for a wonderful cookie! I used Hershey's Chocolate, which is 100% cocoa, a wonderful dark chocolate flavor. The powdered sugar adds the perfect amount of sweetness (not too much, not too little). If you love chocolate, you are going to love Cocoa Balls!
I'm rating Cocoa Balls 2-stars for cookie baking difficulty. Nothing difficult, just a couple extra steps that add a bit of time to the baking process.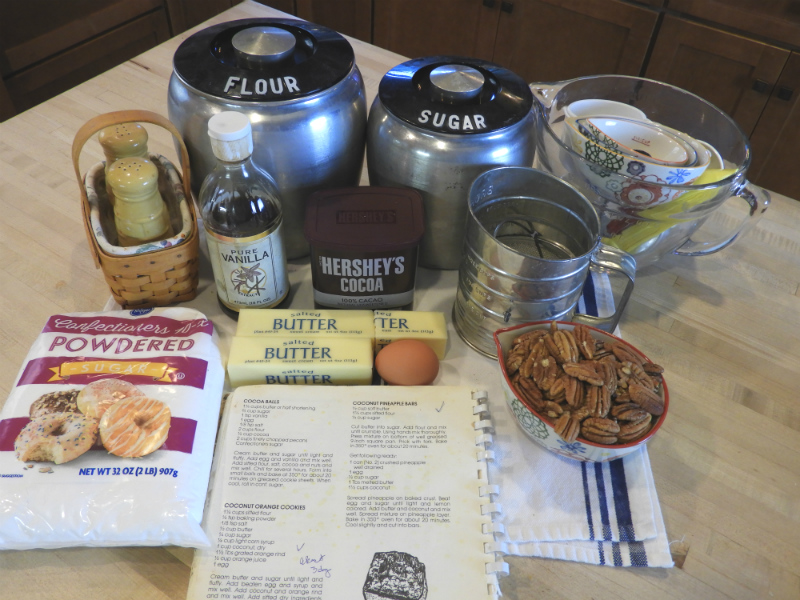 All the ingredients for Cocoa Balls were in my baking pantry, so I was good to go to get started!
After mixing the cookie dough base of butter, sugar, and eggs, I added the chocolate, nuts, and flour at the same time.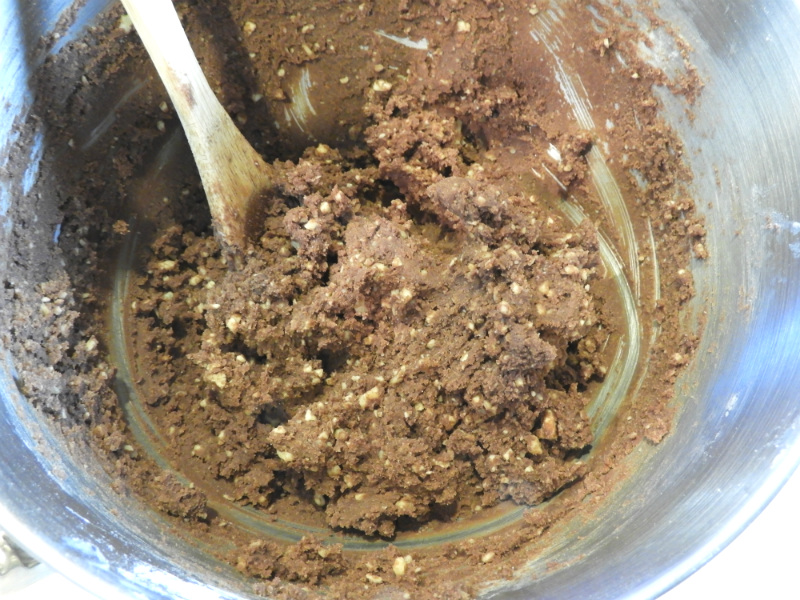 The dough came together quick! Just look at that rich chocolate color and all those pecans!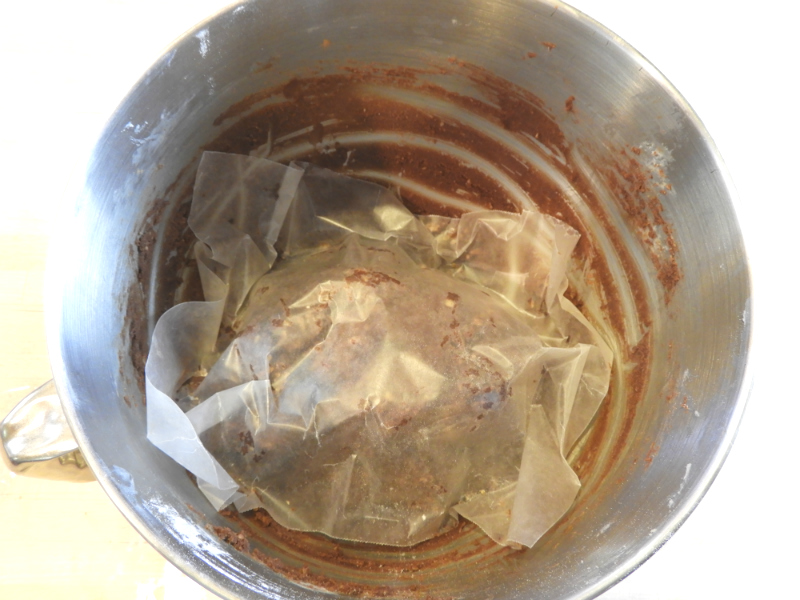 The dough seemed like a good consistency for rolling the cookie balls, but per the recipe, I formed the dough into a ball and wrapped it in wax paper for chilling in the refrigerator for a few hours.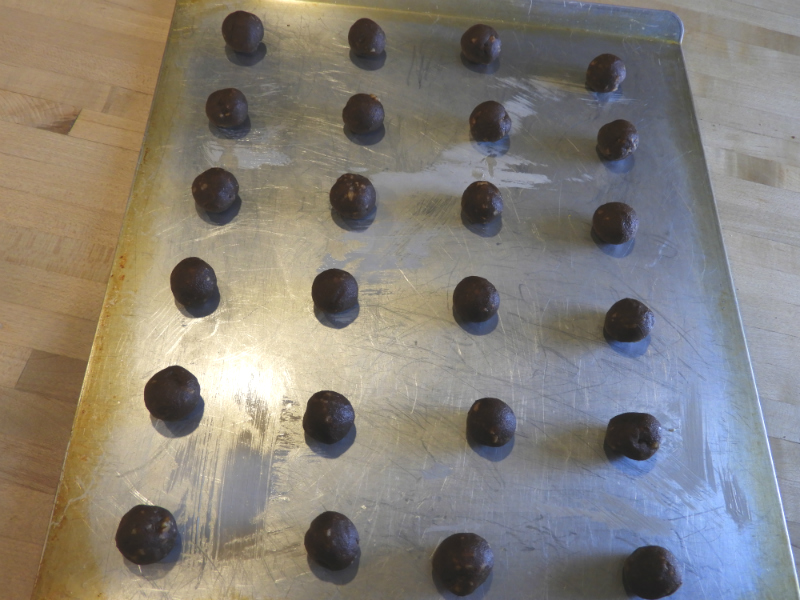 Forming the dough balls was easy and in no time, I was ready to bake. I have to say, I just love the dark chocolate color!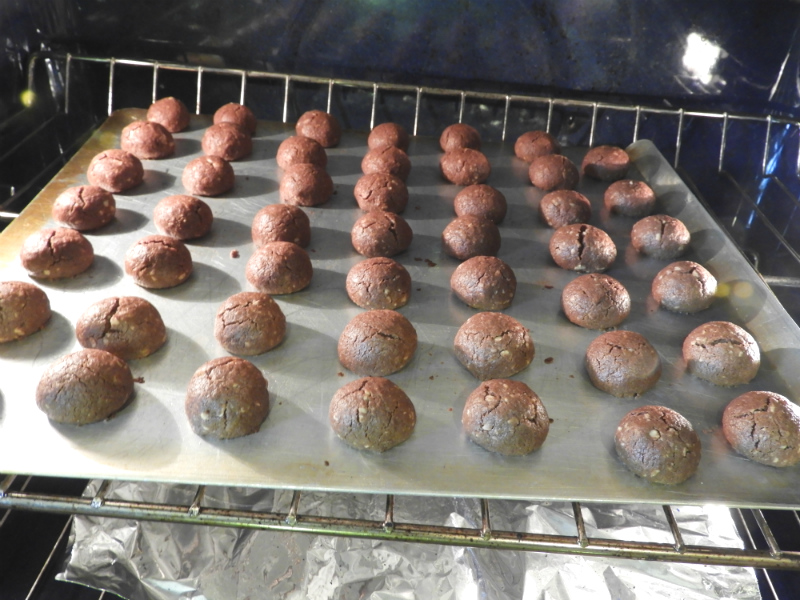 The cookie balls didn't change shape while baking, they just puffing up a bit.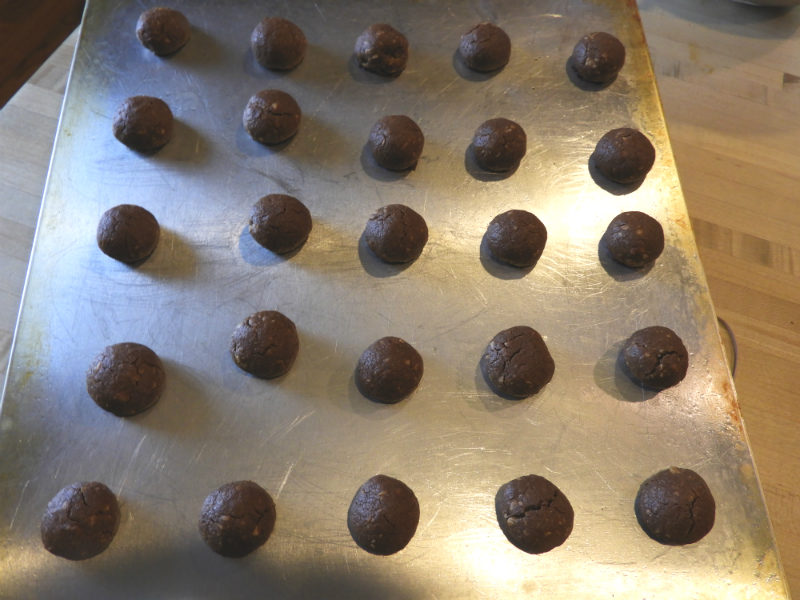 I removed the cookies from the greased cookie sheet right away and let them cool for a bit.
With most other ball cookies I've baked, the recipe says to roll the balls in powdered sugar while warm or right out of the oven. The Cocoa Balls recipe says to roll in powdered sugar after the cookies have cooled. Doing this results in the sugar attaching to the cookies, but not "melting" as much. I say melting as it's the only way I can find to describe what happens to the sugar when a hot cookie is rolled in it. Generally, I like the "melted" sugar…but I have to say, I like the less melted sugar just as much!
Check out how the powdered sugar is attached to the cookies, not melted. The white powdered sugar partnered with the dark chocolate cookie…simply beautiful!
This Cookies by Bess Cocoa Balls recipe makes a ton of cookies! Small, but super flavorful!
Anyone and everyone will love Cookies by Bess' Cocoa Balls! It's a good thing the recipe makes so many ?
Enjoy!
XXOO,
Janet
Print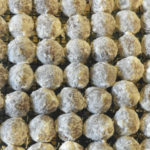 Cocoa Balls
Ingredients
1 ¼ cups butter or half shortening
2/3 cup sugar
1 tsp vanilla
1 egg
1/8 tsp salt
2 cups flour1/2 cup cocoa
2 cups finely chopped pecans
Confectioner's sugar
Instructions
Cream butter and sugar until light and fluffy. Add egg and vanilla and mix well. Add sifted flour, salt, cocoa, and nuts and mix well. Chill for several hours. Form into small balls and bake at 350 degrees for about 20 minutes on greased cookie sheets. When cool, roll in confectioner's sugar.
Recipe Yield
Makes about 8 - 9 dozen cookies 1x
Cookie Category:  Molded or Shaped
00