Cinnamon Refrigerator Cookies
quicCinnamon Refrigerator Cookies are a simple refrigerator cookie recipe that is packed full of wonderful flavors. The cinnamon mixed with the brown sugar and almonds are a perfect combination! Slicing the cookies 1/8 inch thick results in a thin, light, and crispy cookie that is easy to pop in your mouth one right after another.
I like to make refrigerator cookies when I'm in a hurry or don't have a lot of time to bake. Once the dough is mixed together, it's easy to form it into rolls and stick I the refrigerator. I can then run my errands or finish my chores for a couple hours while the rolls chill. Then I can bake just enough cookies or the entire batch. Refrigerator cookies are super flexible and always super tasty!
I'm rating Cinnamon Refrigerator Cookies 2-stars for cookie baking difficulty only because of the steps involved with rolling the dough and slicing the cookies. Not hard, just a few extra steps that are so worth the time and effort!
Easy to pull all the ingredients together as all are staples in my baking pantry.
As I mixed the butter, sugars, and egg together, I ran the sick faucet until the water was hot to mix the teaspoon of hot water and baking soda together.
I made sure to sift the cinnamon together with the flour to ensure it was evenly distributed. After adding and mixing the dry ingredients, I was ready to add the chopped almonds.
I just love how brown sugar helps to turn cookies dough into a nice and creamy color! Add the cinnamon and you have an even richer caramelly color!
I do want to note, I did not sift the brown sugar before adding and mixing it with the butter. I've read the reason for sifting brown sugar is to ensure all the lumps and potentially hard pieces are either removed or broken up. In my opinion, the effort to shift brown sugar isn't worth the intended results.
Moving on to the next step of forming the rolls, I grabbed about half the cookie dough.
The cookie dough was a little sticky, so it was necessary to flour my hands and the small wood cutting board I used to help form the rolls.
In no time, my cookie rolls were formed and wrapped in wax paper, ready for the refrigerator.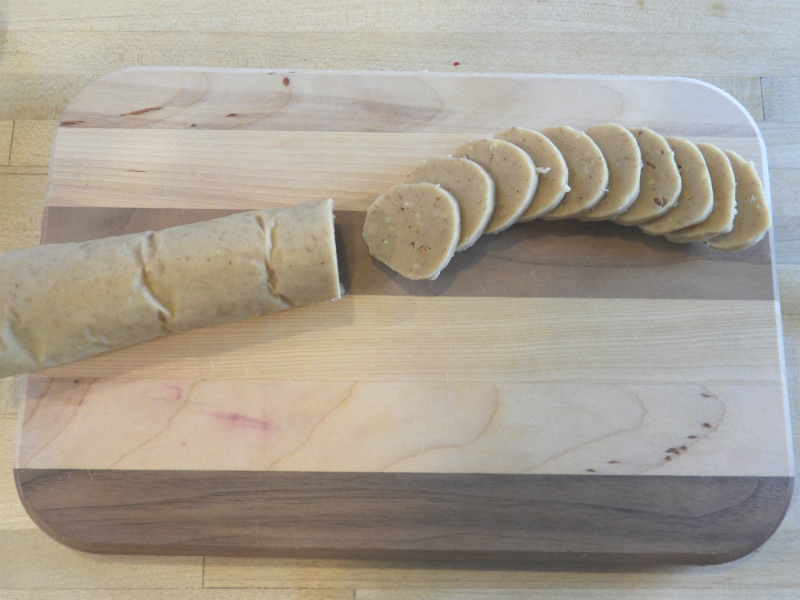 I used my sharpest paring knife to slice the 1/8 inch cookies. The almonds were chopped finely so I didn't run into too many nuts as I sliced the cookies.
From my test batch, I learned the cookies puff up and spread out a decent amount while baking, so I made sure to spread the cookie slices out on the cookie sheet.
It was fun to watch these cookies bake! It was also important to watch these cookies bake because even a few seconds too long and the cookies became too brown, at least for my taste.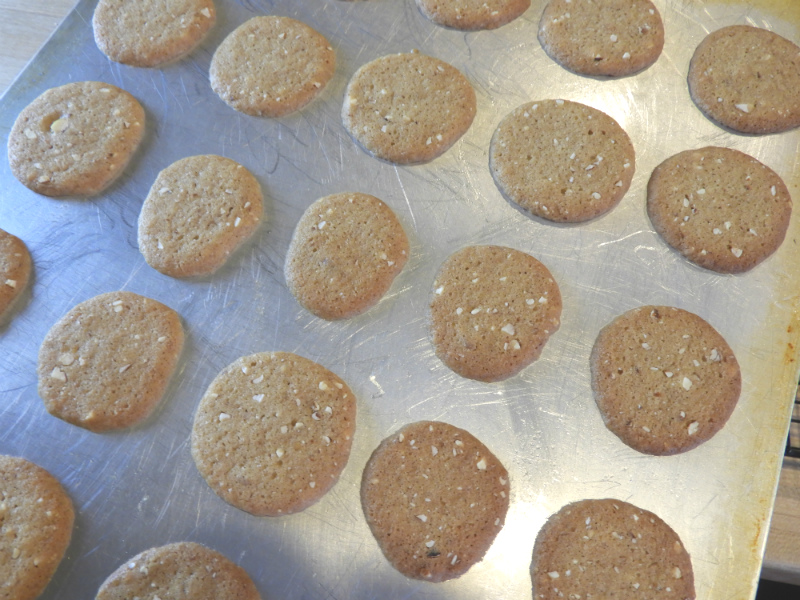 Equally important was to remove the cookies from the cookies sheets quickly as they continued to bake and brown.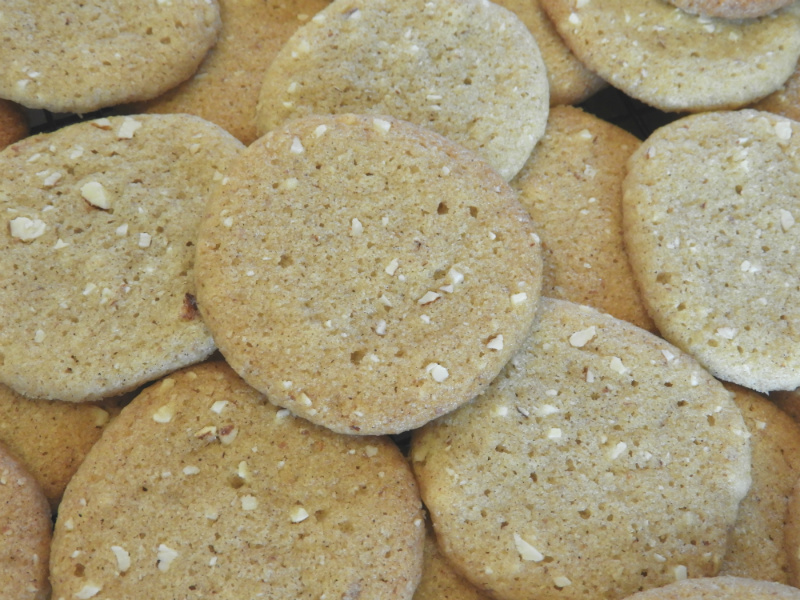 I ended up baking the cookies 7 minutes in my oven and not a second longer to ensure they were done but not too done.
You can see from all these cookies that some of them browned a bit more than others. I just love the look of all the different shades of these cinnamon cookies! The specks of nuts as a nice texture and contrast.
Cinnamon Refrigerator Cookies are a wonderful crispy cookie that pairs perfectly with coffee, milk, or no beverage at all! This recipe will fill your cookie jar and your family and friends will empty it quickly as they take handfuls at a time!
I hope you will try Cinnamon Refrigerator Cookies! I know you will love them!
XXOO,
Janet
Print
Cinnamon Refrigerator Cookies
Ingredients
1 cup butter
1/3 cup granulated sugar
1/3 cup brown sugar sifted and packed
¼ tsp soda in 1 tsp hot water
1 ½ cups sifted flour
¾ tsp cinnamon
¼ cup chopped almonds
1 egg
Instructions
Cream butter and sugars until light and fluffy. Add egg and mix well. Add soda dissolved in hot water. Add sifted dry ingredients and nuts and mix well. Form dough into 2 rolls about 2 inches in diameter and wrap in waxed paper. Chill. Slice about 1/8 inch thick and bake on greased cookie sheets at 400 degrees about 6 or 7 minutes.
Recipe Yield
Makes about 6 - 7 dozen 1x
Cookie Category:  Refrigerator