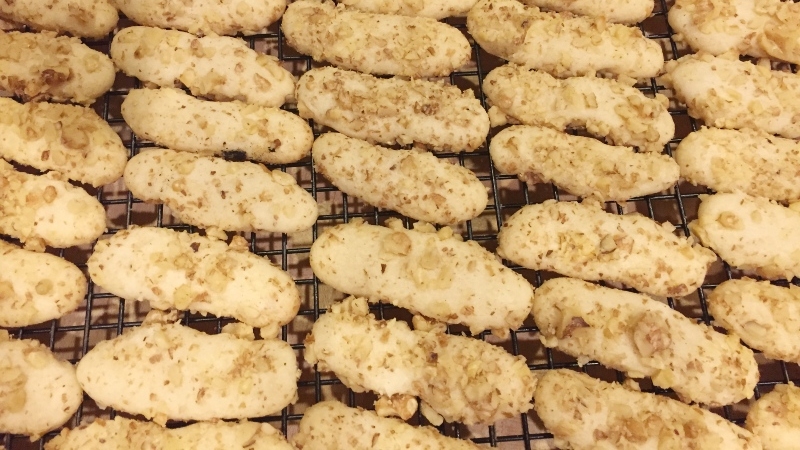 It's the holiday season, so a time for fun, festivities and forgiveness…right? I ask because as I was preparing to post this Christmas Logs blog, I notice a pretty significant mistake I made in baking these cookies.
If you've read my blogs, you know I'm always honest about Grandma Bess' recipes and cookies. So, to stay true to my baking ethics, I have to be honest with my Christmas Logs story.
After making Christmas Logs several years ago, I wasn't super impressed. The first paragraph I wrote for the original blog is below:
"Okay, so I have to admit, this isn't my favorite cookie recipe in terms of the look of the end result cookies. I'm not sure what I was expecting, but these cookies didn't turn out as I would have thought…even thought I didn't know what to think 😊."
I never posted the Christmas Log blog because, honestly, I didn't think the cookies were good. It was hard for me to write about and post a blog about a cookie I really didn't like.
I haven't been baking and posting blogs as much this past year, so I decided to review a few older blogs I never posted. Since it's the holiday season, I decided to revisit and post Christmas Logs.
After preparing the images, I read the original blog and reviewed the recipe to see if I could figure out why the cookies didn't meet my expectations. I finally figured out! If you look at the "Start" picture above, you see Karo Light Corn Syrup included with the ingredients. If you read the recipe, you see it calls for Light Molasses…not Light Corn Syrup!
I mistook Light Corn Syrup for Light Molasses! A pretty significant mistake. In researching the difference between corn syrup and molasses, I found that they are interchangeable 1 for 1, so no issue there. But of course, there is a major difference in flavor! No wonder I wasn't impressed with the Christmas Log cookies I made! I took all the flavor away!
I am so sorry Grandma Bess and I promise to Christmas Logs again in the future using molasses…but for now, I'm going to edit the original blog as needed to address my major mistake. I will repost another Christmas Logs blog with pictures of the molasses cookies. In the meantime, please bake these cookies following the instructions below and using molasses…or if you prefer a less spicy cookie, try them with light corn syrup! 😊
Here we go…
The Christmas Logs are formed by rolling the dough between your hands/palms so they look like a bent finger. With the light corn syrup, there isn't any holiday color to these logs, so they aren't holiday festive or Christmasy, but the cookie shapes and nuts help to give them a Christmas log feeling.
Christmas Logs may not be the most festive cookies, they taste great and will be a good addition to any tray of holiday cookies!
Due to all the steps involved in the baking process, I'm rating Christmas Logs 3-stars for baking difficulty. Cutting in the shortening (I used butter), shaping the cookies, and then rolling them in nuts definitely adds time and effort to the baking process.
After pulling my ingredients together, I was ready to go! Please, please, please remember to use light molasses not light corn syrup as shown above 😊
Before we get started with the step -by-step, I would like to suggest a couple adjustments to this recipe. First, as I mentioned above, I tend to substitute butter for shortening (Crisco) because in general I don't like the texture and the fact it's just not butter.  This may change the texture of the cookie a bit, but I'm still going to use butter!
Second, I suggest not chilling the dough too much as the chilled dough didn't pick up the nuts very well. Another option is to roll the dough in egg whites before rolling the logs in nuts. I may try this next time.
Finally, I noticed that if I shaped the logs to long or wide they end up not looking like logs after bakinig.  More like big ovals.  So, plan to make your logs about 1 1/2 inches long..
I can also add, based on my admittedly embarrassing mistake, that you can substitute light corn syrup for light molasses…there will be a flavor and color change, but you will still have a wonderful tasting cookie!

The first step in the baking process is cutting in the shortening, or butter. I would expect using shortening would be easier to cut in then butter and may save some time and elbow grease. If using butter, you'll want to ensure the butter is soft. My butter was relatively soft, so the process went pretty quick. I used a fork and kept working it until the butter was evenly blended with the flour mixture.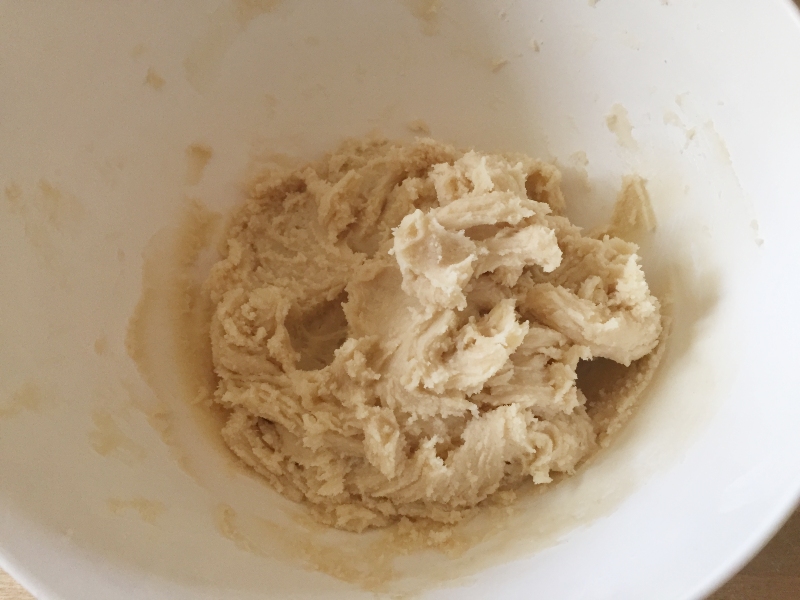 Mixing the light corn syrup (or molasses) and vanilla into the flour mixture really brought the dough together, quicker than I thought. It became a nice and smooth dough with a beautiful color. I stuck the dough into the refrigerator for an hour per the recipe.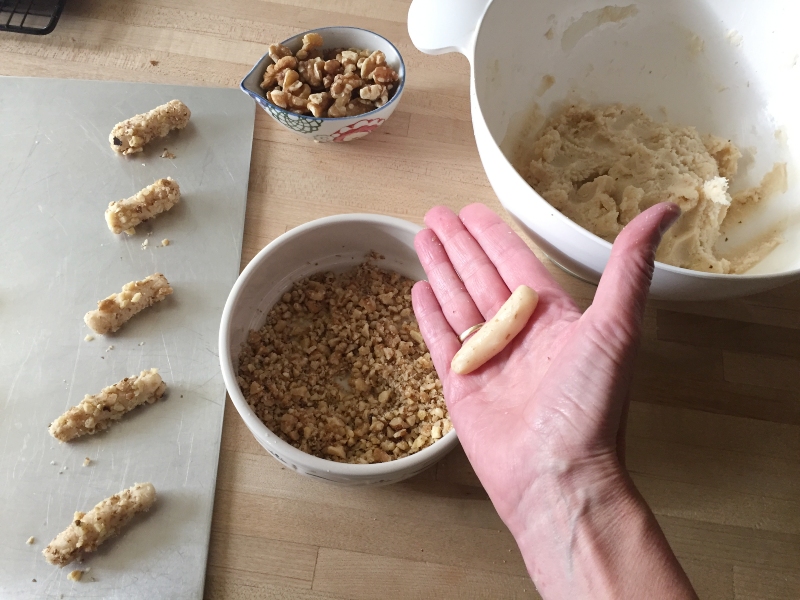 The dough was cold, so I kneaded small portions of it between my hands to warm it up and then shaped the logs.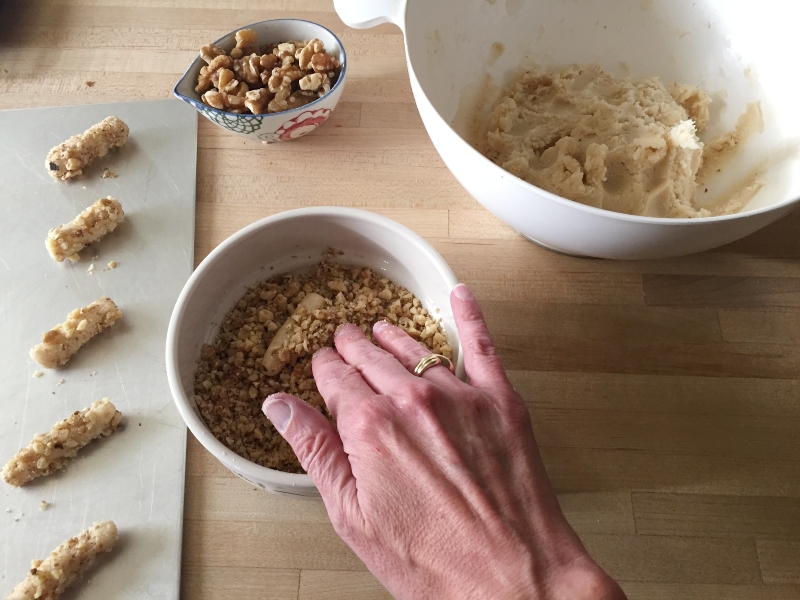 The recipe doesn't call for a specific type of nuts.  I decided to use walnuts because I think they look and taste a little more "woodsy" or rustic.
After rolling and shaping the logs, I rolled them in the chopped walnuts. The dough didn't pick up the nuts very well, so I had to pat or push the nuts into the logs to make sure they stuck.

Make sure to place the logs on your cookies sheets with enough room between them.  They will expand a little as they bake.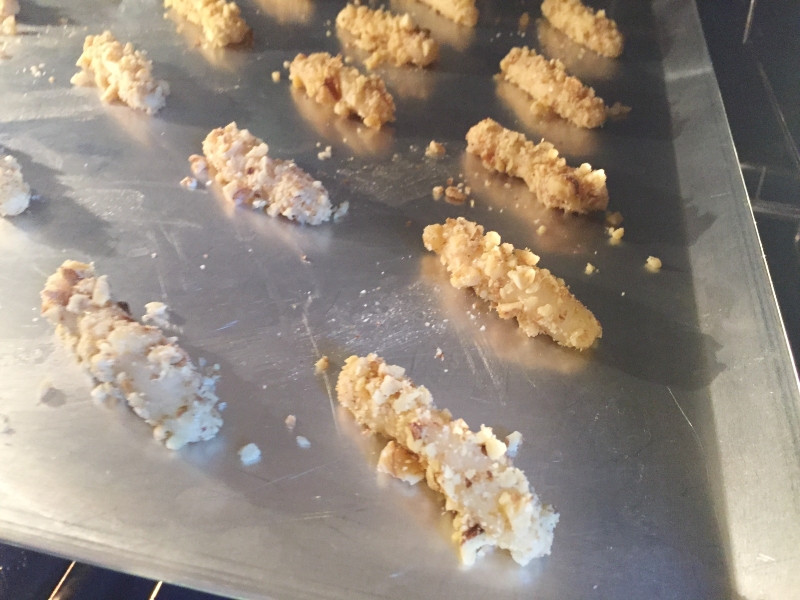 I baked the cookies for the full 15 minutes,  This made sure they were fully baked, and the nuts stuck to the logs. The extra time didn't brown the cookies, they maintained their nutty color.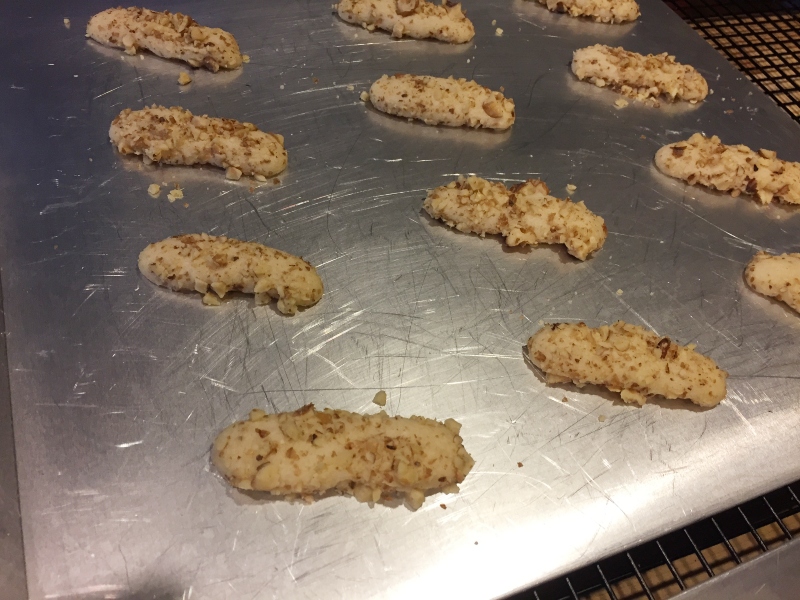 Once out of the oven, the cookies were easy to remove from the baking sheets.  They cooled nicely on the cooling racks. They really do look like little logs!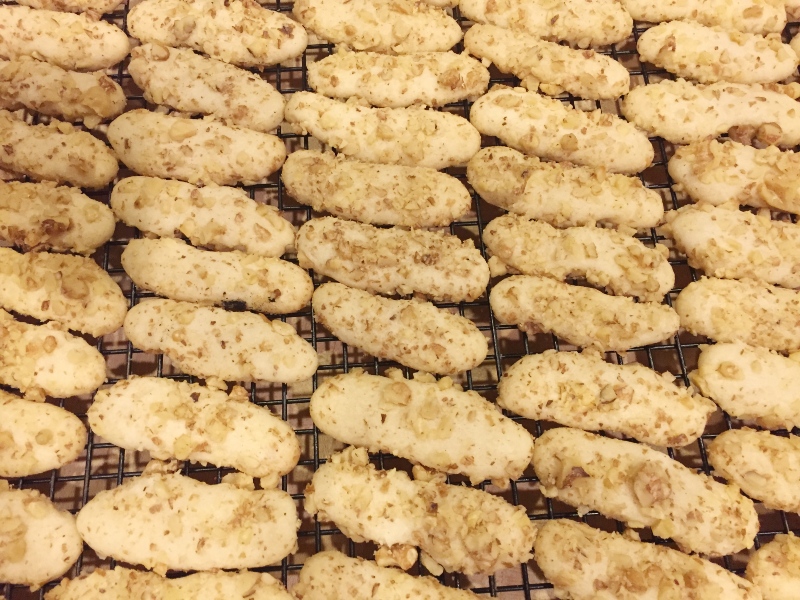 Seeing all the Christmas Logs lined up on the cooling rack makes me want to light a fire and sip something warm.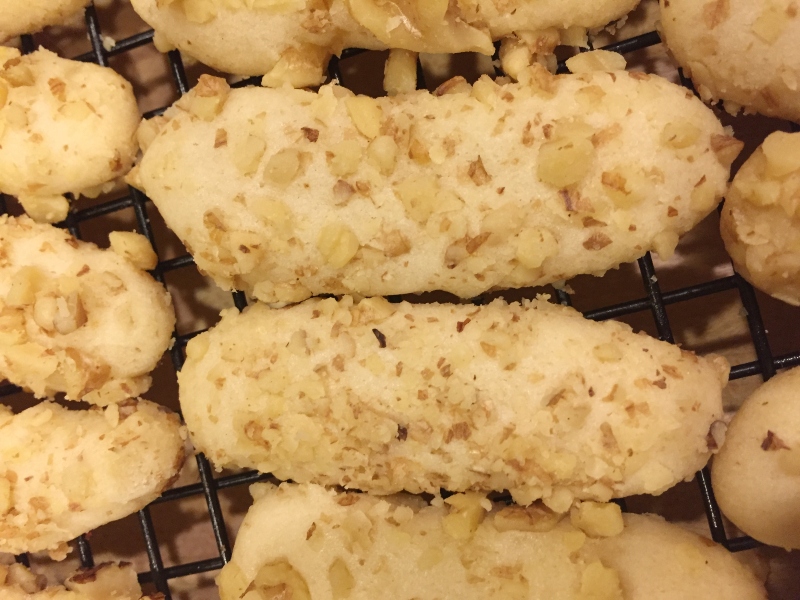 Christmas Logs are full of texture and nutty flavors. With the corn syrup, they are a sweet buttery nut cookie that will surprise you and your holiday guests!

I decided to sprinkle the cookies with powdered sugar, for a snowy affect. I think it's a nice, sweet addition!
Christmas Logs, makd with corn syrup, may not be exactly what I expected, but they are great tasting cookies! They look great as part of a cookie assortment. Also, I don't see these cookies as only for the holidays.  Christmas Logs can be made anytime throughout the year if you are looking for a light buttery and nutty flavored cookie.
Enjoy!
XXOO,
Janet
Print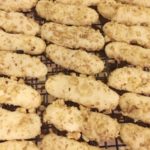 Christmas Logs
Ingredients
2 ½ cups sifted flour
½ cup confectioner's sugar
¼ tsp salt
¾ cup shortening
½ cup light molasses
1 tsp vanilla
1 cup chopped nuts
Instructions
Blend flour, sugar and salt. Cut in shortening, stir in molasses and vanilla and mix well. Chill dough for about one hour. Shape into small logs about 2 inches long and ½ inch thick. Roll in chopped nuts and bake on an ungreased cookie sheet. Bake at 325 degrees from 10 to 15 minutes.
Recipe Yield
Makes about 5 dozen cookies 1x
Cookie Category:  Molded or Shaped