I think Chocolate Stripes is a cool name for a cookie! Its interesting to me this recipe is called Chocolate Stripes because the end result cookies don't look like or have any stripes! This makes me wonder if maybe Chocolate Stripes is the wrong cookie title for this recipe. Once again, I wish Grandma Bess was here to ask!
Cookies by Bess' Chocolate Stripes recipe is a unique chocolate bar cookie with tons of chopped almonds. This bar cookie is very light and almost fluffy, I expect due to the stiffly beaten and folded in egg whites.
I am rating Chocolate Stripes 2-stars for cookie baking difficulty because the bars are relatively easy to make but there are several steps in the process, so you'll want to be organized and follow the directions carefully.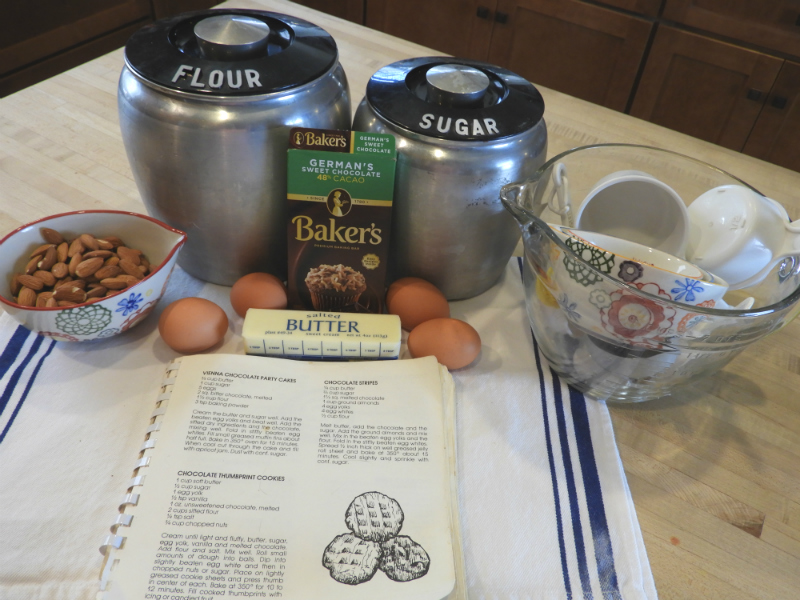 The recipe is specific about the type of nuts to use (almonds) but not about the type of chocolate. I generally use a milk chocolate in these situations just to make sure there is a nice and sweet chocolate flavor!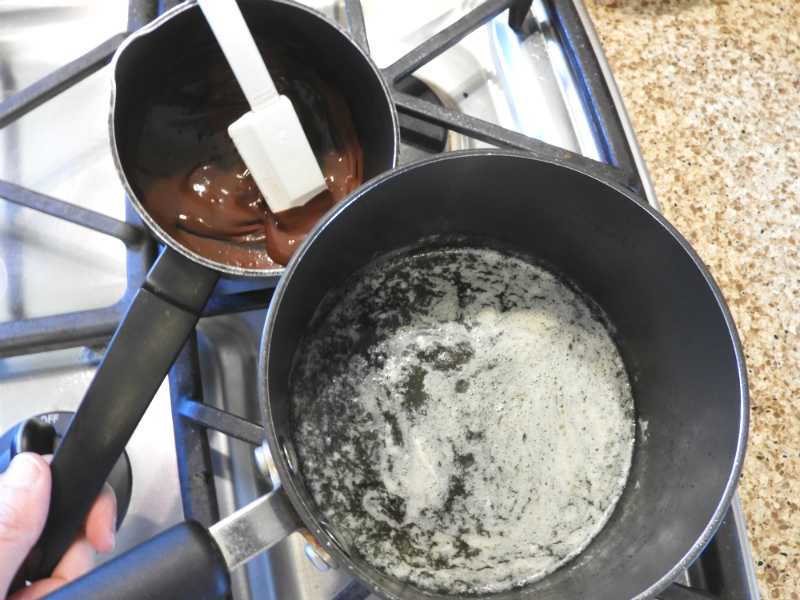 The first step is to melt the butter and chocolate. At first I thought they were to be melted together, but as I ready the recipe again, decided to melt them separately and then combine with the sugar.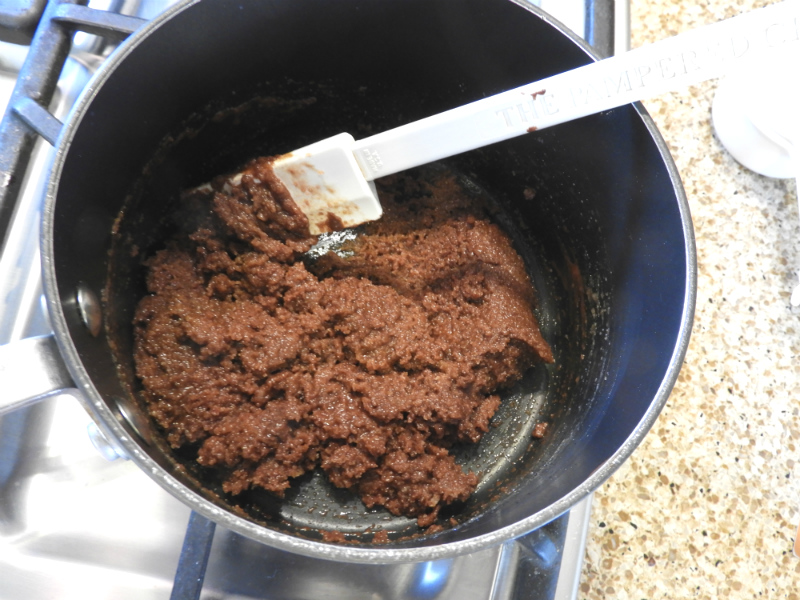 The butter and sugar formed a nice and thick chocolate concoction!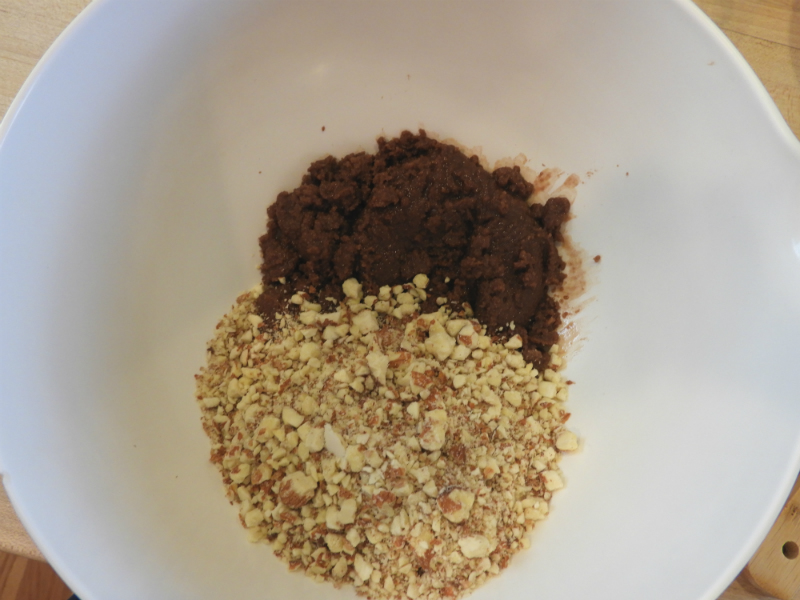 I transferred  chocolate to a mixing bowl and then added the almonds.
Next, I added the flour and beaten egg yolks. This formed another thick and chocolatey mixture.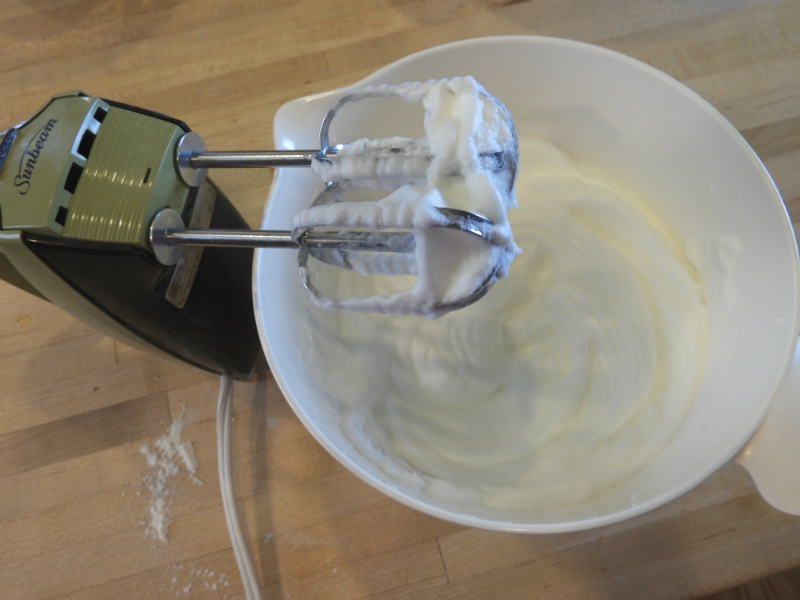 I just love to use my Grandma Bess' Sunbeam hand mixer to beat egg whites! There is just something about using the mixer that makes me feel nostalgic. It only took a few minutes to get the egg whites nice and stiff!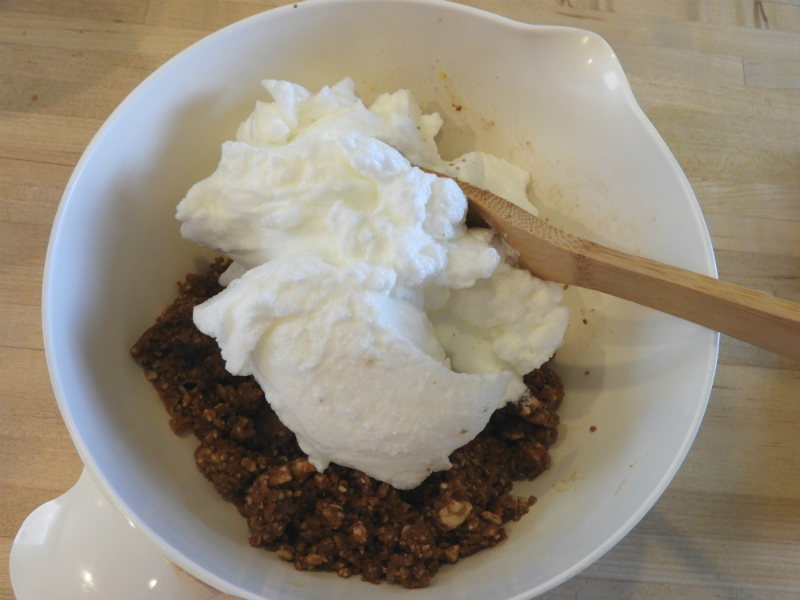 The egg whites folded in nicely…
…and helped to loosen up the chocolate mixture quite a bit.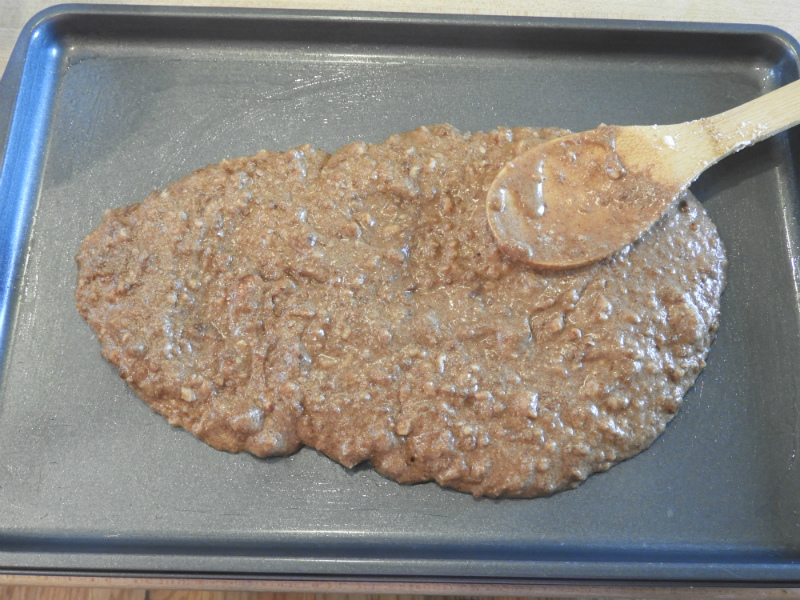 I was now ready to spread the mixture in my jelly roll pan.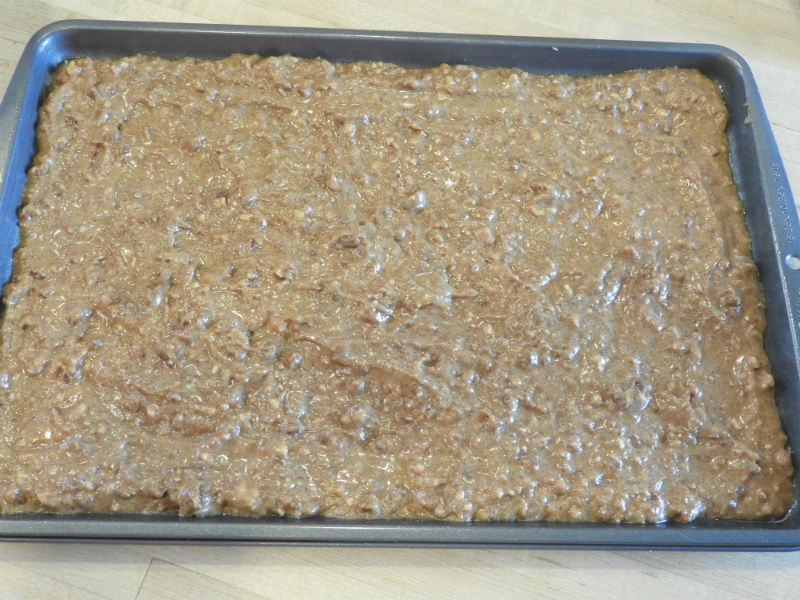 Finally, I was ready to bake! The recipe says to spread the dough mixture ½ inch thick in the jelly roll pan. It seemed to fit perfectly in a basic 15 ½" by 10 ½" pan.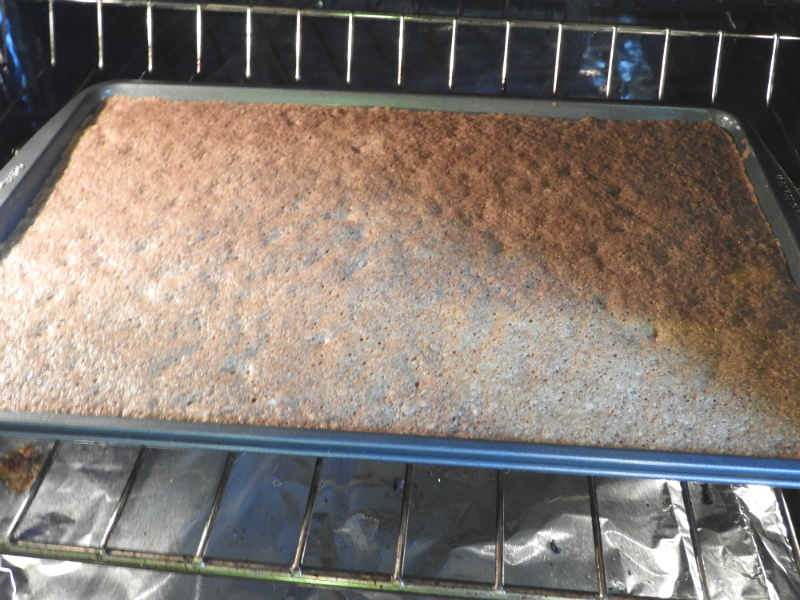 The recipe says to bake the cookies for 15 minutes.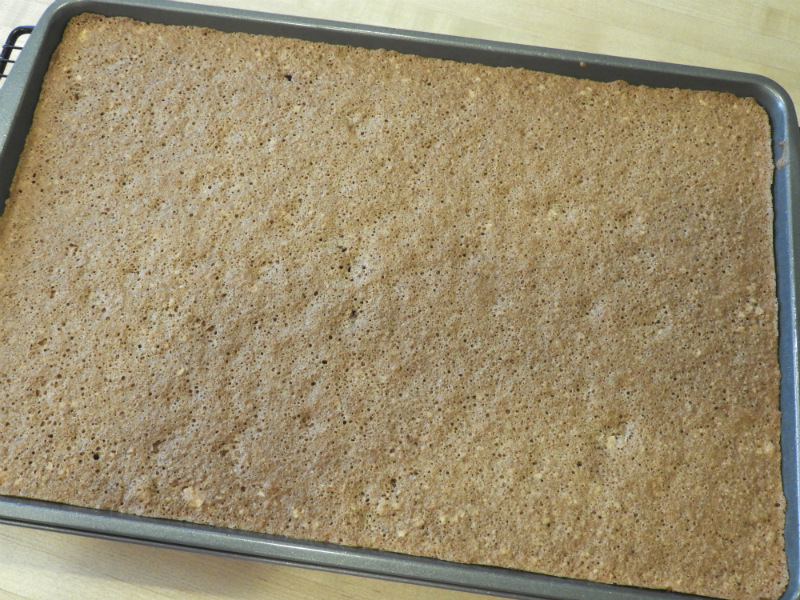 The bar cookies baked up nicely!
The recipe says to cool slightly and sprinkle with confectioner's sugar. So, I did ?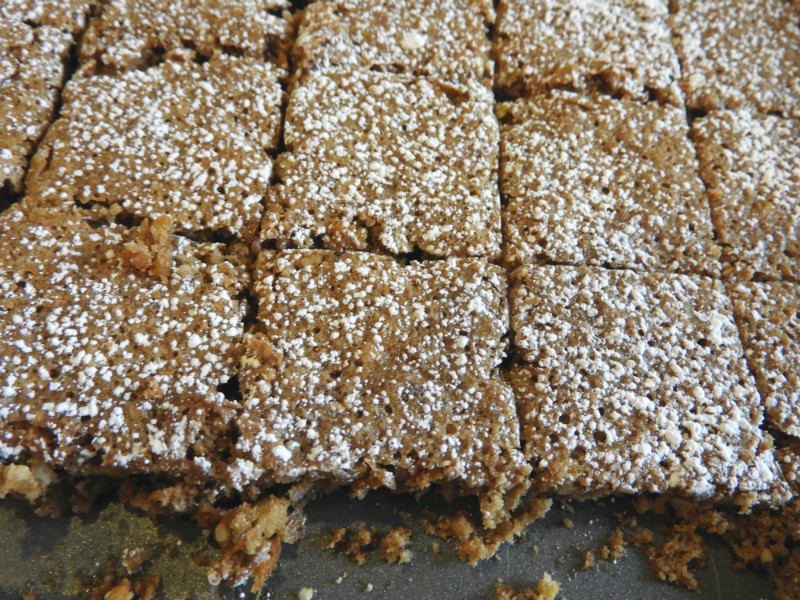 As you can see, there really isn't a stripe to this cookie…but they sure taste chocolatey! The egg whites lighten up this cookie and the almonds give it a nice crunch!
I can't seem to find the "stripes" in this Chocolate Stripes recipe, but I can find a unique bar cookie that is chocolatey and nutty. Chocolate Stripes are easy to prepare and quick to bake bar cookie. The chocolate and almond flavors help make this recipe perfect for any occasion!
XXOO,
Janet
Print
Chocolate Stripes
Ingredients
¼ cup butter
2/3 cup sugar
1 ½ sq melted chocolate
1 cup ground almonds
4 egg yolks
4 egg whites
½ cup flour
Instructions
Melt butter. Add the chocolate and the sugar. Add the ground almonds and mix well. Mix in the beaten egg yolk and the flour. Fold in the stiffly beaten egg whites. Spread ½ inch thick on well greased jelly roll sheet and bake at 350 degrees about 15 minutes. Cool slightly and sprinkle with confectioner's sugar.
Recipe Yield
Makes about 5 - 6 dozen cookies 1x