Chocolate Butterscotch Squares
I'm sure you all have heard of Blondies.  To me Blondies are basically a chocolate chip cookie recipe made into a bar cookie. Cookies by Bess Chocolate Butterscotch Squares are just that…a wonderful chocolate butterscotch cookies recipe made in to squares!
It's amazing to me how many ways a basic chocolate chip cookie recipe can be adjusted to create different but the same chocolate chip cookies! The Chocolate Butterscotch Squares recipe mentions frosting the squares when cooled…doing this reminds me of the large chocolate chip cookies you get from a grocery store bakery. Nice and thick buttercream frosting on top of Chocolate Butterscotch Squares would be awesome! Definitely doing that next time!
I'm rating Chocolate Butterscotch Squares 2-stars for baking difficulty. Per usual, the recipe isn't hard, but there are a couple steps in the baking process that make it important to pay attention so you get it just right ?
As I read the recipe and pulled my ingredients together, I didn't realize how much Chocolate Butterscotch Squares are like regular Chocolate Chip Cookies…
The ingredients are the same, but in different portions and even different consistency like the melted shortening (I actually used butter instead of shortening). The butter was easy to melt in the microwave. Once melted, I just poured on the brown sugar.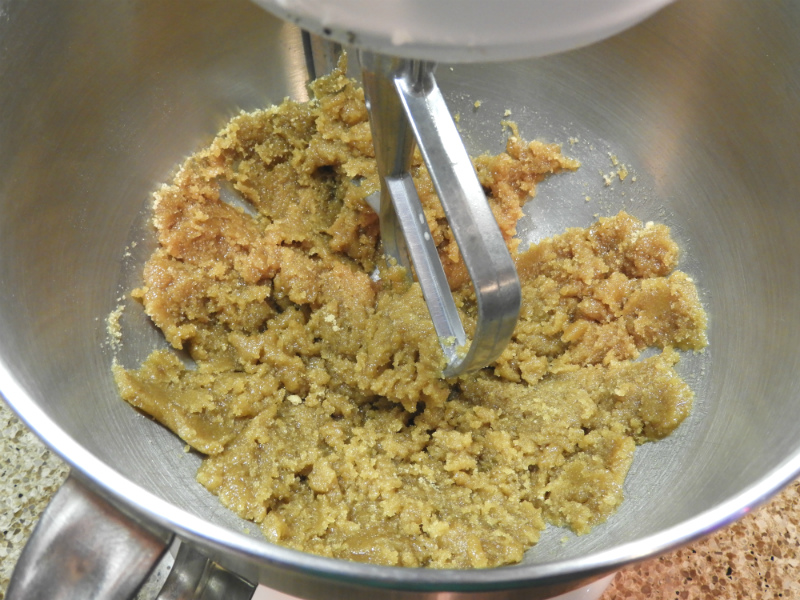 The brown sugar and melted butter mixed together easily and produced a nice and rich looking combination.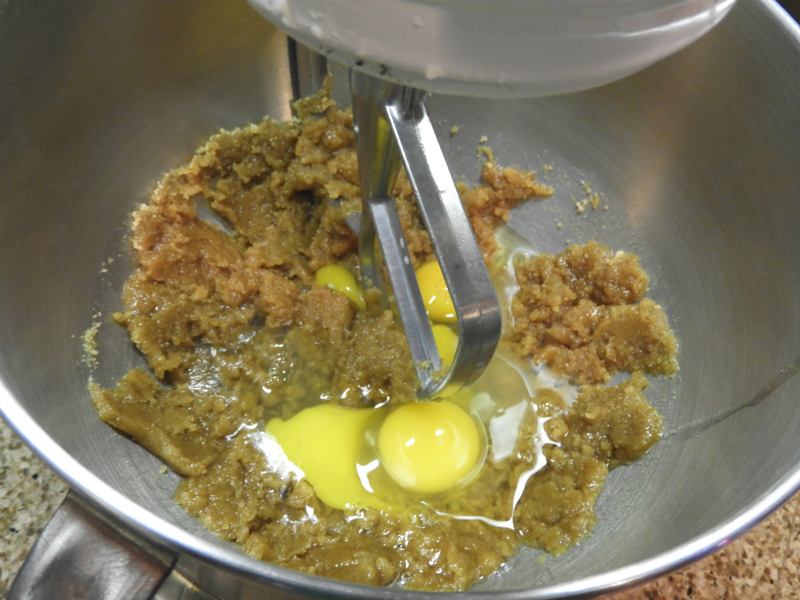 Next, I added the 3 eggs and beat everything together.
And what did I get? Butterscotch! Just look at how the brown sugar, eggs, and butter came together! Once again, the same ingredients as chocolate chip cookies, a way different look and feel.
The recipe next says to add the sifted dry ingredients, nuts, chocolate bits, and vanilla. Basically throw the rest in and beat well! I started with mixing in the sifted dry ingredients to ensure I didn't get flour flying all over the kitchen.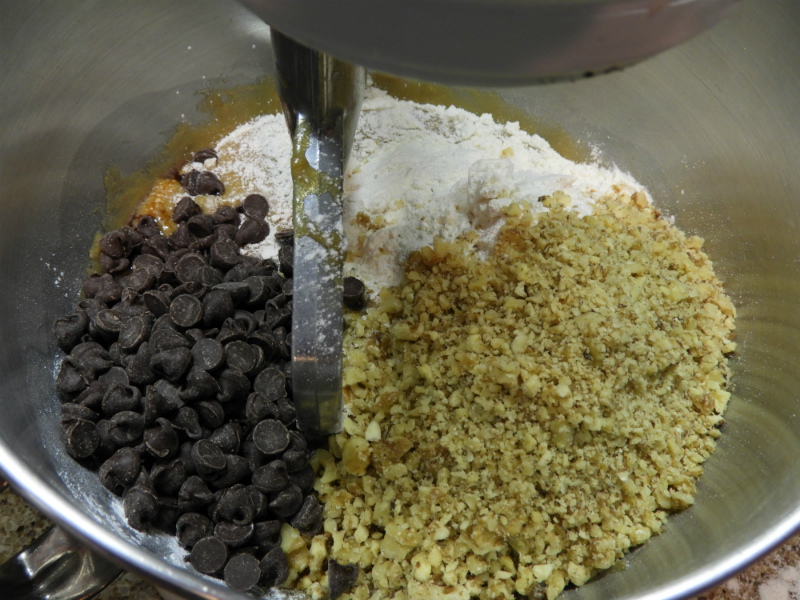 Next, I poured in the chocolate bits and nuts. I decided to use walnuts because it was at this point I started to realize the similarity between this recipe and basic chocolate chip cookies…which in my opinion are best with walnuts.
My suspicions were correct once I finished mixing everything together! This cookie dough looks (and tastes) just like chocolate chip cookie dough!
But, instead of dropping cookie dough onto greased cookie sheets, I got ready to spread the cookie dough into a greased jelly roll pan.
Looking at the amount of cookie dough and the size of my jelly roll pan, I was a little worried I needed a bigger pan especially with 2 ½ teaspoons baking powder!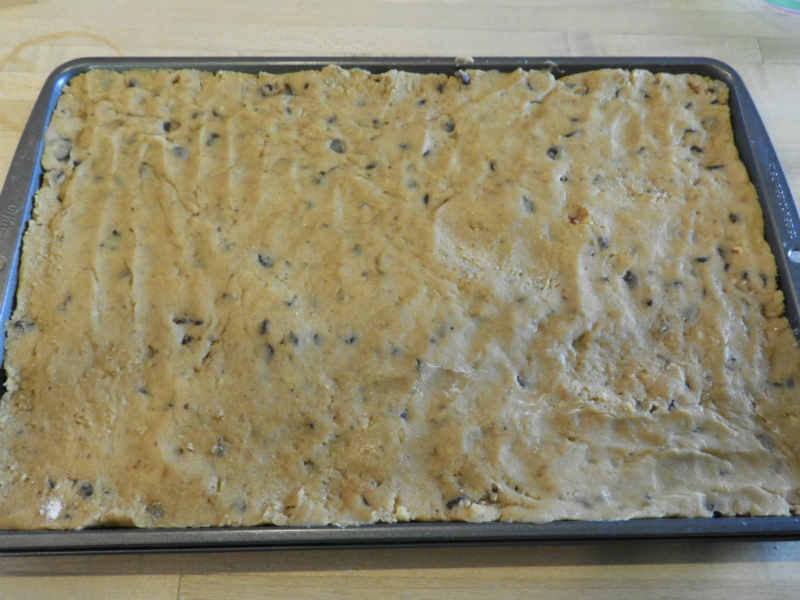 Since the recipe didn't specify a larger pan, I decided to continue with the basic jelly roll size pan and just keep an eye on them while baking.
As I expected, the cookie dough began to rise after about 15 minutes in the oven. It seems to maintain itself though, so no overflowing…thank goodness!
Okay, so, I have to admit something…I dropped the jelly roll pan. Oops! OMG, I couldn't believe it. It just flipped over! I did the best I could to keep the cookies in tact, but no such luck. The bars broke up, but they weren't a complete loss…I was able to salvage quite a bit!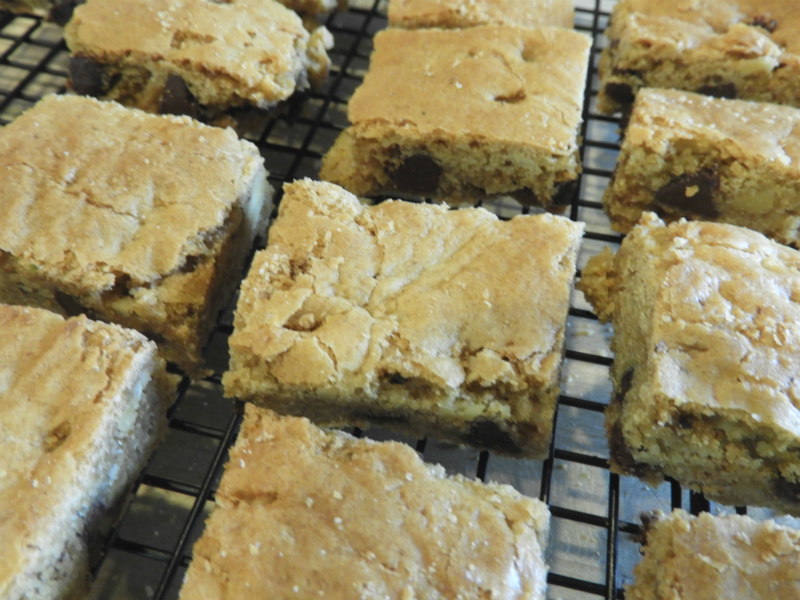 I was even able to get some actual Squares!
Despite my little accident, these Chocolate Butterscotch Squares ended up looking and tasting great!
I just love the butterscotch color of these cookies…the butterscotch flavor with the chocolate chips and nuts is just perfect…like a chocolate chip cookie ?
Chocolate Butterscotch Squares are the perfect Blondie/Chocolate Chip Cookie! Chewy and crunchy, nutty and chocolatey…a great alternative to the traditional cookie that will satisfy your chocolate chip cookie cravings!
For all those Chocolate Butterscotch lovers out there…I hope you enjoy Chocolate Butterscotch Squares as much as I do!
XXOO,
Janet
Print
Chocolate Butterscotch Squares
Ingredients
2/3 cup melted shortening
2 ¼ cups brown sugar
3 eggs
2 ¾ cups flour
1 tsp vanilla
½ tsp salt
2 ½ tsp baking powder
1 cup chopped nuts
1 6 oz package chocolate chips
Instructions
Mix melted shortening and sugar well. Add gees and beat until light and fluffy. Add sifted dry ingredients, nuts, chocolate bits, and vanilla. Beat well. Spread on greased jell roll pan. Bake at 350 degrees 35 minutes. Frost if desired when cool. Cut into squares.
Recipe Yield
Makes about 4 - 5 dozen 1x