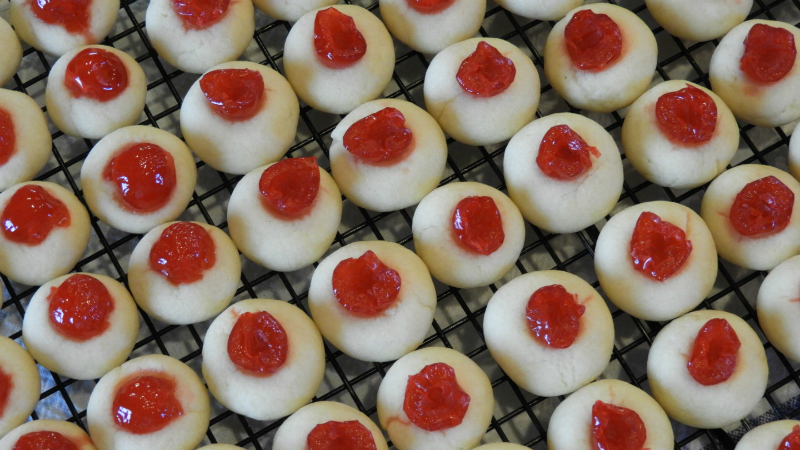 What beautiful pictures! Cherry Cookies photograph so well! The finished cookies look good enough to eat! 😊
I just happen to have a jar of maraschino cherries in my refrigerator, so I was excited to find the Cherry Cookies recipe in Cookies by Bess. I was also excited because the recipe includes almond extract. The combination of cherries and almond sounded really good to me! And I was right, the end result cookies taste great!
I am rating Cherry Cookies 2-star for cookie baking difficulty. Once again, the cookies aren't difficult to make, but there are a few steps in the baking process that add a bit of time, so 2-stars it is!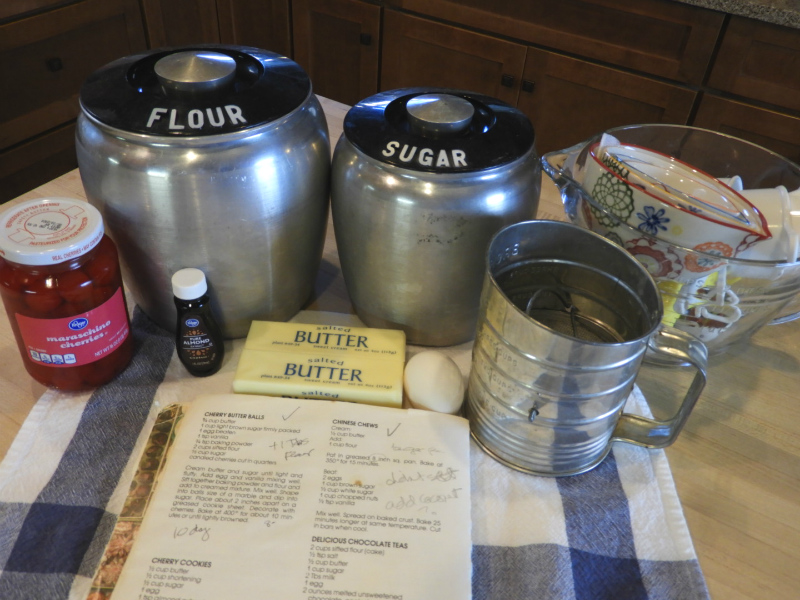 The recipe has just a few ingredients and I had them all in my baking pantry! As I've mentioned with other recipes, I'm not a fan of shortening, so I used a full cup of butter versus ½ cup butter and ½ cup shortening as stated in the recipe.
Prior to mixing the dough, I strained the juice out of my maraschino cherries as much as possible.
The cookie dough mixed up easily and quickly. This dough isn't super sweet due to only ½ cup sugar, but the almond extract adds a nice subtle flavor and works perfectly to make this dough awesome!
The recipe calls for placing a whole or ½ a maraschino cherry on a small dough ball. Using a whole cherry seemed to big and using a ½ cherry seemed difficult to place on the dough balls.
I decided to try a couple different options to see which baked up the best. My test had three options, a whole cherry, ½ cherry with the cut side down, and ½ cherry with the cut side facing up.
Once baked, I decided to use the ½ cherry with the cut side facing up. I made this decision based on the look of the cookie and the fact that this option didn't have as much "bleeding" from the cherry into the cookie.
As I began rolling the dough balls, I was trying to decide how I was going to press the cherries into the dough.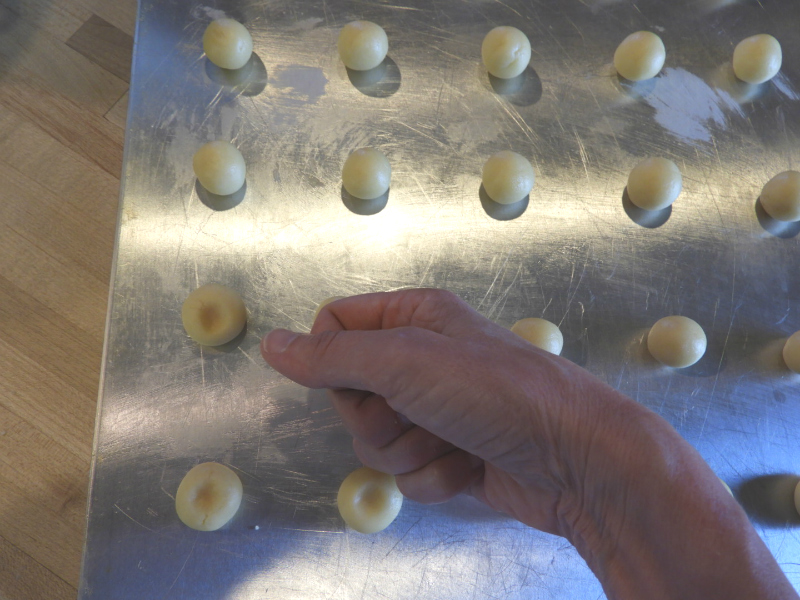 I decided to use my knuckle to make a small indention in the dough balls.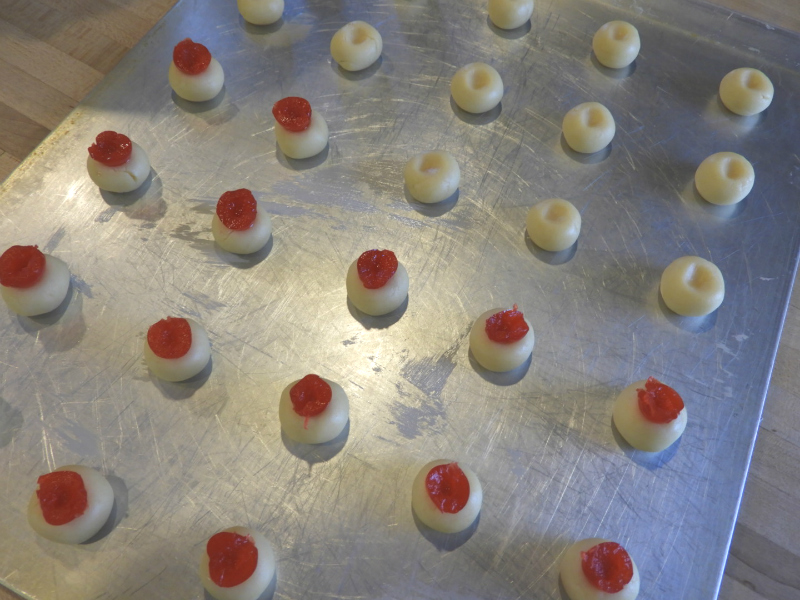 I placed the ½ cherry facing up on each dough ball.  The knuckle indentation work nicely!
The cookies baked up nicely! They kept their round shape and the cherries stayed nicely in the center of the cookies. I ended up baking the cookies for 11 minutes to ensure they were fully baked through.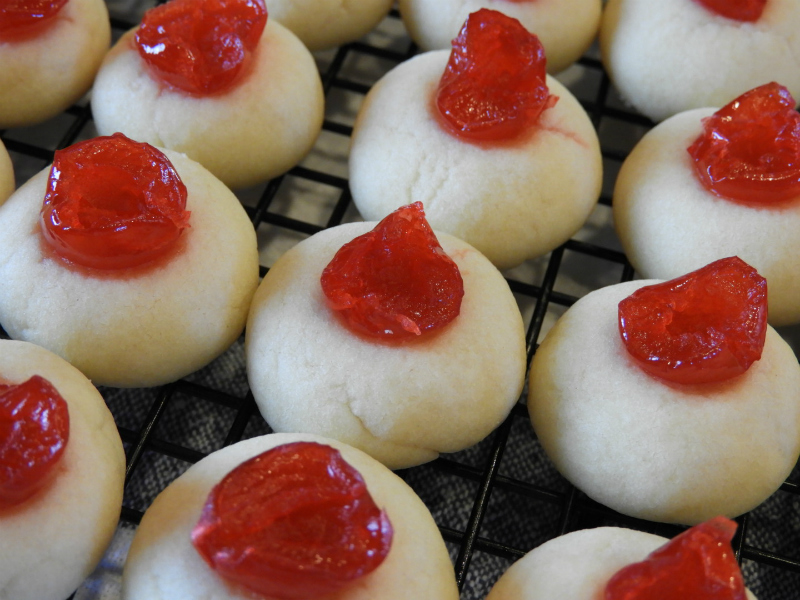 The cookies were easy to remove from the cookie sheet. The bottom of the cookies didn't brown, but instead kept their wonderful light almost white color. A beautiful contrast to the red cherries!
As I mentioned earlier, Cherry Cookies photograph so well!  Amazing how beautiful these cookies are!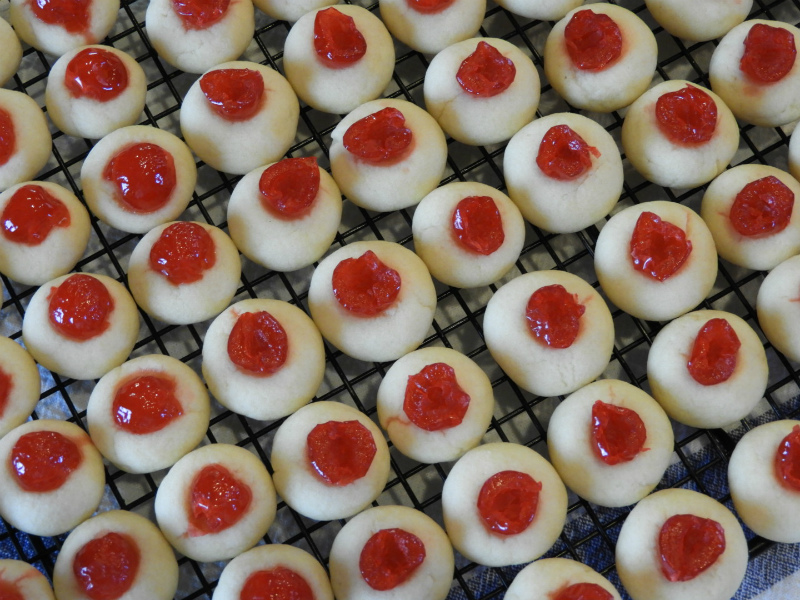 Cherry Cookies are a beautiful and fancy cookie! Perfect for a brunch or cocktail party.  Can't you just imagine a beautiful table setting with bottles of champagne, champagne flutes, and a plate of Cherry Cookies! What a presentation for sure!
I so hope you try this recipe! The butter paired with almond extract and a maraschino cherry is perfect! I know you will love them!
XXOO,
Janet
Print
Cherry Cookies
Ingredients
½ cup shortening

½ cup butter

½ cup sugar

1 egg

1 tsp almond extract

2 ¼ cup flour
Instructions
Cream butter, shortening and sugar well. Add egg and almond extract and mix well. Add flour mixing well. Shape into small balls. Press into each ½ or 1 whole maraschino cherry. Bake on greased cookie sheets 350 to 375 degrees for about 10 minutes.
Recipe Yield
Makes about 6 - 7 dozen cookies
Cookie Category:  Molded or Shaped