As I continue to bake all of the Cookies by Bess cookie recipes, I am excited most by making the "name-sake" cookies! There is a cookie recipe named for each of the women in the family around the time Grandma Bess first published Cookies by Bess! Cathy's Ginger Creams is the third name-sake cookie I've made so far.  The first two were Janet's Brown Sugar Drops and Paula's Spicy Apple Bars.
I'm not sure how Grandma Bess decided which recipe to name for who…another question I'd love to ask Grandma Bess! Next time I see my cousins and aunts, I'll ask each if she has every made her name-sake cookie.
In the mid-1960's there were only three of us girl cousins. Paula, Cathy, and me. Cathy and I grew up living close to each other, but she was a bit older than me, so we didn't hang out together. Regardless, I've always felt like we had a special bond. And now I've made her special cookie recipe…I'll have to send her some! 😊
Cathy's Ginger Creams are a great recipe that bake up exactly how I think a ginger cookie should…a bit firm, a bit soft, having a spicy aroma, and tasting great! Cathy's Ginger Creams suggests frosting the ginger cookies with a confectioners icing…since there wasn't a specific recipe provided, I decided to find a Cookies by Bess frosting recipe.
I decided on Quick Butter Icing for Spreading. I chose this recipe because it's a white frosting with lots of confectioners sugar…but in hindsight it probably wasn't the best match for Cathy's Ginger Creams because the flavor was a bit too buttery versus sugary.  To help,  I ended up making a couple adjustments to the recipe.
I'm rating Cathy's Ginger Creams 2-stars for cookie difficulty. This is a typical drop cookie…easy to mix up, easy to bake, and easy to frost!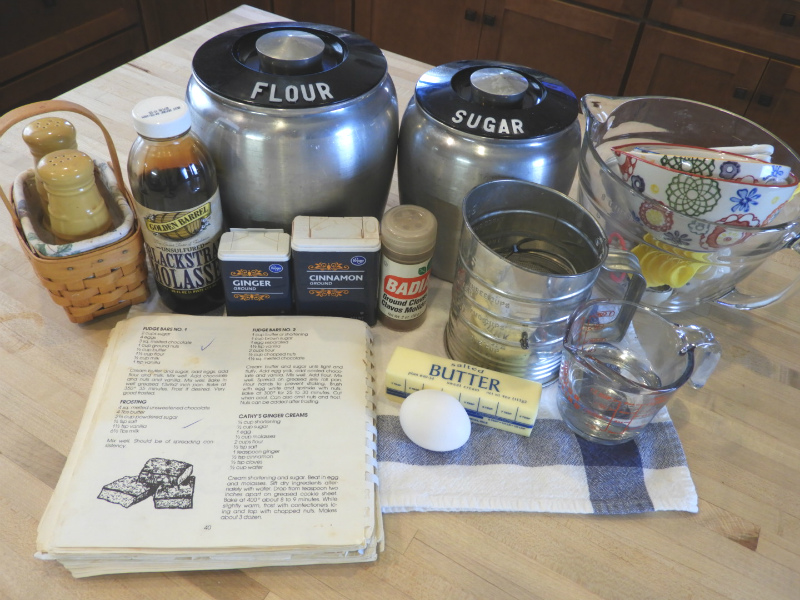 As usual, I got started by pulling all my ingredients together.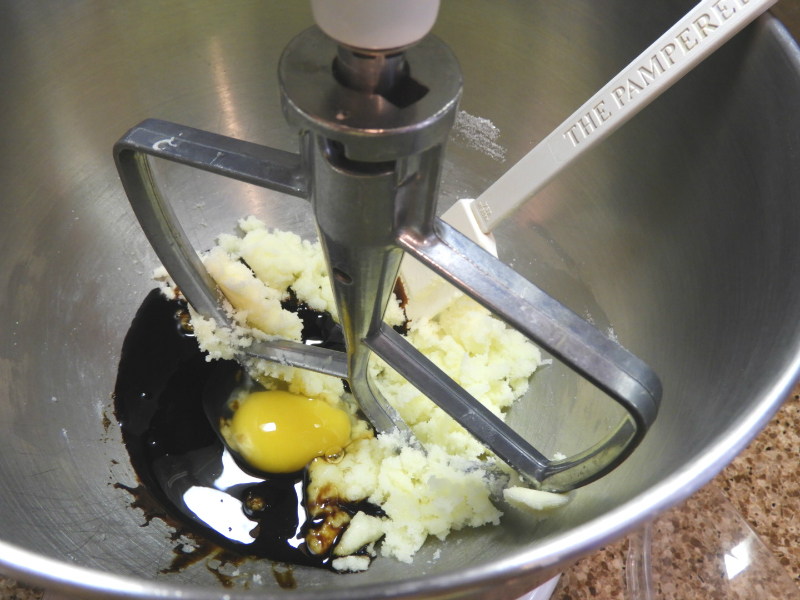 And then started mixing the ingredients. I haven't made a molasses cookie before, so I wasn't sure what to expect. I was pleasantly surprised at the wonderful color the cookie dough turned when the molasses was mixed in.
After the dry ingredients together with the butter, sugar, eggs, molasses mixture, I was a little nervous the dough was too wet and loose to bake. I considered just adding more flour and even sticking the dough into the refrigerator for an hour or so.
But instead, I decided to bake a test batch to see how the cookies baked up.
Once again, I was pleasantly surprised to see the cookies baked up perfectly!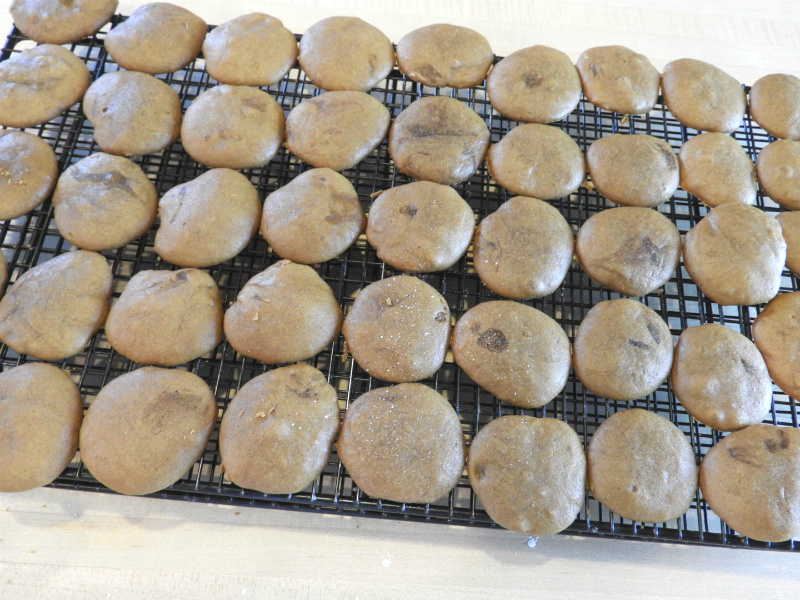 They spread like a normal drop cookie, they were firm on he outside, were they were easy to remove from the cookie sheet. Once again, Bess knows best! The recipe was perfect!
Next, as I was baking the cookies, I got started on the frosting. As I mentioned above, I decided to make a butter and confectioners sugar frosting. It tasted great! But, in my opinion, wasn't the right frosting for Cathy's Ginger Creams.
So, I decided to add some molasses to the frosting!
The molasses changed the color and added to the rich flavor! A touch of molasses made a huge difference!
To help pair the frosting with the recipe even more, I decided to sprinkle a bit of cloves on top of the frosting. Another great idea that added to the flavor as well as the look of the cookies! So pretty!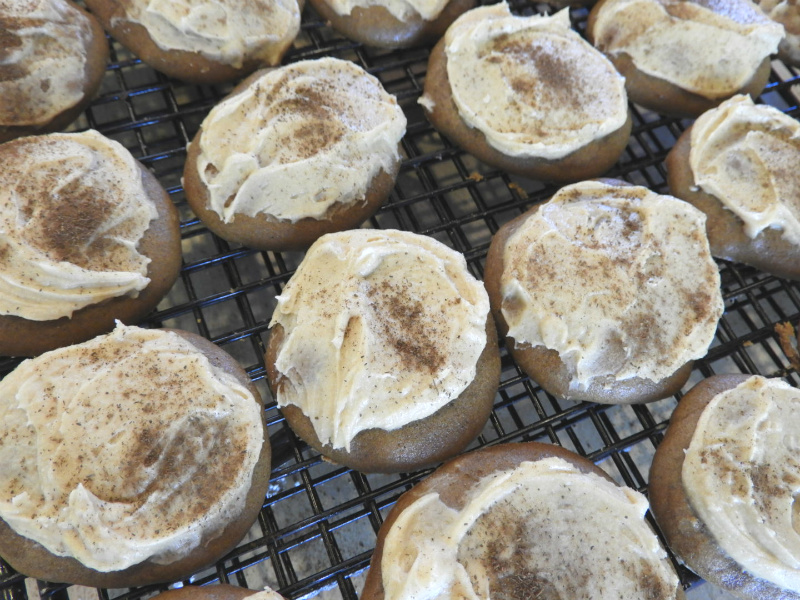 Cathy's Ginger Creams are a wonderfully flavored spicy ginger cookie that is made even more spectacular with a rich and creamy frosting.
I am so glad I decided to experiment a bit with the frosting! This not only added to the already yummy flavors, it added even more personality to the cookies!
Next time I might adjust even more by increasing the amounts of ginger, cinnamon, and cloves…because I love a spicy cookie and the spicier the better!
You can't go wrong with Cathy's Ginger Creams! Whether spicy or spicier, I know you will love these cookies!
And to my cousin Cathy…if you haven't made your name-sake cookie yet, now is a good time to try! I know you will love them!
XXOO,
Janet
Print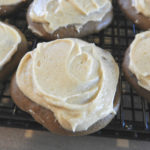 Cathy's Ginger Creams
Ingredients
¼ cup shortening

½ cup sugar

1 egg

1/3 cup molasses

2 cups flour

½ tsp salt

1 tsp ginger

½ tsp cinnamon

½ tsp cloves

½ cup water
Instructions
Cream shortening and sugar. Beat in egg and molasses. Sift dry ingredients. Add alternately with water. Drop from teaspoon two inches apart on greased cookie sheet. Bake at 400 degrees about 8 to 9 minutes. While slightly warm, frost with confectioners icing and top with chopped nuts. Makes about 3 dozen.
Notes
Quick Butter Icing for Spreading
Cream ¼ cup butter; add 1 Tbs cream, ½ tsp vanilla, and about 1 ¼ cup confectioners' sugar or enough to form consistency for spreading. Beat well about 5 minutes.
Recipe Yield
Makes about 3 - 4 dozen cookies