Butterscotch Coconut Cookies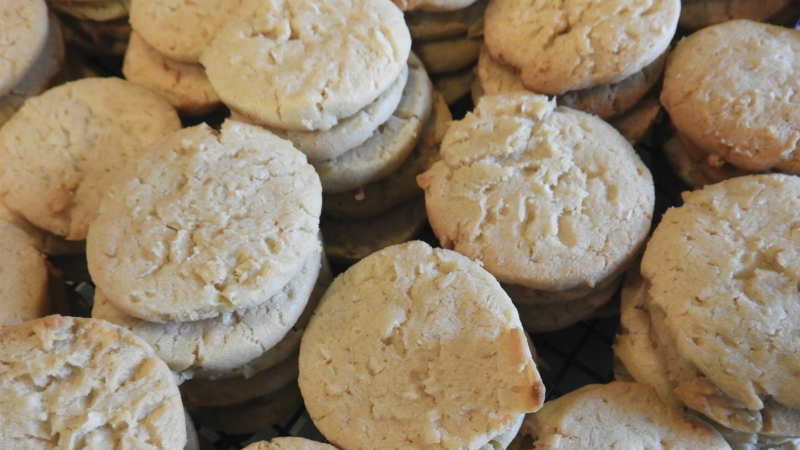 I love cookies with coconut, so Butterscotch Coconut Cookies was a perfect choice to make for this sunny spring day! I love butterscotch syrup on ice cream and I love butterscotch chips, so I just assumed I'd love Butterscotch Coconut cookies! But as I was reading the recipe, I wondered what exactly is butterscotch anyway?
I looked up the definition and found that butterscotch is a flavor created by combining melted butter and brown sugar. Butterscotch was a confectionery originally created as a hard candy by Samuel Parkinson when living in Doncaster, Yorkshire.
Butterscotch Coconut Cookies certainly have butter (1 cup) and brown sugar (2 cups)! The added vanilla and coconut make this a really great tasting cookie!
I'm rating Butterscotch Coconut Cookies 2-stars for cookie difficulty. It's a typical refrigerator cookie recipe that slices nicely and bakes up perfectly!
As I pulled all the ingredients together and read the recipe again, I realized this recipe was huge! 4 cups of flour, 2 cups of brown sugar, 1 cup of butter! This recipe was going to make a ton of cookies!
I also realized the ingredient amounts could easily be cut in half…therefore not making so many cookies…but, I decided to make the whole recipe to ensure I was getting the exact cookie Bess intended. In the end, the recipe did make a lot of cookies! Almost 15 dozen…but, I'm glad!  They won't last long 🙂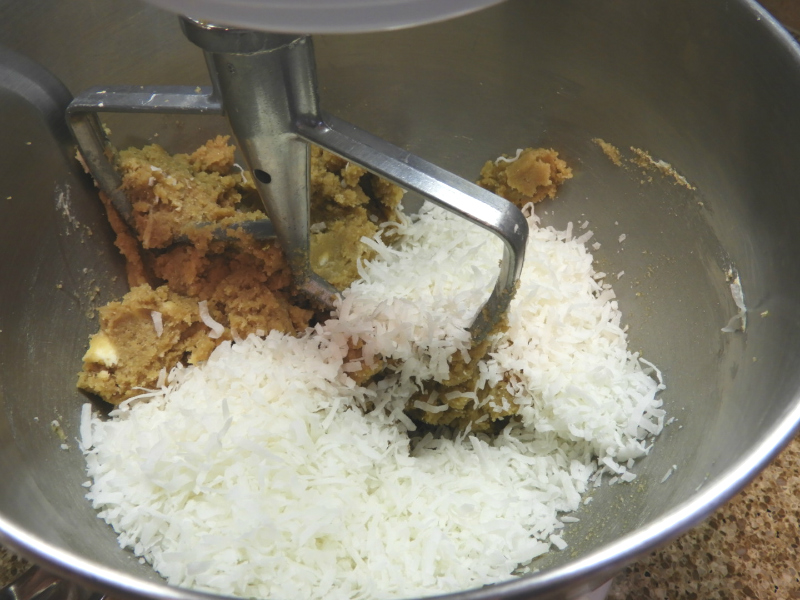 I got started mixing the butter and brown sugar and then added the coconut.
The coconut adds such great texture to the dough!
I think this is the first cookie recipe I've ever made that calls for 4 cups of sifted flour! OMG! So much flour!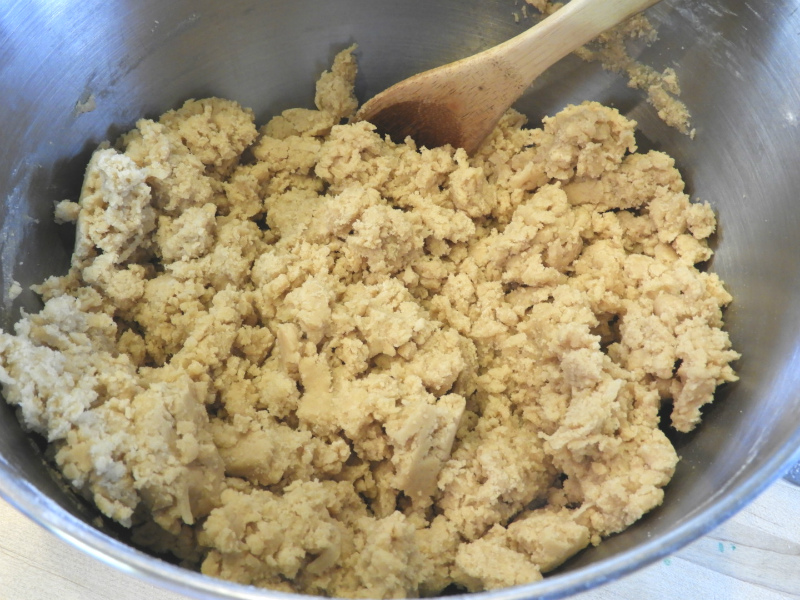 I was wondering how the dough was going to turn out with all that flour! As I expected, the dough was a bit dry, almost crumbly. Shaping the dough into rolls, was going to be interesting!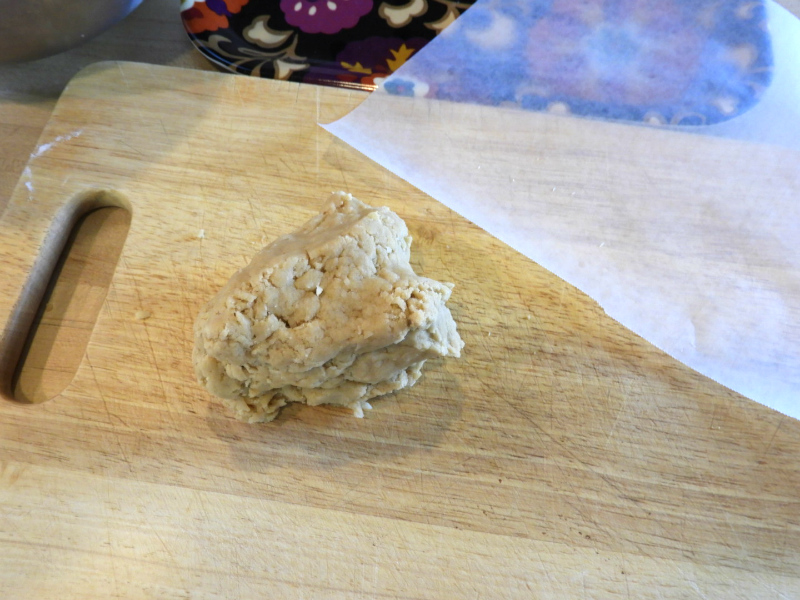 I grabbed a big handful of dough and started kneading it together with my hands and palms until the dough was smooth.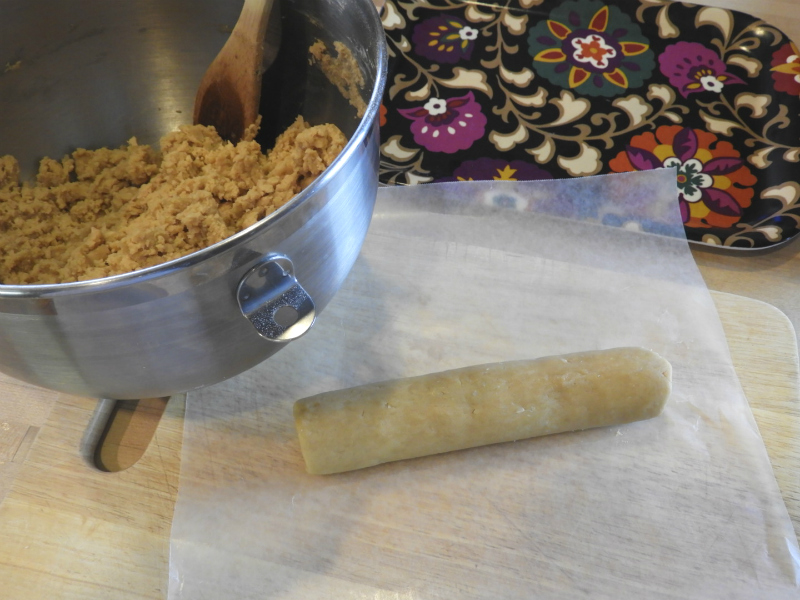 The kneading helped to form the rolls.
After covering the rolls in wax paper, I put them in the refrigerator to chill for a couple hours.
Next, I was ready to start slicing cookies! The instructions say to slice thinly.  I tried to slice the cookies as thin as possible, but found that about 1/8 to 1/4 inch worked best for the slicing and the baking.  Slicing too thin made the cookies too crispy and brown.  The thicker slice seemed to bake better and the cookies came out perfect in color and crunchability…ha ha, I just made that word up 🙂
I took out one roll at a time. After slicing the first few batches of cookies, I realized the more firm the dough was, the easier it was to slice. Also, it's important to use a very sharp knife to ensure you can slice through the coconut without compromising the shape of the cookie.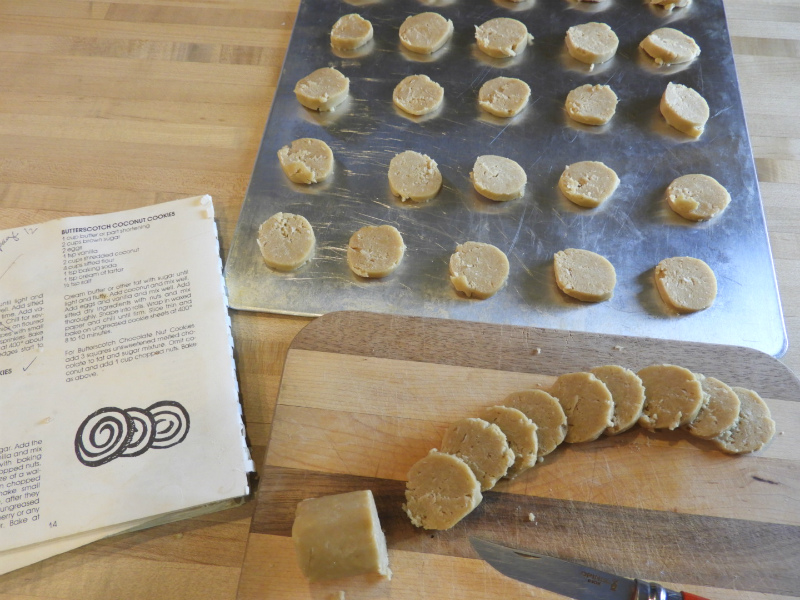 And now, ready to bake!
The cookies puffed up and spread in the oven and then settled back down once they cooled down.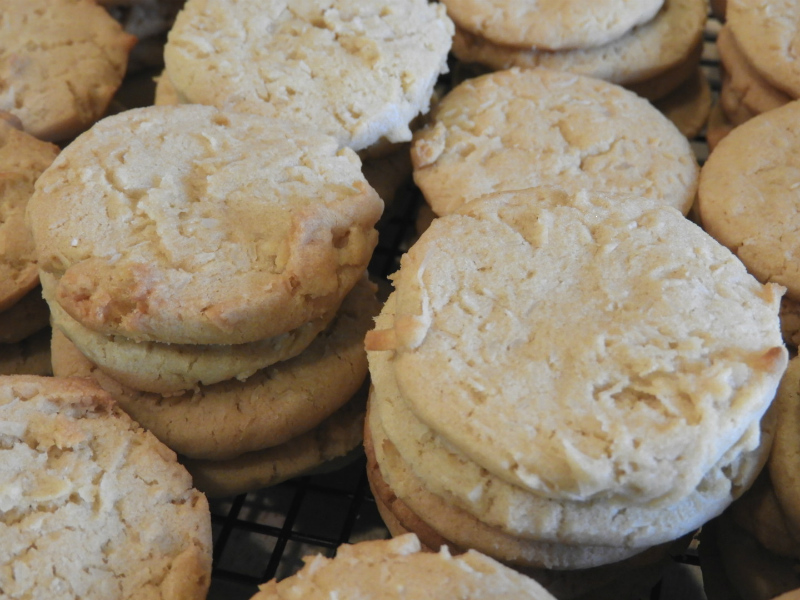 I baked the cookies for 8 minutes. I could tell the cookies were done by the slight browning of the coconut. After taking them out of the oven, I removed them to a cooling rack as quickly as I could.  The cookies were easy to remove from the cookie sheets and cooled nicely to a crispy cookie!
Butterscotch Coconut Cookies makes a TON of cookies! I had stacks and stacks of them when I was done baking…ending up with almost 15 dozen cookies!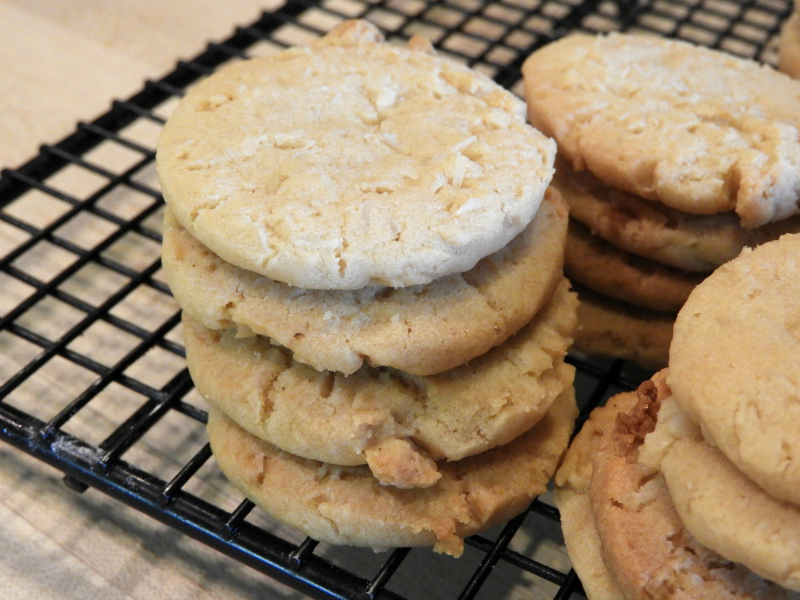 I just love the golden brown, butterscotchy color of these cookies! The toasted coconut adds personality and pairs great with the butterscotch flavor.
Butterscotch Coconut Cookies are easy to make and will certainly fill your cookie jars!  They won't last long though 🙂  I know you and everyone else will love these cookies!
XXOO,
Janet
Print
Butterscotch Coconut Cookies
Ingredients
1 cup butter or part shortening

2 cups brown sugar

2 eggs

1 tsp vanilla

2 cups shredded coconut

4 cups sifted flour

1 tsp baking soda

1 tsp cream of tartar

½ tsp salt
Instructions
Cream butter or other fat with sugar until light and fluffy. Add coconut and mix well. Add eggs and vanilla and mix well. Add sifted dry ingredients with nuts and mix thoroughly. Shape into rolls. Slice thin and bake on ungreased cookie sheets at 400 degrees 8 – 10 minutes.
Notes
For Butterscotch Chocolate Nut Cookies, add 3 squares unsweetened melted chocolate to fat and sugar mixture.  Omit coconut and add 1 cup chopped nuts.  Bake as above.
Recipe Yield
Makes about 15 dozen cookies!
Cookie Category:  Refrigerator