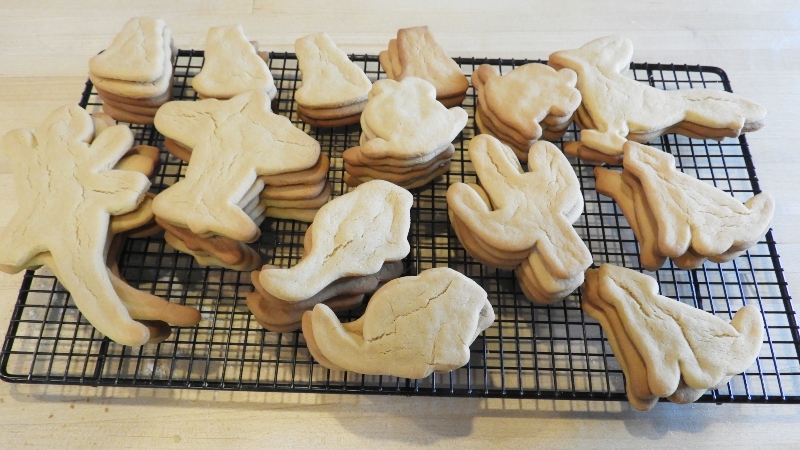 I just knew I was going to love Cookies by Bess' Brown Sugar Cookies before I even made them! How did I know? Well, any recipe that not only has brown sugar in the recipe but also in the recipe title is one I know I'm going to love…and I was right!
Brown Sugar Cookies are a fun rolled/cut out type cookie that uses all the typical cookie recipe ingredients including lots of firmly packed brown sugar. In my opinion, the combination of butter, flour, vanilla, and brown sugar is the perfect foundation for any cookie recipe.  The Brown Sugar Cookies recipe  includes all these ingredients and cream of tartar for an extra added special flavor.
Brown Sugar Cookies are a fun cut out recipe that gives you thick and crunchy cookies that will fill your cookie jar to the brim…exactly what your kids want when they are looking for a snack. Wholesome, hearty, sweet, and crunchy. Don't you wish you were a kid again? ?
I'm rating Brown Sugar Cookies 3-stars for cookie baking difficulty. This is a typical rolled cookie recipe.  The dough is perfect for rolling, so the rolling and cutting process is as quick and easy as possible.
All ingredients listed in the recipe were in my baking pantry, even the cream of tartar! I want to mention, as usual, I substituted butter for shortening.

I love recipes that say to just mix the first few ingredients together. In this case, the recipe says to cream the first 4 ingredients, so I mixed the brown sugar, butter (shortening), and eggs.  Per the recipe, I tried to mix these ingredients "very well".  As you can see from this picture, the ingredients didn't completely cream together.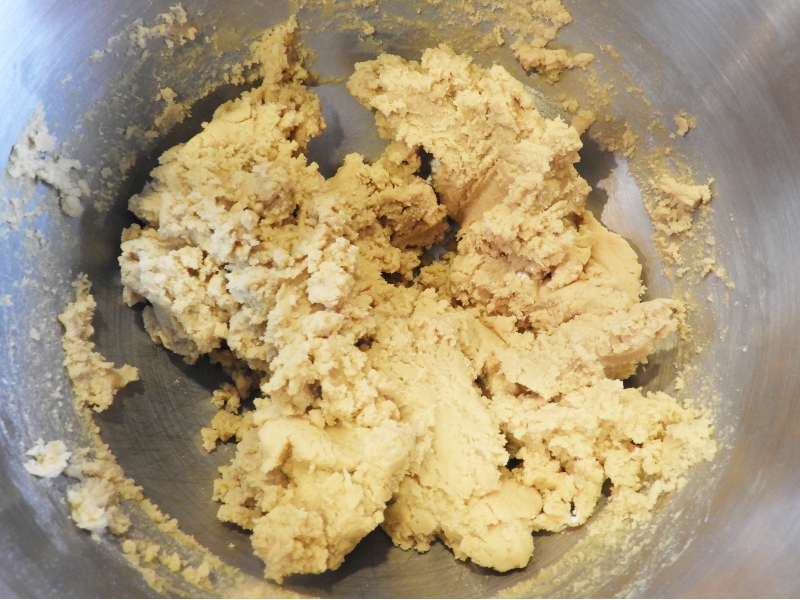 That is until I blended in the dry ingredients. In no time, the dough came together perfectly! I was ready to start rolling!  Of course, I had to taste the dough…only thing to say is OMG, sooooo goooood!

The recipe says to roll out the dough ¼ inch thick. To help ease the rolling process, I used some additional flour to lightly sprinkle on the dough and my rolling pin. Also, I placed a sheet of wax paper over of my countertop and used flour to help prevent the dough from sticking.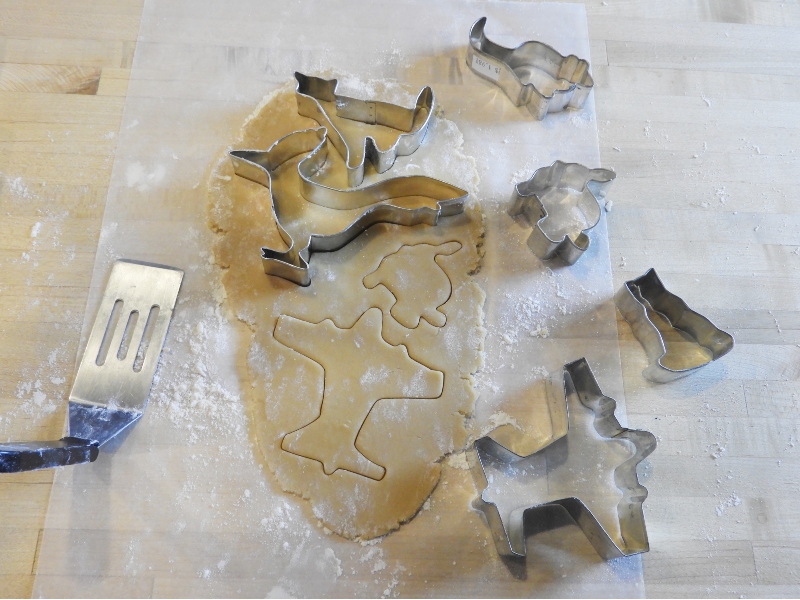 Once rolled out ¼ inch thick, I began cutting my cookies. I dug deep into my bags of cookie cutters to find some of my more fun cutter shapes. In the end, I decided to use a couple large, medium, and small shapes!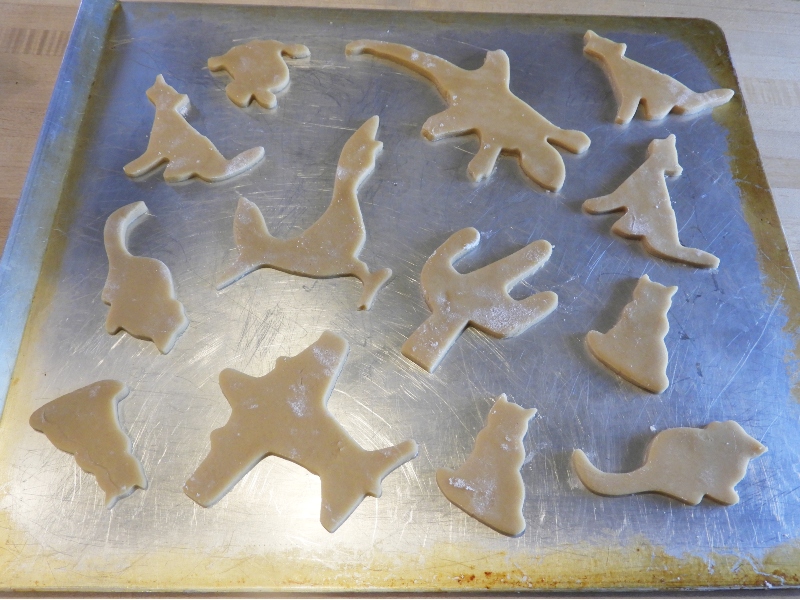 Knowing the cookies where thick and they include baking soda, I placed the cookies a good distance apart on the cookie sheets, just in case they spread out while baking.

As you can see here, the cookies did puff up and spread out while baking.

The cookies spread out enough to actually change the shape of the cookies while baking. You can still see the gecko, plane, and cactus shapes, but it is kind of hard to see the rabbit and the mouse.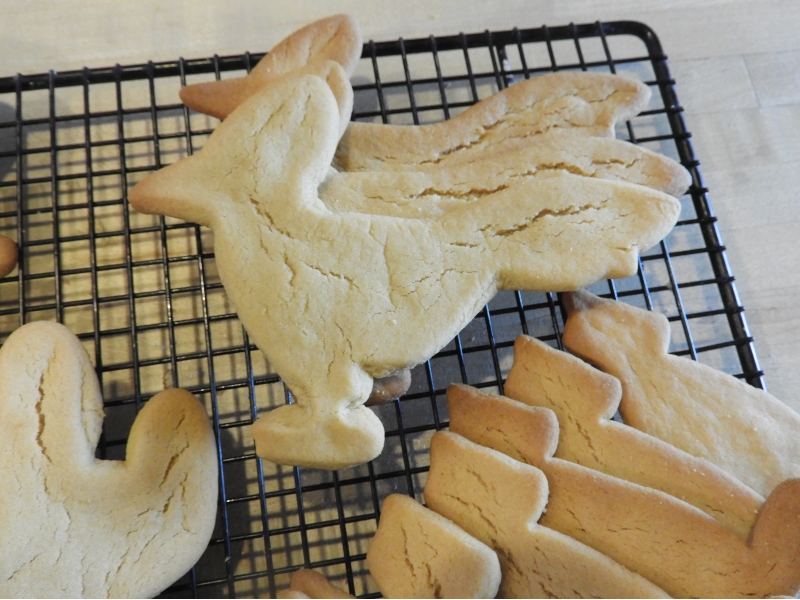 I mentioned above that I dug so deep into my cookie cutter bags to find different and fun cookie cutters I didn't even realize I had.  Check out this road runner!

Here is a gecko!

And here you can see the cactus and howling wolfs.

You can see by the stacks of cookies that baking time makes a difference on the color of the baked cookies. I ended up baking the cookies for 8 minutes, which in some cases, still baked a bit more brown.
Next time around, I will bake the cookies for only 6 to 7 minutes. Personally, I like my cookies more soft than crunchy. The thickness of these cookies make them a perfect candidate for a soft cookie.  Somewhere in between super crunchy and somewhat soft would be perfect for me!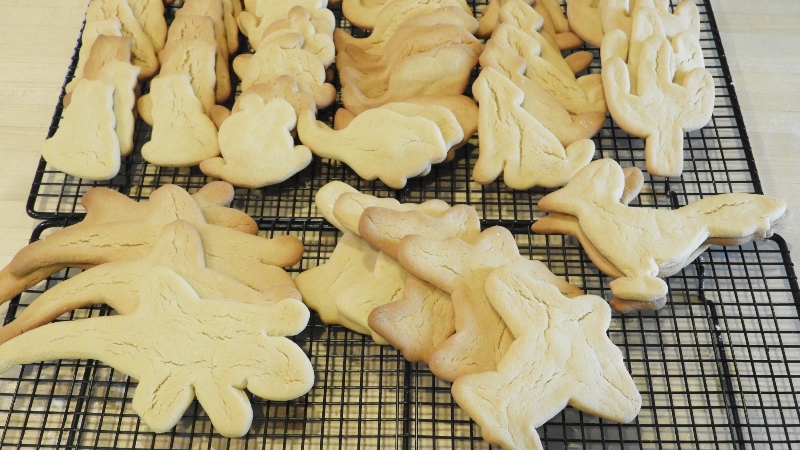 Brown Sugar Cookies are a wonderfully sweet and crunchy cookie! The consistency of the dough is perfect for using any cookie cutters. You can pick fun shapes, simple shapes, or even kitten shapes! It won't matter what shape or size, everyone will love this Brown Sugar Cookies recipe!
Enjoy!
XXOO,
Janet
Print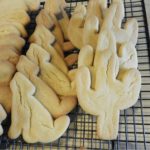 Brown Sugar Cookies
Ingredients
1 1/3 cups brown sugar firmly packed
1/3 cup shortening
1/3 cup butter
2 eggs
1 tsp baking soda
2 tsp cream of tartar
¼ tsp salt
1 tsp vanilla
3 cups sifted flour
Instructions
Cream first 4 ingredients very well. Add vanilla. Add sifted dry ingredients and mix well. Roll ¼ inch thick on floured board and cut with cookie cutters. Bake in 375 degree to 400 degree oven for 8 to 10 minutes.
Recipe Yield
Makes about 6 - 7 dozen cookies 1x