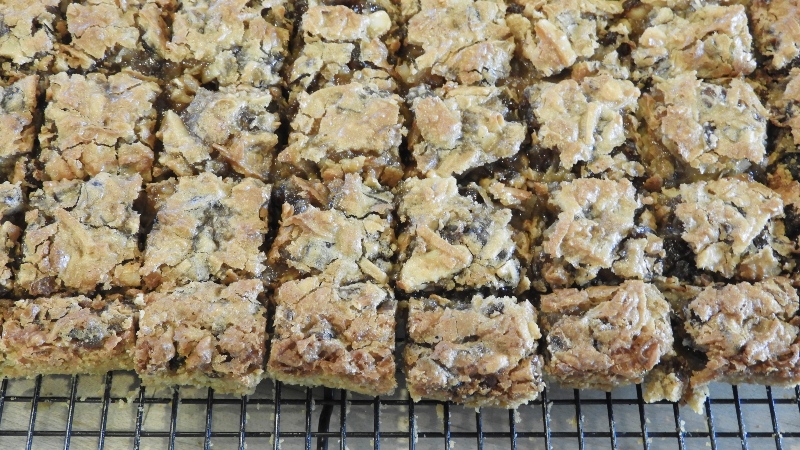 I've been looking at Cookies by Bess' Brazil Nut Date Chews recipe for years. I finally found some Brazil nuts, so I was eager to get baking!
After waiting so long the make these cookies, I now can't stop thinking about them. I confess, I actually made Brazil Nut Date Chews a few months ago. It didn't take me long to finish the entire batch, and now I just can't stop thinking about them!
I really love cookies with dates! The chewy consistency with the, just sweet enough subtle date flavors, can really make the difference in a cookie. So different from their cousin, raisins, dates have a distinct look, feel, and flavor. I know they aren't for everyone, but for me…they are the best! And in Cookies by Bess' Brazil Nut Date Chews, they make this cookie unforgettable!
I have to admit, the recipe as written in Cookies by Bess was a bit confusing for me. There are some duplicate ingredient listings (eggs, brown sugar) and some of the instructions I hadn't seen before. Maybe I'm just not the expert or seasoned baker, but I just wasn't exactly sure what, "turn out on wire rack" meant. I assumed it was what it actually meant, but I just wasn't sure until I did just that. I was right and all worked out totally fine!
Given that it took a couple years to find Brazil nuts, the long list of ingredients, and the somewhat confusing recipe instructions, I'm going to rate Brazil Nut Date Chews 3-stars for cookie baking difficulty.
As with all other Cookies by Bess recipes, Brazil Nut Date Chews are not difficult per se to make, but with everything going on in this recipe, it's helpful to prep a head, make sure you read the instructions carefully, be careful with all the steps in the baking process, and try not to eat the entire pan of cookies in one setting! 😊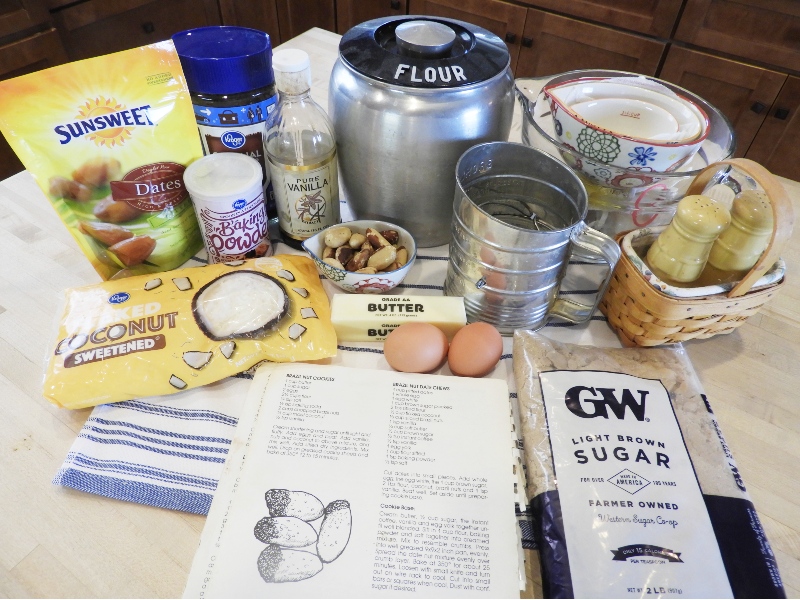 There is a long list of ingredients to pull together. All are staples in my baking pantry except for the Brazil nuts.

My first step was to figure out how to slice the Brazil nuts. I thought about if for a while, then decided to use my sharpest paring knife, I selected a Brazil nut, and started slicing. This worked well as I was able to get some nice slices, but I also got some broken slices. I tried to get them thin enough so they weren't chunky.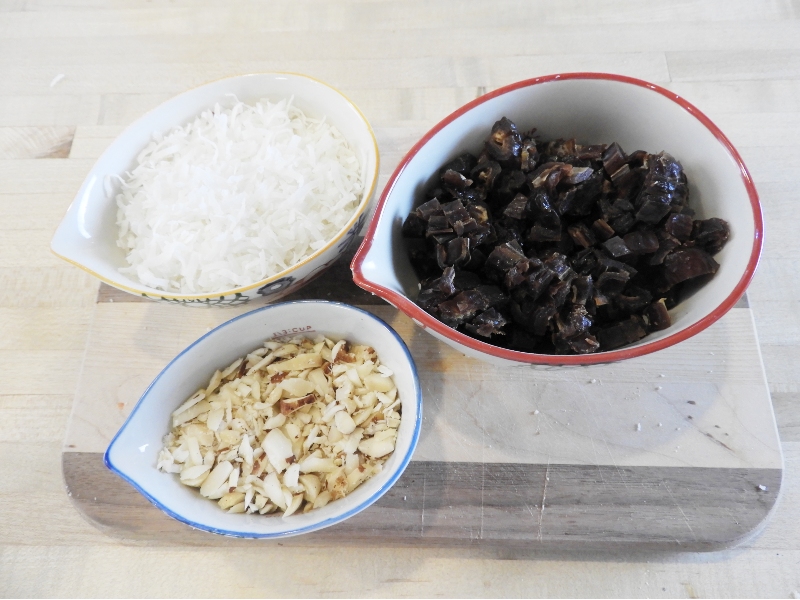 Next, I pulled the coconut and chopped dates together with the slice Brazil nuts.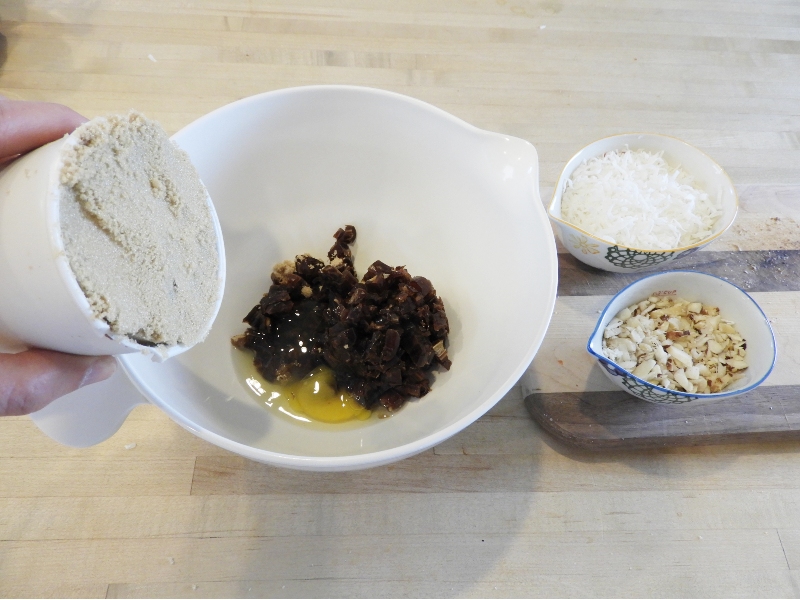 Next, I added the topping ingredients together…

…and mixed them all together. What a wonderful looking topping! All that texture and I feel like I can see all the sweet tastes blended together! I set the topping mixture aside, and got started on the cookie base.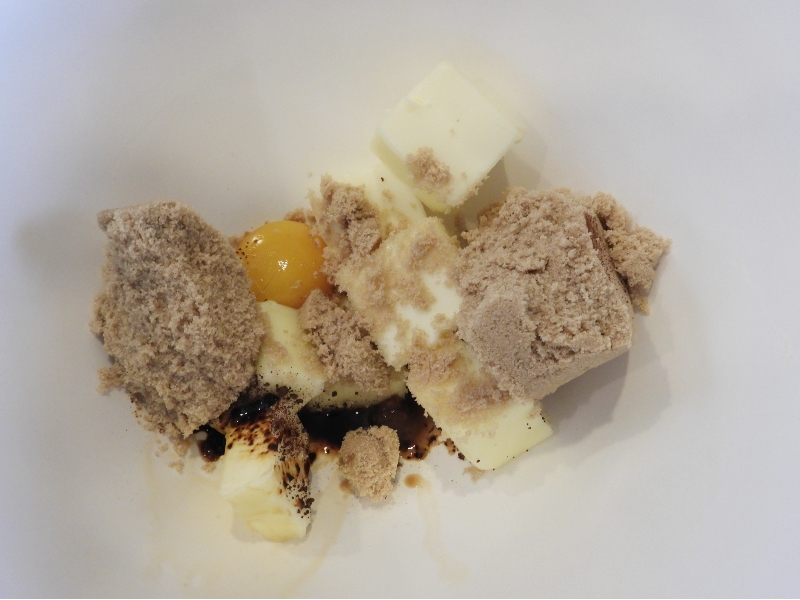 I started with the butter, brown sugar, and eggs.

So pretty before blending together and after!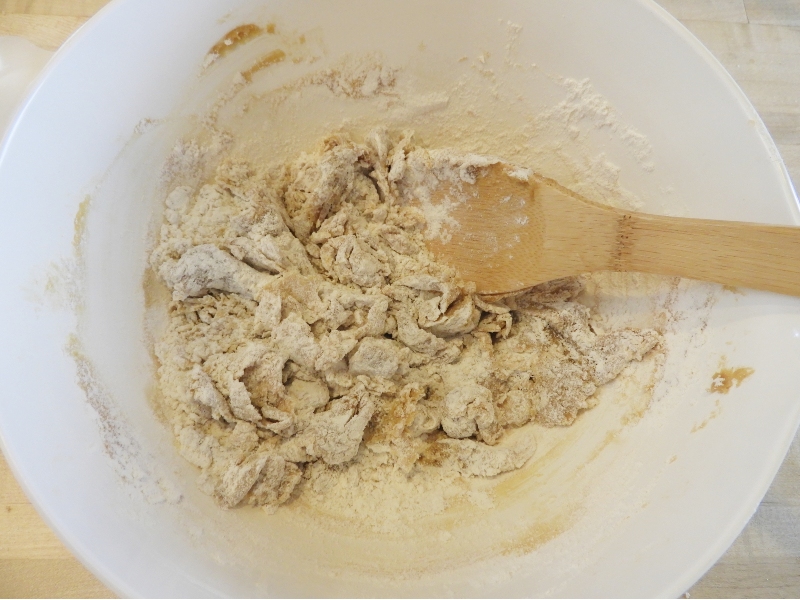 Next, I added the sifted flour, baking powder, and salt.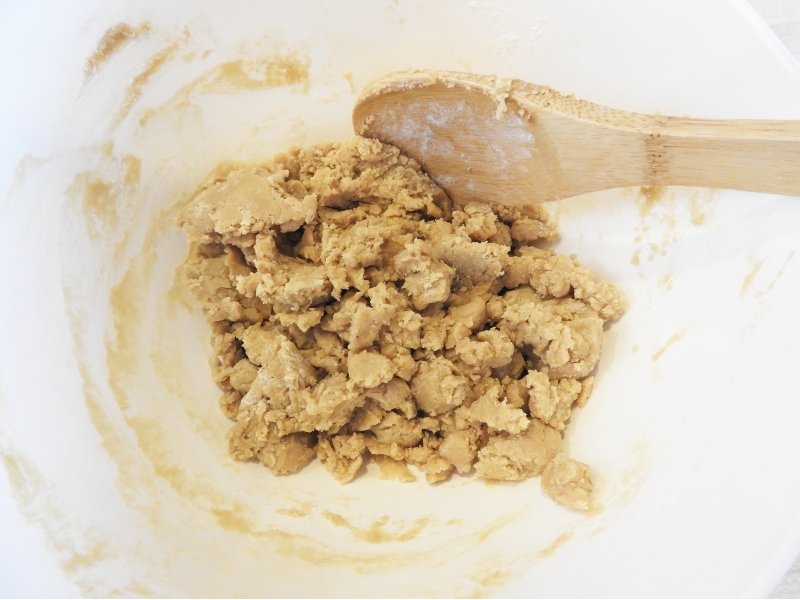 The recipe says the dough will be a bit crumbly. Mine wasn't so bad and was easy to handle.
I greased the bottom of the pan well and got ready to spread the cookie base.
Pressing the dough into the pan worked well! I don't have a 9×9 inch pan, but I do have an 11×7 inch pan which worked perfect!
Finally, I was ready to put it all together!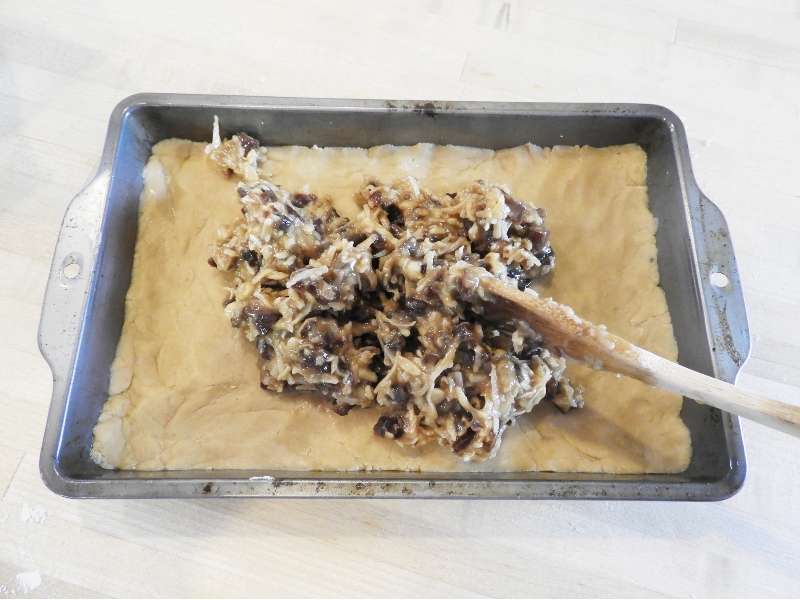 I evenly spread the yummy topping over the cookie base.

And just like that I was ready to bake!

The cookies darkened nicely while baking. Right out of the oven, the cookies looked a bit loose on top, so I let the cookies cool for a bit before loosening the edges with a small knife.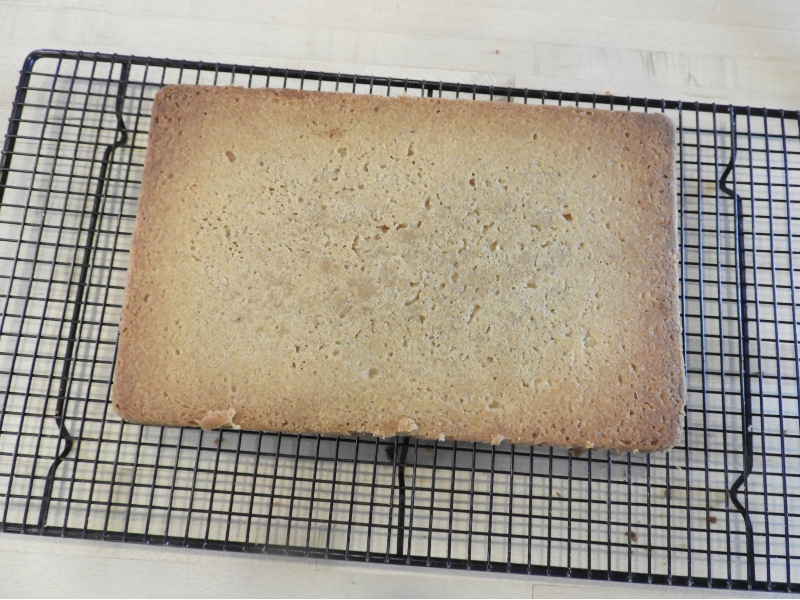 This is where I just wasn't so sure. After loosening the edges. I placed a cooling rack on top of the pan and turned it over. Good thing the bottom of the pan was well greased! The cookie fell right out of the pan and finished cooling upside down!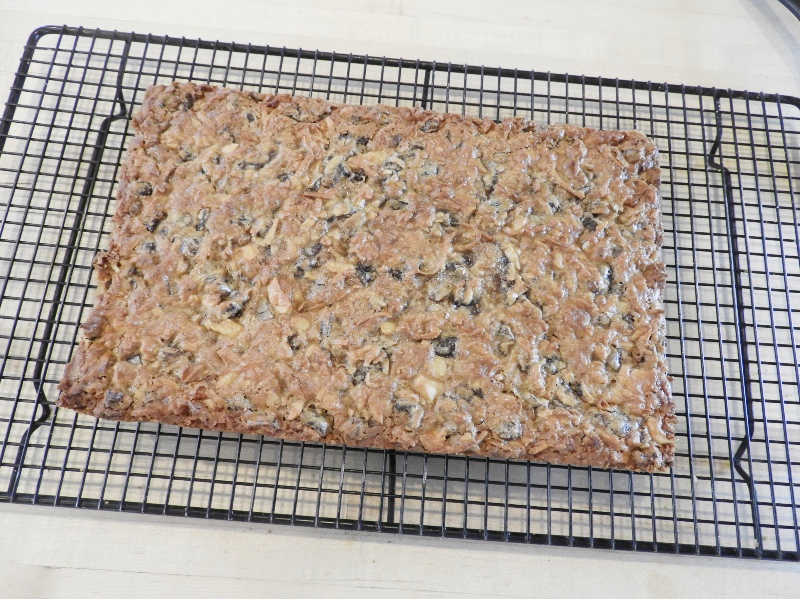 I turned to cookies back over on the cooling rack and got ready to but them into bars. What a beautiful cookie!!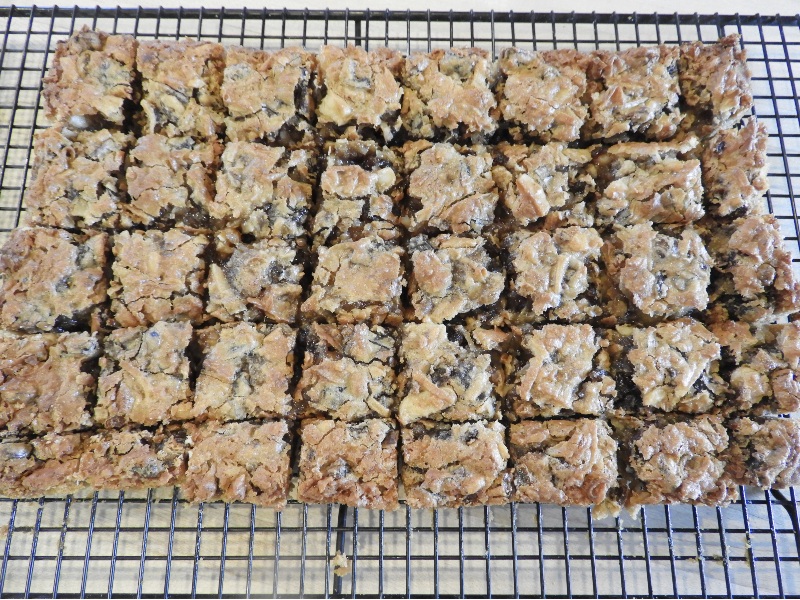 Cutting the cookies was a little tricky due to all the dates, nuts, and coconut…but I prevailed!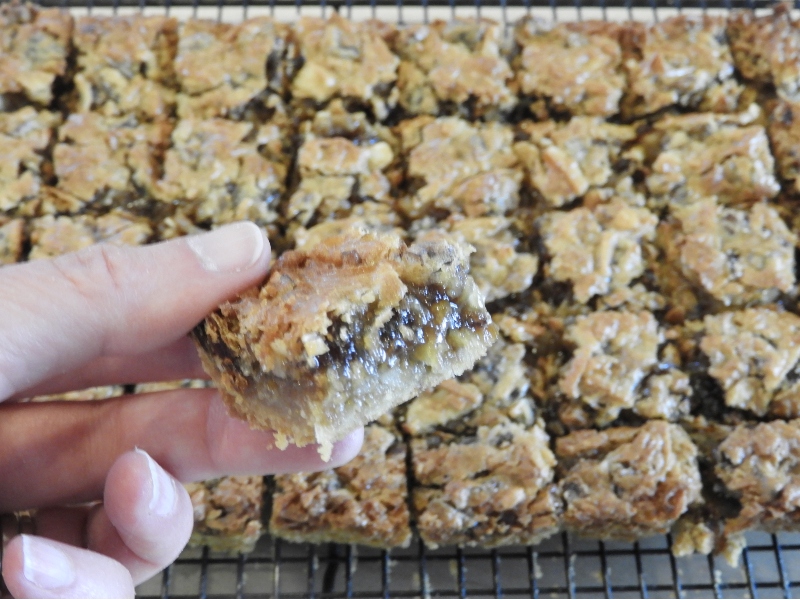 Just look at all this texture and sweet goodness! I couldn't believe how well these cookies baked and set up for cutting. I couldn't wait to try them!
The cookie base was perfectly done and held up well with the sugary sweet and chunky topping!  The combination of the dates, coconut and Brazil nuts is simply amazing.  I surprised this combination is used in more cookie recipes!
Since it took soooo long to find the Brazil nuts, I just have to say a few words about them before finishing this blog.  The taste of the Brazil nuts is subtle but clean and smooth!  I think these cookies could made with walnuts or pecans, but this would completely change the taste of this recipe.  Definitely stick with the Brazil nuts for a unique and wonderful tasting cookie you won't soon forget!
Brazil Nut Date Chews were so worth waiting for. So much so, I wish I hadn't waited so long! This cookie is now in my top 10 Cookies by Bess cookies and definitely one of the top bar cookies. Whether you like dates or not, you are going to just love this cookies!
Enjoy!
XXOO,
Janet
Print
Brazil Nut Date Chews
Ingredients
Topping
1 cup pitted dates
1 whole egg
1 egg white
1 cup brown sugar packed
2 Tbs sifted flour
½ cup flaked coconut
1/3 cup sliced Brazil nuts
1 tsp vanilla
Cookie Base
¼ cup soft butter
½ cup brown sugar
½ tsp instant coffee
½ tsp vanilla
1 egg yolk
1 cup flour sifted
1 tsp baking powder
½ tsp salt
Instructions
Topping
Cut dates into small pieces. Add while egg, the egg white, the 1 cup brown sugar, 2 Tbs flour, coconut, Brazil nuts, and 1 tsp vanilla. Beat well. Set aside until preparing cookie base.
Cookie Base
Cream butter, ½ cup sugar, the instant coffee, vanilla, and egg yolk together until well blended. Sift in 1 cup flour, baking powder and salt together into creamed mixture. Mix to resemble crumbs. Press into well-greased 9x9x2 inch pan, evenly. Spread the date nut mixture over crumb layer. Bake at 350 degrees for about 25 minutes. Loosen with small knife and turn out on wire rack to cool. Cut into small bars or squares when cool. Dust with confectioners' sugar if desired.
Recipe Yield
Makes about 5 dozen bar cookies 1x