Cookies by Bess has two Berliner Kranzer cookie recipes, Berliner Kranzer No. 1 and Berliner Kranzer No. 2.  I've been looking at these recipes for years now, barely able to get past the 4 hard cooked egg yolks and 4 raw egg yolks in the ingredients list. It's just hard for me to picture a cookie with 8 egg yolks!
Cookies by Bess is filled with recipes from all over the world. I hadn't heard of Berliner Kranzer cookies before, so I decided to Google It! There are a ton of recipes some mention the recipe is from Germany, but most mention it is a Norwegian butter cookie.
Just about all the recipes show Berliner Kranzers cookies in the shape of a wreath. Grandma Bess' recipes mention shaping the cookies into a wreath, but also suggest other options like cut outs, putting through a cookie press, and refrigerator rolls that can be sliced. I decided on the refrigerator roll option.
This time around, I decided to make the Berliner Kranzer No. 2 recipe. Debated it for a while, ended up flipping a coin to decide. 😊  I'm rating the Berliner Kranzer No.2 recipe 3-stars for cookie difficulty due to the many steps in the baking process. Cooking the eggs, putting the yolks through a sieve, slicing, cutting, or pressing the dough to make the cookies, and finally decorating them with sugar and nuts.
I definitely planned a head when contemplating this recipe. Cooking the eggs, cooling them, and finally peeling and separating them ahead of time made a big difference!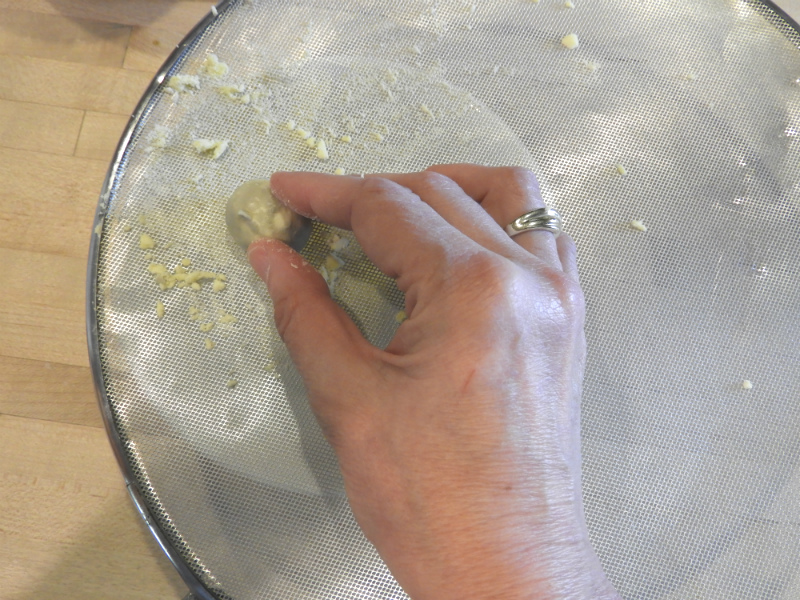 I started the process by putting the hard cooked egg yolks through my version of a sieve. I don't actually have a sieve, but I do have a splatter screen. This seemed the perfect alternative!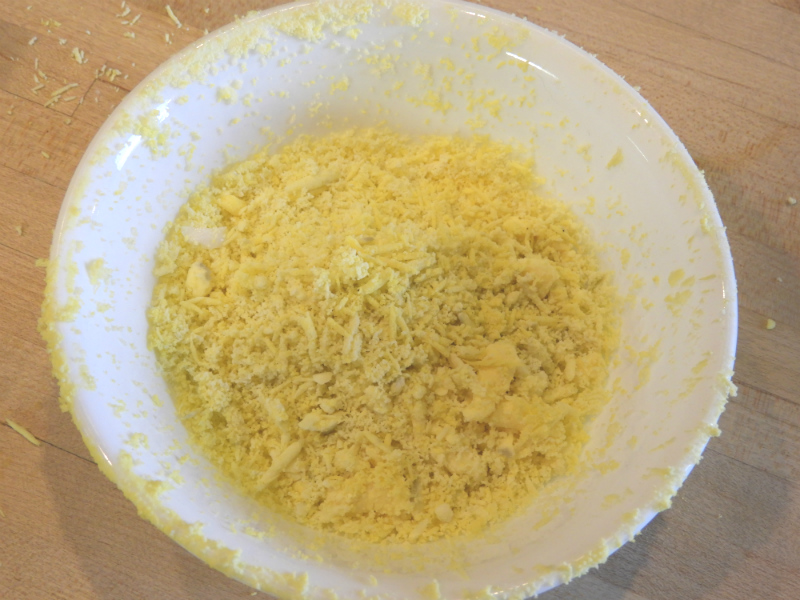 It actually worked pretty well, but certainly took a while and was a little messy.
Mixing the butter, sugar, and raw egg yolks together created a rich golden color start to the dough.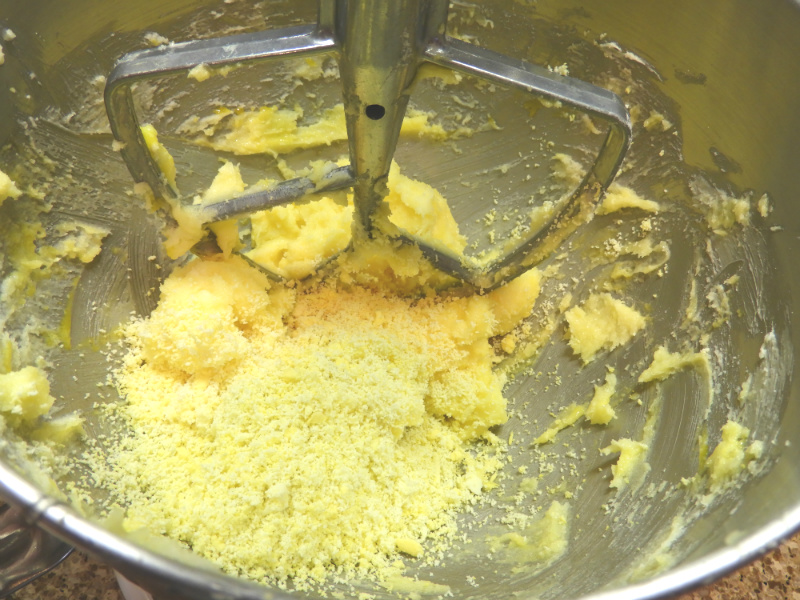 Next, adding the egg yolks maintained the gold color.
Finally, adding the flour and cream brought the dough together.  I did notice it definitely had a different consistency than other cookie dough. It's very hard to describe. It was almost stretchy and bouncy. Obviously something to do with all the eggs.
I mentioned above, I decided to go the refrigerator cookie route. To do this, I shaped the dough into rolls, wrapped them in wax paper, and stuck them in the refrigerator overnight.
I used half the dough for the refrigerator cookies, and saves half to make wreaths.  I stuck this dough ball in the freezer for another baking day.
Out of the refrigerator, the dough was good for slicing!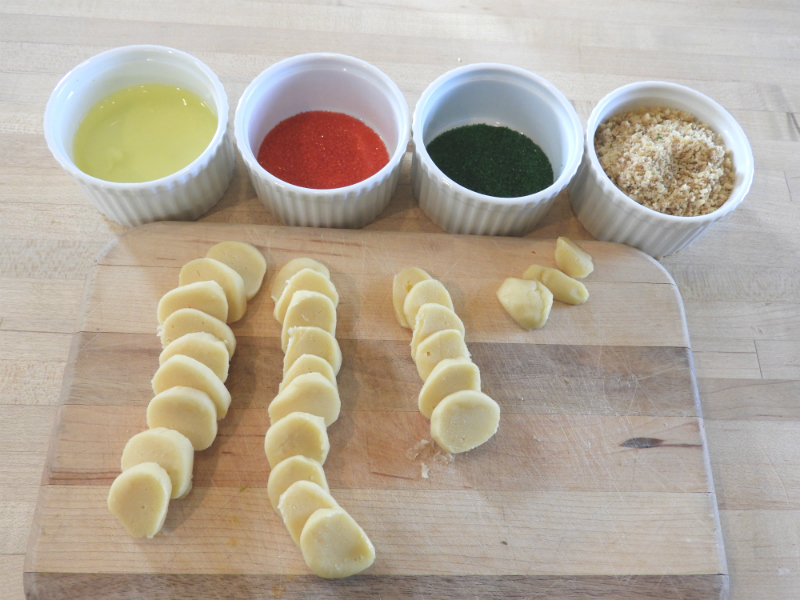 Once I had my cookie slices, I gathered my holiday sugar colors along with the egg whites.
Unfortunately, I don't have a small brush, so I used my index finger to spread a bit of egg white onto each cookie slice.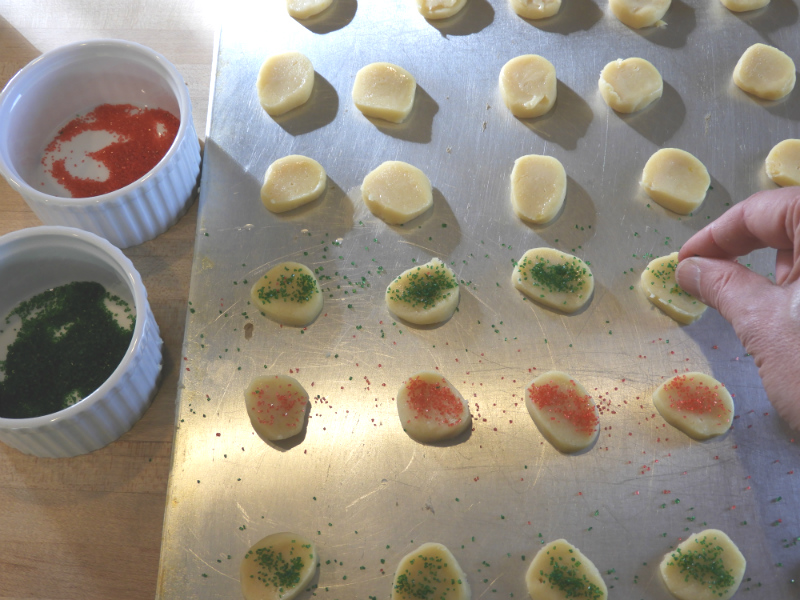 Then I sprinkled red and green sugar on each slice.
Finally, I sprinkled the nuts. I decided to use walnuts this time around. I think almonds might be good too!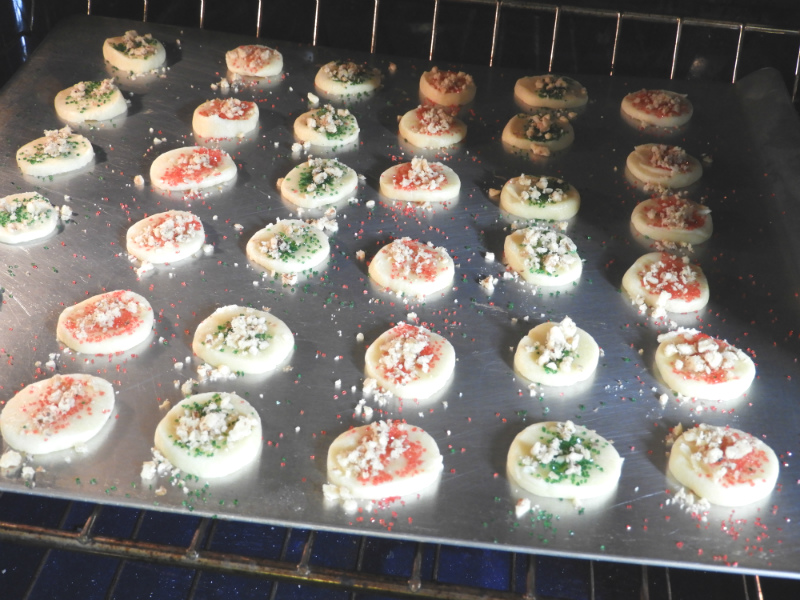 The cookies didn't spread or change shape while baking, so I was able to pack the cookie sheets with lots of cookie!
They look the same after baking as they did before I baked!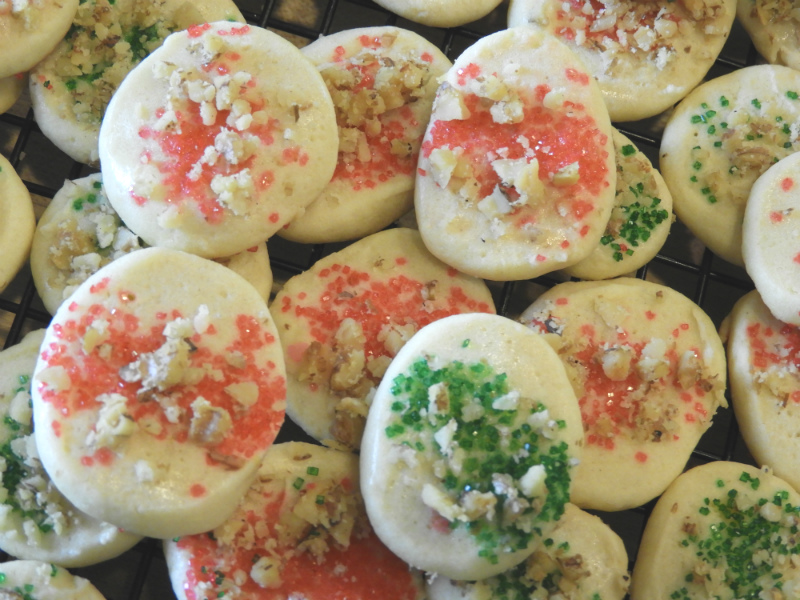 The cookies were easy to remove from the cookie sheets and look so festive on my cooling racks! Check out how pretty they are! The cookies is nice and smooth, a creamy white color. The sugar and nuts add just enough holiday personality!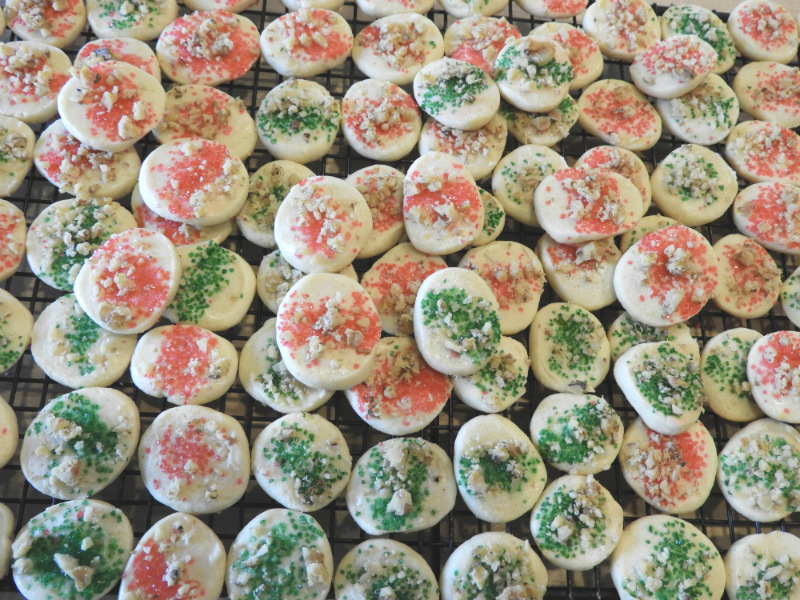 Just look at all these cookies!
Berliner Kranzer No. 2 cookies have a very subtle taste. Nothing dramatic or distinct. Not too sweet, not too bland and the sugar and nuts on top compliment the cookie flavor perfectly!
Berliner Kranzer No. 2 cookies are perfect for a holiday luncheon or coffee time with your friends. They are a perfect compliment to your holiday cookie trays.
If you are looking for a cookie to add WOW to the holidays…Berliner Kranzer No. 2 cookies are for you!
XXOO,
Janet
Print
Berliner Kranzer No. 2
Ingredients
4 hard cooked egg yolks

1 cup butter

1 cup sugar

Chopped nuts

4 raw egg yolks

1 cup cream

4 cups flour
Instructions
Put card cooked egg yolks through a sieve. Set aside. Cream butter add sugar and mix well. Beat in 4 raw egg yolks, one at a time. Mix well. Ad the hard cooked yolks and sifted flour with cream. Mix well.

These cookies may be refrigerated in rolls and sliced. May also be rolled and cut into desired shapes and sprinkled with sugar. May also be put through a cookie press. Brush the rolled cookies with egg white before the sugar is sprinkled on. Also, sprinkle with nuts. Bake on slightly greased cookie sheets at 425 degrees for 10 minutes.
Recipe Yield
Makes many many cookies!
Cookie Category:  Molded or Shaped