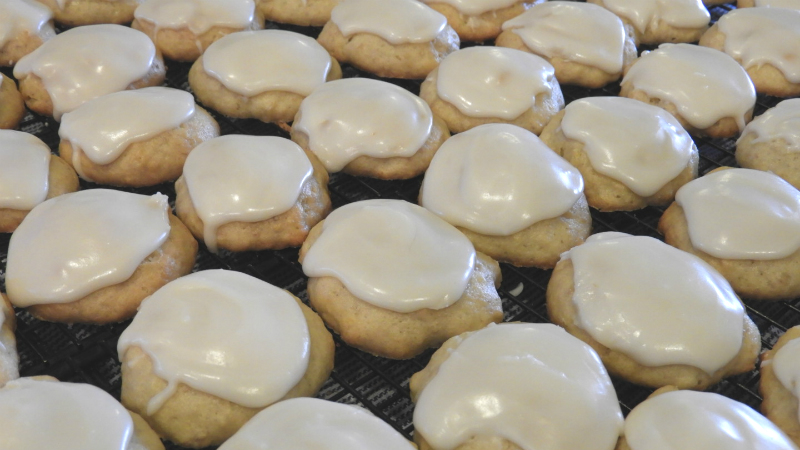 Whenever I have over ripe bananas I think about baking. I looked through Cookies by Bess and found a Banana Bars recipe, perfect for my ripe bananas! The recipe is written for bars as well as for cookies. I actually ended up making both! I started with the Banana Bars, because I've never made a banana bar before. They turned out so good, I was curious if the cookies would be different.
The Banana Bars ended up like a banana cake! Nice and most and rich tasting. The cookies were also moist but didn't have the texture of a cake. They definitely look like a cookie, just a soft "cakey" type of cookie.
The recipe suggests using the Confectioner's Sugar Icing for both the bars and cookies. I just love how the frosting set up and shined after frosting the cookies. The frosting was just as good with the bars, it also set up nicely and provided a nice shine but was also like a cake frosting.
Before I get into the recipe, I want to share a tip from my Mom, Toby Hoffman, regarding baking with bananas. My Mom always says to use over ripe bananas because they add more flavor when baking. So usually I'll over buy bananas so when the last few start to turn brown, I can bake her famous Banana Bread.  Now I can also also bake Grandma Bess' Banana Bars!
This recipe is true to the way it's written which was great! Only a couple suggestions…first, rather than measuring the bananas, I just mashed up about three medium to large bananas. If you have smaller ones, you can use four. With this recipe, I would suggest using using an extra banana to ensure you have enough banana flavor in the final product.
I am rating this recipe 2-stars. Easy to prepare and easy to eat. The multiple steps with the frosting add just enough to the preparation time to make this a 2-star recipe.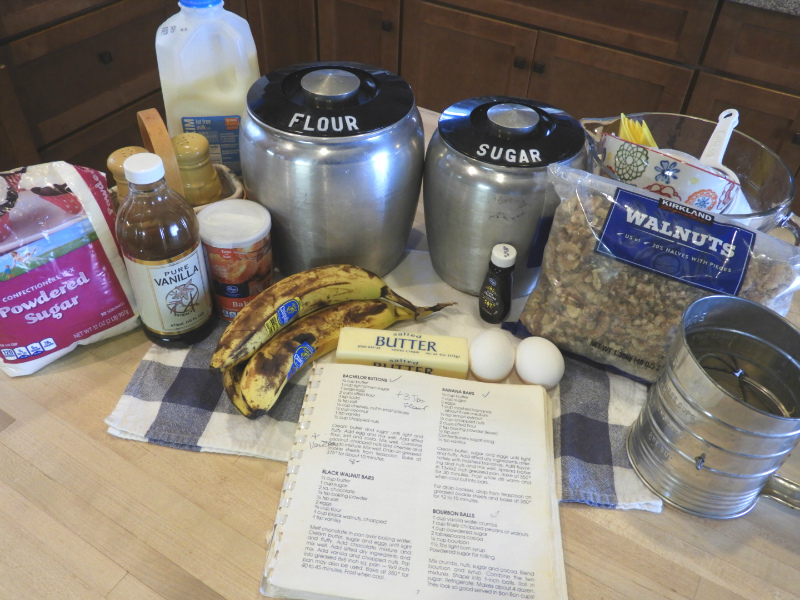 I pulled all my ingredients together and got started mixing.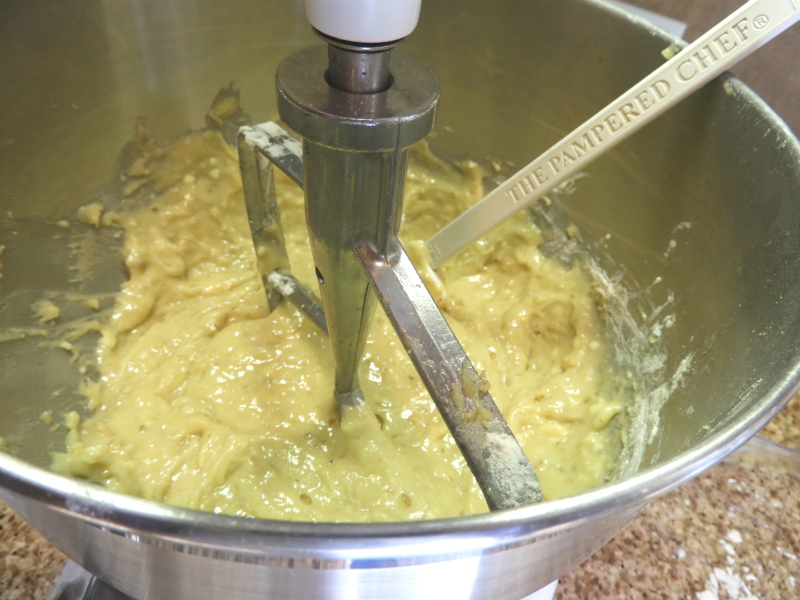 The dough is very loose, once again more like a cake batter and also very similar to the banana bread recipe from my Mom!
It was easy to pour the dough/batter in the 9 x 13 inch baking pan. It was also easy to drop the dough/batter for the cookies.
The finished bars and cookies are a beautiful color. They firm up nicely and hold their shape after cooling down.
Next, I have a couple suggestions on the Confectioner's Sugar Icing. I used this recipe before with the Lemon Spritz cookies. I had some problems with it then, so tried a couple different things this time around.
First, I melted the butter in the milk as it was warming up. I then added the vanilla to the warm/hot butter and milk. Instead of adding the sugar to the milk mixture, I put 3 cups of confectioner's sugar in the bowl and slowly added the milk mixture until it was the consistency I wanted. I could then add more sugar and/or milk as needed to make more icing or adjust the consistency. This worked much better and gave me a silkier icing!
I also want to suggest using a cream cheese type icing/frosting for this recipe instead of the Confectioner's Sugar Icing. The Confectioner's Sugar Icing is good, but I think adding a bit of cream cheese would add to the over all flavor of the final bars and/or cookies.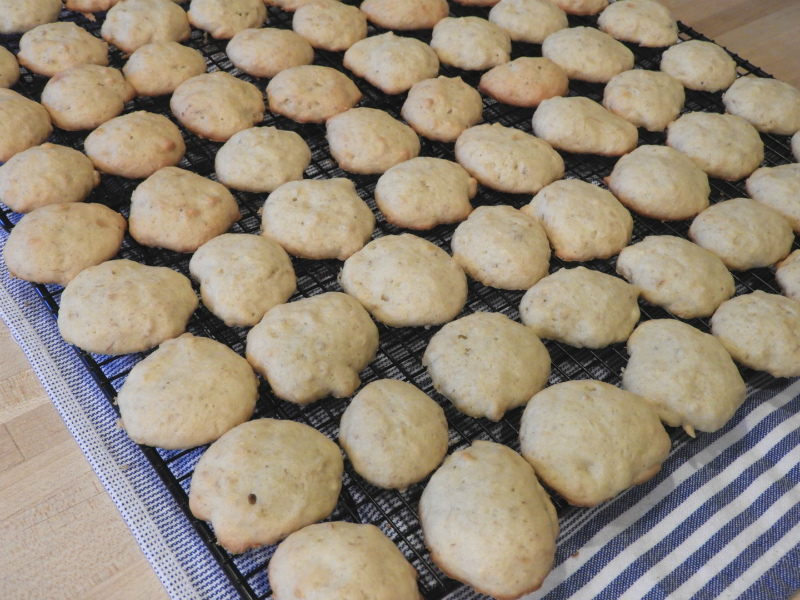 Finally, let the bars and cookies cool completely before putting the icing/frosting on. The icing melted a little with the bars/cookies still warm. I would suggest letting them cool completely, lather on the icing/frosting them sprinkle your nuts (I suggest walnuts) on top.
I cut the cake/bars into 2" x 2" bars, which I found out is too big for a "cookie". At this size, I would serve with a fork. 1" x 1" (or 1 ½ ") would be better to make it more bite size.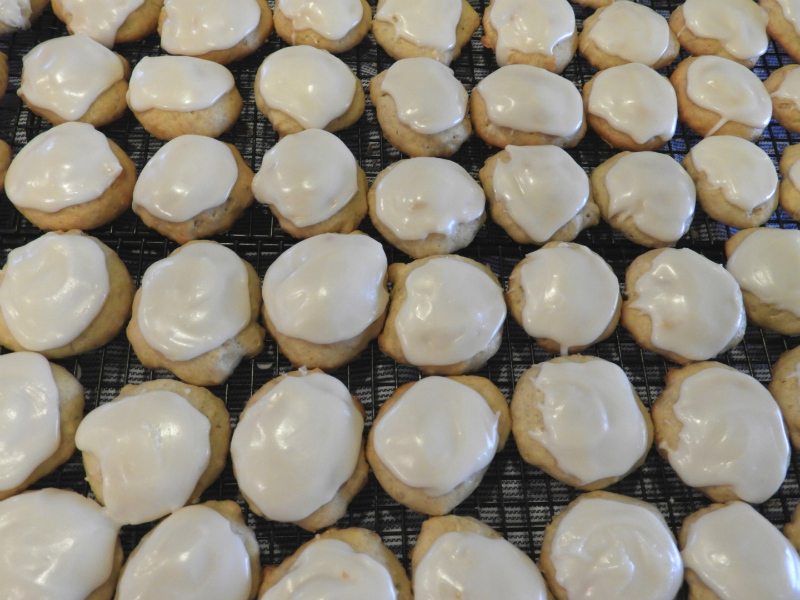 The final cookies/bars are very moist! I don't think adding one more banana will affect the consistency but will definitely add more banana flavor!
Banana Bars will become a fan favorite as it's easy to make, looks great when serving, and will please anyone that likes/loves bananas!
Banana Bars are wonderful whether as a bar or cookie! They are moist, nutty, cakey, sweet,  and bananay…so many options, so many cookies, so many ways to say YUM!
Enjoy!
XXOO,
Janet
Print
Banana Bars
Ingredients
¼ cup butter
1 cup sugar
2 eggs
1 cup masked bananas (about 3 medium bananas)
½ tsp Lemon Extract
½ cup chopped nuts (suggest walnuts)
2 cups siftted flour
2 tsp baking powder (level)
½ tsp salt
½ tsp vanilla
Confectioner's Sugar Icing recipe
Additional ½ cup nuts
Instructions
Cream butter, sugar and eggs until light and fluffy. Add sifted dry ingredients alternately with massed bananas. Add flavoring (lemon extract and vanilla) and nuts and mix well. Spread batter in 13x9x2 inch greased pan. Bake at 350 degrees for 30 minutes. Frost with Confectioner's Sugar Icing while still warm. Sprinkle with second ½ cup nuts. Cut into bars when cooled.
For drop cookies, drop from teaspoon on greased cookies sheets. Bake at 350 degrees for 12 – 15 minutes. Frost with icing while still warm. Sprinkle with nuts.
Notes
Confectioner Sugar Frosting
1 Tbs & 1 tsp butter
¼ cup hot milk
About 3 – 3 ¼ cups sifted confectioner sugar
1 tsp vanilla
Food coloring
Add butter to the milk. Add sugar gradually to make frosting right for spreading. Add vanilla extract and mix well. Add food coloring as desired.
Recipe Yield
Makes about 3 dozen bar cookies, 5 dozen cookies 1x
Cookie Category:  Bars, Drop