I'm not one for apricot jam on toast, I prefer strawberry or raspberry, but I have to say that apricot jam sure makes great cookies and bars! Apricot Bars is the second apricot cookie recipe I've made from Cookies by Bess (the other is Rolled Apricot Tea Cookies) and I just love the apricot flavor in both! Next will be Susan's Apricot Strudel…can't wait!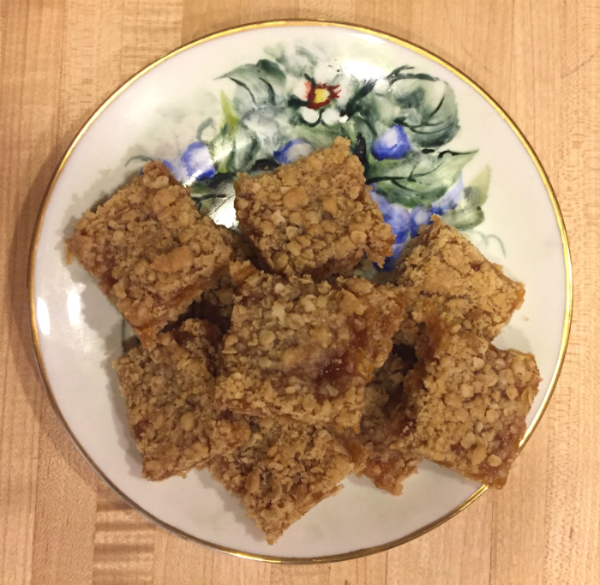 For some reason when I look at these Apricot Bars, I think about how perfect they would go with a Mother's Day Brunch!  It's something about the orange color of the apricot jam mixed with the oaty flavor of the cookie crust…makes me think of sweetness and goodness, which is of course what Mom's are about.  These bars look great on this hand painted plate my Great Aunt Etta made for my mother. The blues and greens really accent the apricot color! A perfect match!
I rated this cookie 2-stars for difficulty.  Cutting in the butter along with the multiple steps could make this a 3-star difficulty, but once you get cutting in the butter down, the rest of the recipe is easy.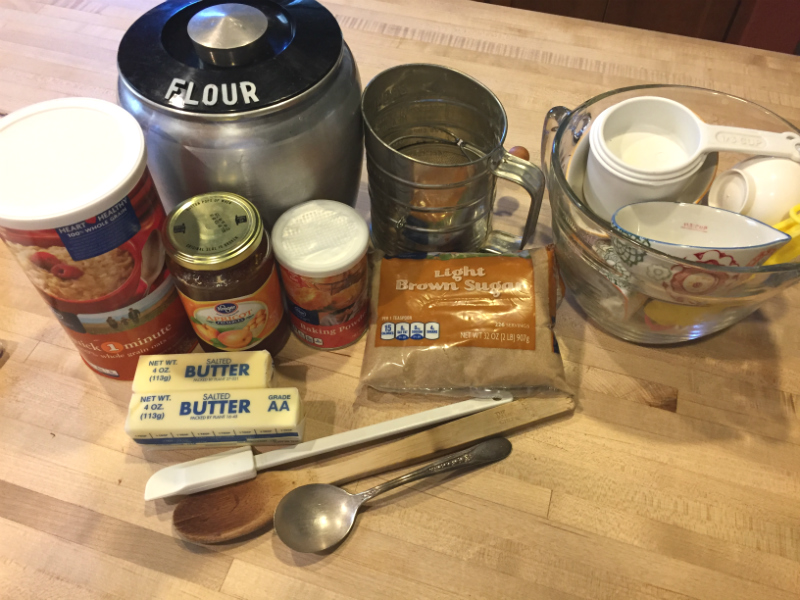 After getting organized and all my ingredients together, I read the recipe again and realized I needed to "cut in the butter" versus using the Kitchen Aid for blending. I haven't done this before, so I had to google it just to make sure I did it correctly. Of course, YouTube has some great videos!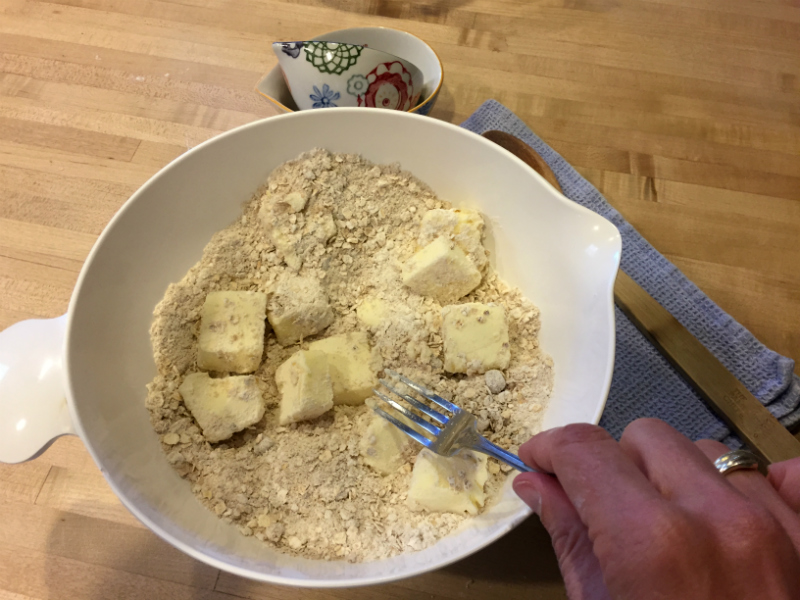 Most of what I read called for a "pastry cutter", which I don't have.  The substitute listed was a fork.  Of course, I have plenty of forks, so I got to work.  You want the butter to be about room temperature, not too hard so it will begin to blend as you work it with the fork, and not too soft so it actually blends together with the dry ingredients.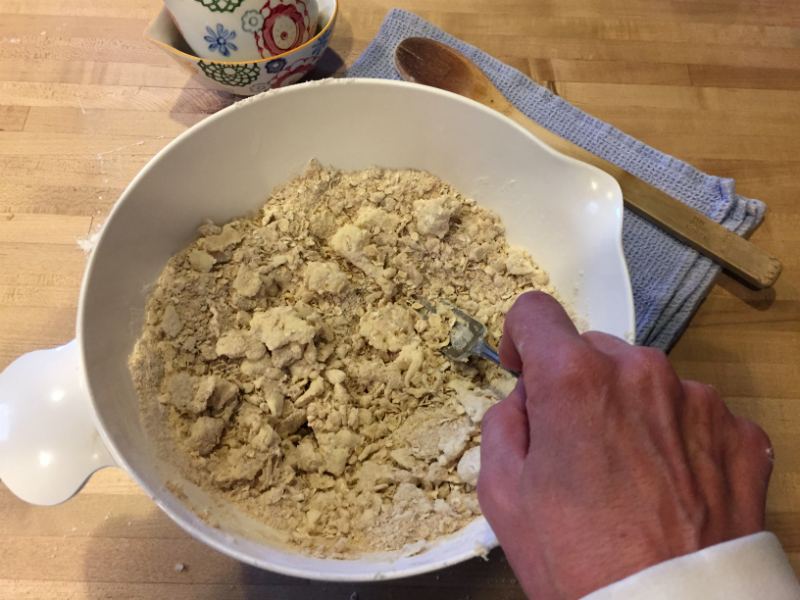 I will admit, the fork method takes a while.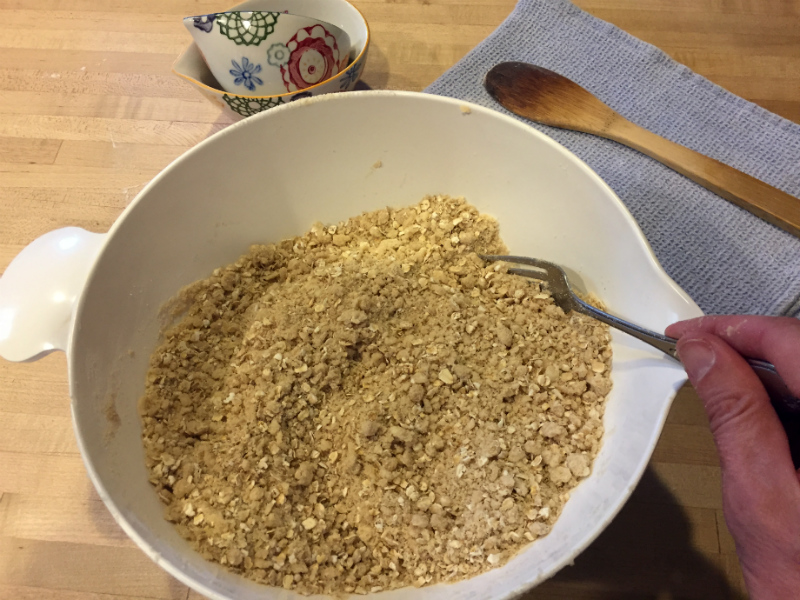 Since this was the first time I've cut in butter, I wasn't exactly sure when I it was done, so I kept going until all the butter chunks were small and the consistent through out.
After performing the task, I don't want to say it wasn't hard, because it took some "elbow grease" and time to get it done, but other than the time and effort, it wasn't too bad 😊 I'm sure it would be easier if I have the right tools versus using a fork. I'll add a pastry cutter to my list of gadgets to buy.
The end result is a fine and dry mixture of ingredients, with a few small clumps of butter. The small clumps made patting the dough into the 13x9x2 inch pan easy. Make sure to pat the dough in the pan as firmly as possible, this will help with the next step of spreading the jam on top.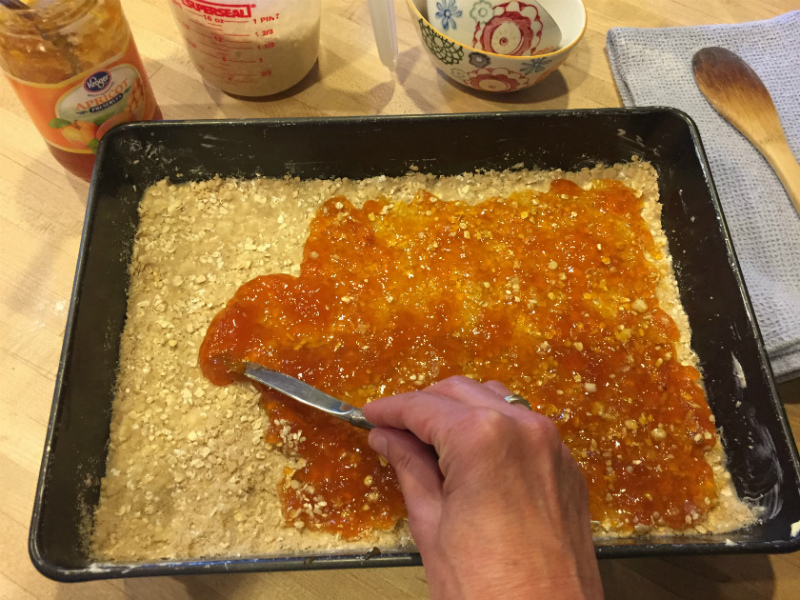 Because the dough is so dry, spreading the jam was a little tricky as the dough wanted to mix up into the jam. I just took it slow and used a small butter type knife to spread the jam over the dough, about ½ inch from the sides of the pan.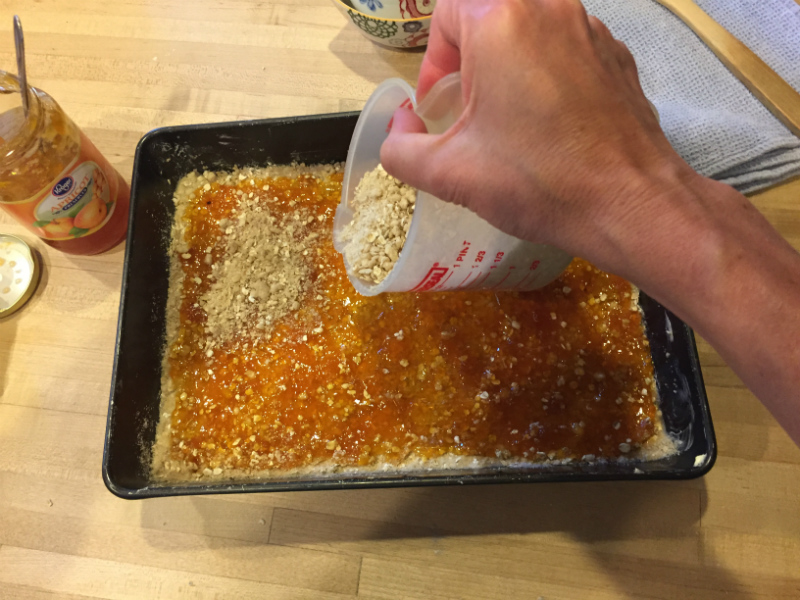 Next, evenly spread the remaining flour and oat mixture over the jam.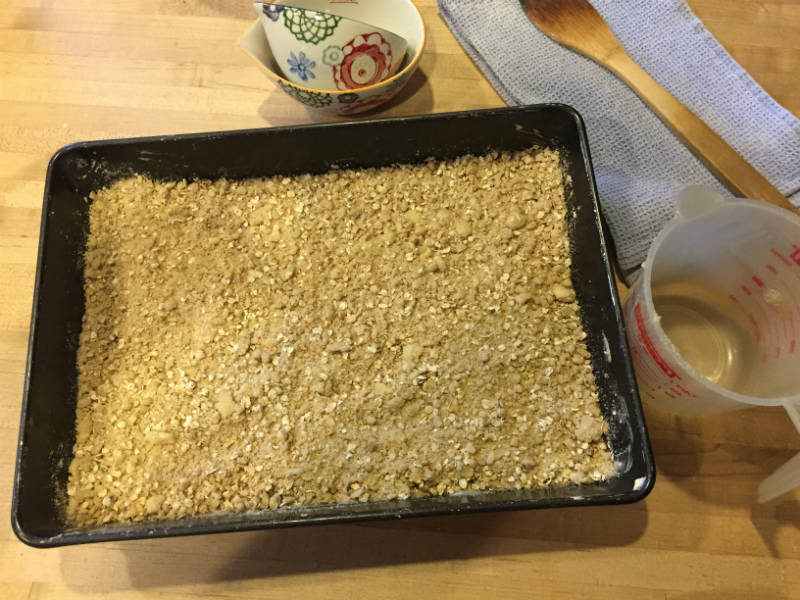 I had quite a bit of the mixture, so it covered the jam completely. Then, into the oven to bake.
I used the whole 35 minutes, just to make sure the crust was set and firm. It was great to see the jam start to bubble as it baked! The bars didn't brown with the extra time, so make sure to watch them if you decide to bake them even longer, you might not notice if they over bake.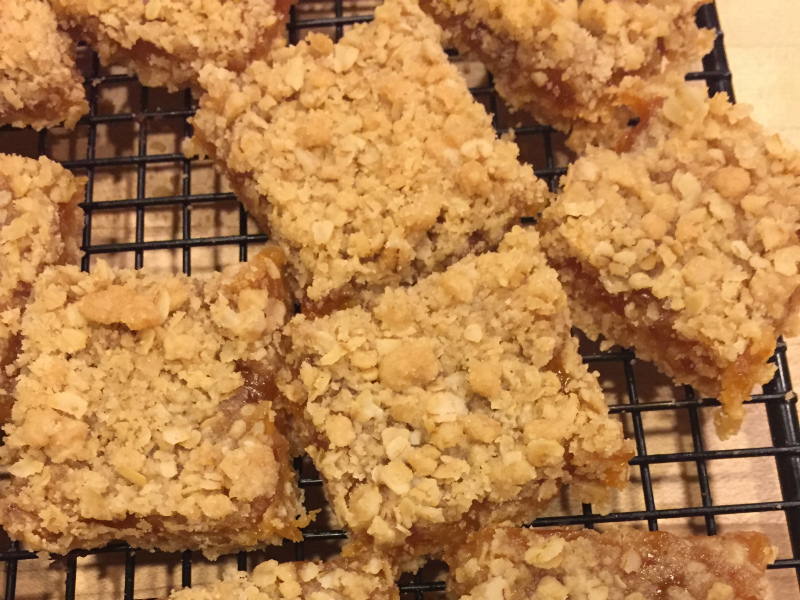 I let the bars cool slightly, as the recipe said.  After about 10 minutes out of the oven, I cut them into 1-inch bars. I let them cool completely before removing them from the pan. The bars held together nicely. They are such a pretty color with the apricot orange showing through the crumble topping.
These Apricot Bar cookies look a bit fancy so will be great when served for afternoon tea and/or coffee or for dessert at a luncheon. But, they taste so good and sweet you won't want to hold onto them for a special occasion, you can serve them to anyone and everyone from kids to adults!
I highly recommend Apricot Bars for any and all occasions!  You just can't go wrong when you mix oats and butter, adding the sweetness of the jam is the perfect match for this bar cookie!
Enjoy!
XXOO!
Janet
Print
Apricot Bars
Ingredients
1 ½ cups sifted flour

1 tsp baking pwder

1 cup brown sugar

1 ½ cups quick rolled oats

¾ cup butter

1 12 oz jar apricot jam
Instructions
Mix and sift together flour and baking powder. Add brown sugar and oats, mix well. Cut in butter until well blended. Press 2/3 of mixture in 13x9x2 inch greased pan. Cover with jam. Sprinkle with remaining flour/oats mixture. Bake at 350 degrees for about 30 – 35 minutes. Cool very slightly and cut into bars.
Recipe Yield
Makes about 4 - 5 dozen 1 inch bars