To start, I must make a huge confession. This blog should actually be about Cookies by Bess' Almond Rings. But, something went very wrong while I was making the cookie dough, so I had to decide…throw out what I had or make huge adjustments to the recipe and rename the cookie. I chose the latter and am now blogging about Almond Rounds.
I don't even know how to explain what happened, but let me try. First, after mixing all the ingredients, I realized I didn't use the right amount of butter…short ½ cup! I tried to add the additional butter to the mixture, but the dough just never came together. I wasn't able to roll the dough into rings. It just wouldn't work. I needed liquid!
After sitting for a few minutes, trying to decide what to do, I added a teaspoon to vanilla. I figured; a little vanilla couldn't hurt any cookie recipe, right? It helped a tiny bit but not near enough. Next, I added a tablespoon of water. Again, it helped but not enough.
Finally, I decided to add ½ cup cream. This helped the dough come together so I was feeling better, but I still couldn't shape the dough into rings. Instead I decided to roll the dough into balls and then into the chopped nuts, cinnamon, and sugar mixture. I baked a couple test cookies for about 10 minutes.
The cookies didn't come out so good. They stuck to the cookie sheet and didn't bake completely though.
It was at this point I realized I had to abandon the Almond Ring recipe complete.   I decided to pour the chopped nuts, cinnamon and sugar mixture into the cookie dough, roll the dough into balls the size of a walnut shell, and then flatten the ball with a small juice glass.
I baked a couple test cookies and they turned out great! Super tasty, nice and thick, something completely new!
I'm going to wait a while before I try to make Almond Rings again…in the meantime, I'm happy with my Almond Rounds! I'm also happy I stuck it out instead of giving up.  Hopefully Grandma Bess would be proud 😊
I'm rating Almond Rounds 2-stars for cookie baking difficulty. Nothing difficult, just a few extra steps in the process.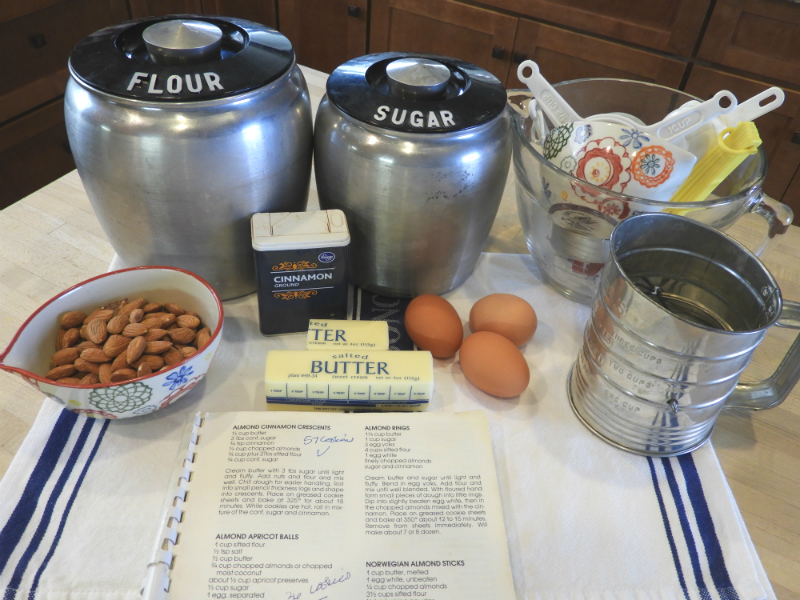 All ingredients were in my baking pantry…
…even the new ingredients added.
After mixing the additional ingredients (vanilla, water and almond/cinnamon/sugar mixture), the dough was much easier to work with.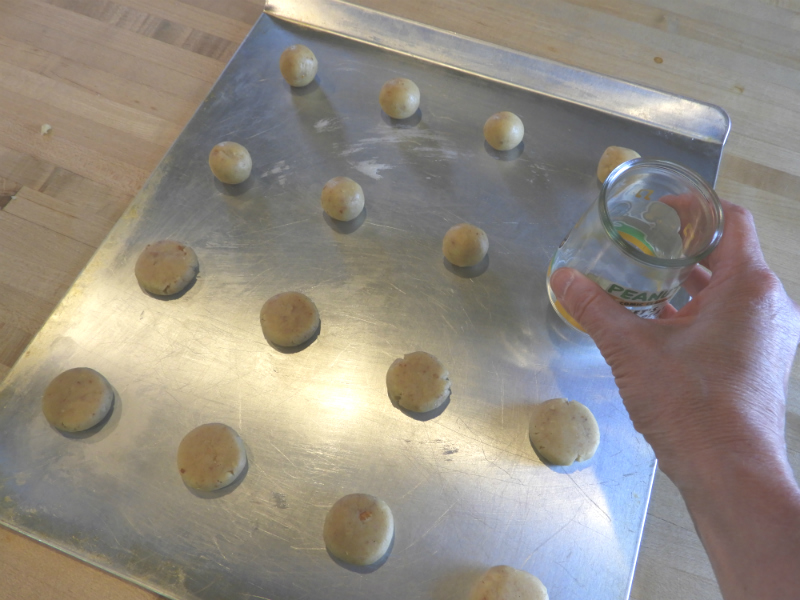 The dough was dense, and I wasn't sure how it was going to bake. I was thinking the cookies would spread out a bit, so I decided to roll a decent amount of dough into balls, and then use a juice glass to flatten the cookies a bit.
Much to my surprise, the cookies didn't spread out while baking.
Instead, they stayed basically the same.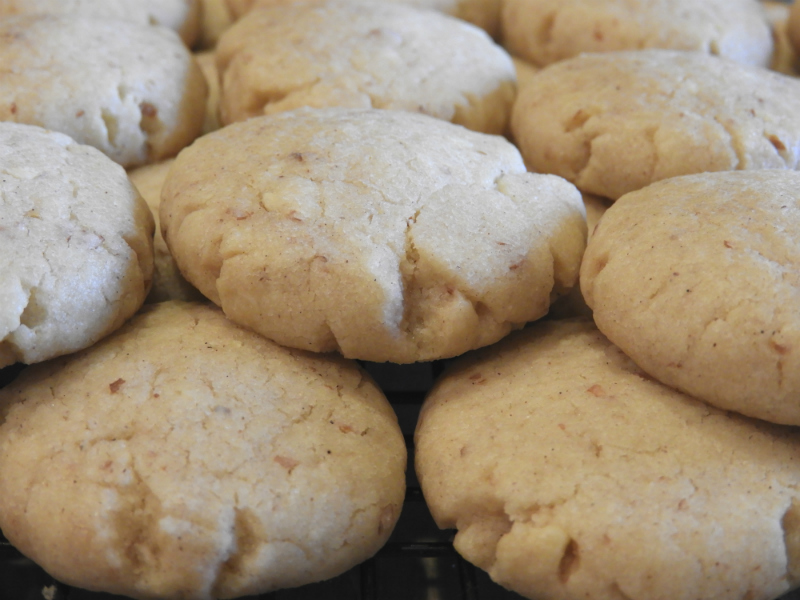 The end result cookies were nice and thick. Their consistency was dense like the cookie dough. The finely chopped almonds and cinnamon/sugar mixture coupled with the butter and cream created a unique and tasty flavor.
I love the buttery beige color with the little flecks of almond. The cracked sides of the cookies add a bit of personality.
I had no idea how these cookies were going to turn out or how they would taste. I was a little nervous about changing one of Grandma Bess' cookie recipes, after all my job is to bake Bess' recipes, not make new ones.
After baking over 100 of Grandma Bess' cookie recipes, I'm happy to report, this is the first (and hopefully the last) time I had to make so many changes that I changed the name of the recipe. Some of Bess' cookie recipes need a slight adjustment here/there…and this time the issue was really my error.
Hopefully Almond Rings will turn out next time…and hopefully you enjoy this new recipe by Janet 😊
XXOO,
Janet
Print
Almond Rounds
Ingredients
1 ¼ cup butter

1 cup sugar

3 egg yolks

(½ cup cream)

(1 tsp vanilla)

(1 Tbs water)

4 cups sifted flour

1 egg white

Finely chopped almonds (2/3 cup finely chopped almonds)

Sugar and cinnamon (1/2 cup sugar and 1 Tbs cinnamon)
Instructions
Cream butter and sugar until light and fluffy. Blend in egg yolks, cinnamon, sugar and chopped almonds. Add vanilla and water. Add flour interchangeably with cream and mix until well blended. With floured hands, form pieces of dough into walnut size balls and place on greased cookie sheets. Flatten with bottom of small juice glass. Bake at 350-degrees about 12 – 15 minutes. Remove from sheets immediately.
Recipe Yield
Makes 6 - 7 dozen cookies
Cookie Category:  Molded or Shaped