While paging through Cookies by Bess, I've passed over the Rocks recipe several times.  Probably because Rocks isn't the most appetizing name for a cookie. It makes me think of a solid hard cookie that might break my teeth if I bite into it. Also, I'm one that prefers soft cookies, so I didn't think Rocks was going to be a cookie I would enjoy.
Boy was I wrong! Turns out Rocks aren't really solid or hard at all…well, I guess if you baked them a few minutes longer, they would be harder. They may look a bit like Rocks, but they certainly don't taste like Rocks. They taste pretty darn awesome! The cinnamon and allspice with the dates and pecans is a winning combination!  Just goes to show you, you can't tell a cookie by the recipe title! ?
I'm rating the Rocks recipe 1-star for cookie difficulty. Rocks is a simple drop cookie that mixes and bakes up quickly. You will need a few extra minutes to chop up with dates and nuts, but other than that, all you need to do is mix, drop, bake, and EAT!  Yum Yum!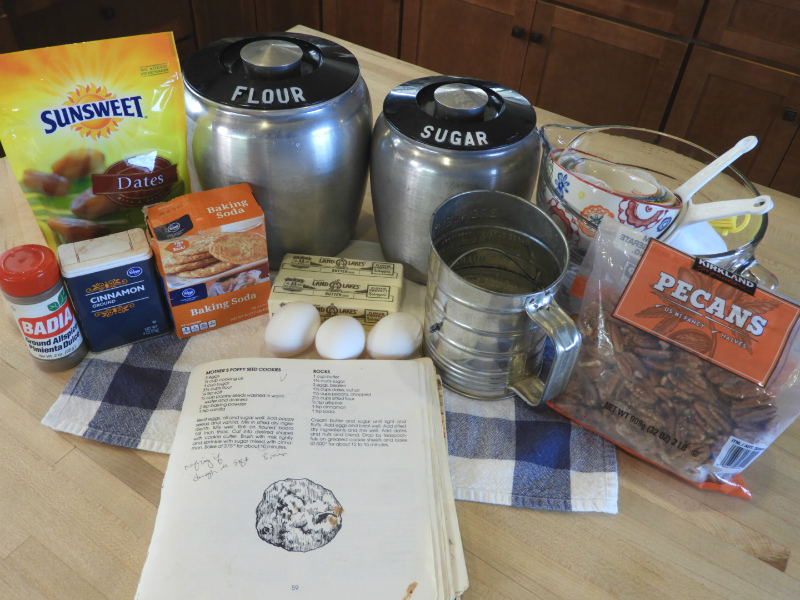 I pulled all my ingredients together and then chopped the dates and nuts before I started blending the butter and sugar. I like to get everything prepped before I begin mixing so I can just measure and go without starting and stopping. For me, this is more efficient and therefore, saves me time.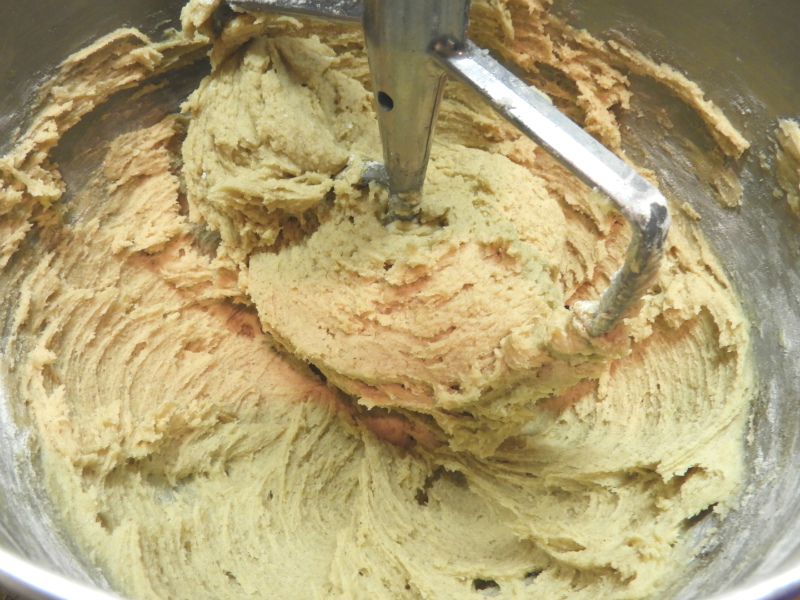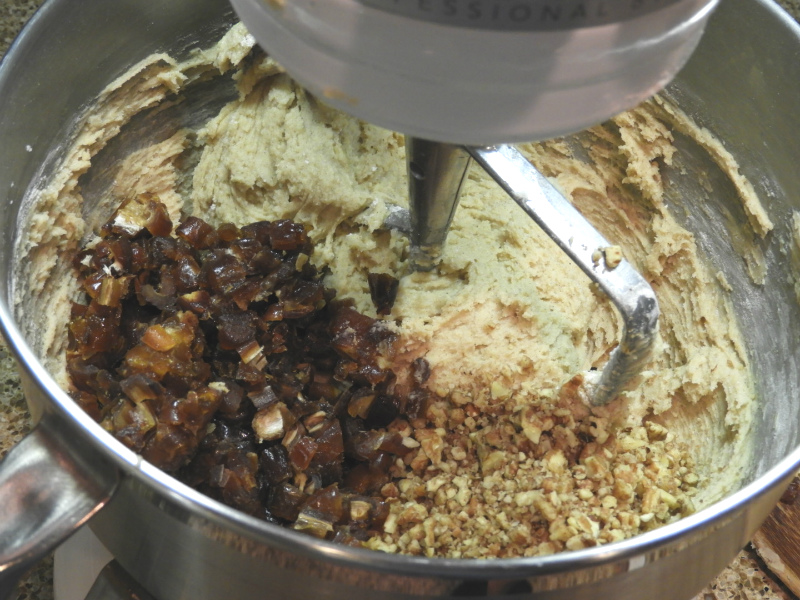 Adding the cinnamon and allspice to the gives the cookie dough such a nice color…and taste! Once all blended together, I added the chopped dates and pecans.
At this point, I was starting to see why the recipe is called Rocks. The color and texture of the dough almost reminds me of a rugged rock. But of course, with a sweet cookie taste!
Once the dough was ready to go, I baked a small test batch to make sure the Rocks baked up properly. I noticed after about 7 or 8 minutes of baking that the cookies were turning quite brown and getting over done.
This was easily fixed by adding some additional flour to the dough. I added about 3 tablespoons to get the consistency I was looking for.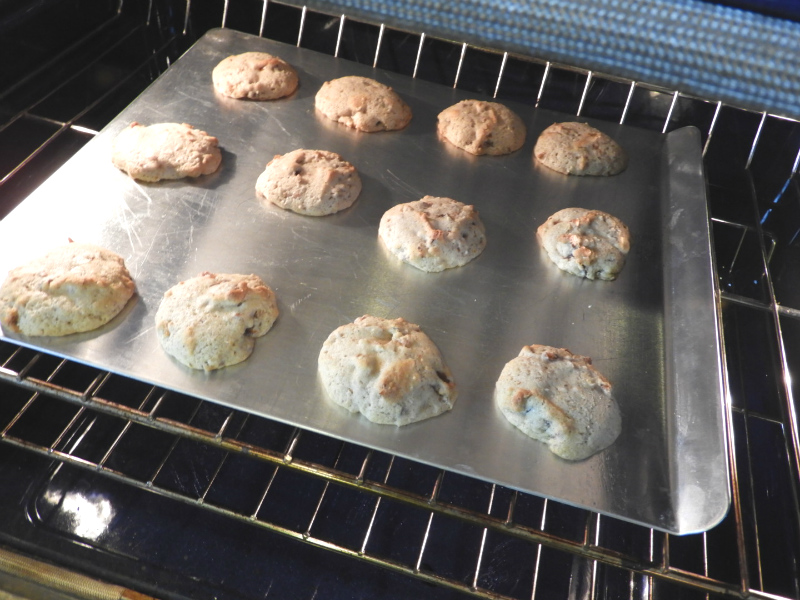 The next batch baked came out much better. I baked the cookies for 10 minutes versus the 12 – 15 mentioned in the recipe. The cookies still came out brown, but they weren't over done or crunchy.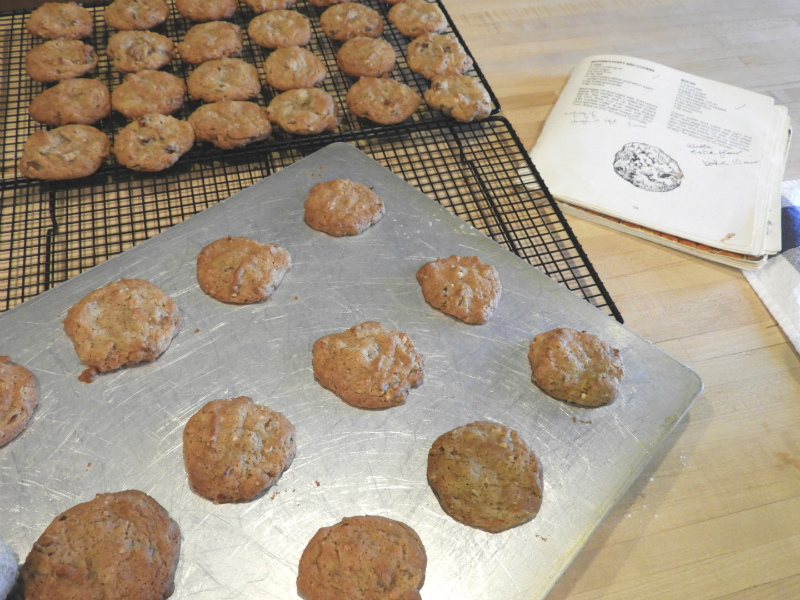 I removed the cookies from the cookie sheets onto the cooling rack right away. They were still a little soft, but came off nicely and firmed up as they cooled down.
The finished cookies do look like little Rocks. The dates and nuts provide just the right amount of texture and the brown color gives them an earthy tone. The cinnamon and allspice provide a wonderful taste that makes you want to eat "just one more" many time more!
All in all, I love this Rocks cookie recipe. They are easy to make, they taste great, and they are a perfect cookie for filling the cookie jar! Rocks remind me of cookies made "way back when"…just a good old fashion cookie your family and friends will love!
I hope you enjoy these Rocks as much as I do!
XXOO,
Janet
Print
Rocks
Ingredients
I cup butter
1 ½ cups sugar
3 egg, beaten
1 ½ cups dates, cut up
1 ½ cups pecans, chopped
2 ½ cups sifted flour
½ tsp allspice
1 tsp cinnamon
1 tsp baking soda
Instructions
Cream butter and sugar until light and fluffy. Add eggs and beat well. Add sifted dry ingredients and mix well. Add dates and nuts and blend. Drop by teaspoonfuls on greased cookie sheet and bake at 400 degrees for 12 to 15 minutes.
Recipe Yield
Makes about 6 - 7 dozen 1x