Susan's Favorite Christmas Cookies
It was my guess the "Susan" in Susan's Favorite Christmas Cookies is my Aunt Suzie. I asked my Mom and Dad, but they didn't know for sure, so I went right to the source and emailed my Aunt Suzie directly. She responded right away with the answer!  Susan's Favorite Christmas Cookies.
Yes, the "Susan" in Susan's Favorite Christmas Cookies is my Aunt Suzie! Turns out, this recipe was one of her favorites when she was a little girl. It was one of her favorite girl friend's recipe, so she asked Grandma Bess if she would include it in Cookies by Bess…of course Grandma Bess said yes, and oh boy am I glad she did!
My jaw about dropped to the floor when I read the Susan's Favorite Christmas Cookie recipe! 2 cups of butter and 2 cups of powdered sugar! Not only was this recipe going to make a ton of cookies, but holy moly…2 cups of butter?
I will be honest, I cut the recipe in half. I noticed, all the ingredients are listed in amounts very easy to half, and honestly, I just couldn't use 4 whole sticks of butter for once batch of cookies! Grandma Bess advised not halving recipes, so sorry Grandma Bess…I just had to break the rules this one time.
I've never made Susan's Favorite Christmas Cookies before, so I really can't be the judge, but in my opinion, the cookies baked up great! They certainly have a rich buttery flavor, but it's the fresh lemon juice that really takes this cookie to a different level of wonderfulness! A very unique flavor that makes you want to keep tasting and tasting Susan's Favorite Christmas cookies!
If you are looking for a wonderfully rich and creamy cutter cookie, Susan's Favorite Christmas Cookies is a perfect choice! I think the best part of this recipe is you don't have to wait until Christmas to make them! Susan's Favorite Christmas Cookies are a perfect cookie for anytime of the year! Easy to make and a super crowd pleaser!
Shaping and pressing the cookies add just enough steps to make this a 2-star cookie baking recipe. Once again, easy to make but taking just a bit longer due to the rolling and pressing involved.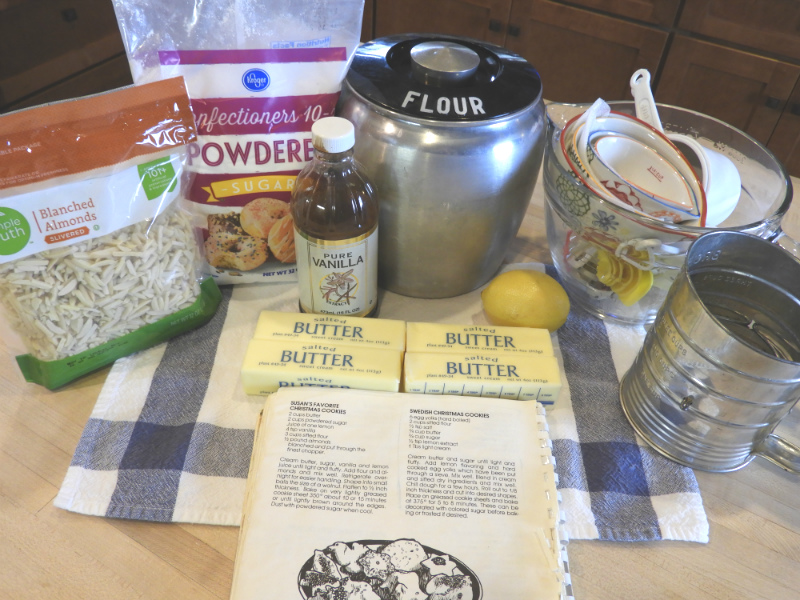 I pulled all the ingredients together. Blanched almonds are not something I normally keep in my baking pantry. Luckily, I made Susan's Favorite Christmas Cookies during the holiday season, so I was able to pick them up at the grocery store no problem. I always keep lemons in my refrigerator, so I was all set to get started!
The butter, lemon juice, and powered sugar blended together perfectly.
I spend some extra time chopping the blanched almonds per the recipe saying to put them through the finest chopper. The color of the nuts is just about the same as the butter/powdered sugar…so pretty!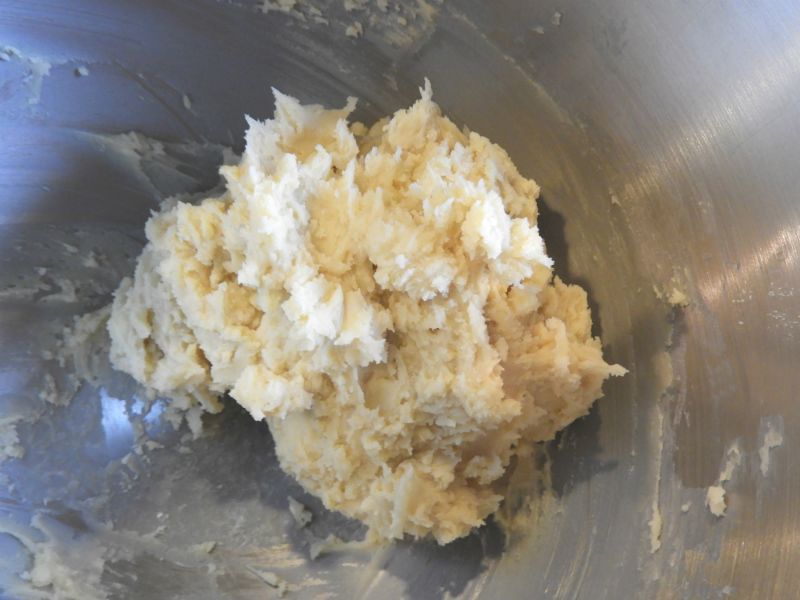 Once the nuts were mixed in, you could barely tell they are there! I just love the blond color of this dough! The recipe says to chill the dough overnight, so I stuck it in the refrigerator.
The dough was very firm when I took it out of the refrigerator. It was a little difficult to form the dough balls, but I made it work!
Keeping the dough chilled is a good idea…it became a little sticky once it warmed up a bit, so definitely keep it chilled between batches.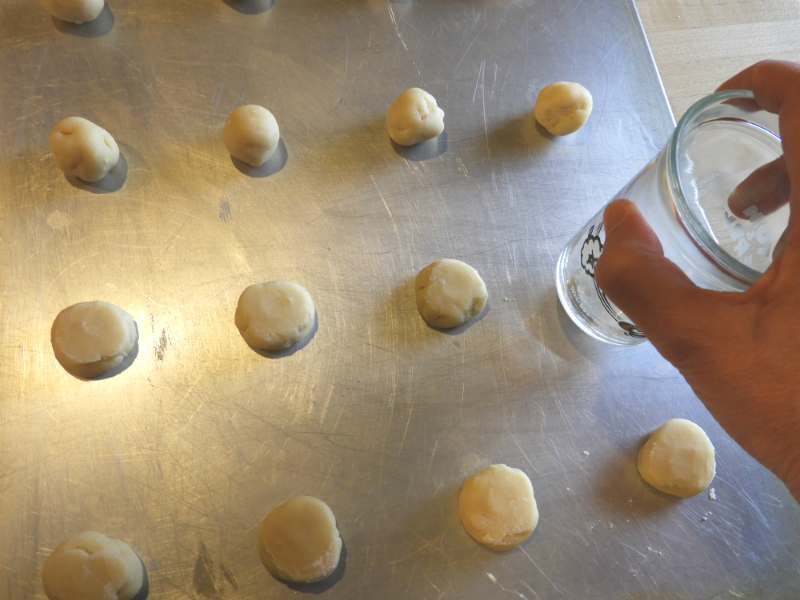 They weren't exactly round balls, but that didn't make a difference once they were flattened. I used a small juice glass to flatten the cookies. It was helpful to pat the bottom of the juice glass in a little flour before flattening the cookie. I used just a little pressure.
After flattening all the cookies, I was ready to stick them in the oven.  Notice, I kept a couple inches between the cookie balls.  I figured the cookies would spread a bit, but I wasn't sure how much.  This spacing worked perfectly.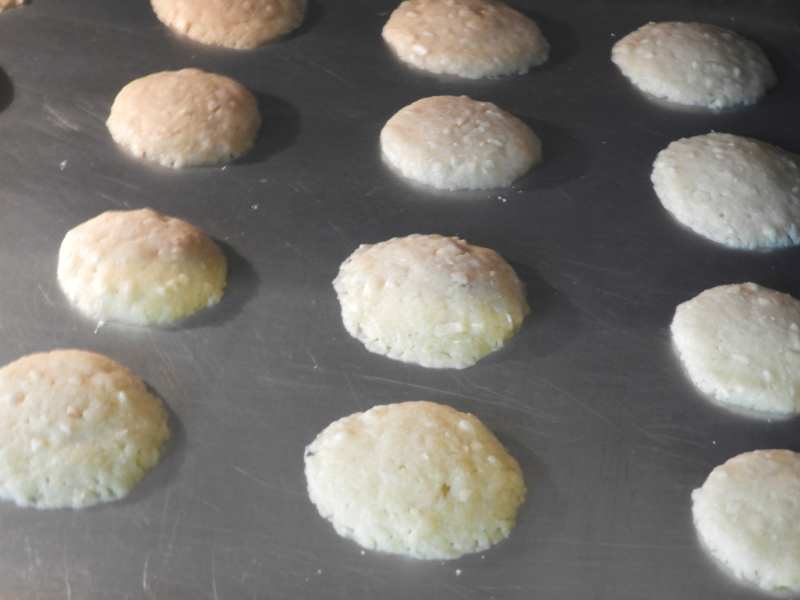 The cookies flattened and spread into a nice round shape while baking.
The recipe says to bake 10 – 15 minutes or until the edges turn slightly brown. This is exactly what the cookies did, so it was easy to tell when they were done.
After baking the first batch, I let them cool and dusted then cookies with powdered sugar per the recipe. Don't they look awesome and yummy!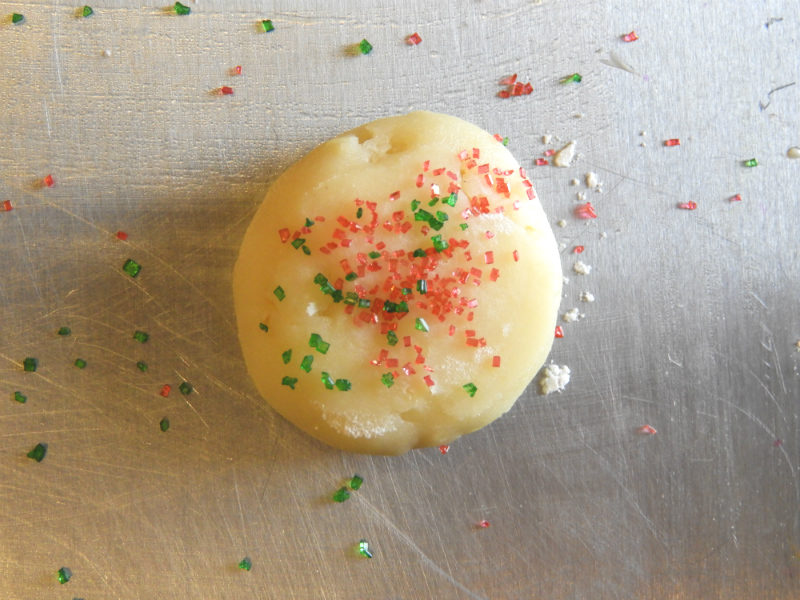 As I was dusting the cookies, I thought it would be nice to add a little holiday color…these are Christmas cookies for goodness sake! 😊 So, I sprinkled a little green and red sugar on each cookie before sticking them in the oven.
I ended up with half the cookies per the recipe with just the dusting of powdered sugar and the other half with some holiday color. I just love how they turned out and they taste awesome!
Looking at the baked cookies, I still couldn't really tell they had nuts in them. I had to try one to see if there was a nutty almond taste. I could taste the nuts, but it was a very subtle flavor. The lemon juice was much more pronounced.
My Aunt Suzie said she always loved butter cookies, so its no wonder she loved these name sake cookies, Susan's Favorite Christmas Cookies! They are buttery, lemony, and even a bit nutty!
I hope you enjoy them as much as my Aunt Suzie and I do!
XXOO,
Janet
Print
Susan's Favorite Christmas Cookies
Ingredients
2 cups butter

2 cups powdered sugar

Juice of one lemon

4 tsp vanilla

3 cups sifted flour

½ pound almonds blanched and put through the finest chopper
Instructions
Cream butter, sugar, vanilla and lemon juice until light and fluffy. Add flour and almonds and mix well. Refrigerate overnight for easier handling. Shape into small balls the size of a walnut. Flatten to ½ inch thickness. Bake on very lightly greased cookie sheet 350 degrees about 10 or 15 minutes or until lightly brown around the edges. Dust with powdered sugar when cool.
Recipe Yield
Makes about 10 - 12 dozen
Cookie Category:  Molded or Shaped
Difficulty: ★ ★ ☆ ☆