What goes best with cookies? I'm sure there are plenty of opinions on the answer to this question, but the one that comes to my mind first is…coffee! Next question, what could be better than cookies with coffee baked in? Easy answer, nothing…and Spice Coffee Drops are proof!
Spice Coffee Drops from Cookies by Bess are one of the best tasting cookies ever! The combination of coffee, dates, and nuts…WOW! Thank you, Grandma Bess, for making sure this recipe was included in your cookie book! 😊
It's actually been a bit difficult to describe Spice Coffee Drops to my family and friends. There are so many yummy flavors, it's hard to pick the one that stands out the most. A good indication that all ingredients were meant to be together in this perfect cookie!
I'm rating Spice Coffee Drops 2-stars for cookie baking difficulty. The extra step of chopping the dates and brewing the coffee not only elevate the flavors of this cookie, but it elevates the difficulty level too!
I pulled all my ingredients together…as usual, I substituted butter for shortening…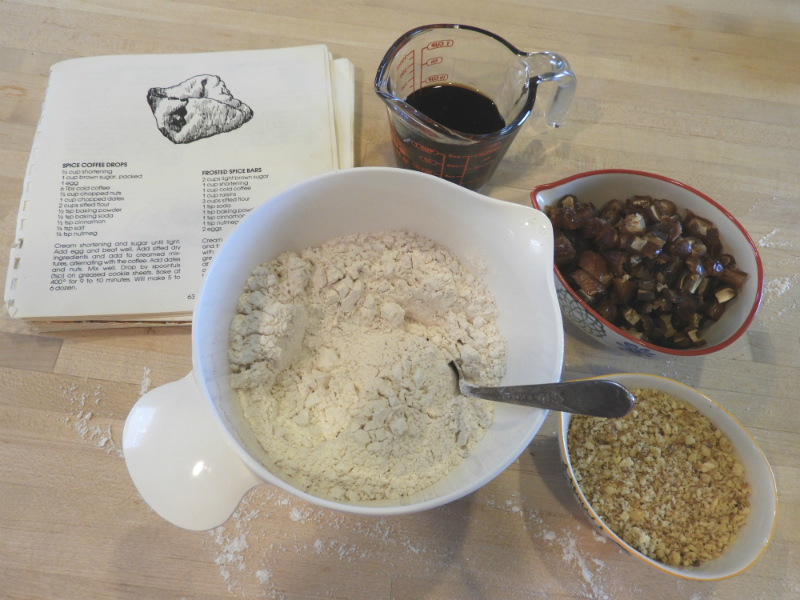 It's always best to organize all your ingredients prior to getting started. So, I chopped the dates and nuts.  I had already brewed the coffee, so I pulled it out of the refrigerator where it was chilling.  I sifted all the dry ingredients together and was now ready to start mixing.
After creaming the butter (shortening), sugar, and egg, I started alternating the dry ingredients with the coffee.
Finally, I mixed in the chopped dates and nuts.
What an awesome looking dough! Just look at that light coffee color and all that texture! Of course, I had to taste it…OMG! I'm not a coffee drinker, but the coffee flavor partnered with the dates, nuts, and spices really amazing!
Easiest part of the instructions, dropping the dough on the cookies sheets and sticking them in the oven.  I used a heaping teaspoon full of cookie dough, which seems to work out well!
The cookies baked up nicely in about 10 minutes.  They puffed up a bit and browned just a bit on the edges.
The cookies kept their texture even after puffing and spreading a bit while baking.
Check out the wonderful colors and texture of these cookies!  Can't you just imagine the coffee, date, spice, and nut flavors?
It's hard for me to explain just how good these cookies taste!  I'm not a big fan of coffee, but I am big fan of dates so I wasn't sure what to expect. I was so pleasantly surprised, I could stop eating these cookies!
Spice Coffee Drops are a sleepy little cookie recipe that might seem average, but absolutely is NOT! Spice Coffee Drops are an exceptional cookie that combines so many wonderful flavors, you will want to eat the whole batch yourself! I hope you enjoy them as much as I did!
XXOO,
Janet
Print
Spice Coffee Drops
Ingredients
½ cup shortening

1 cup brown sugar, packed

1 egg

6 Tbs cold coffee

½ cup nuts

1 cup chopped dates

2 cups sifted flour

½ tsp baking powder

½ tsp baking soda

½ tsp cinnamon

¼ tsp salt

¼ tsp nutmeg
Instructions
Cream shortening and sugar until light. Add egg and beat well. Add sifted dry ingredients and add to creamed mixture, alternating with the coffee. Add dates and nuts. Mix well. Drop by spoonfuls (tsp) on greased cookie sheets. Bake at 400 degrees for 9 to 10 minutes. Will make 5 to 6 dozen.
Recipe Yield
Makes about 4 - 5 dozen cookies
Difficulty: ★ ★ ☆ ☆