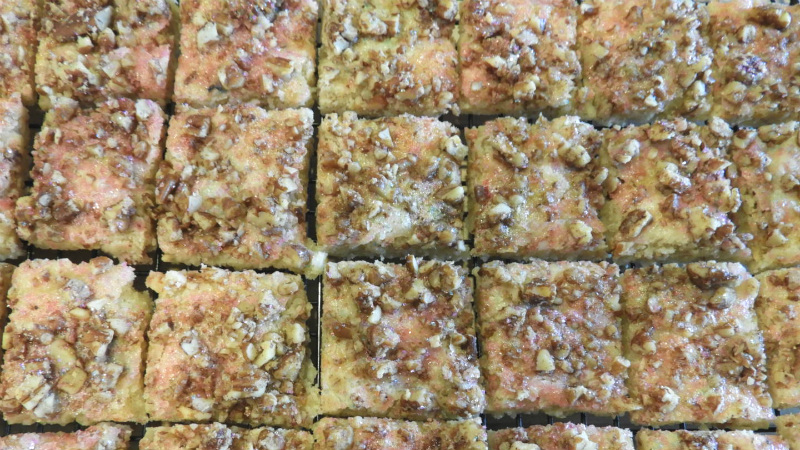 It is amazing to me how many awesome cookie recipes Grandma Bess collected! The recipes in Cookies by Bess aren't just a collection of cookie recipes…every single recipe is so unique and so GOOD! Melt Away Bars are no exception. The flavors of this simple bar cookie are TO-DIE-FOR! I just can't say it any other way. Melt Away Bars are a wonderful, colorful, flavorful cookie you just have to try!
I am rating Melt Away Bars 2-stars for cookie baking difficulty. The recipe is easy to make, but there are several steps that add to the time and effort needed.
One of the great things I love about baking cookies is more times that not, I have all ingredients in my baking pantry. Melt Away Bars have all the basic ingredients everyone has on hand.  I even had the colored sugar left over from making holiday cut out cookies. 😊
As I began to mix the ingredients together, I realized the only liquid in this recipe is an egg yolk and teaspoon of vanilla. This became evident as I was mixing everything together. It was very dry and almost powdery at first.
The recipe says to "mix well" so I kept my Kitchen Aid going until the dough came together. It took several minutes, so a little patience is needed!
Next, I poured the dough onto the 15×10 inch jelly roll pan.
The consistency was perfect for spreading into the jelly roll pan.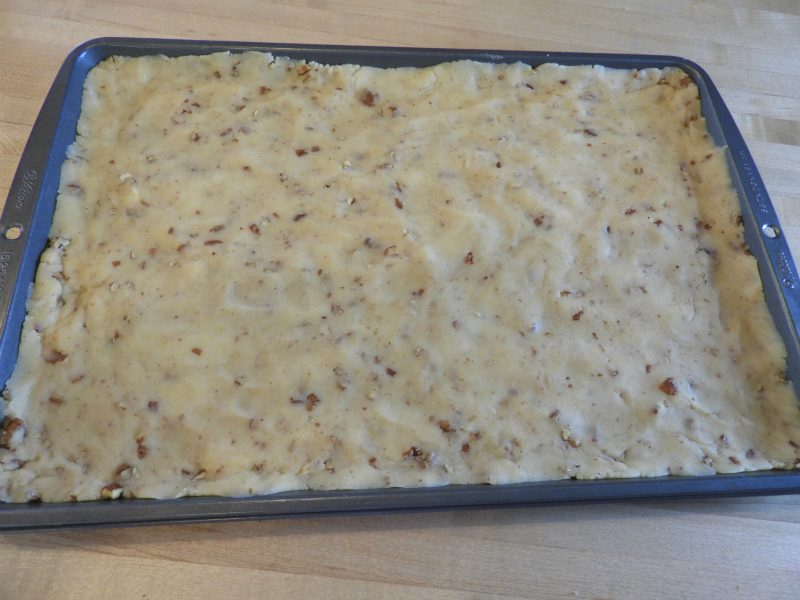 After the dough was spread into the pan, I started beating the eggs.
The recipe says to beat until frothy, which means to whip them up just a bit or just until they begin to change consistency.
Next, I poured the egg whites onto the dough…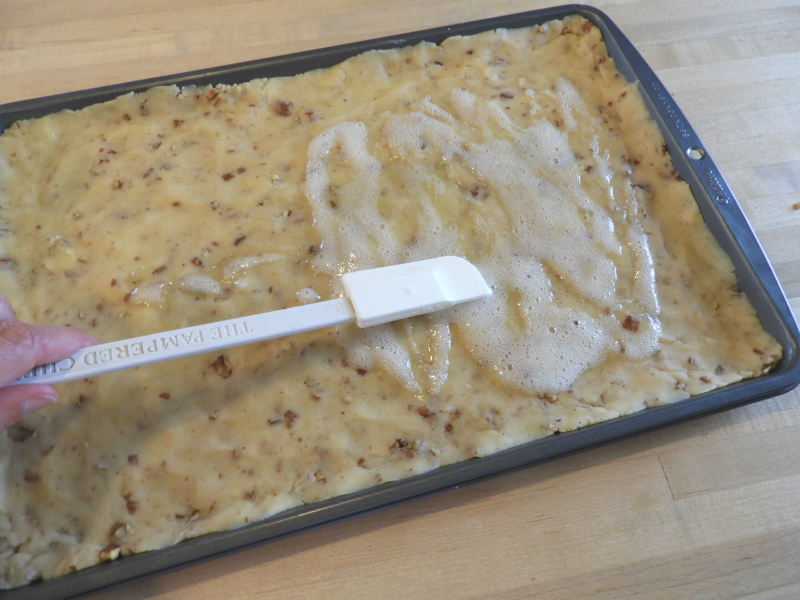 And then used a spatula to spread the egg white on the cookie dough crust.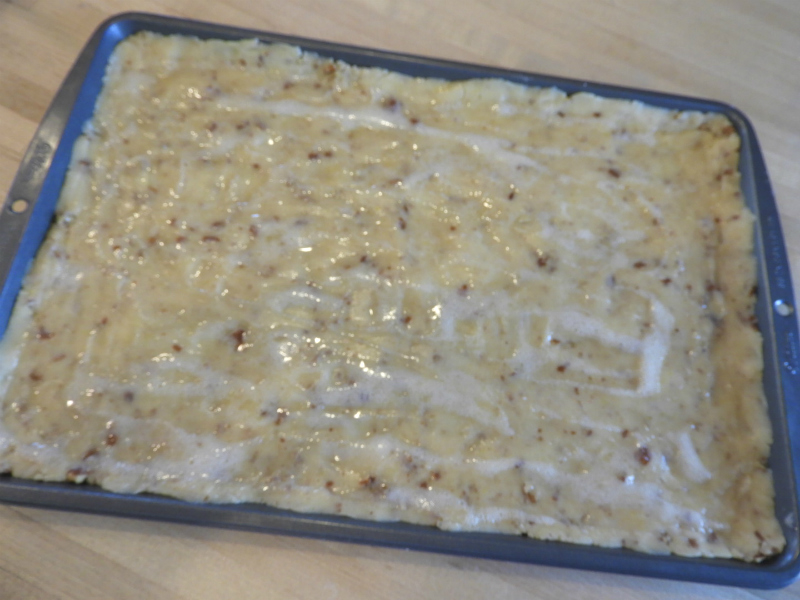 The egg whites spread nicely over the cookie dough.
Now the ½ cup nuts. I decided to use pecans this time, only because I had run out of walnuts.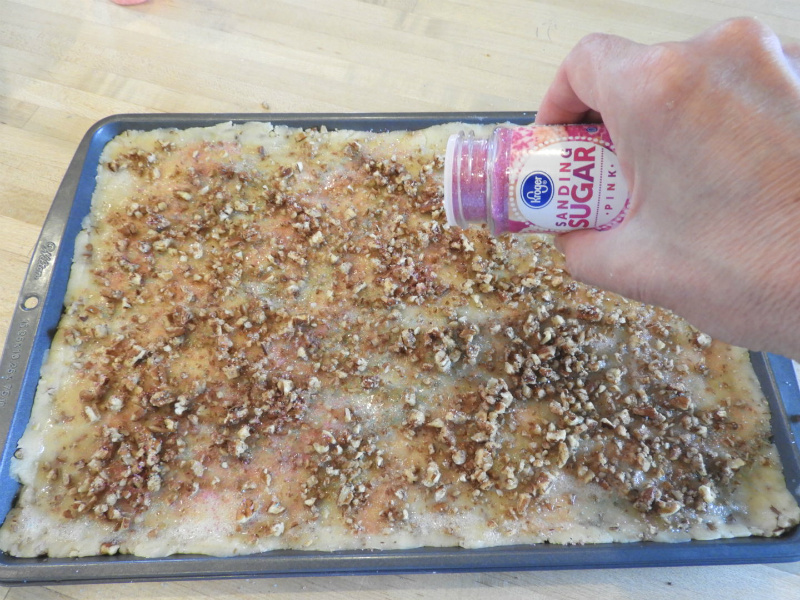 Finally, I was ready to sprinkle the colored sugars. I had several summery sugar colors in my pantry, so I decided to sprinkle a little of each. This gave me a nice and bright and colorful sugary accent!
And now, ready to bake!
I baked the cookies for 30 minutes just to make sure they were baked through. It was hard to tell if they were done at 25 minutes because the sugar and nuts covered the cookie crust so nicely. I figured 5 more minutes wasn't going to hurt!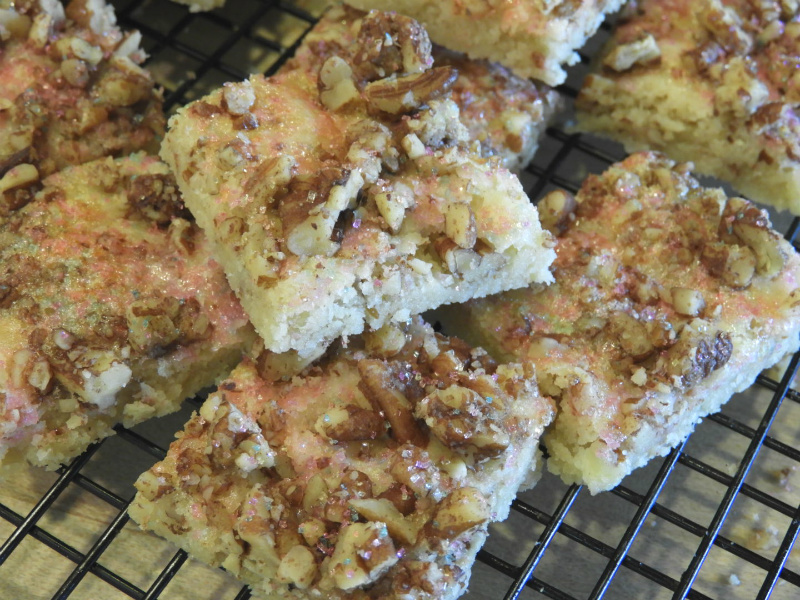 Just look at the texture of these cookies! The buttery cookie crust with the chopped nuts and different colored sugars add such wonderful flavors and aren't they just beautiful!
Everyone will love Grandma Bess' Melt Away Bars! This is a great cookie for all occasions! Just by changing the colored sugars you can make this is spring fling cookies, a fall festival cookie, or even a holiday cookie.
Melt Away Bars are an easy to make bar cookie that will amaze your family and friends…you have to try them!
XXOO,
Janet
Print
Melt Away Bars
Ingredients
1 cup soft butter

1 cup granulated sugar

1 egg, separated

1 teaspoon vanilla

2 cups flour

1 cup chopped walnuts or pecans

Colored sugar
Instructions
Combine butter, sugar, egg yolk, vanilla, flour, and ½ cup nuts. Blend well. Spread in ungreased 15×10 inch jelly roll pan. Beat egg white until frothy. Spread over bars. Sprinkle with ½ cup nuts and colored sugar. Bake at 350 degrees for 25 – 30 minutes until golden brown. Cool slightly and cut into bars. Use sharp knife. Freezes well.
Recipe Yield
Makes about 6 - 7 dozen
Difficulty: ★ ★ ☆ ☆