Chocolate Coconut Crisps is a great cookie recipe and great tasting cookie! If you are looking for a basic cookie recipe that gives you a really good cookie, Chocolate Coconut Crisps is the recipe for you!
Chocolate Coconut Crisps have everything you want in a cookie and then more! You've got chocolate, you've got coconut, you've got nuts, and then you've got an added nut on top! The best part is that Chocolate Coconut Crisps is a drop cookie, so once you have the cookie dough mixed together, you just drop teaspoonfuls add the nut and you are ready to bake!
I'm rating Chocolate Coconut Crisps 2-stars for baking difficultly only because of the added steps of melting the chocolate and adding the nut on top. Neither are difficult, but additional steps always add a star 😊
I pulled all my ingredients together. Seemed I had everything in my baking pantry, but I realized I had semi-sweet chocolate instead of unsweetened chocolate. Oh well, rather than run out to the grocery store, I decided to use the semi-sweet chocolate. Sorry Grandma Bess…I really didn't think it was going to make a big difference….and it didn't…at least not to me!
There are a couple steps in mixing the Chocolate Coconut Crisps cookie dough together. First are the basics (butter, sugar, eggs).  Next is the melted chocolate.   I just had to take a picture of the dough  before adding the chocolate.  I love the caramelly color!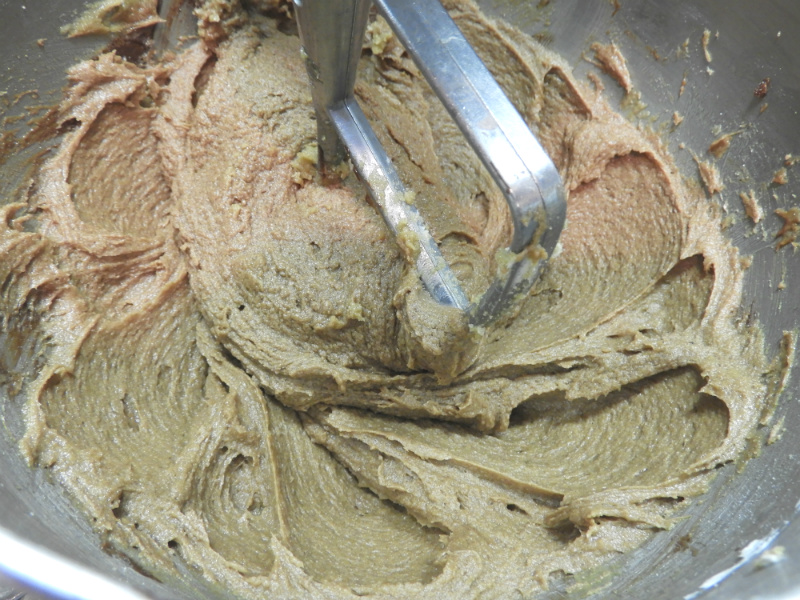 And after mixing in the chocolate, the dough is a wonderful rich chocolaty color!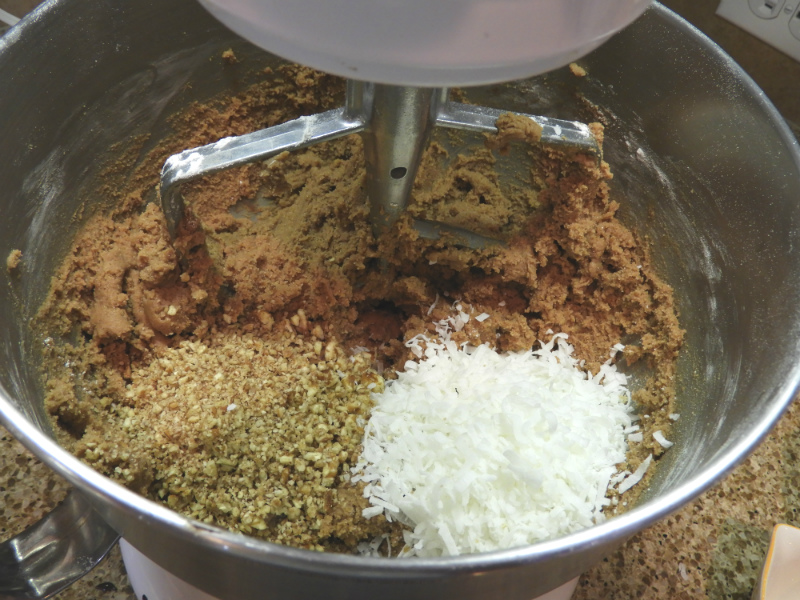 Next are the dry ingredients, nuts, and coconut.  The recipe says to add these ingredients and mix well…I decided to add and mix the dry ingredients first, then the nuts and coconut. The recipe doesn't specify which type of nut to use.  Normally I would use walnuts with this type of recipe, but I decided to use pecans because I thought the whole pecan half would look great on top of these cookies!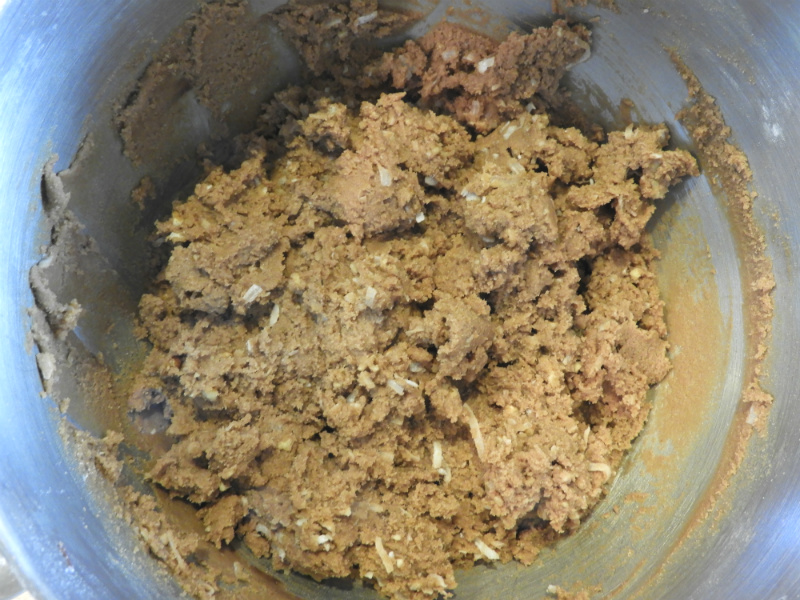 Just check out the texture of this wonderful cookie dough! The nuts and coconut add so many wonderful flavors and a ton of texture…I can't wait till you see the finished cookies 😊
I love making drop cookies…super easy and fast! Before sticking the cookies in the over, Chocolate Coconut Crisps call for a whole nut placed on top.  A super easy step!  Just put the nut on top!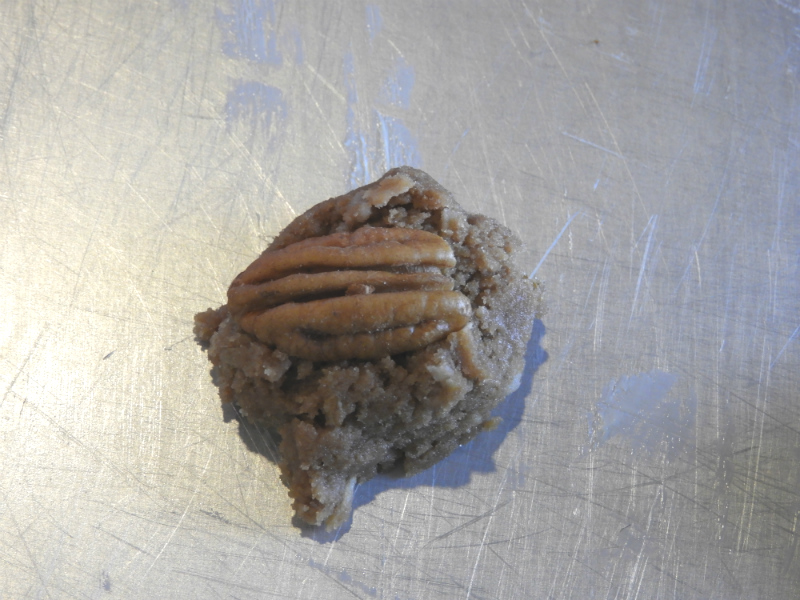 I will say, I thought the nut seemed too big for the teaspoon size drop cookie. So, I decided to bake a few test cookies to see how much they spread out while baking.
Much to my surprise, the cookies spread out perfectly, leaving the pecan half right in the center…at least most of the pecans stayed in the center.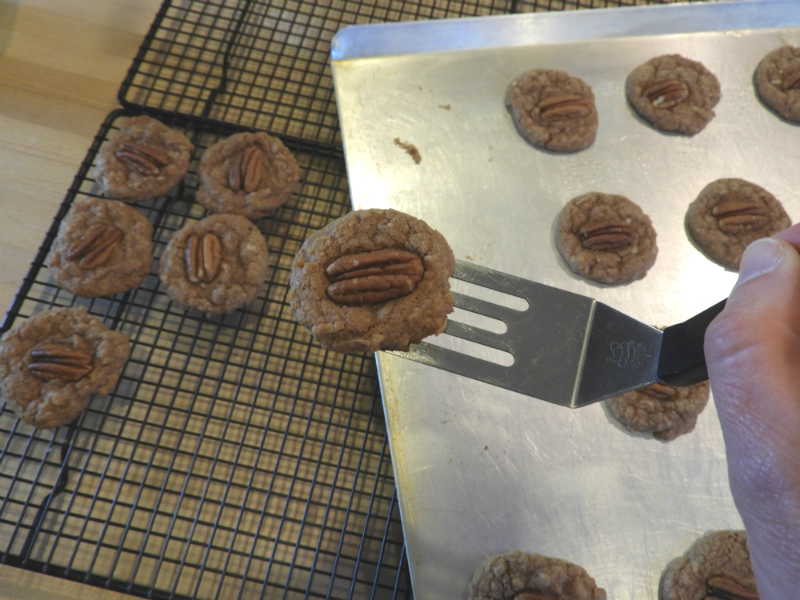 The cookies are easy to remove from the cookie sheets and don't they look awesome?!?!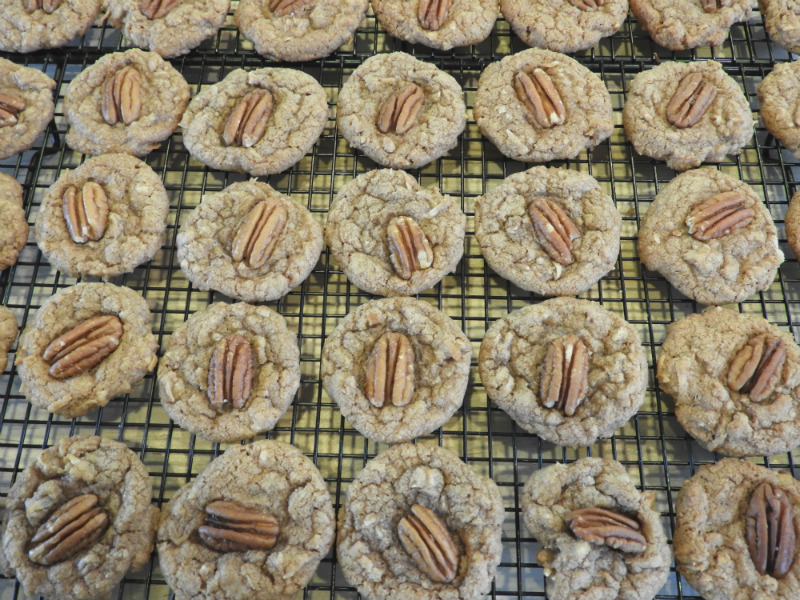 I just love this cookie! Chocolate Coconut Crisps have it all! I love the texture, the nut on top, and most importantly the flavors!
Chocolate Coconut Crisps are a wonderful cookie that is a bit chewy in the middle and perfectly crispy and crunchy around the edges. The chocolate, nuts, and coconut blend perfectly. The nut on top is a perfect addition and really brings all the flavors together.
As you can see, I can't say enough about Chocolate Coconut Crisps! A basic drop cookie recipe that really delivers in flavor! You are going to love them!
XXOO,
Janet
Print
Chocolate Coconut Crisps
Ingredients
2 ½ cups sifted flour

½ tsp baking powder

½ tsp salt

1 cup butter

2 ½ cups light brown sugar packed

2 eggs

2 sq. unsweetened chocolate melted

½ cup chopped nuts

½ cup coconut

Pecan or Walnut halves
Instructions
Cream butter and sugar and add eggs one at a time. Cream well. Add melted chocolate. Add sifted dry ingredients, nuts and coconut and mix well. Drop from teaspoons on to greased cookie sheets. Place a nutmeal half on top. Bake at 350 degrees for 8 to 10 minutes.
Recipe Yield
Makes about 6 - 7 dozen
Difficulty: ★ ★ ☆ ☆