Chocolate Almond Butterballs
Chocolate Almond Butterballs are your basic chocolate cookie…sorry, I mean great chocolate cookie! Melted semi-sweet chocolate mixed with butter, vanilla, and blanched almonds…rolled into balls and then in sugar to add just the right mount of sweetness.
The chocolate flavor in Chocolate Almond Butterballs is subtle and prevalent…is that possible? 😊 What I mean is, after biting into the cookie, you initially get a crunch from the texture of the cookie and blanched almonds, then a bit of sweetness from the sugar coating, then a wonderful chocolate flavor that perfectly resonates in your mouth…it's a subtle and WOW cookie at the same time and I love them!
I'm rating Chocolate Almond Butterballs 2-stars for cookie baking difficulty because of the extra steps of rolling the dough into small balls and then in sugar. This is a great cookie for baking when you have limited time but want a cookie to impress your friends!
I love cookie recipes that call for ingredients already in my baking pantry! I even had some blanched almonds left over from making Susan's Favorite Christmas Cookies, a wonderful cookie recipe you can make any time of year!
To start, I started melting the chocolate over water. This way it would be cooled when I needed to add it a bit later.
Next, I mixed together the butter, sugar, and vanilla. Added the chocolate and then flour and chopped blanched almonds.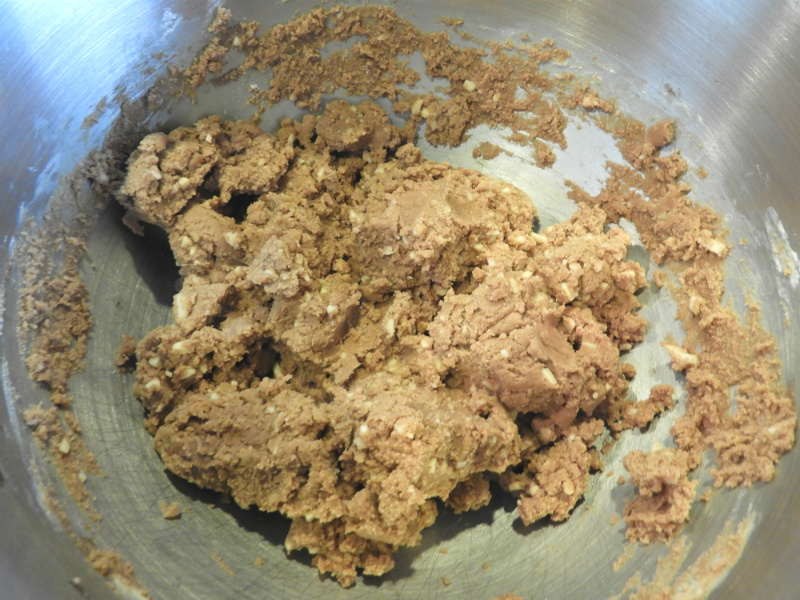 Once all mixed together, I realized the dough was a bit dry. For the most part, this consistency worked well for rolling the cookie dough balls, but the dryness made it a little difficult to form some of the cookie balls.  I didn't realize it a the time, but this resulted in some cracks in the cookies after baking…
After rolling the dough into balls, I rolled them in sugar. The sugar stuck to the dough balls nicely!
My test batch of cookies confirmed the cookies didn't spread while baking but kept their ball shape. This allowed me to pack the cookie sheet full of cookies! After rolling and rolling, I was ready to bake!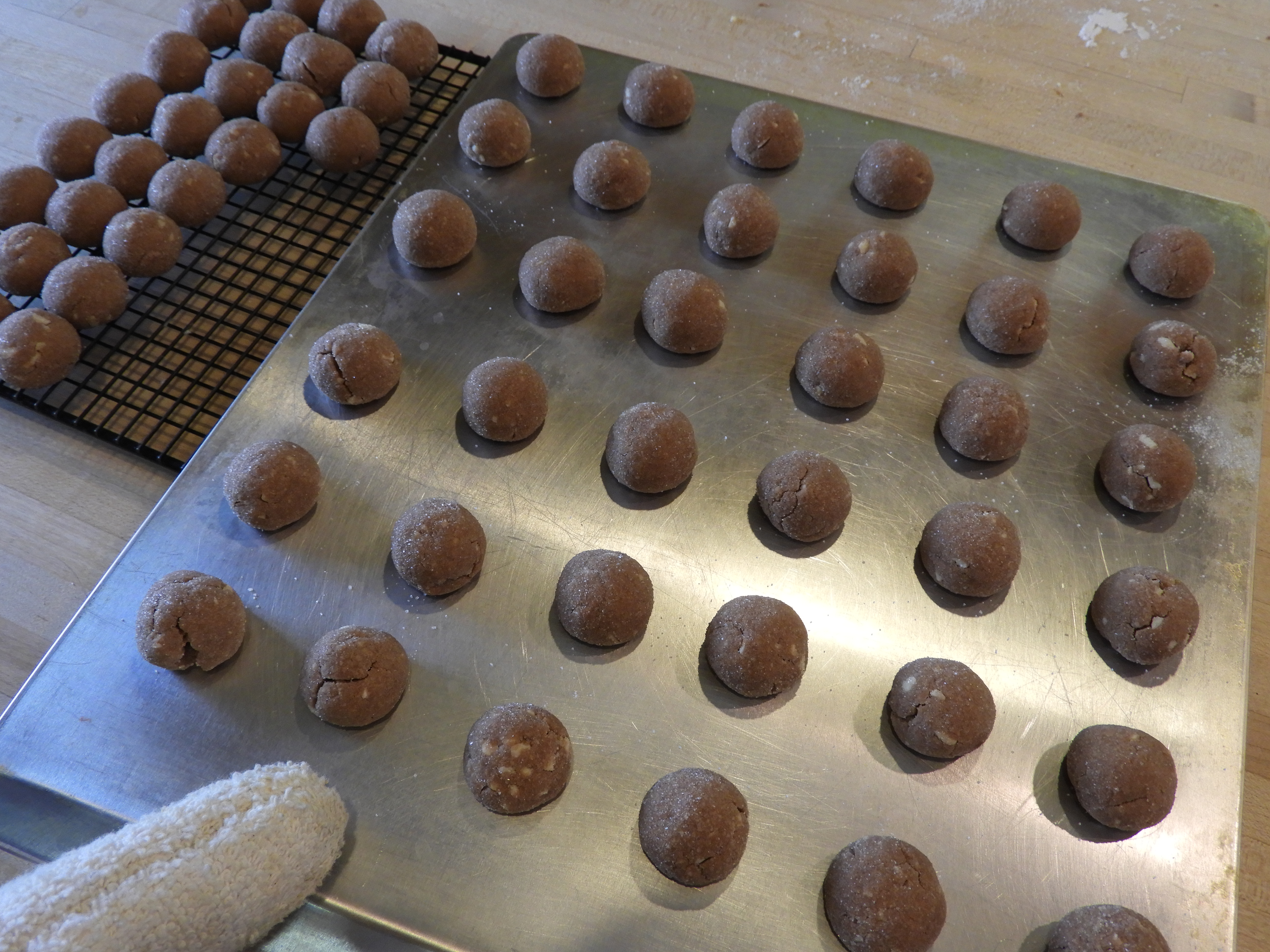 I baked the cookies for about 14 minutes which resulted in a bit of a crunch when biting into the cookie.  You can see a couple cracks in the cookies mentioned above…not a big deal, but this is easily prevented by ensuring you have nice and firm balls before baking.
The cookies were easy to remove from the cookie sheets. The baked cookies looked pretty close to what they looked like before I put them in the oven. I was surprised to see, the sugar rolled onto the cookies wasn't absorbed during baking. I just love the little shine of the sugar on the cookies!
Like I mentioned above, Chocolate Almond Butterballs are a great basic chocolate cookie. Basic in the baking process and how they look, but with a super wonderful PUNCH of flavor when you bite into one!
Chocolate, almonds, sugar on top…a wonderful combination!
I would almost say Chocolate Almond Butterballs are a bit understated when you look at them…even close up…their flavors are subtle but awesome so definitely don't over look this basic chocolate cookie recipe!
XXOO,
Janet
Print
Chocolate Almond Butterballs
Ingredients
2 sq. semi-sweet chocolate

1 Tbs milk or cream

¾ cup butter

½ tsp salt

More sugar

½ cup sugar

2 tsp vanilla

2 cups sifted flour

½ cup chopped, blanched almonds
Instructions
Melt chocolate with milk over hot water. Cool. Cream butter with salt and sugar until light and fluffy. Blend in vanilla. Mix well. Mix in cooled chocolate. Mix in flour and almonds and blend well. Shape dough into small balls, roll in sugar. Place on ungreased cookie sheets and bake at 350 degrees 12 to 15 minutes.
Recipe Yield
Makes about 5 - 6 dozen
Cookie Category:  Molded or Shaped
Difficulty: ★ ★ ☆ ☆