Butter cookies extraordinaire! Brown Rim Cookies by Cookies by Bess are what I think of when I think of butter cookies…with a fancy cherry on top!
As with all other cookies recipes that call for "shortening", I substituted the shortening with butter. Sorry Grandma Bess, I just have a hard time using that much shortening at one time. And Grandma, I do have to admit…the butter in Brown Rim Cookies is awesome!
The cookies are the perfect teaspoon size and are a little rough around the edges, because they start out as a drop cookie and are then flattened a bit with the bottom of a small juice glass. I just love the jagged edges, browned just a touch from baking. The cherry on top is just that! The cherry on top! 😊 Making Brown Rimed Cookies a wonderfully tasting and fancy looking butter cookie!
I'm rating Brown Rim Cookies 2-stars for cookie baking difficulty. Certainly not hard to make…actually they are easy and fun to make, it's the multiple steps that add to the difficulty rating.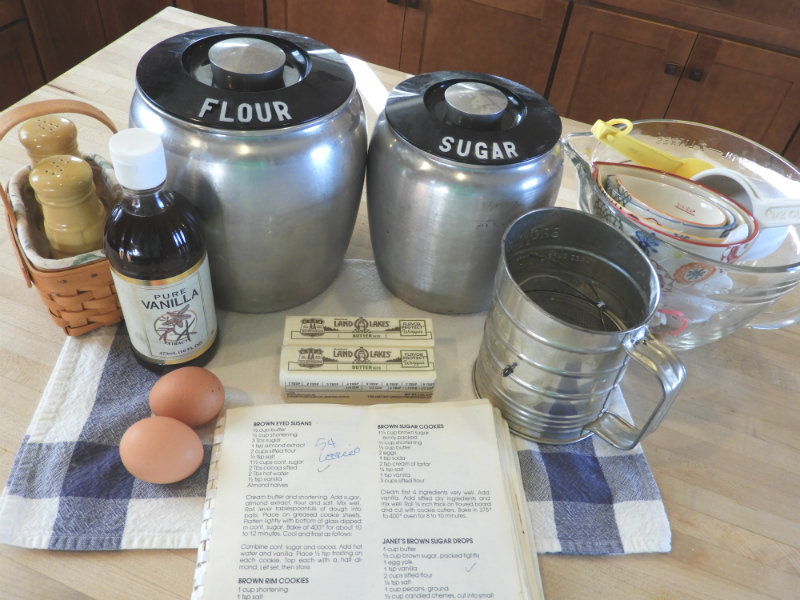 It was easy to pull the ingredients together, all the basics were in my baking pantry. It is important to read this and all recipes, as the cherries are not listed with the ingredients, just in the baking instructions…lucky for me I had maraschino cherries in my refrigerator!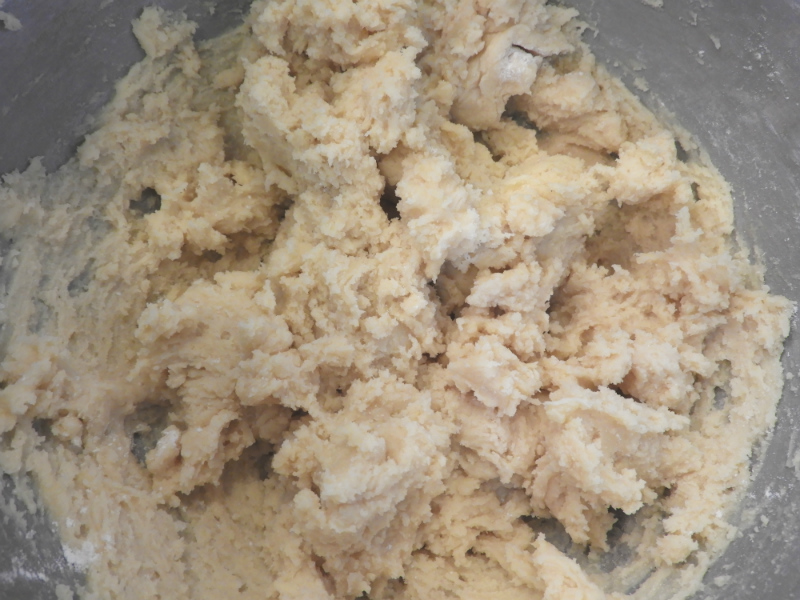 The cookie dough came together eventually. For some reason creaming the butter, salt, and vanilla together took a while. After beating and beating, the mixture was still mostly separated. I thought it might have been the consistency of the butter, but I wasn't sure. Adding the sifted flour made the difference and the cookie dough ended up looking perfect…and it was yummy tasting!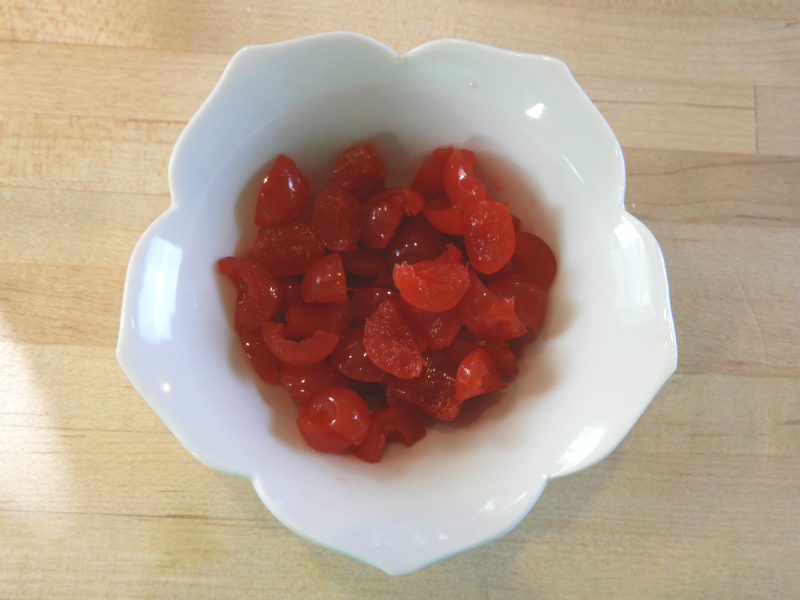 Next, I cut the maraschino cherries into quarters.
I used a teaspoon to drop the cookie dough on my greased cookie sheets.
The next step is to flatten the cookie dough drops with a small glass bottom covered with a damp cloth. I used one of my small jelly juice glasses and a paper towel. They worked perfectly!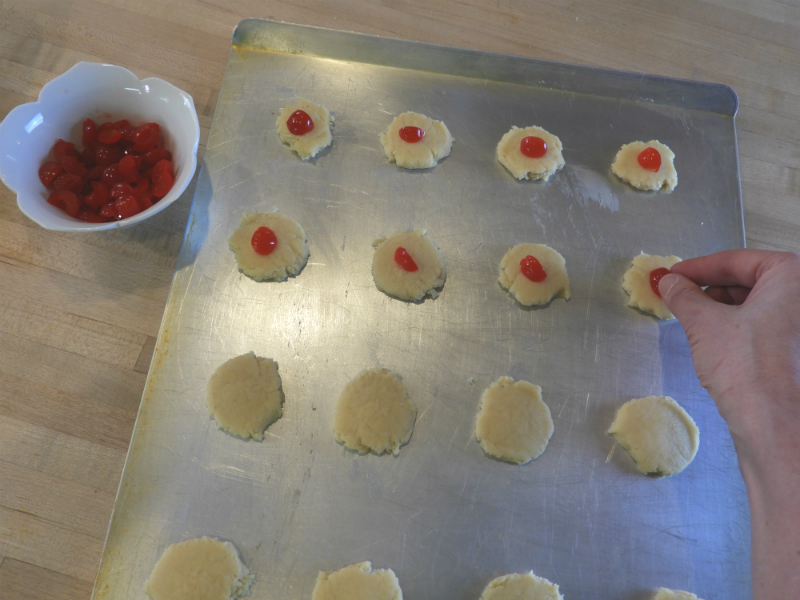 After flattening, I placed a ¼ cherry on top of each cookie. Not sure why the recipe calls for only a ¼ cherry, I think you could use a ½ cherry too!
Finally, I was ready to bake! I say finally, but the cookie prepping process was easy and quick! Dropping the cookie dough instead of forming small dough balls sped up the process quite a bit! Flattening the cookie dough drops was easy with the glass and damp paper towel, and the cherry on top, well easy!
The cookies spread out a bit while baking. Here you can see the "rough around the edges" finished cookie.  The cookies baked for 8 minutes in my oven. If you want more of a brown rim, just bake them a minute or two longer.
I so love Cookies by Bess! So many wonderful cookie recipes, all look fancy and taste expensive…but actually are easy and fun to bake…a cookie baker lover's dream!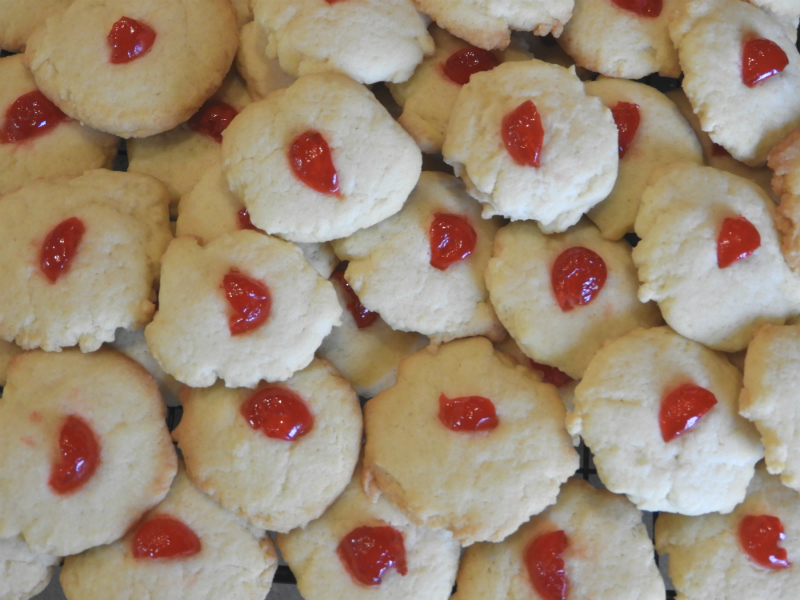 Brown Rim Cookies are an easy and awesome cookie that will brighten up your dessert table, whether for your family and friends or your fancy parties for any occasion. I hope you will try them!
XXOO,
Janet
Print
Brown Rim Cookies
Ingredients
1 cup shortening

1 tsp salt

1 ½ tsp vanilla

2/3 cups sugar

2 eggs beaten

2 ½ cup flour sifted
Instructions
Cream shortening, salt and vanilla until light and fluffy. Add eggs. Beat well. Add sugar. Beat for two minutes. Add flour. Mix well. Drop from teaspoons on greased cookie sheet. Press down with small glass that has been covered with a damp cloth. Decorate with ¼ of a cherry. Bake at 375 degrees 8 – 10 minutes.
Recipe Yield
Makes 5 - 6 dozen cookies
Difficulty: ★ ★ ☆ ☆