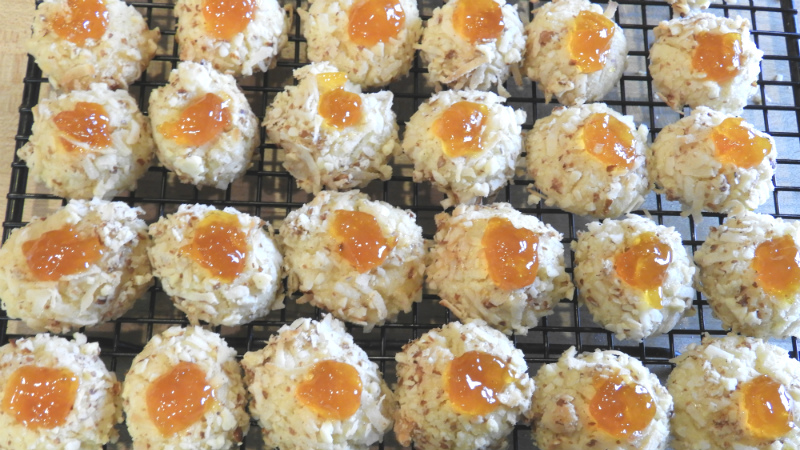 I hope this blog does this cookie recipe justice because Almond Apricot Balls are wonderful! The flavors blend perfectly, they look beautiful, and they taste amazing!
After making Almond Apricot Balls, I'm surprise they aren't one of my families favorites. I don't remember Grandma Bess or my Mother making Almond Apricot Balls when I was a kid. Unfortunately, Cookies by Bess has soooooo many cookies recipes, some of the best ones can get lost.
Well, I'm now here to tell you Almond Apricot Balls should be included in everyone's Top 10 best! You can't beat the combination of almond, apricot, and coconut.
Another awesome thing about Almond Apricot Balls is that it's not a huge recipe. I ended up with about 3 dozen cookies…this of course will vary depending on the size of your cookie dough balls.
Finally, Almond Apricot Balls are easy to bake! I was able to fit so many cookie balls on each cookie sheet, I only had to bake two batches.
I'm rating Almond Apricot Balls 2-stars for cookie recipe difficulty due to all the different steps in prepping the cookies for baking. But, as with most Cookies by Bess recipes, the baking process isn't hard, just a bit time consuming.
As I pulled my ingredients together, I realized the ingredients list mentions chopped almonds or chopped moist coconut. I had both in my pantry.  Combining almonds and coconut sounded awesome, so even though the recipe said "or" instead of "and", I decided to use both. I was then was pleasantly surprised when the recipe directions said to roll the cookie balls in chopped nuts AND coconut!
Mixing the ingredients together was simple. Knowing I was going to be rolling the dough into cookie balls, I was so happy there wasn't a ton of dough.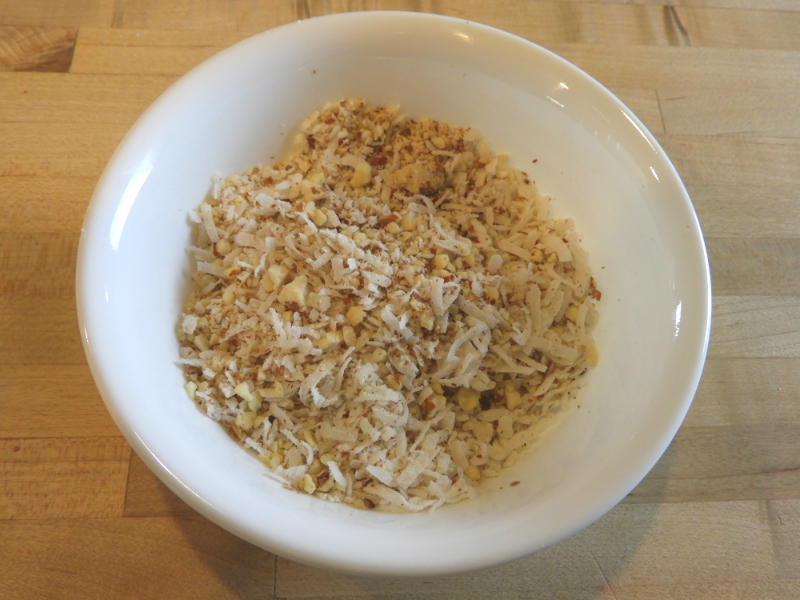 Once the dough was ready, I chopped my almonds and coconut and then mixed them together. I tried to finely chop the almonds so there were very few big nut chunks.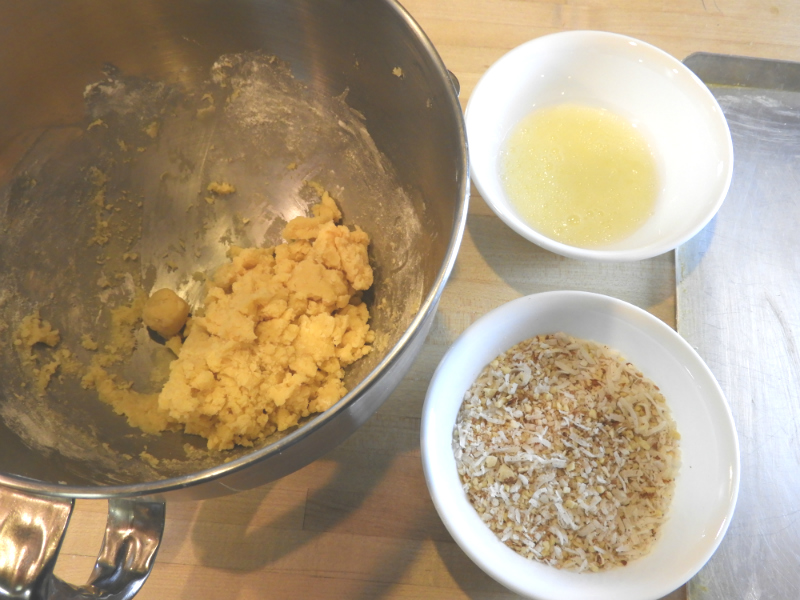 Next, I slightly beat the egg white with my hand mixer and got everything ready for rolling the cookie dough balls.
First in the egg whites…
Second in the almond and coconut mixture.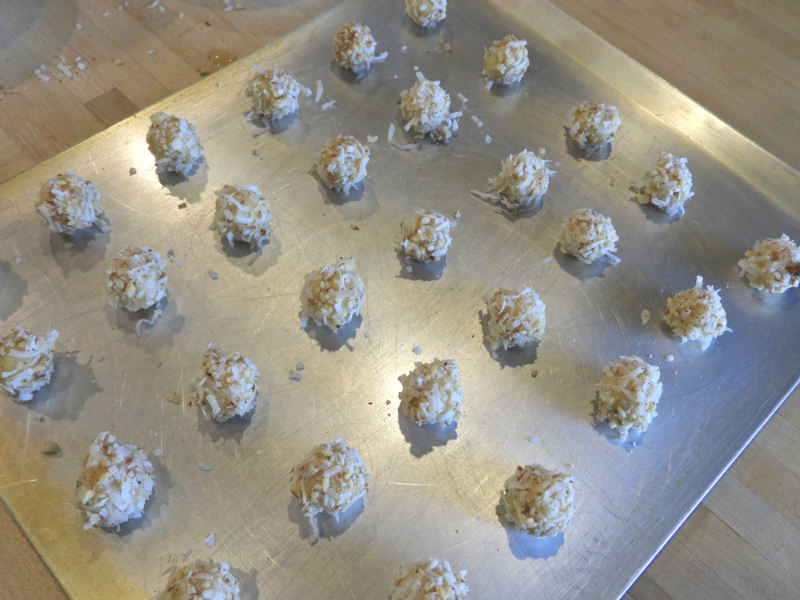 Next, I placed the cookie dough balls on the greased cookie sheet.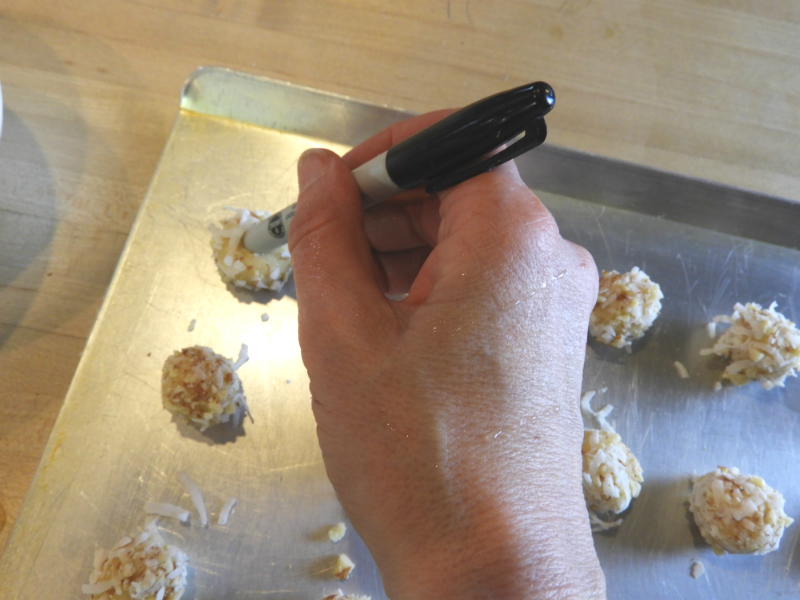 Finally, I pressed the whole in the center of the cookie balls. The recipe mentions pressing the top of each cookie with your thumb. I didn't think this was going to work so well, so I decided to pull out my Sharpie pen. The end of the Sharpie provided the perfect size whole consistently in all the cookies.
I was now ready to bake!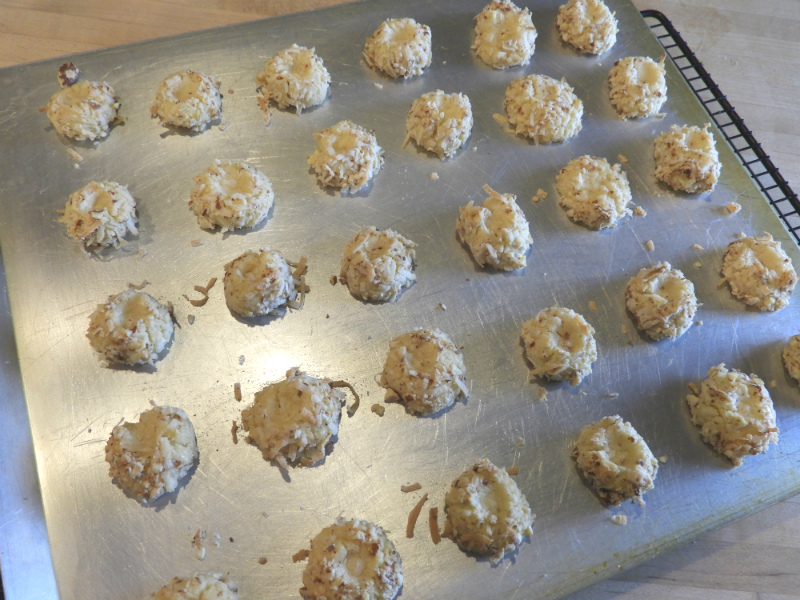 The cookies didn't spread or rise too much while baking, so I was able to fill the cookie sheets up!
While still warm, I used a small knife to fill the wholes in the cookies with apricot preserves. Yum!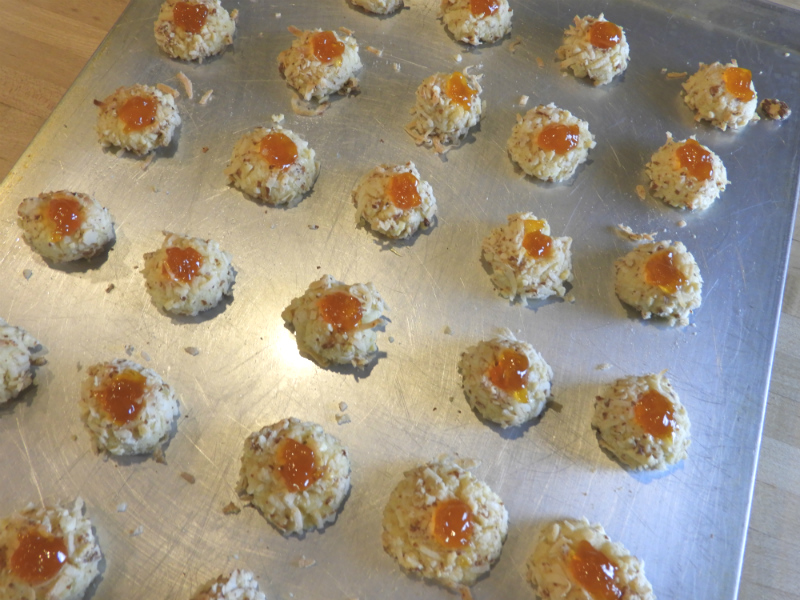 Aren't they just beautiful!
I love the texture of the nuts and coconut! The golden orange color of the apricot looks so nice with the golden brown of the cookie.
Almond Apricot Balls are simply one of the best Cookies by Bess cookies! From the golden brown coconut to the sweet and tart apricot preserves, you just can't go wrong.
Almond Apricot Balls are fancy enough for a formal dinner party or simple enough for your family weeknight dinner.
You are going to love Almond Apricot Balls!
XXOO.
Janet
Print
Almond Apricot Balls
Ingredients
1 cup sifted flour

½ tsp salt

½ cup butter

¾ cup chopped almonds or chopped moist coconut

About ½ cup apricot preserves

1/3 cup sugar

1 egg, separated

½ tsp vanilla
Instructions
Cream butter and sugar until light and fully. Add egg yolk and vanilla and mix well. Add sifted dry ingredients gradually and mix. Mold into small balls. Dip balls in to lightly beaten egg white and toll I chopped nuts and coconut. Place on greased cookie sheets and press top of each gently with thumb. Bake at 300 degrees about 24 minutes. While cookies are still warm, fill centers with apricot preserves. If desire, dust with confectioner's sugar.
Recipe Yield
Makes about 3 - 4 dozen cookies
Cookie Category:  Molded or Shaped
Difficulty: ★ ★ ☆ ☆