Cookies by Bess has lots of macaroon type cookie recipes even though the cookies aren't actually called macaroons. Swiss Coconut Balls is one of them and in my opinion, the one that comes closest to my idea of a coconut macaroon!
The ingredients all make sense for a macaroon…firmly beaten egg whites, confectioner's sugar, a bit of flour, a teaspoon of vanilla and a TON of fresh and moist coconut! Not sure why this recipe is called Swiss Coconut Balls, but I'm glad it's included in Cookies by Bess because I love coconut macaroons and now, I love Swiss Coconut Balls!
I'm rating Swiss Coconut Balls 2-stars for cookie baking difficulty. This is a basic drop cookie so it could be a 1-star recipe, but for the need to beat the egg whites. This extra step and the bit of difficulty removing the baked cookies from the cookie sheet make this recipe a little (but not too much) more involved.
Just a few ingredients for Swiss Coconut Balls. All the basics for a great coconut cookie!
The first step in the recipe is to beat the egg whites. I love using Grandma Bess' Sunbeam hand mixer. to beat egg whites!  It still works great, even after all these years!
The hand mixer does such a nice job beating egg whites firm!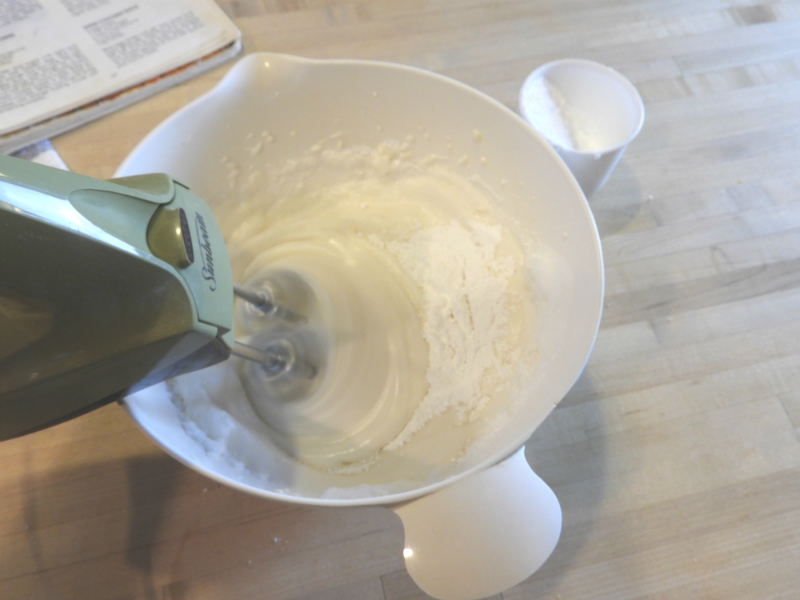 Next, I used the hand mixer to blend in the vanilla and confectioner's sugar.
It's amazing how the texture of the egg whites change when the sugar is blended in!
It's kind of hard to tell in this picture, because everything is white!  The picture shows the ½ cup of flour and 2 full cups of coconut added to the meringue. I packed the coconut into my measuring cup to make sure there was plenty of coconut in the cookies!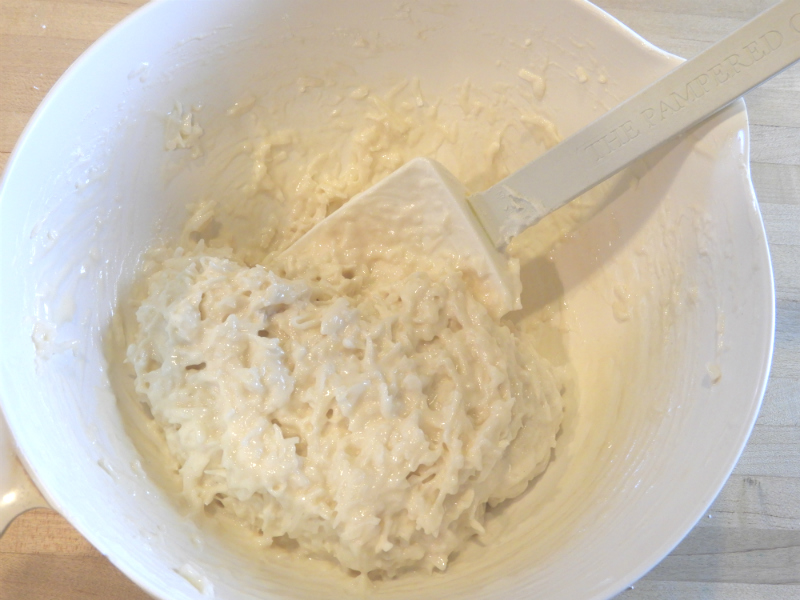 I used a large spatula to fold in the coconut. What a great dough! Not sure you'd call this a cookie "dough".  It's more of a batter mixture.  Either way, I love the shinny look and all the texture from the coconut.
The recipe says to grease and flour the baking sheets. This is the first time I've seen this instruction in a cookie recipe. I've seen greased and floured pans with baking cakes, but not so much with baking cookies.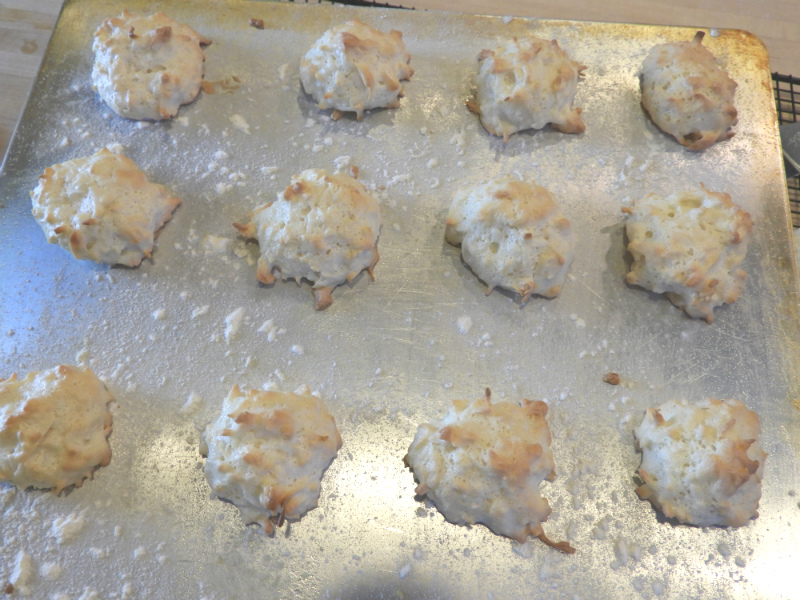 Check out the toasted coconut and meringue!
The cookies difficult to remove from the cookie sheets even thought they were greased and floured.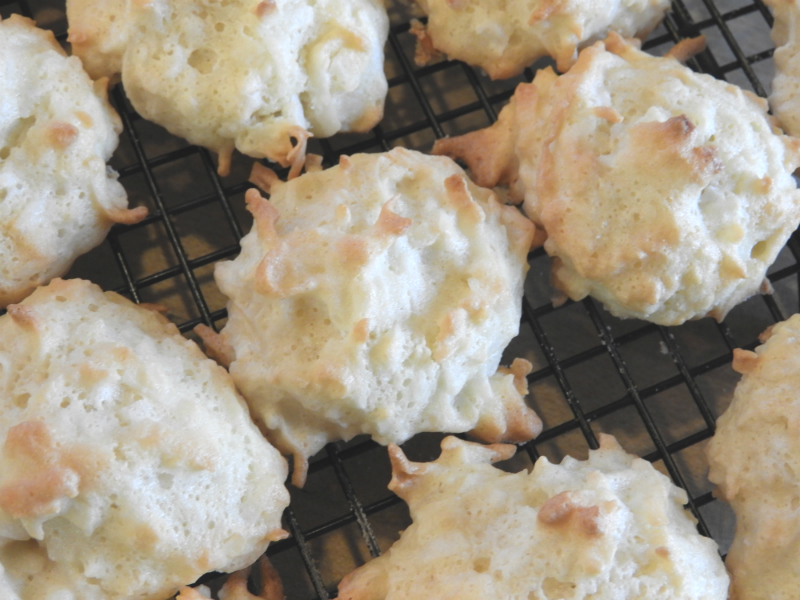 I just love how each cookie has its own shape and personality. The coconut provides awesome texture you can see and taste and the meringue holding it all together looks luscious!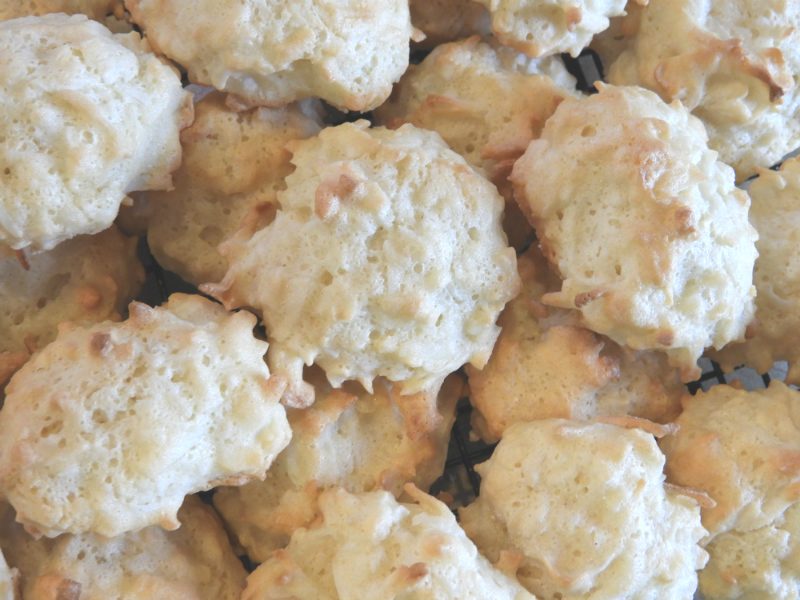 Swiss Coconut Balls are a wonderfully light and tasty coconut meringue cookie! Perfect for any occasion or no occasion at all. I can see Swiss Coconut Balls served at a wedding or to your kids after school.  Super versatile!
I hope you will try Swiss Coconut Balls, they will satisfy your cravings for a sweet and tasty macaroon type cookie!
XXOO,
Janet
Print
Swiss Coconut Balls
Ingredients
4 egg whites
1 cup confectioner's sugar
2 cups moist coconut
½ cup flour
1 tsp vanilla
Instructions
Beat egg whites until stiff. Add vanilla and sugar gradually. Add flour and coconut. Mix well. Drop an inch apart on greased and floured cookie sheet. Bake at 350-degrees for 15 minutes. Remove at once with a spatula.
Recipe Yield
Makes about 2 - 3 dozen cookies 1x