Cookies by Bess has a couple cookie recipes that do not have flour. I can't say these recipes are completely gluten free, but they are pretty darn close. Almost gluten free, but definitely not carbohydrate free! The corn syrup and brown sugar certainly take care of the carbs!
Scotch Toffies have become one of my favorite bar cookies! I was originally drawn to the recipe because I liked the idea of melted butter with brown sugar and oats. ? Add chocolate chips, corn syrup, and nuts and you've got an hearty bar cookie that is unique and addicting!
I'm rating Scotch Toffies 1-star because it truly is a super easy and super quick recipe to make! To be honest, the hardest thing about this cookie was cutting them into squares once out of the oven.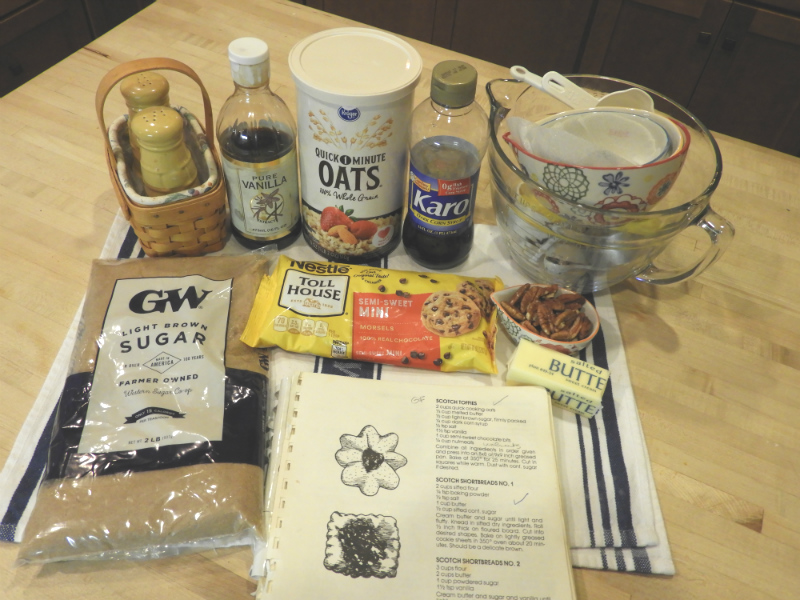 First, I got organized and gathered all my ingredients together.
And then started mixing them together in the order listed in the recipe. Super easy!
After mixing everything together…

I greased my 8×8 inch (non-stick pan) and patted the dough in tight.

Then into the oven for 25 minutes.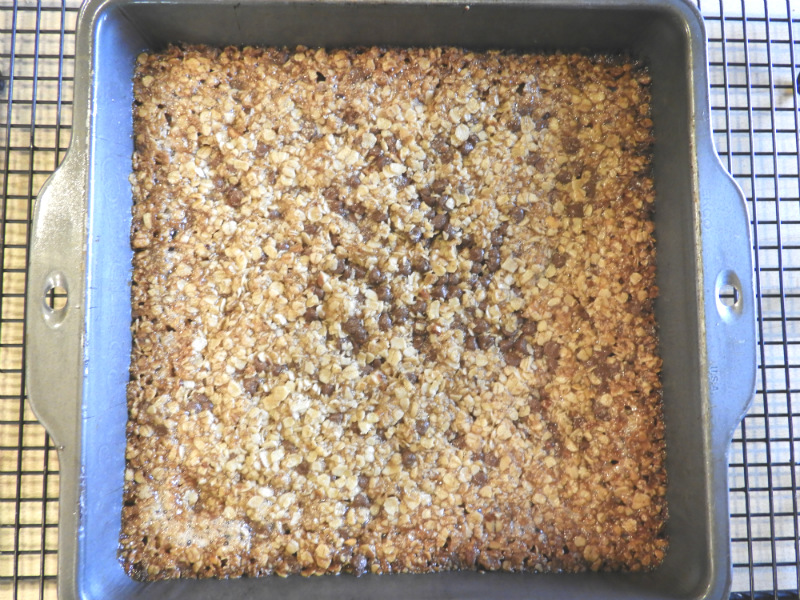 One tip, make sure to not over bake these goodies…doing so will make them a bit hard and difficult to bite into. The taste and flavor will still be great, they might just be a little crisper than your guests might expect!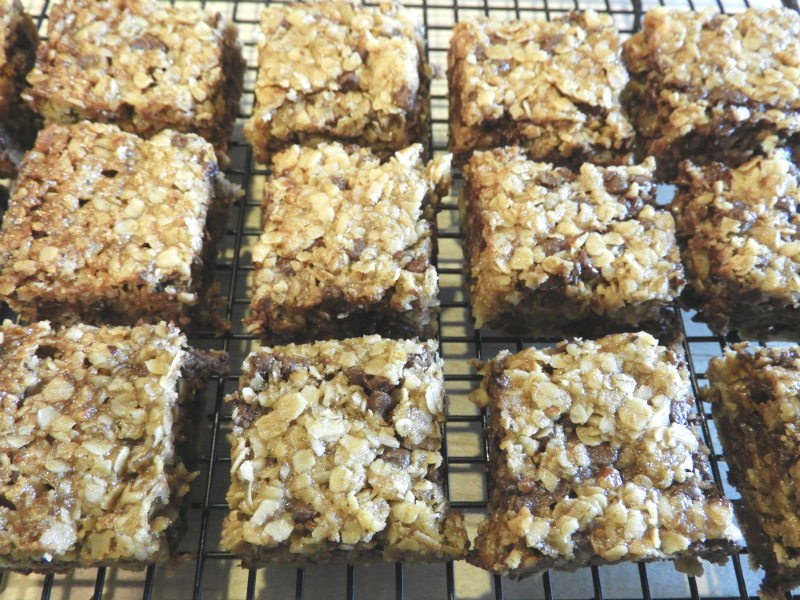 I decided to cut the bars a bit larger than I might with another bar cookies recipe. Or maybe the height of these cookies make them seem bigger. I only got 16 bars cookies using the 8×8 pan, using a 9×9 inch pan will help spread the bars out a bit, just make sure to watch your baking time.

Scotch Toffies are crunchy around the edges from the corn syrup and chewy in the middle with the oats. As you can imagine, putting a whole cut of chocolate chips into an 8×8 inch pan gives you great chocolate flavor, so if you are a chocolate and oats lover, this is the bar cookie for you!
I would describe these Scotch Toffies as a hearty meal in themselves, so make sure you save room for dessert when you are serving these big guys!
Enjoy!
XXOO,
Janet
Print
Scotch Toffies
Ingredients
2 cups quick cooking oats
1/3 cup melted butter
½ cup light brown sugar, firmly packed
¼ cup dark corn syurp
½ tsp salk
1 ½ tsp vanilla
1 cup semi-sweet chocolate bits
½ cup nutmeats
Instructions
Combine all ingredients in order given and press into an 8×8 or 9×9 inch greased pan. Base at 350 degrees for 25 minutes. Cut into squares while warm. Dust with confectioners' sugar if desired.
Recipe Yield
Makes 1 - 2 dozen bar cookies 1x