Oatmeal Chocolate Chip Cookies
Sometimes you just want a comfort food type cookie. You know, the kind your mom had for you, warm out of the oven when you got home from school. Cookies by Bess' Oatmeal Chocolate Chip Cookies are this kind of cookie recipe!
Oatmeal Chocolate Chip Cookies are a traditional recipe that give you an oat filled cookie that is sweet, chewy, crunchy, and packed with chocolate chips! I just love the traditional cookie recipes that are easy to adjust or flex to the way you want them. For example, Oatmeal Chocolate Chip Cookies could easily become Oatmeal Raisin Cookies or Oatmeal Butterscotch Chip Cookies or Oatmeal Peanut Butter Chip Cookies. This time around, I decided to make the recipe as it's written, next time I think I'll try raisins…and maybe walnuts!
I'm rating Oatmeal Chocolate Chip Cookies 1-star for cookie baking difficulty. I just love an easy, traditional, awesomely tasty cookie recipe!
It was easy to pull all the ingredients together, as all ingredients are basics that I always keep in my baking pantry. As I've done in other Cookies by Bess recipes, I substituted butter for shortening. It's a 1:1 substitution that makes a slight difference in the end result cookies taste.
After creaming together the butter, sugars and eggs, I added the quick oats.
And then the chocolate chips.
And just like that the dough was ready to begin dropping the teaspoons of cookies on my greased cookie sheets.  Of course, I had to taste the dough…sooooo glad I did! ?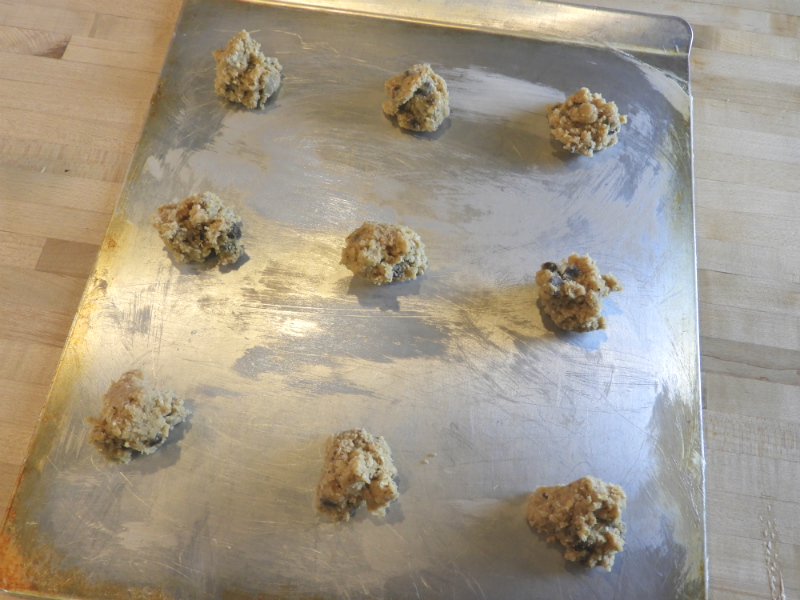 I decided to use heaping teaspoonfuls of the cookie dough. Many of Grandma Bess' cookie recipes are make small and dainty cookies. I went a different route with the recipe as I thought these Oatmeal Chocolate Chip Cookies should be big like a traditional oatmeal cookie.
I baked the cookies for about 12 minutes. They spread out nicely, so I was careful not to put too many cookies on each baking sheet.
The cookies came out of the oven slightly browned and were easy to remove from the greased cookie sheets. I did grease the baking sheets for each batch I put in the oven to make sure there weren't any issues.
The cookies were soft when I removed them from the baking sheets but became crunchy after cooling on the racks. If you prefer soft cookies, I suggest baking a couple minutes less.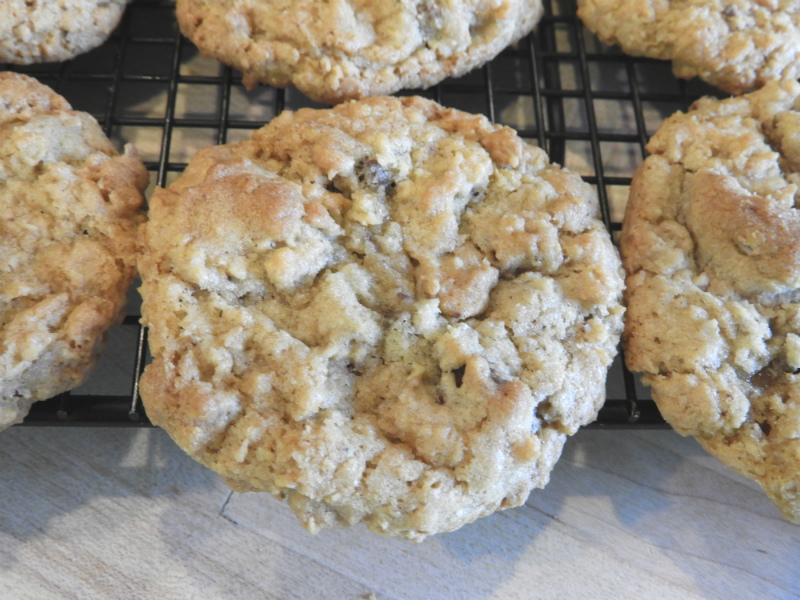 Just look at all that wonderful texture of the oatmeal and chocolate chips. You can almost see the sugars and almost taste the vanilla. WOW these cookies look yummy!
Cookies by Bess' Oatmeal Chocolate Chips Cookies are a traditional oatmeal cookie that everyone will love! With all the usual ingredients, you just can't go wrong with oatmeal and chocolate chips! I suggest doubling the recipe because they won't last long in your cookie jars!
XXOO,
Janet
Print
Oatmeal Chocolate Chip Cookies
Ingredients
1 cup shortening
1 cup brown sugar
1 cup while sugar
2 eggs
1 tsp vanilla
1 6 oz package chocolate chips
2 cups flour
¾ tsp soda
½ tsp salt
½ tsp baking powder
2 cups quick oats
Instructions
Cream shortening and sugars until light and fluffy. Add eggs and beat well. Add sifted flour, salt and baking powder and baking soda and mix well. Add vanilla and chocolate chips and beat very well. Drop by teaspoonfuls on greased cookie sheet. Bake at 350 degrees about 15 minutes.
Recipe Yield
Makes 5 - 6 dozen cookies 1x