Joanne's Tasty Pineapple Bars
It took me a while to make Joanne's Tasty Pineapple Bars for one reason, I couldn't find pineapple preserves. I looked for them in several grocery stores without luck. One day while shopping in my neighborhood store, I walked by a display of ice cream toppings. Right there next to the strawberry and chocolate fudge was pineapple!
I didn't purchase the pineapple ice cream topping for several months, as continued to try to find actual pineapple preserves. Finally one day, I decided to give the pineapple topping a try. I'm so glad I did so I could finally make these wonderful bar cookies!  Joanne's Tasty Pineapple Bars are a wonderful bar cookie! Right up my alley with it's soft and moist texture.
The recipe mentions to "frost as you desire". My initial thought was to use a light glaze or drizzle type frosting, but after seeing the bars after they baked, I decided I needed something that would cover the bars as they weren't the prettiest. I looked through Cookies by Bess to see if Grandma Bess had a frosting that might work.
I was excited to find Grandma Bess' Brown Butter Frosting. For some reason, I hadn't make this frosting before. I figured it might be perfect for my pineapple bars. Guess what…I was right! ?
I'm rating Joanne's Pineapple Bars 2-start for cookie baking difficulty. This is a typical bar cookie with the added step of making a frosting. Easy and quick to make!
Other than the pineapple preserves, I was able to quickly pull my ingredients together and get started.
I began mixing the butter and sugar together.
Next, I added my pineapple and egg. The pineapple ice cream topping worked great! The Smucker's brand I used was nice and chunky like you would expect a preserve to be. I did strain some of the liquid, but for the most part, it was perfect right out of the jar.
The pineapple with the butter provided a wonderful texture!
After mixing in the sifted dry ingredients, I added the chopped walnuts.
After folding in the nuts, the dough was relatively thick. Just at the beautiful color and texture!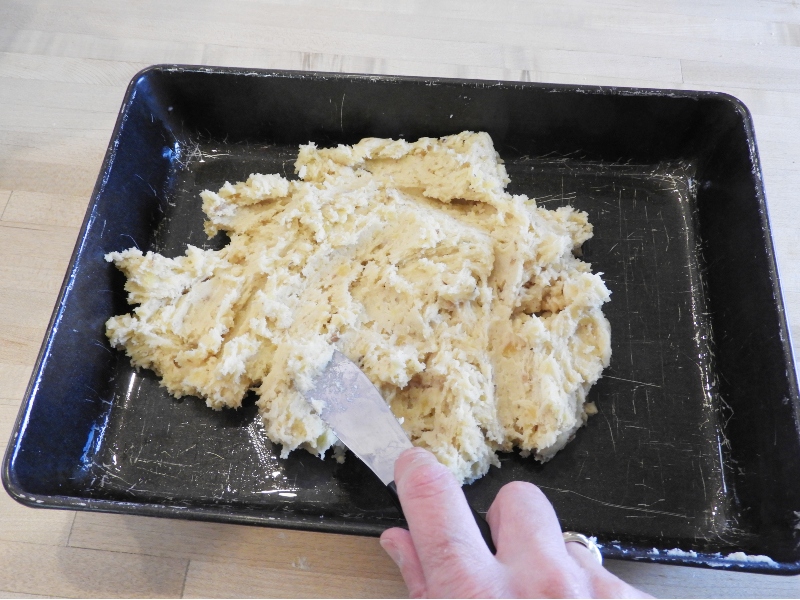 The dough was easy to spread into the greased 13x9x2 inch baking pan.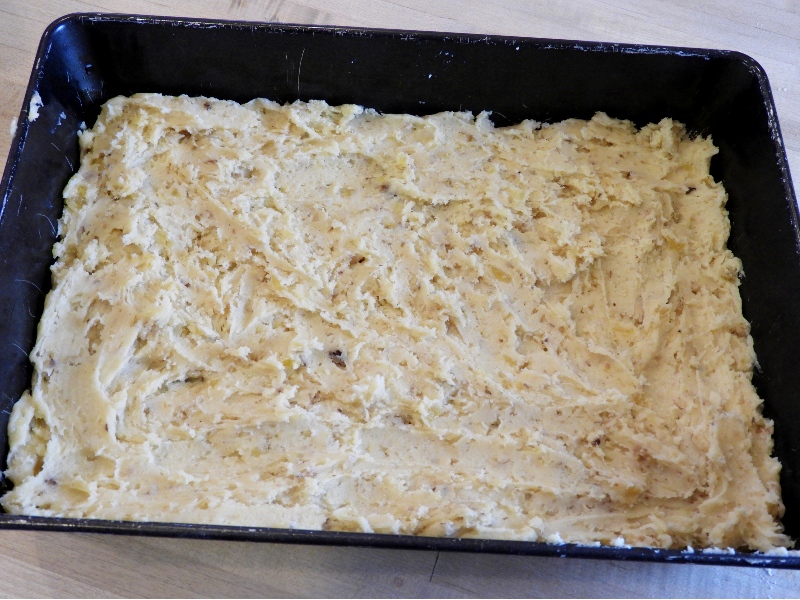 With the help of my mini spreading spatula, I was ready to bake!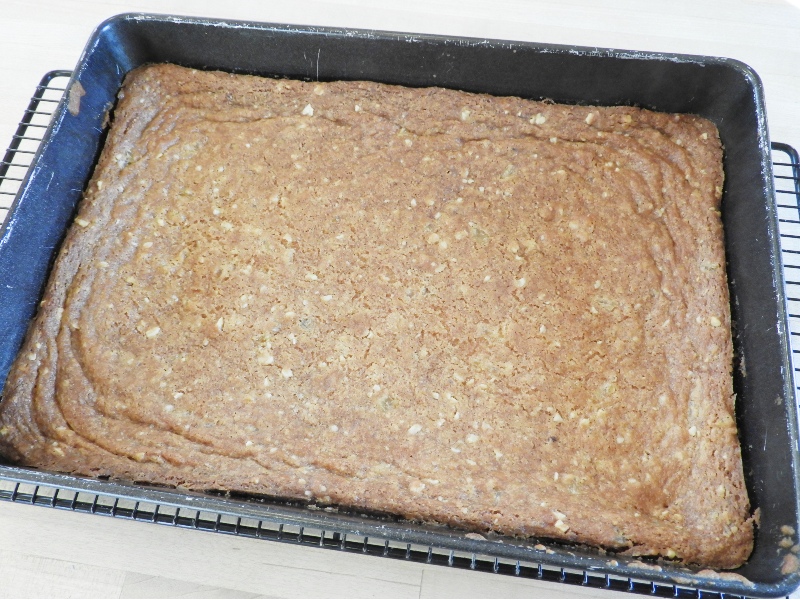 I baked the bars for the full 30 minutes as they seemed under baked at 25 minutes. When I took them out of the oven, I was worried I had over baked them. Baking that extra 5 minutes changed the color to a darker brown than I was expecting.
But, have no fear! The bars were actually perfect! Still soft and perfectly moist, I expect as they were supposed to be.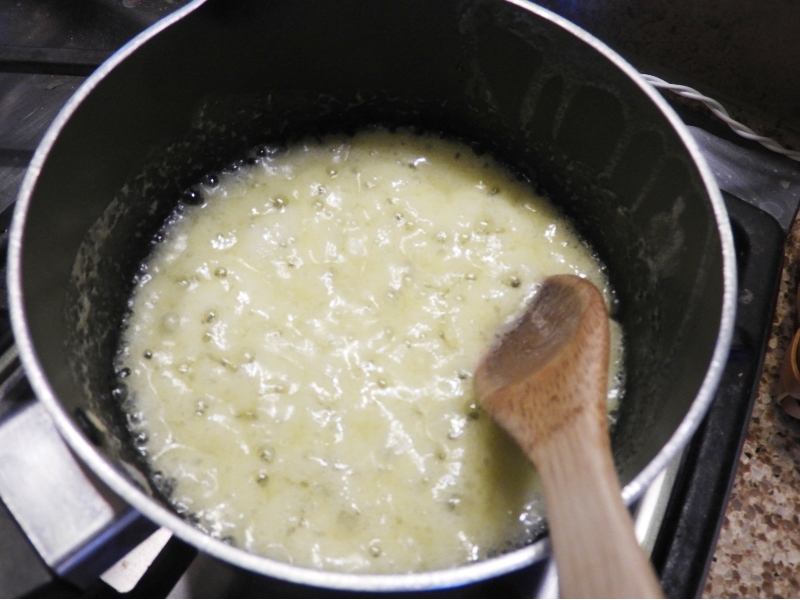 While the bars were cooling, I began to melt and brown the butter for the Brown Butter Frosting.
To be honest, I've never browned butter before, so I wasn't sure what I was doing or how it was going to turn out. It was easy! All you have to do is keep the butter over the low heat on the stove until it turns brown.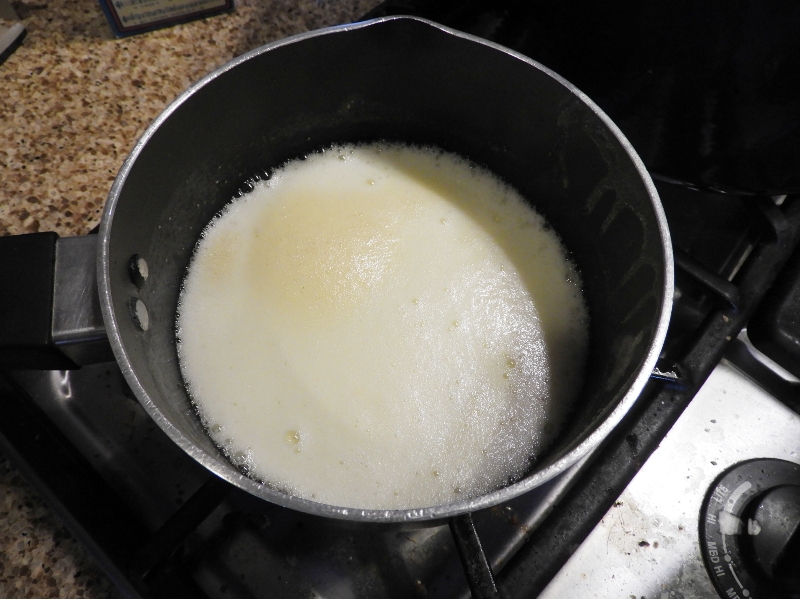 This started by the butter foaming up a bit.
Then changing color and settling down.
The recipe doesn't say to cool the butter, so I began mixing in the milk, vanilla, and confectioner's sugar.
After realizing the frosting was still pretty warm, I decided to let it cool for a bit before frosting the bars. The cooled frosting was the perfect consistency for spreading and just look at that color!
I'm surprised Grandma Bess didn't pair this recipe with Joanne's Tasty Pineapple Bars…to me, it seems like they were made for each other!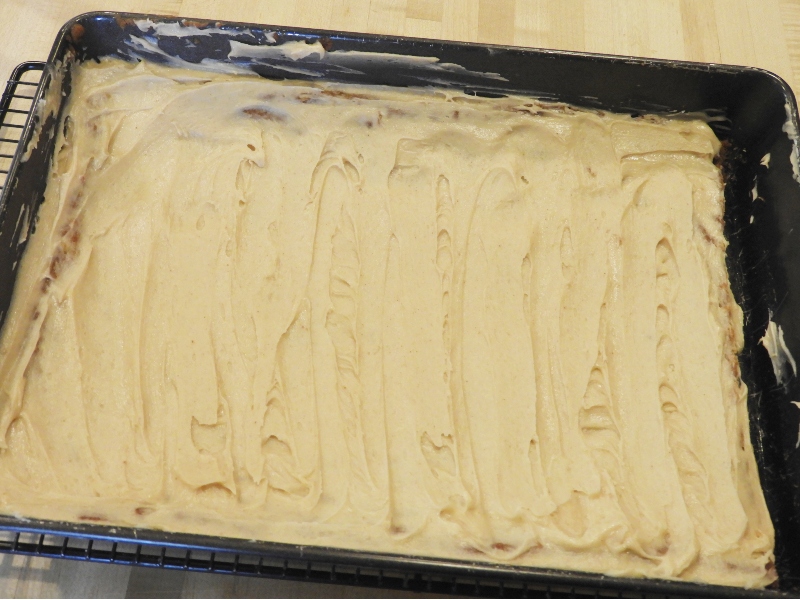 As the Brown Butter Frosting recipe says, it makes enough to frost a jelly roll pan of bar cookies. There was enough frosting to spread a nice thick layer of frosting in my 13x9x2 inch baking pan.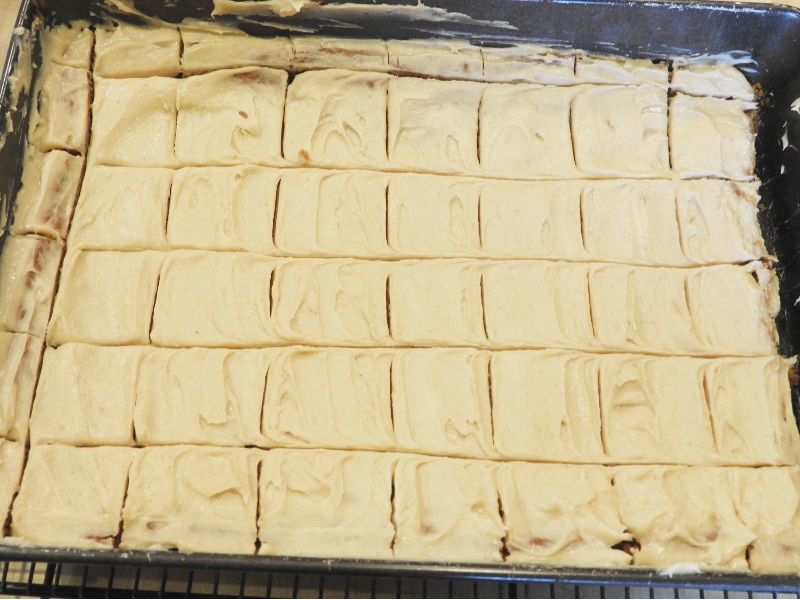 The bars were easy to cut as they were soft and moist. I just love the way the frosting looks as the bars are cut!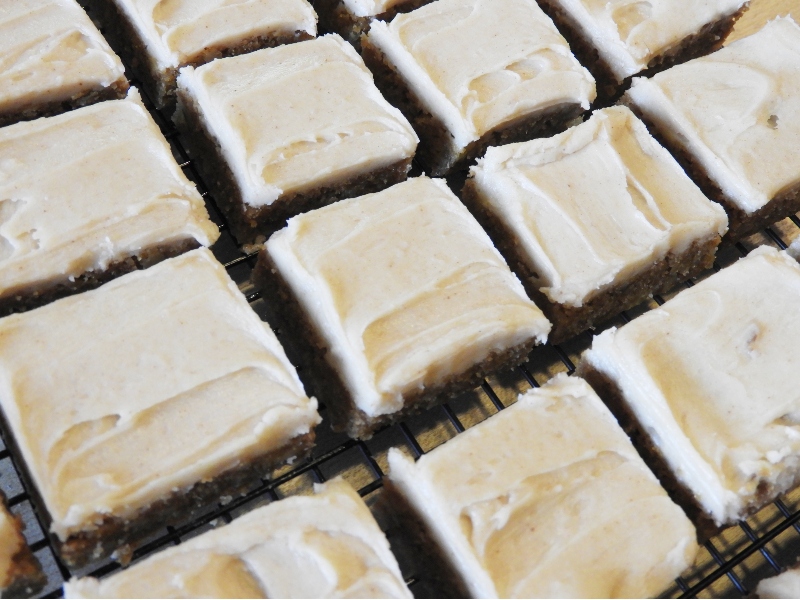 I really can't say enough about Joanne's Tasty Pineapple Bars! The texture of these bar cookies is perfect! Not only did they cut easily, they were easy to remove from the baking pan and kept their sharp knife edges.
Just look at the texture! The nuts and frosting are perfect. The cake cookie is perfect. And of course, the taste is perfect!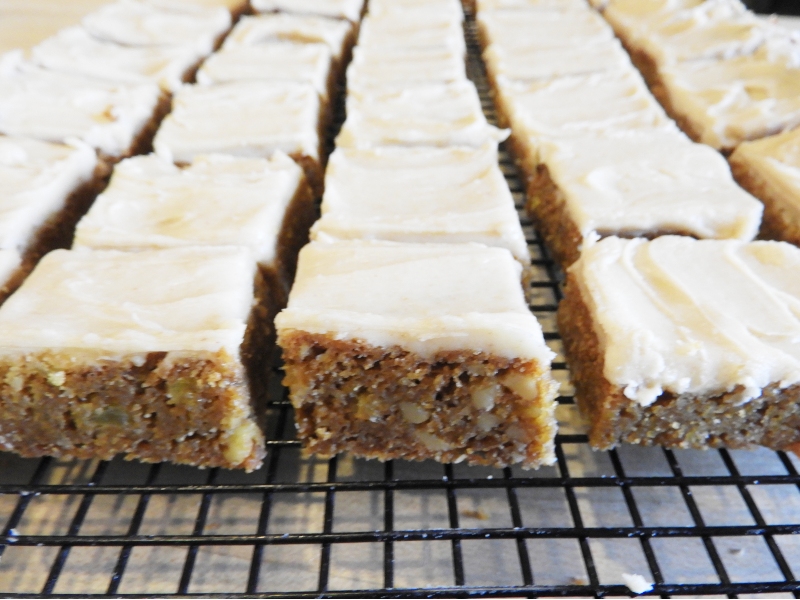 Okay, I admit it. I ate the entire pan. Not in one sitting of course, but I looked forward to having one of these gems at least once a day.?  The Brown Butter Frosting, although sweet, was the perfect compliment. The soft and moist texture of the bar cookies paired with the smooth and creamy frosting is amazing!
I hope you will try Joanne's Tasty Pineapple Bars…now one of my favorite bar cookies…ever!
XXOO,
Janet
P.S. I would be remiss if I didn't give credit to my Aunt Joanne, the Joanne in Joanne's Tasty Pineapple Bars. Aunt Joanne is my father's twin brothers wife of over 60 years.
Aunt Joanne, I'm sorry it took me so long to make your "namesake" cookie recipe…but I'm so glad I finally did!
Print
Joanne's Tasty Pineapple Bars
Ingredients
¾ cup butter softened
1 cup sugar
1 egg
½ cup pineapple preserves
2 cups flour
1 tsp baking soda
½ tsp salt
½ cup chopped walnuts
Instructions
Cream butter and sugar till fluffy. Beat in egg and preserves. Sift together flour, baking soda, and salt. Stir into creamed mixture. Fold in nuts. Spread into greased 13x9x2 inch pan. Bake in a 350-degree oven about 25 – 30 minutes. Cool thoroughly and cut into bars. Frost as you desire.
Notes
Browned Butter Frosting
Brown ½ cup butter over low heat. Remove from heat and blend in 2 cups confectioner's sugar, 1 tsp vanilla and 2 Tbs milk. Beat well and use. Will cover bars made in jelly roll pan.
Recipe Yield
Makes about 4 - 5 dozen bar cookies 1x
¾ cup butter softened
1 cup sugar
1 egg
½ cup pineapple preserves
2 cups flour
1 tsp baking soda
½ tsp salt
½ cup chopped walnuts