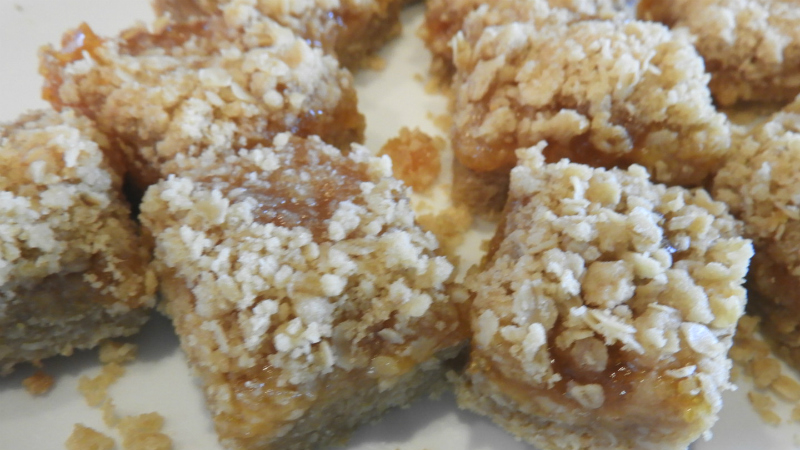 About one year ago, I posted one of  my favorite cookies recipes by Cookies by Bess…Apricot Bars. Now one year later, I am posting a very similar recipe from Cookies by Bess, Jam Bars. The difference is in the jam. Apricot Bars specifically calls for apricot preserves. Jam Bars calls for any type of thick jam.
I happen to have apricot preserves in my refrigerator, so I used them to make these Jam Bars. I'm so glad I did! Apricot preserves works soooo well in cookies! I thought about using strawberry jam or grape jelly…I'm sure either would taste great, but the apricot preserves tastes really awesome. There is just something about the apricot and quick oats, when combined, are just perfect!
I'm rating Jam Bars 2-stars for cookie difficulty. The recipe isn't difficult, but cutting in butter is always a challenge for me and added additional time to the baking process.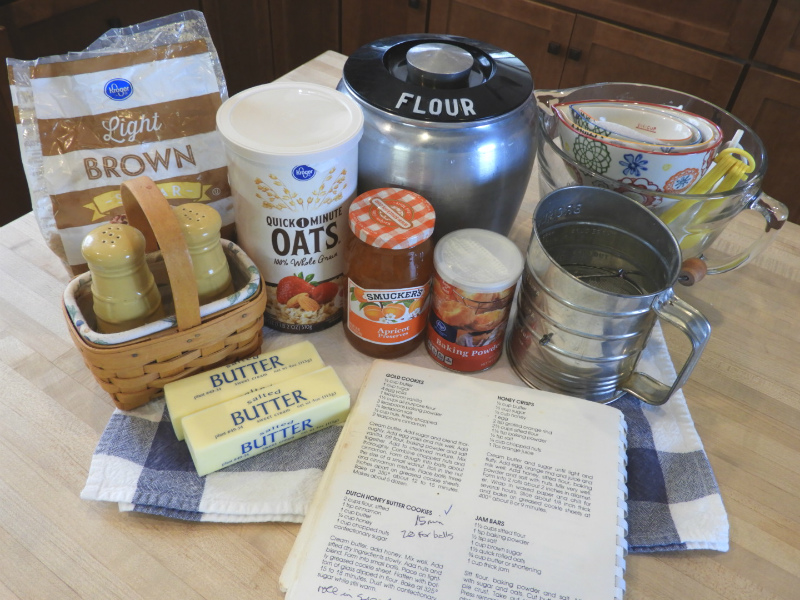 After pulling all my ingredients together, I got started cutting in the butter.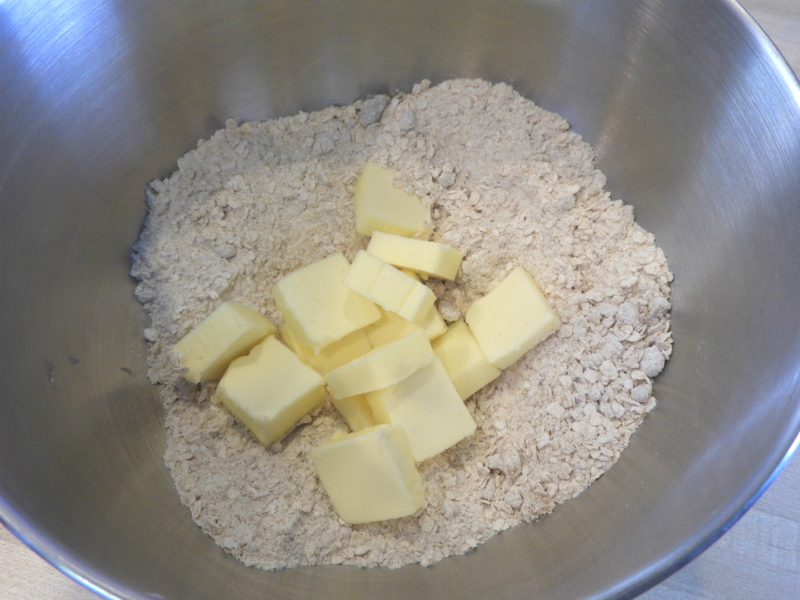 My butter was at room temperature, but not too soft. After sifting together the flour, baking powder, and salt, I added the sugar and quick oats, then the butter.
I still haven't purchased the appropriate tool for cutting in butter, so I pulled out my trusty fork and got started 😊
I realized after a bit, the mixture wasn't going to completely come together.
The consistency of the mixture worked perfectly for patting into the 7" x 11" pan.
The amount of the dough was just enough to fill the pan with about a ½ inch crust.
Next, I was ready to spread the apricot jam.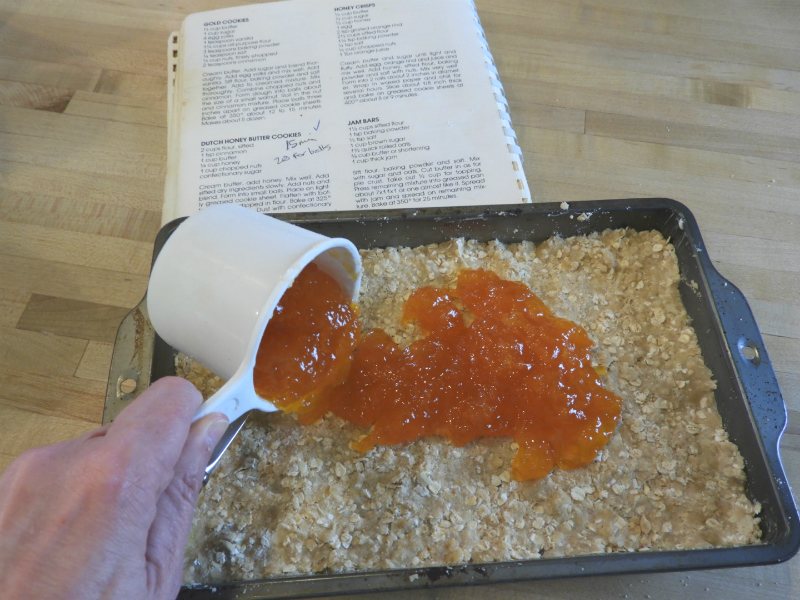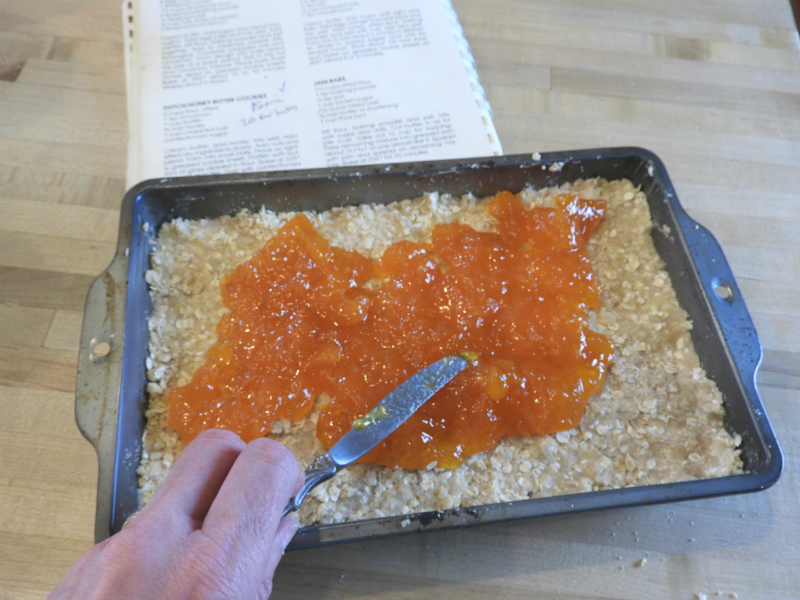 It was a little tricky to spread the jam on top of the crust, so I took my time. The crust was a bit flaky, meaning some of the oats caught in the jam as I was spreading, but I was patient and took my time until the jam was spread evenly.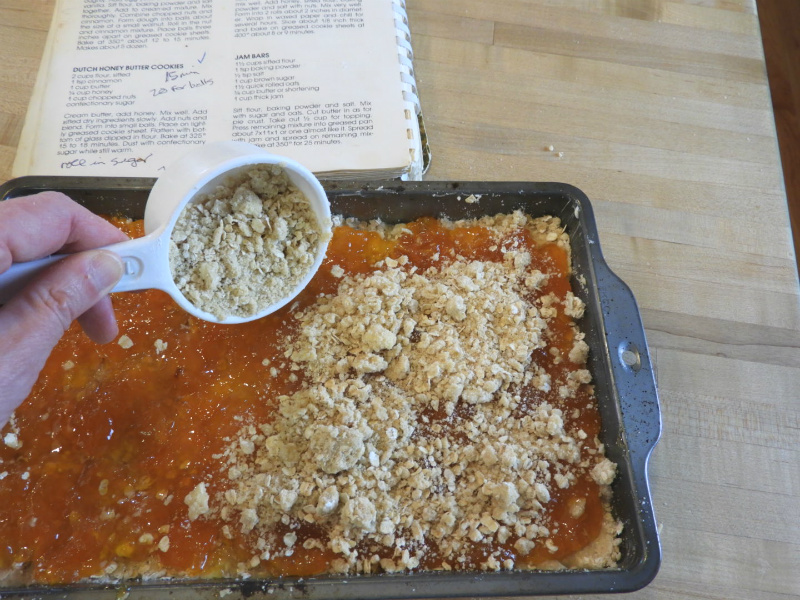 Next, I was ready to spread the topping.
And finally, ready to bake!
The Jam Bars baked nicely. They didn't rise much, but instead became more solid and browned a bit. I baked the Jam Bars 5 minutes extra to make sure they were done.
I let the Jam Bars cool for about 30 minutes and then cut the bars.
Once the bars were cooled completely, I removed them from the pan to a cooling rack.
What a pretty bar cookie!
The texture and colors of these cookies make them so appetizing! The taste of the sweet jam combined with the rolled oats is about as perfect a combination as you can get!
Everyone will love Jam Bars! It just doesn't matter if you use apricot preserves, strawberry jam or grape jelly…I promise you will love Jam Bars!
XXOO,
Janet
Print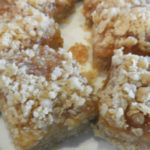 Jam Bars
Ingredients
1 ½ cups sifted flour

1 tsp baking powder

½ tsp salt

1 cup brown sugar

1 ½ cup rolled oats

¾ cup butter or shortening

1 cup thick jam
Instructions
Sift flour, baking powder, and salt. Mix with sugar and oats. Cut butter in as for pie crust. Take out ½ cup for topping. Press remaining mixture into greased pan about 7x11x1 or one almost like it. Spread with jam and spread on remaining mixture. Bake at 350 degrees for 25 minutes.
Recipe Yield
Makes about 2 - 3 dozen bar cookies