Cookies by Bess is full of unique cookie recipes from all over the world. I often wonder where Grandma Bess found all these wonderful recipes and wish I could ask her. Of all Grandma Bess' recipes, Honey Crisps is one of the most uniquely flavored cookies I've made so far!
The honey combined with the orange rind, orange juice, and nuts creates a flavor I just didn't expect and honestly don't know how to describe. It's so unique and so tasty!  You'll just have to make these wonderful cookies to find out how they taste, I promise you'll be surprised and delighted!
Cookies by Bess has one other cookie recipe that calls for honey, Dutch Honey Butter Cookies. The honey adds such a different sweet flavor to the cookies! I was expecting the honey to just add to the sweet sugary flavor or regular granulated sugar, instead the honey adds a more earthy sweet flavor.  Earthy and tasty!
I'm rating Honey Crisps 2-stars for cookie baking difficulty. Nothing difficult or time consuming, just a few extra steps with grating the orange and rolling and refrigerating the dough.
I am a big lemon fan, so always have lemons in my refrigerator, but not so much with oranges. I picked up a nice size navel orange at the grocery store and got started.

After creaming the butter and sugar, I added the grated orange rind. Rather than using store bought orange juice, I decided to squeeze the juice from the orange. I think doing this might have made a difference in the taste of the cookies…making them more orangey!
Such a pretty start to the mixing process!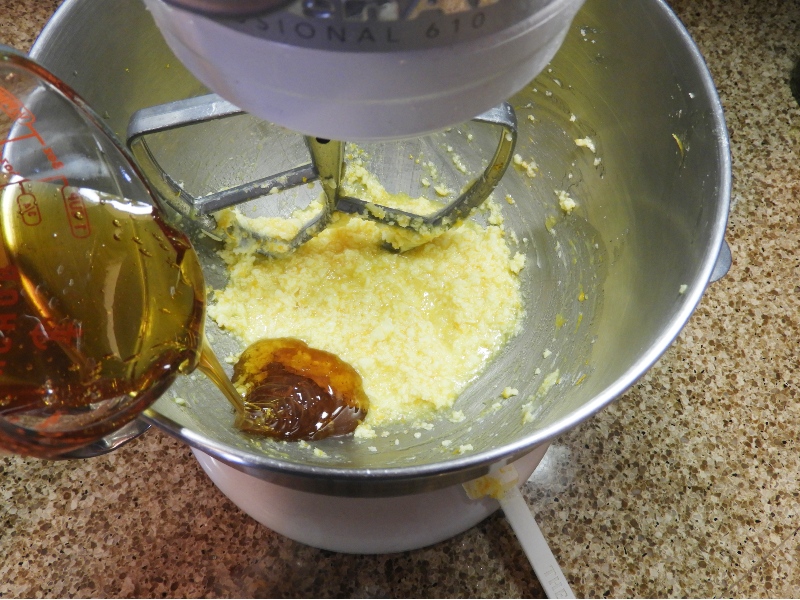 Next, I added the honey. I just love the dark golden color!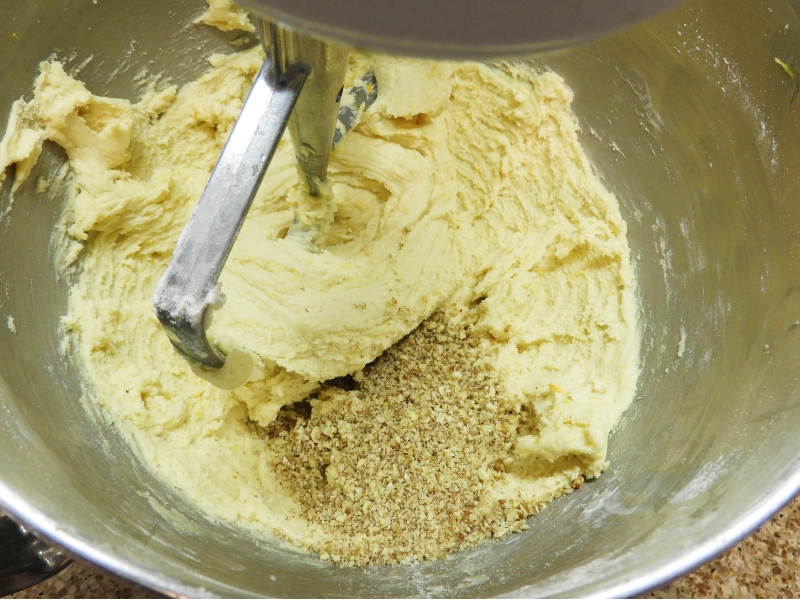 After mixing in the dry ingredients, I added the nuts. I decided to use chopped pecans. Not sure why, it just seemed like pecans would pair nicely with the orange flavors. I think walnuts would have work nicely as well but would change the flavor of the cookies quite a bit.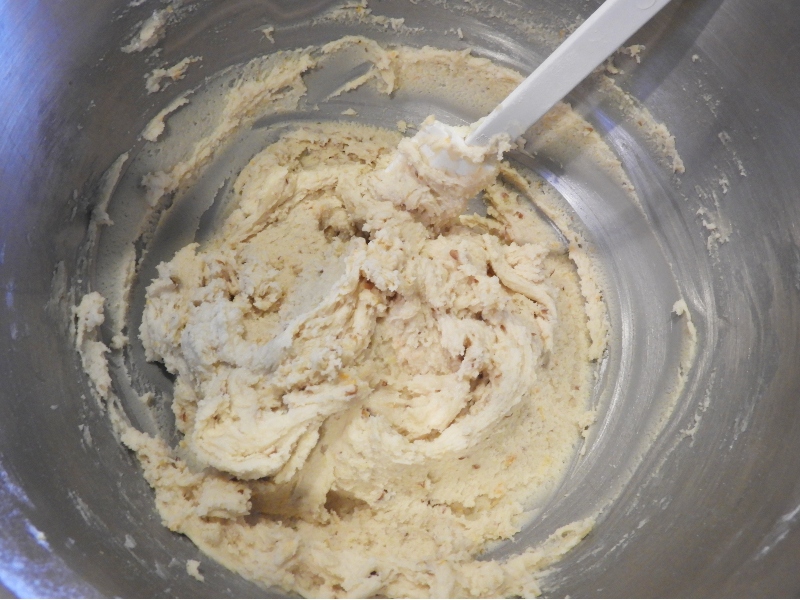 The dough is so pretty! But, it was a little sticky for rolling so I added a couple more tablespoons of flour. This helped quite a bit!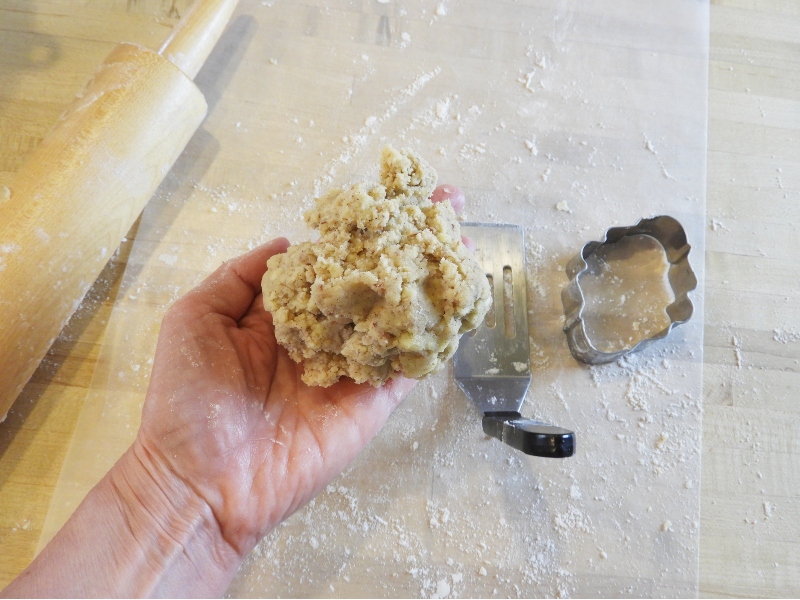 Since the recipe said to form 2 rolls, I grabbed 1/2 the dough and started rolling.

I needed to use a bit more flour while shaping the cookie rolls.

The recipe says to shape the dough into 2 rolls about 2 inches in diameter. I did my best to make the rolls the right size. They I wrapped them in wax paper and put them I the refrigerator to chill for a couple hours.
After chilling the rolls, I was ready to start slicing.
The dough definitely needed to be chilled before slicing. I probably could have kept the rolls chilling overnight, but decided to bake the cookies that evening. I used my sharpest paring knife to slice the dough 1/8 inch thick.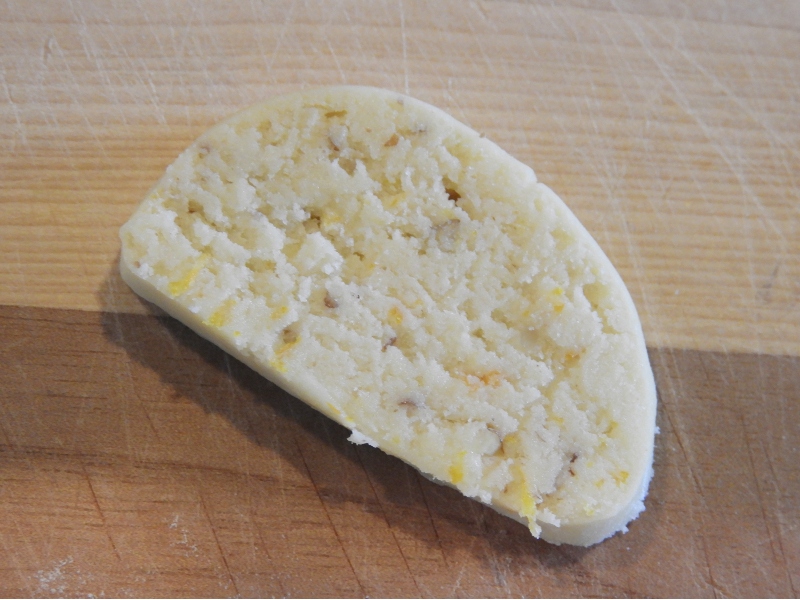 Check out the texture from the orange rind and chopped nuts. What a beautiful cookie dough!

I placed the cookie slices on greased cookie sheets and I was ready to bake!

The cookies baked just 8 minutes in my new oven at 400 degrees.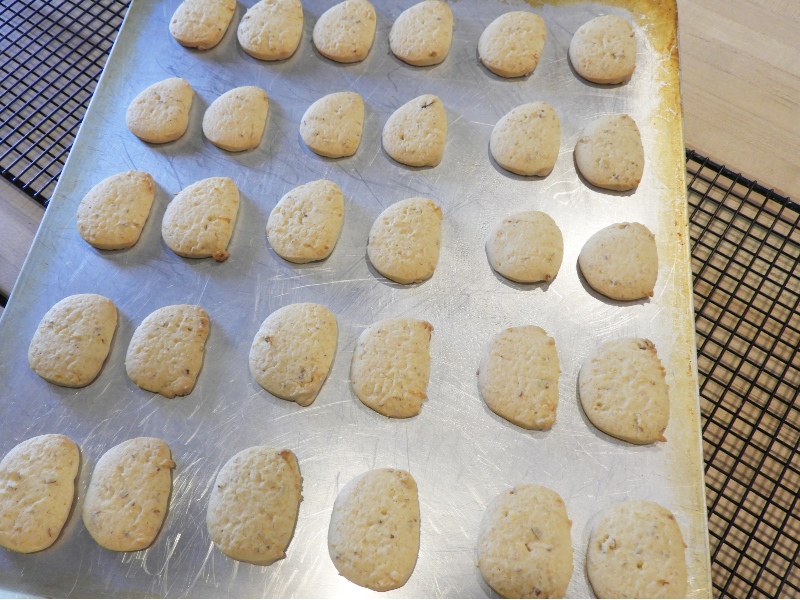 The cookies didn't spread or change shape while baking, they just rose up a bit. Make sure to grease your cookie sheet well. My cookies wanted to stick a bit when removing them to the cooling rack.
My cookies weren't super crisp like the recipe title says.  I expect they would be more crisp is I had sliced them thinner and baked them a minute or two longer.  I prefer a softer cookies, so I wasn't disappointed at all!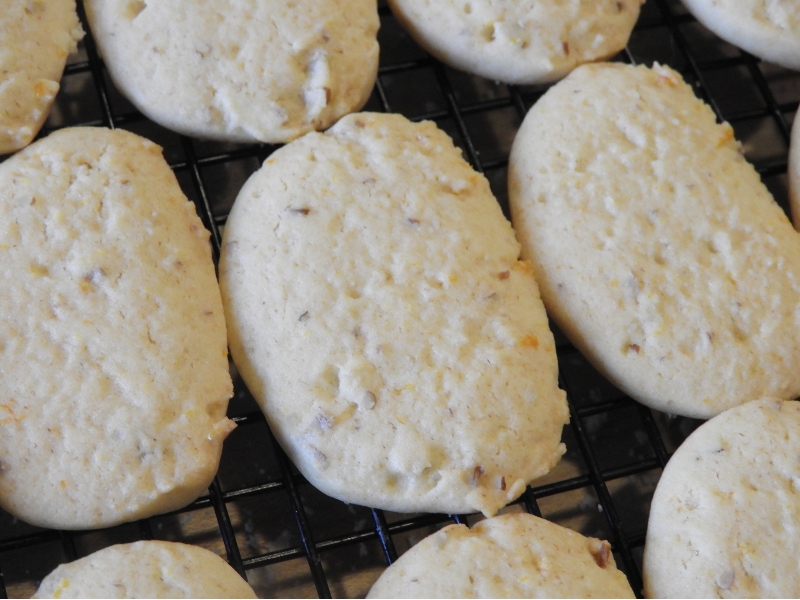 Just look at how pretty my Honey Crisps turned out! I love the blond color and all the little specks of orange and nut flavors!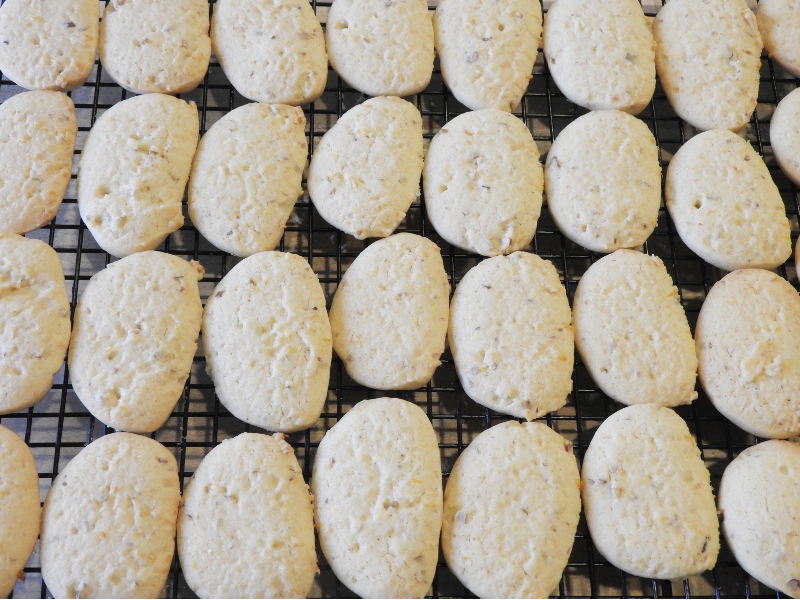 Honey Crisps are another uniquely flavored cookie from Cookies by Bess! The combination of honey and orange is hard to describe, but trust me, you will love these cookies! I'm so glad they are thin because I honestly can't stop eating them!
I hope you will try Honey Crisps! When you do, please send me a note with your description of the cookie flavors. I've been thinking about how to describe the flavors since I tried them…I would appreciate your help in putting these flavors to words! ?
Enjoy!
XXOO,
Janet
Print
Honey Crisps
Ingredients
½ cup butter
½ cup sugar
½ cup honey
1 egg
2 tsp grated orange rind
2 ½ cups sifted flour
1 ¼ tsp baking powder
¼ tsp salt
¼ cup chopped nuts
1 Tbs orange juice
Instructions
Cream butter and sugar until light and fluffy. Add egg, orange rind and juice and mix well. Add honey, sifted flour, baking powder and salt with nuts. Mix very well. Form in to 2 rolls about 2 inches in diameter. Wrap in waxed paper and chill for several hours. Slice about 1/8 inch thick and bake on greased cookie sheets at 400 degrees about 8 or 9 minutes
Recipe Yield
Makes about 5 - 6 dozen cookies 1x
Cookie Category:  Refrigerator