Honey Bran Christmas Cookies
Honey Bran Christmas Cookies? Cookies by Bess is filled with all kinds of unique and wonderful cookies recipes…and Honey Bran Christmas Cookies are certainly unique and certainly wonderful!
I didn't know quite what to think when contemplating making these cookies. I've looked over the recipe several times over the years…each time moving on to the next…finally this time, I stopped and made them. I'm sooooo glad I did!
Honey Bran Christmas Cookies really are unique and wonderful! The honey and bran flavors, combined with the cinnamon, cloves, and allspice blend together perfectly. The fun angle shaped cookies, sprinkled with green and red colored sugar provide an earthy and crunchy holiday cookie everyone will love! I know I certainly do! 😊
I'm rating Honey Bran Christmas Cookies 2-stars for cookie baking difficulty. Normally I rate cookie cutter recipes 3-stars, but the Honey Bran Christmas Cookies dough is easy to work with, so the cookie cutting is relatively fast and easy.
The recipe says it yields 4 dozen cookies…I didn't get that many. This must be because my angle cookie cutter is bigger than expected or I didn't roll the rough thin enough. My thought is the former…I tried rolling the dough thinner for a couple cookies, but ended up liking the thicker cookies better.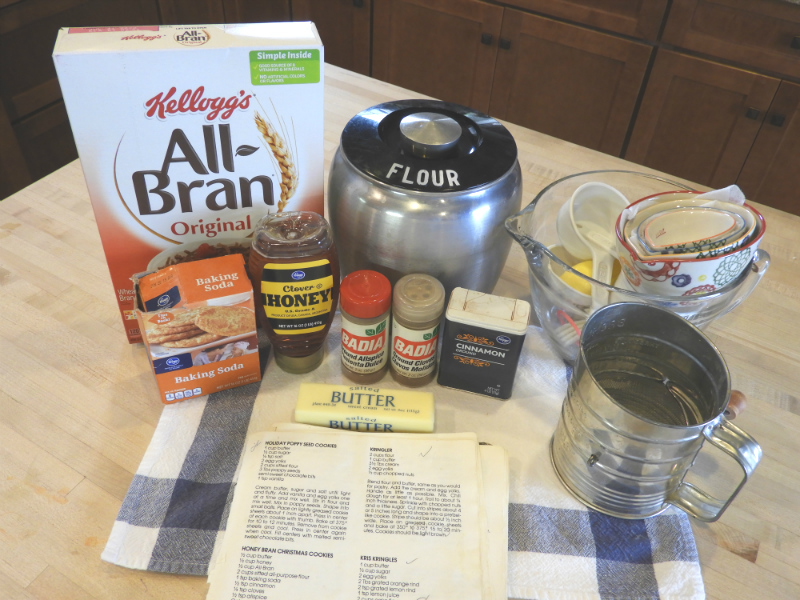 All-Bran isn't a staple in my baking pantry, so I had to run to the grocery store to pick up a box. All the rest of the ingredients, including the honey, were present and accounted for!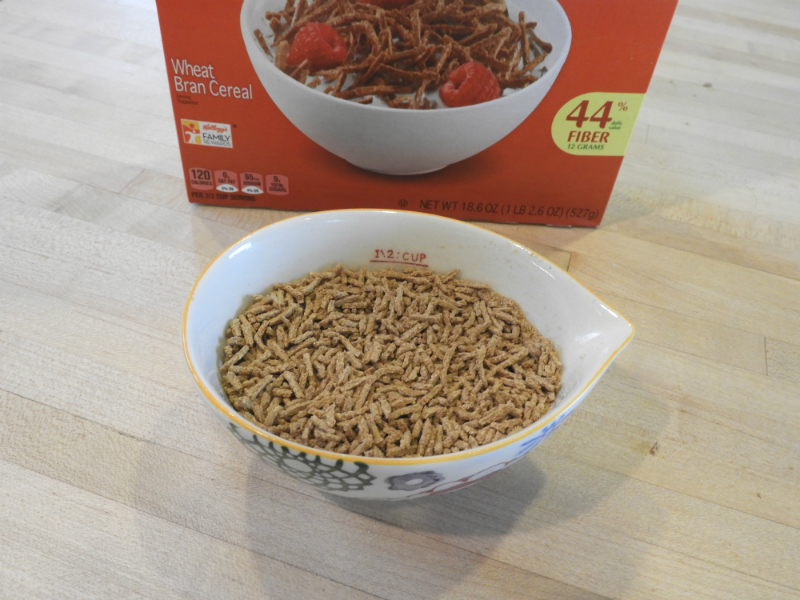 I got started measuring and slightly crushing the All-Bran. Super easy to do…I just crushed the bran with my hands/fingers.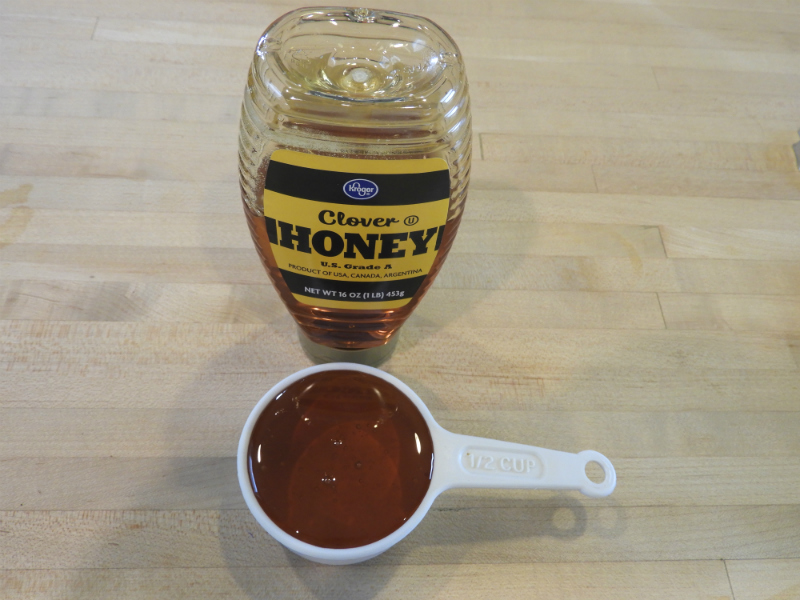 Next, I measured out the honey. I wasn't sure if I should us a dry ingredients measuring cup or liquid measuring cup…I decided on the dry ingredients measuring cup.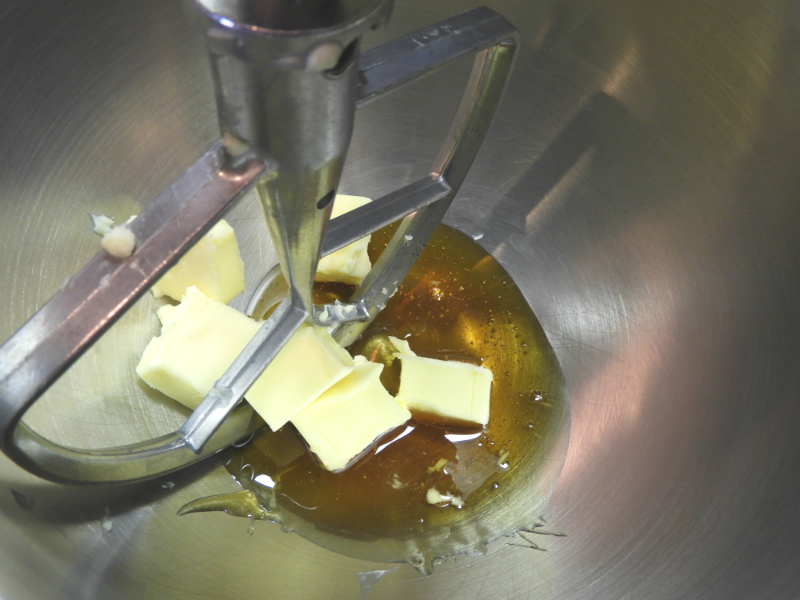 The butter and honey went into my Kitchen Aid for mixing.
The butter and honey mixed together nicely, ending up creamy and almost completely smooth.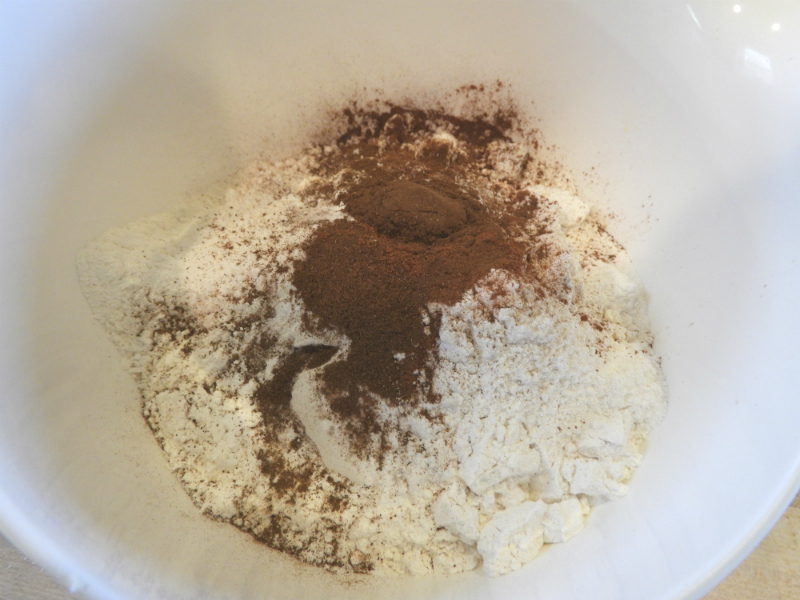 Next, I measured and sifted the flour..then added the spices and sifted them all together.
I added the flour and All-Bran to the butter and honey mixture. The dough came together perfectly, but as you can see became very dry.  I love the earthy color!
Per the recipe, I chilled the dough. To do this, I molded the dough in to a large ball and wrapped it in plastic wrap…and then into the refrigerator.
I ended up chilling the dough in the refrigerator overnight. It was solid as a rock, so I took it out of the refrigerator about 30 minutes prior to starting the rolling and baking process. This worked perfectly and the dough was ready to roll.
I found my favorite angle cookie cutter, my rolling pin, and some extra flour to help the rolling process.
The dough was still a bit dry, but it still needed some flour to keep the dough from sticking.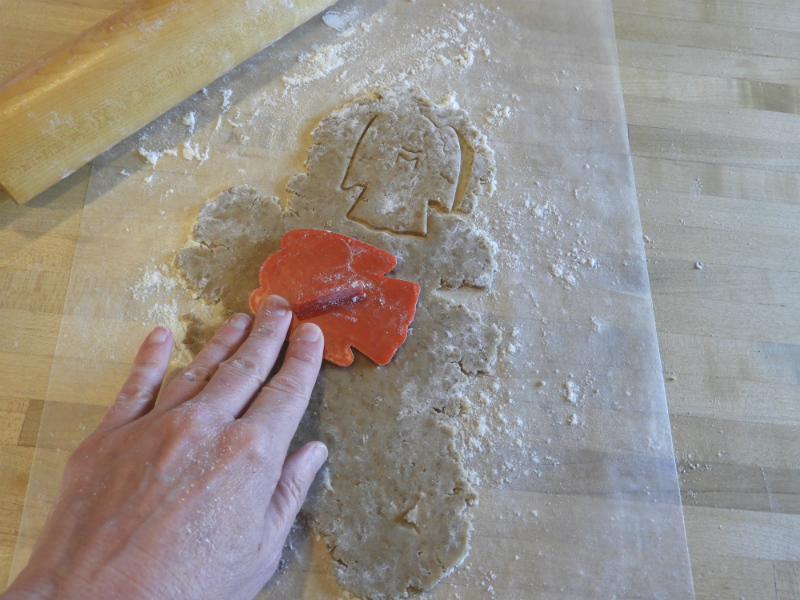 I rolled the dough as thin as I thought best and used my cookie cutter to cut the angle shapes.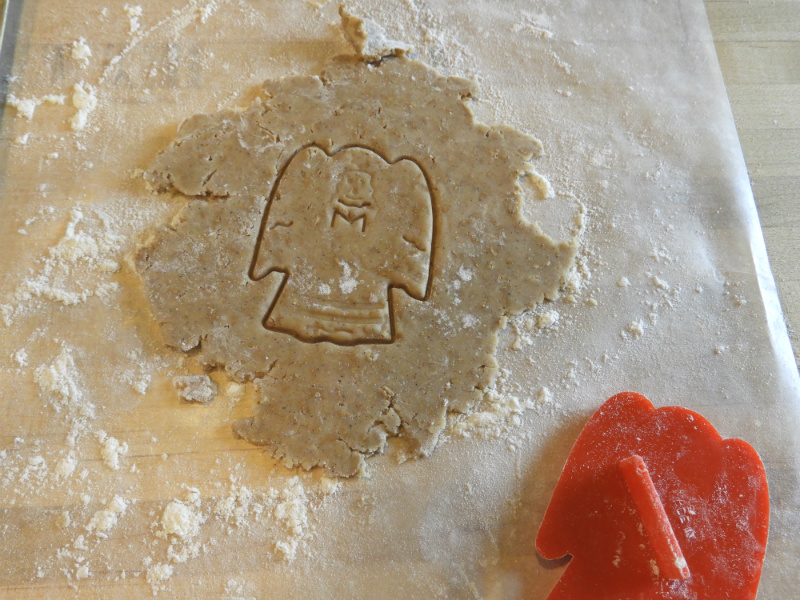 As I continued to cut out the cookies, I decided to use small amounts of dough and cut just 1 or 2 cookies at a time. This seems to keep the process moving quickly and keep the cookies more consistent in thickness.
The recipe ingredient list mentions colored sugar, but the directions don't say what to do with it…so, I decided to sprinkle the colored sugar on the cookies before sticking them in the oven. This worked great as the sugar baked into the cookies and added a nice extra little bit of sweetness! The green and red colors added just the right holiday touch!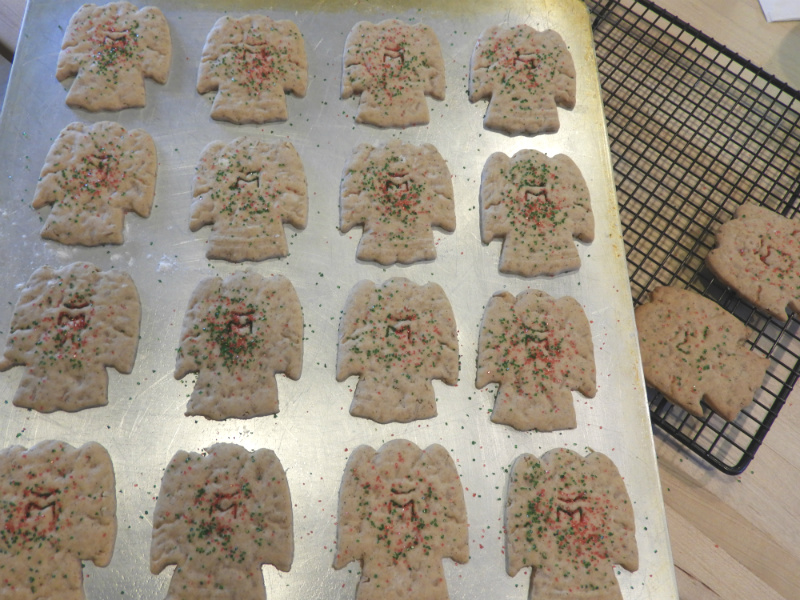 The angle cookies didn't spread or raise too much. They just baked up perfectly!
I am just in love with these Honey Bran Christmas Cookies! I love the earthy look and taste!
Just look at the wonderful texture of the All-Bran with the cookie cutters and colored sugars.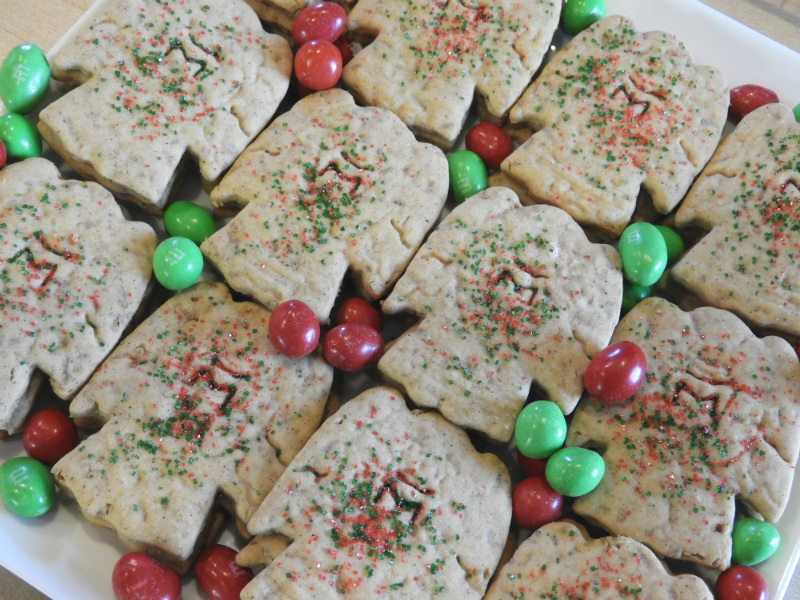 Hopefully you can see now see why I think Honey Bran Christmas Cookies are unique and wonderful cookies…all the ingredients work perfectly together to give you a cookie like you've never tasted before.
You just have to try them!
XXOO,
Janet
Print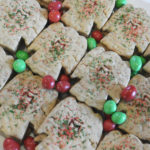 Honey Bran Christmas Cookies
Ingredients
½ cup butter

½ cup honey

½ cup All-Bran

2 cups sifted all-purpose flour

1 tsp baking soda

½ tsp cinnamon

¼ tsp cloves

½ tsp allspice

Colored sugar
Instructions
Blend butter with honey and beat until creamy. Crush All-Bran slightly. Sift together flour, soda, and spices. Add o honey mixture with All-Bran. Mix thoroughly. Chill. Roll dough on lightly floured board to about 1/16 inch thickness. Cut into angles. Place on greased cookie sheets. Bake in 350 degree oven for about 10 minutes. Yield: about 4 dozen assorted cookies.
Recipe Yield
Makes about 3 - 4 dozen cookies
Cookie Category:  Holiday
Difficulty: ★ ★ ☆ ☆