Frosted Party Brownies are one of three Cookies by Bess brownie recipes (Brownies No. 1, Rich Brownies No. 2). The Fudge Bars No. 1  and Fudge Bars No. 2 recipes can also be categorized as brownies, in my opinion.  Fudge Bars No. 1 includes a recipe for the best chocolate fudge frosting ever, so I used it for these Frosted Party Brownies to really amp up the chocolate flavors!
When I made Brownies No 1, I vowed to never use a box brownie mix again. The brownies were so good I didn't see any reason to compromise the flavors for time or ease in baking. Since then, I've kept my promise and now have several Cookies by Bess brownie and bar recipes to choose from. My boxed brownie mixes are still in my pantry, I guess I'll have to donate them ?
Frosted Party Brownies are a traditional brownie with nuts. They bake up perfectly in a jelly roll pan and look (and taste) awesome when frosted. The double chocolate flavors of the brownies and frosting make Frosted Party Brownies a winning recipe that everyone will love!
I'm rating Frosted Party Brownies 2-stars for cookie baking difficulty due to the multiple steps of melting the butter and chocolate and making the frosting.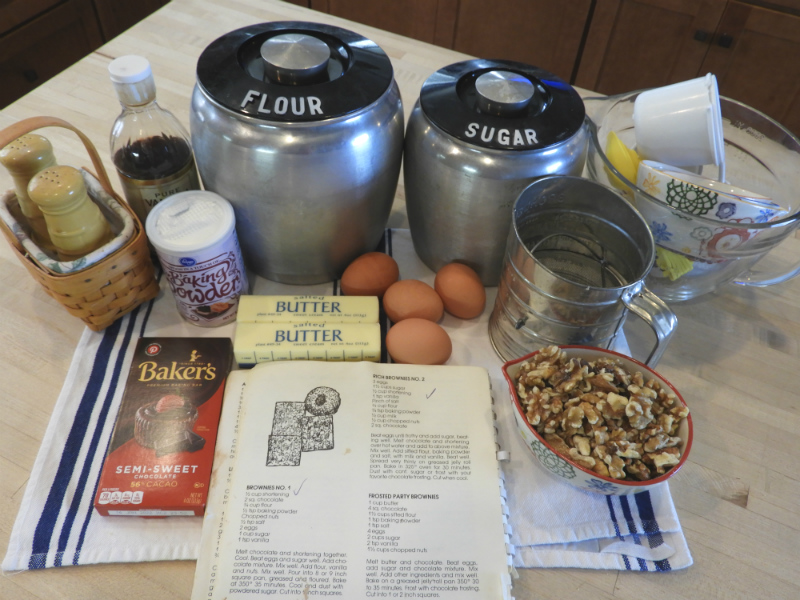 As I pulled all the ingredients together, I realized the recipe doesn't specify the type of chocolate to use. With 2 cups of sugar listed, I decided to go with semi-sweet chocolate.
The recipe calls for 4 eggs, which seems like a lot!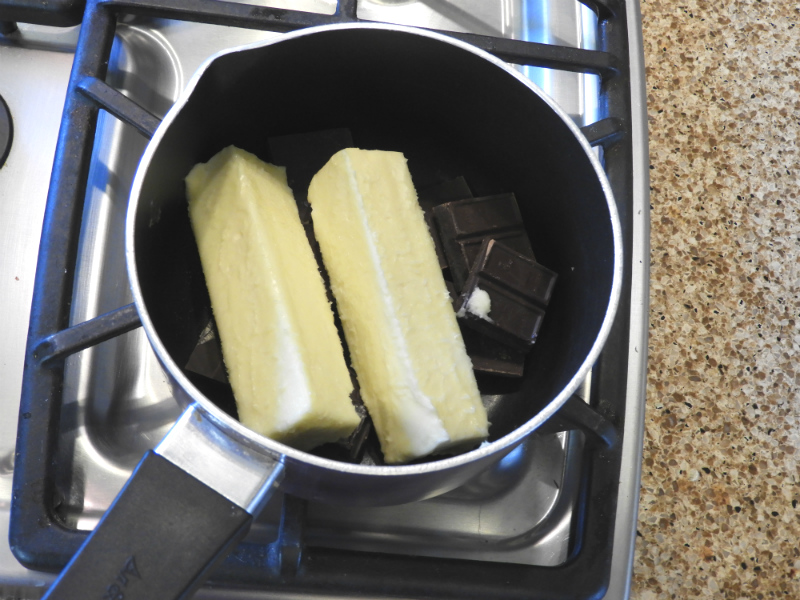 The recipe also calls for 1 full cup of butter and 4 squares of chocolate.
After putting them both in a saucepan and melted them together over low heat.
I then added the sugar and chocolate to the beaten eggs. Talk about a rich, creamy, and shinny mixture!
Finally, I added the nuts after the rest of the ingredients were all mixed together.  The recipe doesn't list the type of nuts to use, so I decided to use walnuts as they are more traditional than other types of nuts.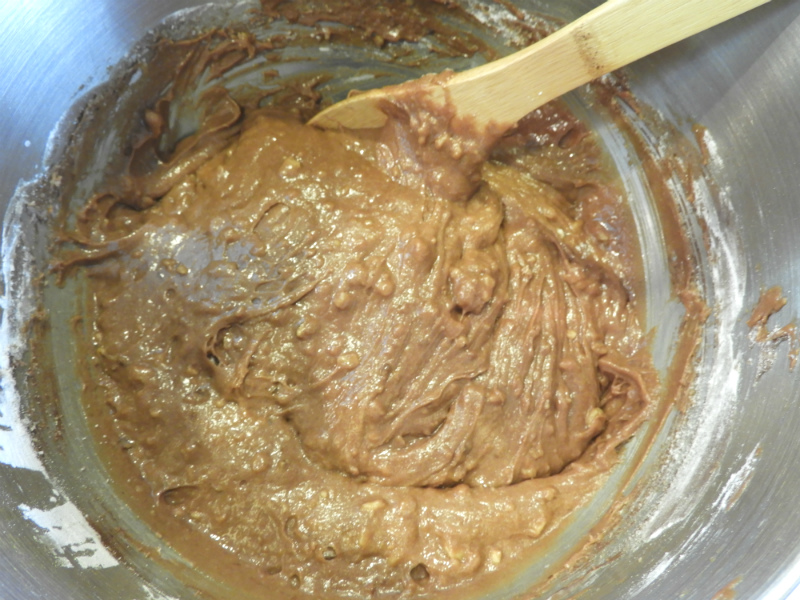 I just love the rich chocolate color! The brownie batter was the perfect consistency!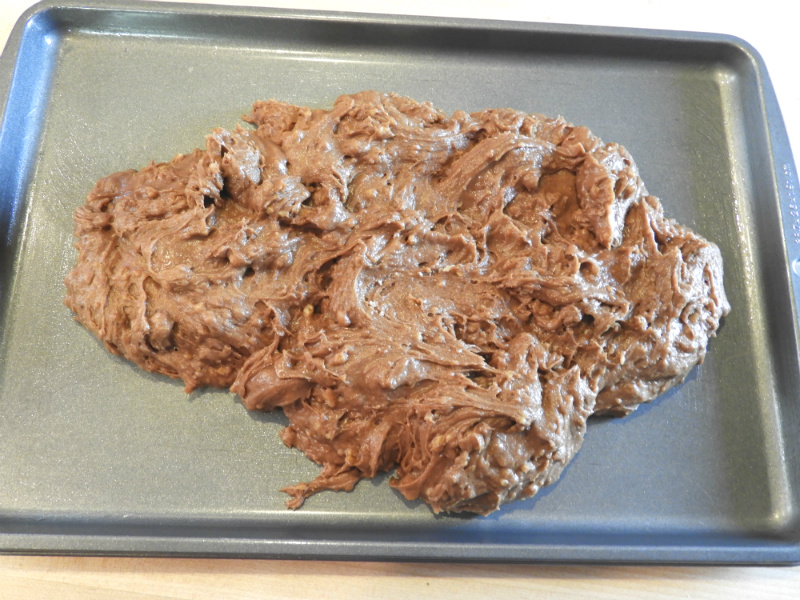 The recipe doesn't designate the size jelly roll pan to use so I errored on the side of caution and used the standard size pan, 15 ½ x 10 ½.
The batter was easy to spread and filled the jelly roll pan completely. I was a bit nervous the pan was too full and the brownies might rise over the sides of the pan while baking…
…but they ended up baking perfectly while in the oven.
I just love the thin crispy top layer brownies get when baked perfectly…don't they look awesome? Good enough to eat!
Not so fast! First, we have to frost them. As I  mentioned above, I used the frosting recipe listed with the Fudge Bars No. 1 recipe, which is now my favorite chocolate fudge frosting! This recipe has another 4 squares of chocolate. I decided to use semi-sweet chocolate again. Perfect with the powdered sugar!
Okay! I'm ready to frost these yummy brownies!
To ensure the frosting was the perfect consistency for spreading, I added a bit more milk and a bit more powdered sugar until it was just the way I wanted it.  I like it just thick enough that it's still easy to spread and thick enough for a nice ¼ – ½ inch layer of chocolatey goodness!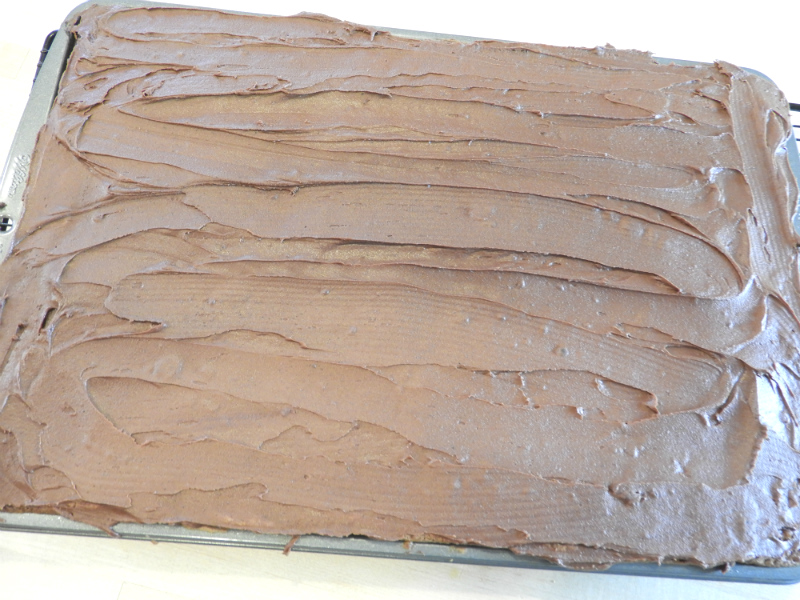 Just look at the richness! You can almost taste it!
You can see the richness of the frosting once they are cut. What a beautiful pan of brownies!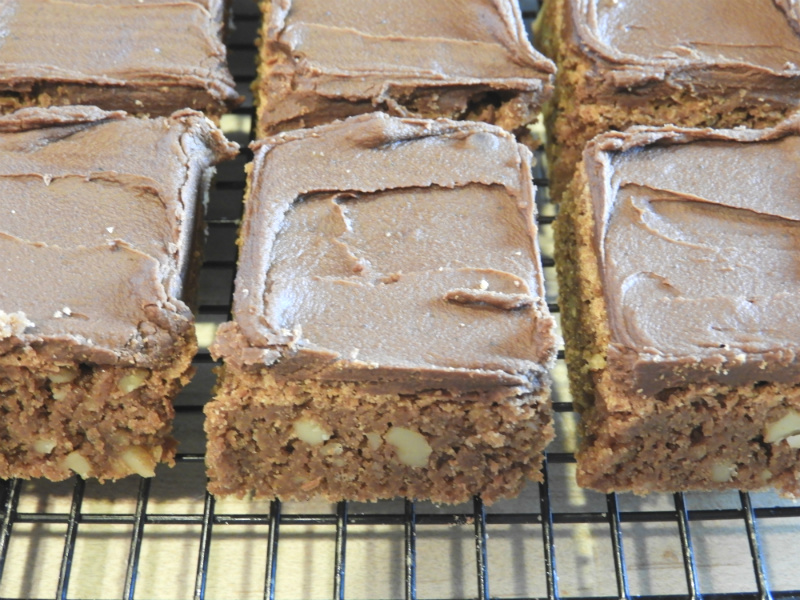 These Frosted Party Brownies are the perfect consistency…not too moist and now too dry.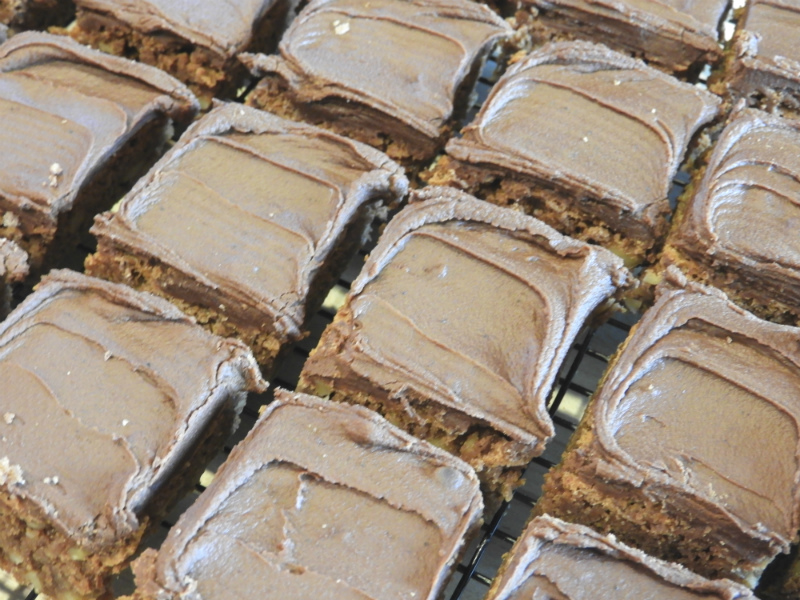 As if brownies aren't chocolatey enough, I just love when they are topped off with chocolate frosting! What a wonderfully chocolatey treat!
I just couldn't stop taking pictures of these Frosted Party Brownies! Such a pretty brownie…one that tastes as wonderful as they look!
Frosted Party Brownies are a traditional brownie that will amaze your family and friends! Tons of chocolate in the brownies, tons of chocolate in the frosting…a chocolate lovers dream cookie!
Enjoy!
XXOO,
Janet
Print
Frosted Party Brownies
Ingredients
1 cup butter
4 sq. chocolate
1 ½ cup cups sifted flour
1 tsp baking powder
1 tsp salt
4 eggs
2 cups sugar
2 tsp vanilla
1 ½ cups chopped nuts
Instructions
Melt butter and chocolate. Beat eggs, add sugar and chocolate mixture. Mix well. Add other ingredients and mix well. Bake on a greased jelly roll pan 350 degrees 30 to 35 minutes. Frost with chocolate frosting. Cut into 1 or 2 inch squares.
Notes
Frosting
4 sq. melted unsweetened chocolate
4 Tbs butter
2 2/3 cup powdered sugar
½ tsp salt
1 ½ tsp vanilla
6 ½ Tbs milk
Mix well. Should be of spreading consistency.
Recipe Yield
Makes about 4 - 5 dozen bar cookies 1x