I didn't have a whole lot of time to bake this particular weekend, so I decided to make Dutch Nut Crisps.  I've been looking at this recipe for a while now as it seems easy to make.  I've hesitated trying the recipe because based on he directions, I just wasn't sure how the cookies were going to turn out.   Regardless, Dutch Nut Crisps looked like an easy and unique cookie recipe, so I jumped right in!
Well, I was right on both accounts! So often I think a cookie recipe that looks easy to make actually ends up being more difficult or time consuming that I thought. Not Dutch Nut Crisps, they are easy to make and even more easy to eat!
Dutch Nut Crisps are a unique bar cookie packed with flavors! The cookie crust baked up perfectly crisp and the added nuts and cinnamon make this cookie a winner in every way (even for someone like me that generally likes soft cookies ?)!  Crispy buttery cookies, nutty cinnamon flavors and double the normal bar cookie quantity…who could ask for anymore?
I'm rating Dutch Nut Crisps 2-stars for cookie baking difficulty only because of the added steps of spreading the dough into the jelly roll pans and the added steps of chopping, sprinkling, and pressing the nuts along with sprinkling the cinnamon.
Pulling together the four ingredients for the cookie crust and two ingredients for cookie toppings was easy as all are basics in my baking pantry!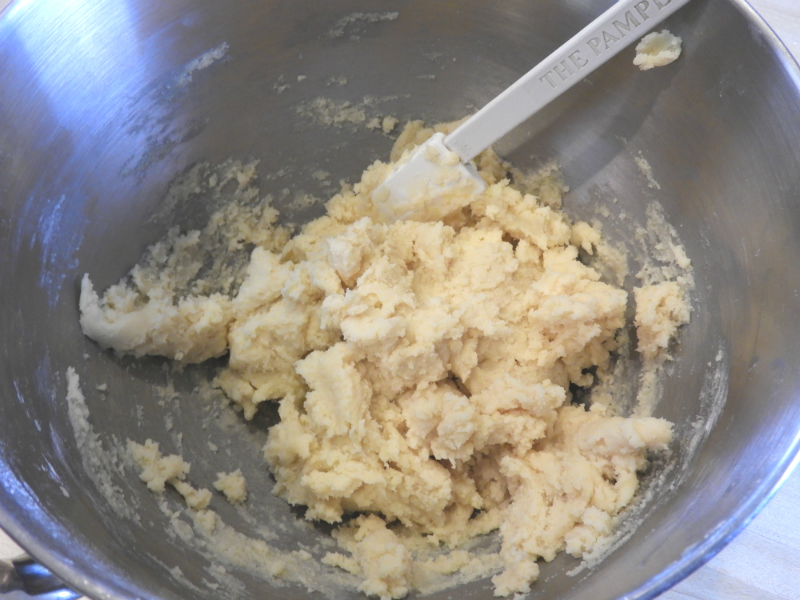 Mixing the dough together was easy and quick!  I just love the blond color of the dough!
The recipe says to separate the dough into 2 parts and press each part into a jelly roll pan.  But the recipe doesn't say what size jelly roll pans to use. Unfortunately, I don't have 2 jelly roll pans the same size, so I wasn't quite sure how this was going to work out. I used one 15 ½ by 10 ½ and then a slightly smaller pan for the second.  The recipe didn't say how thin the cookie layer needed to be, so I just did my best to "eyeball" the amounts for each pan.
I used the palm of my hand to press the dough into the jelly roll pans. The cookie layer ended up being pretty thin which isn't surprising since the cookies are called "crisps"!
Next, I was ready to sprinkle the nuts.
Next, I sprinkled the nuts and used my fingers to press them into the cookie dough. The recipe didn't specify which type of nuts to use. I decided on pecans because I thought they would go best with the buttery cookie and cinnamon.
Finally, I sprinkled the cinnamon on top…
And I was ready to bake! Don't they look pretty!
The cookies didn't raise while baking. Mostly, they just baked up nice and crisp. I let the cookies bake for just 20 minutes.  This was plenty of time for them to become slightly browned. As you can see, some areas of pan browned a bit more than the others.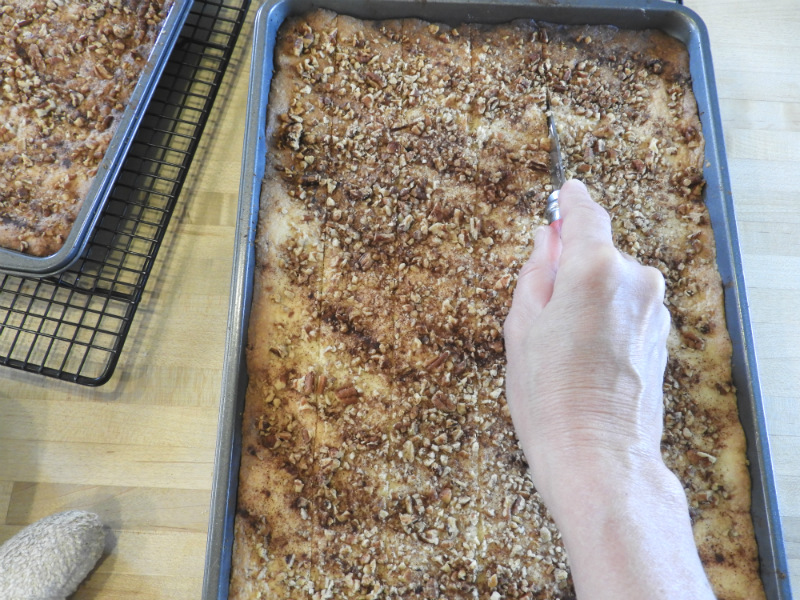 The recipe says to cut the cookies right away and then stick them back in the oven for a few minutes. I cut my cookies right away, but decided not to put them back in the oven. They seems already browned enough, and I didn't want them to become too done.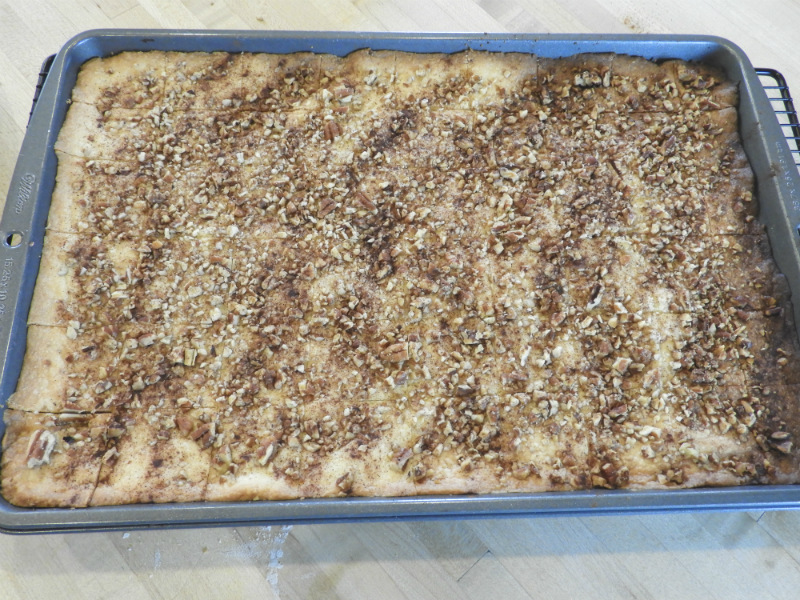 What a beautiful bar cookie! Easy to cut and easy to remove from the jelly roll pans.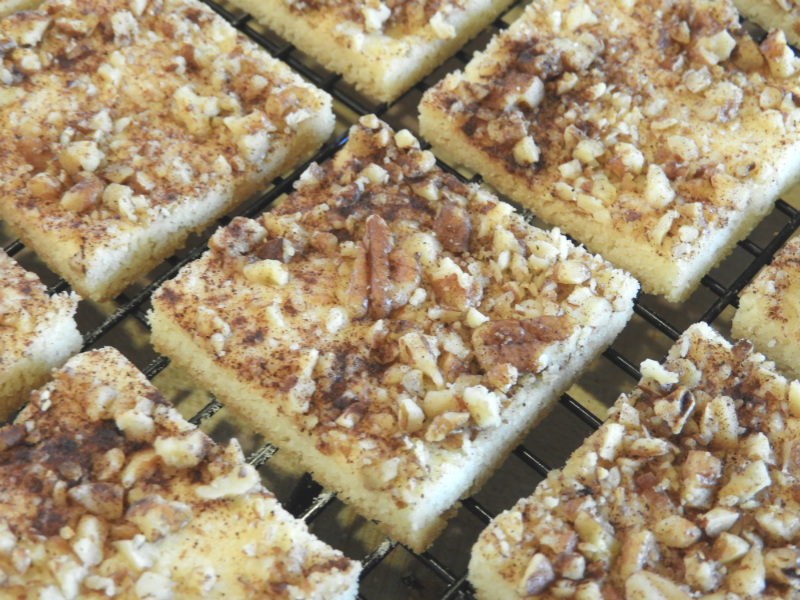 Just look at how beautiful these Dutch Nut Crisps turned out! I just love the thin cookie and the texture of the nuts and cinnamon!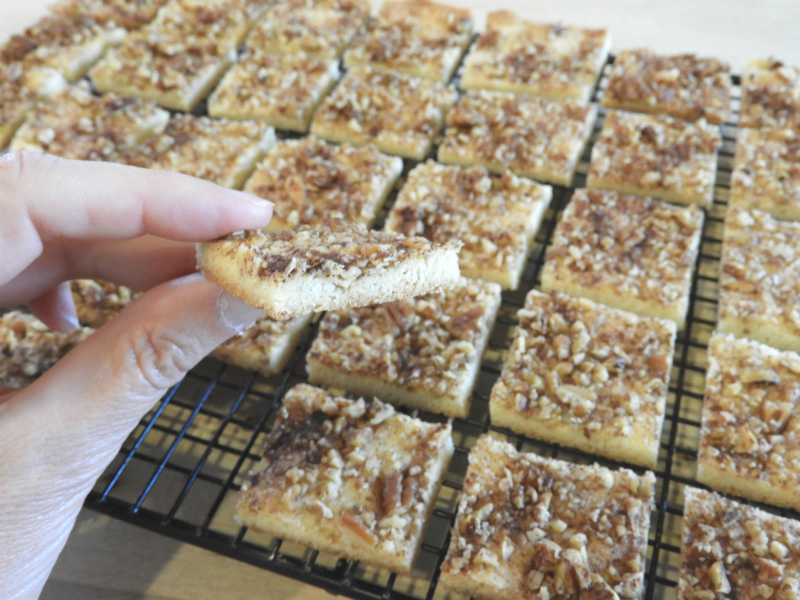 You can almost see how wonderfully thin and crisp they are!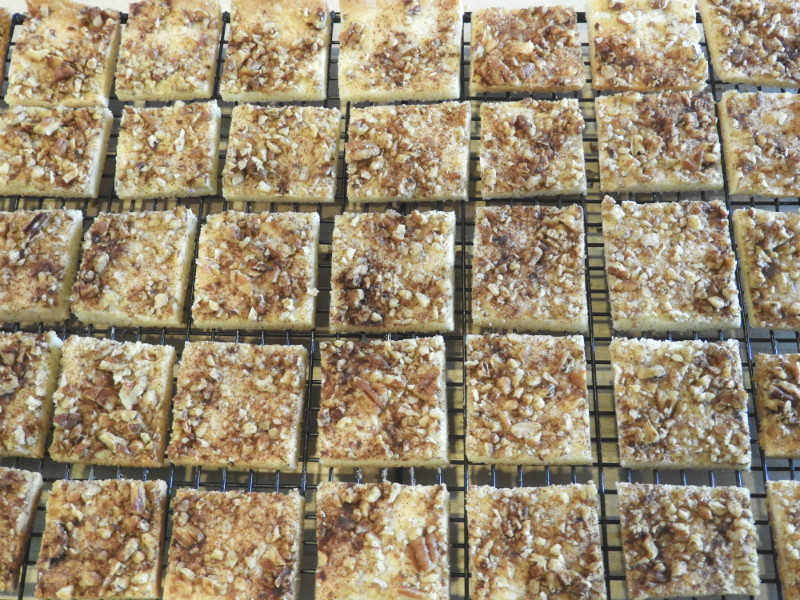 This simple Dutch Nut Crisps recipe makes two full jelly roll pans full of wonderfully crispy, nutty, and cinnamon spicy cookies! Perfect for a fall gathering with family and friends. Perfect for an afternoon coffee date or after schools for the kiddos.
Dutch Nut Crisps are an easy bar cookie you can whip up in no time. Your family and friends will love them so much, you'll be glad you have double the quantity!
Enjoy!
XXOO,
Janet
Print
Dutch Nut Crisps
Ingredients
1 cup butter
1 cup sugar
1 egg
2 ½ cups flour
1 cup chopped nuts
Cinnamon
Instructions
Cream butter and sugar until light and fluffy. Add egg and mix well. Add sifted flour, mixing well. Separate dough into 2 parts. Press batter into two lightly greased jelly roll pans. Press nuts into batter and sprinkle with cinnamon. Bake in 350 degree oven from 20 – 25 minutes. Cut right away and return to oven for a few moments until evenly browned. Watch carefully.
Recipe Yield
Makes about 10 dozen cookies 1x