NexMy mom told me she made Cookies by Bess's Czechoslovakian Cookies a while ago. Not sure what took me so long to make then, but I'm so glad I finally did, because Czechoslovakian Cookies are really really good! Not too many ingredients, but a huge amount of buttery flavor!
Czechoslovakian Cookies are a thick bar cookie with a strawberry jam layer in the middle.  A buttery and nutty crust,a  layer of sweet strawberry jam, then another layer of buttery and nutty crust. Simply AMAZING! My only other comment would be to add even more strawberry jam…because you can never have too much butter, nut, and sweet jam, right?
The cookies are baked in an 8 x 8-inch square pan, so the bar cookies are pretty thick and super buttery rich. To ensure you can eat more than one, I suggest cutting them into as smaller than normal squares.
I'm rating Czechoslovakian 2-stars for cookie baking difficulty due to all the steps involved in the baking process. As usual with Cookies by Bess recipes, nothing is difficult just a bit more time consuming.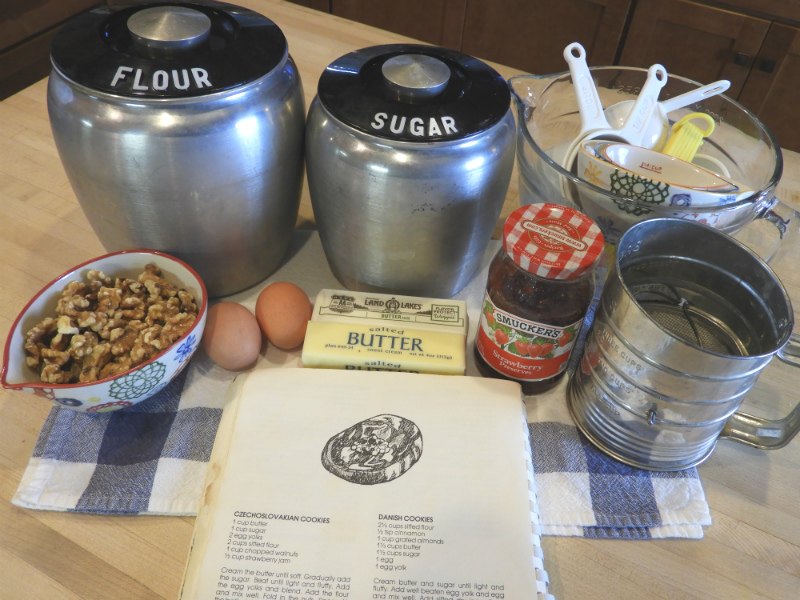 It was easy to pull my ingredients together. All ingredients listed are staples in my baking pantry and I seem to always have strawberry jam in my refrigerator.
I mixed the ingredients per the recipe and ended up with a beautiful cookie dough!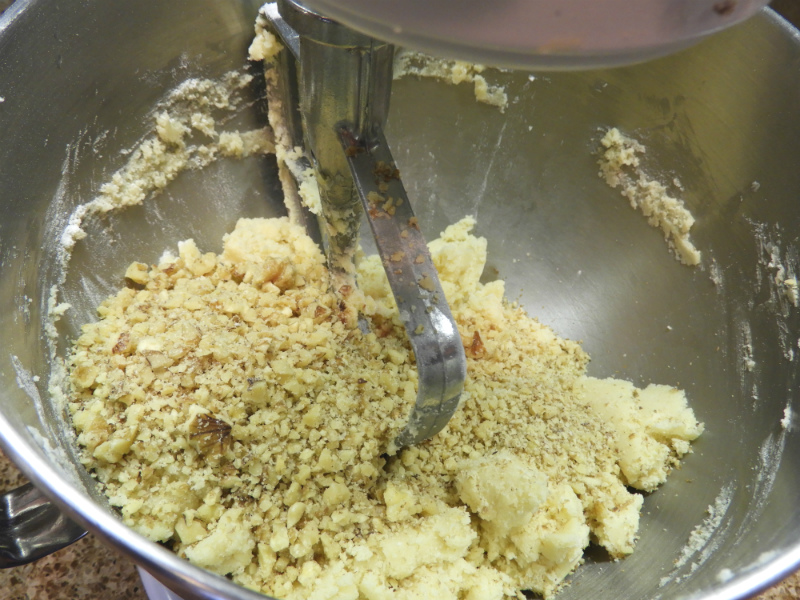 Next, I folded in the chopped walnuts.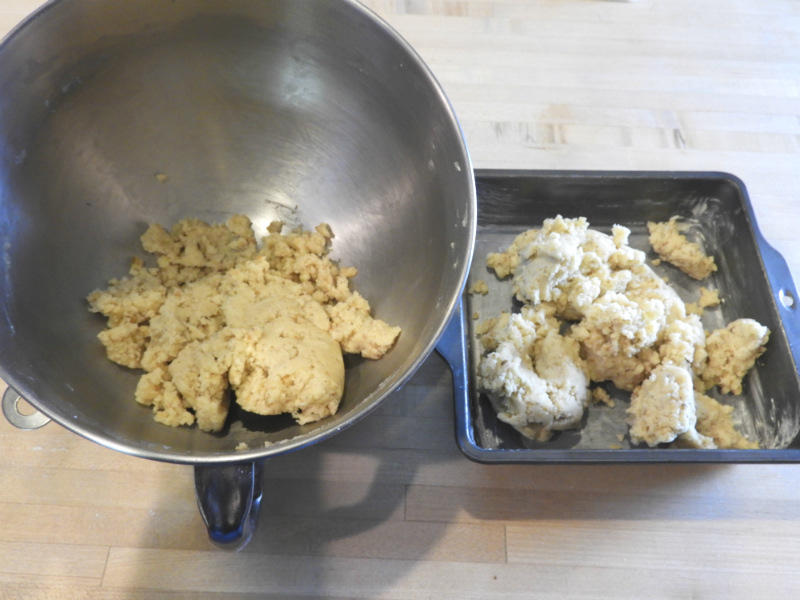 I mixed the dough until it was completely blended together, this made it easy to split in half for the first step in the baking process.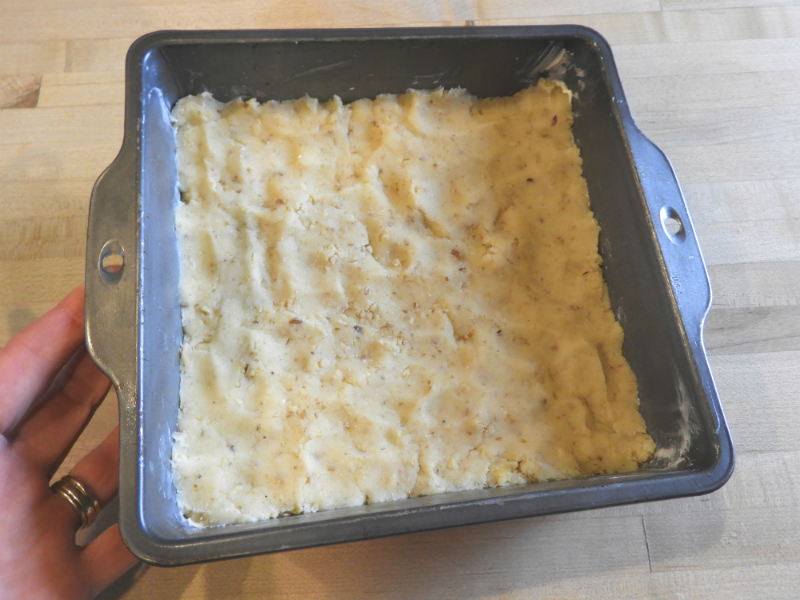 The consistency of the cookie dough makes it easy to press into the baking pan.
Next, I measured out my strawberry jam or preserves per my refrigerator.  I grew up with Smuckers, didn't everyone?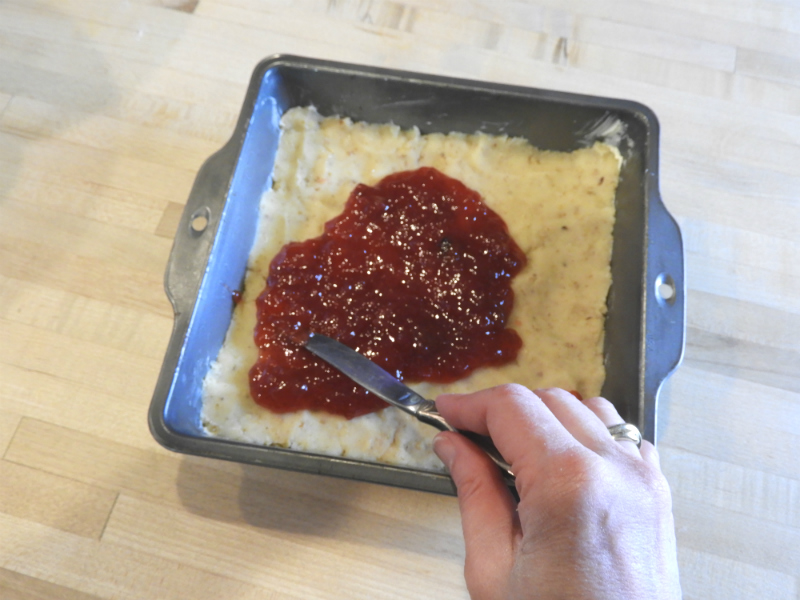 The jam was also easy to spread.  I used a small butter knife.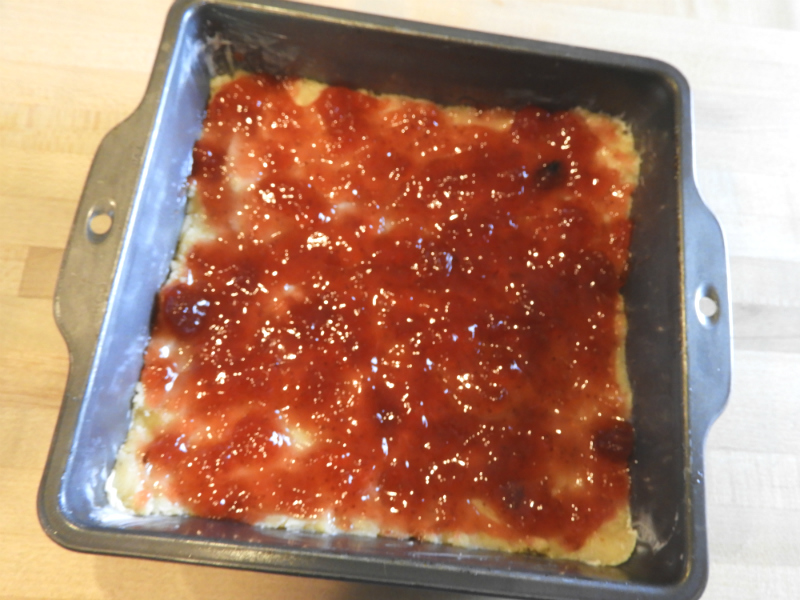 This is the point I thought I could use more strawberry jam, but decided to stick with the ½ cup per the recipe.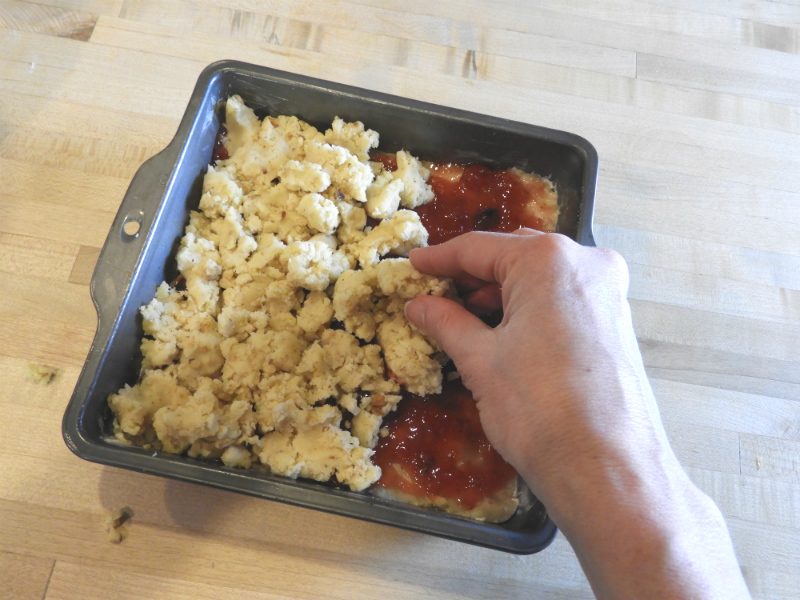 The next step is to cover the jam with the remaining cookie dough.  Before jumping in , I had to think a bit about the best way to do this. Just pressing the dough in the pan like I did with the bottom layer didn't make sense…I thought it would mess up the jam layer too much. So, I decided to crumble the dough a bit and them press the bits together. The result of this technique gave the baked cookies a really nice texture and look!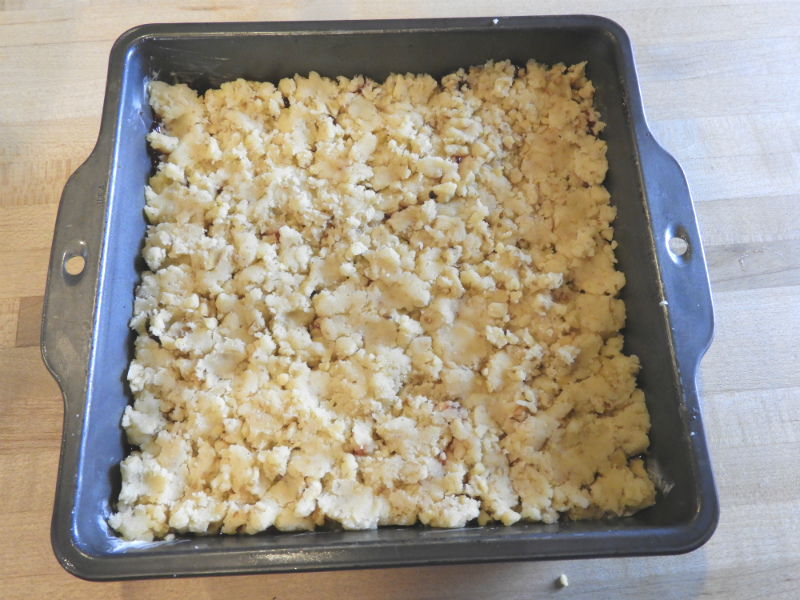 I was now ready to bake!
You can see how the crumble technique baked into a crumble looking texture.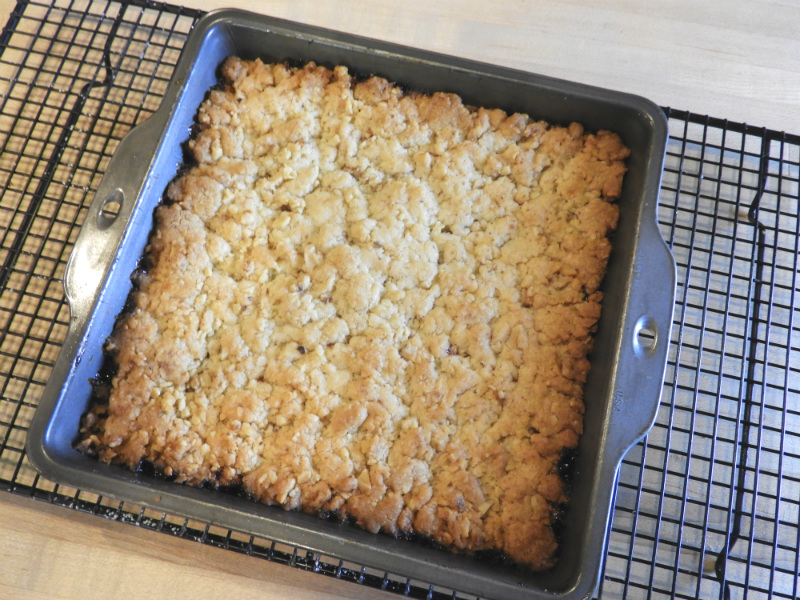 I baked the bars for about 50 minutes in my oven. At this point, they had already turned the light brown mentioned in the instructions, especially around the pan edges.
I let the bars cool completely and then cut them into squares.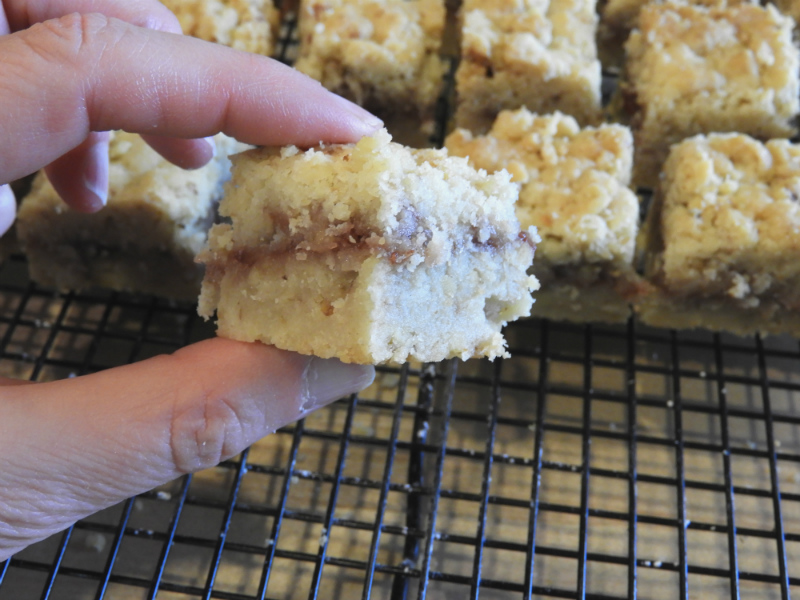 Just look at these wonderful Czechoslovakian Cookies!
The layers and textures are just amazing! You can see in this picture the thin layer of strawberry jam. I still think I'll add a bit more next time!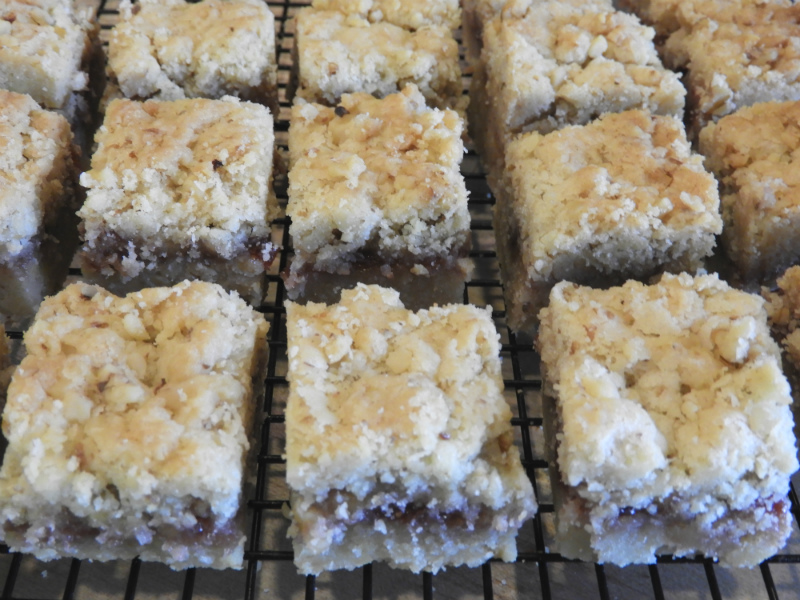 The crust and top layer of cookie reminds me of a rich shortbread cookie. The nuts add to the wonderful butter flavors and the strawberry jam add just the right amount of additional sweetness.
Czechoslovakian Cookies are simply wonderful! Butter, nuts, jam all baked together to make a rich cookie you won't soon forget!
XXOO,
Janet
Print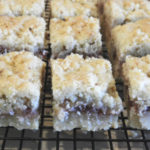 Czechoslovakian Cookies
Ingredients
1 cup butter
1 cup sugar
2 egg yolks
2 cups sifted flour
1 cup chopped nuts
½ cup strawberry jam
Instructions
Cream the butter until soft. Gradually add the sugar. Beat until light and fluffy. Add egg yolks and blend. Add the flour and mix well. Fold in the nuts. Spoon ½ the batter into a well-greased 8-inch square pan. Spread evenly. Top with strawberry jam. Cover with the remaining dough. Bake in a 325-degree oven for about 1-hour or until lightly browned. Cool and cut into small squares.
Recipe Yield
Makes about 2 - 3 dozen cookies 1x