"Cookies baked with love"
The Green Bay Press-Gazette's Food section writer Diane Page interviewed Grandma Bess way back in December, 1980 and published the below article titled "Cookies baked with love".  I can't think of a better name for an article written about Grandma Bess than, "Cookies baked with love"!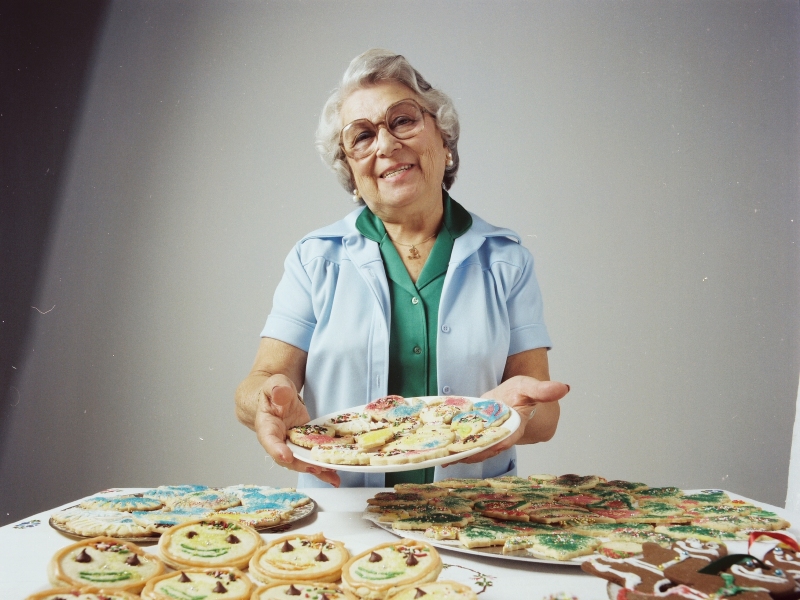 Grandma Bess talked to many newspapers, radio and TV talk show hosts over the years she was promoting Cookies by Bess.  In just about every article, Bess mentions how much she loves to bake, loves to share her baking tips, and loves people.  "Cookies baked with love" is a great example of how much Bess loved to bake and share her cookies!
I hope you enjoy this article as much as I did!
"Cookies baked with love"
Wednesday, December 3, 1980
By Diane Page
Of the Green Bay Press-Gazette
"Cookie Lady" is an appropriate title for Bess Hoffman.  Tiny of stature, but full of energy and love. Bess has baked herself into the hearts of many over the years.
It's not unusual to see Bess and Abe her husband of "almost 55 years" toting plastic bags as they disembark from a plane. In those bags are Bess' pride and joy – her famous cookies. Small, delicate cookies, they are rich in flavor and picture-pretty.
She brought 3,000 cookies from California to serve at a granddaughter's wedding in Madison, WI. And more recently, she has prepared thousands for pictures and samples as she tours the country promoting her cookbook, "Cookies by Bess."

Baking lots of cookies is natural for Bess, who made 10,000 to serve when her sons, Richard and Ronald, opened their drug store in Appleton in 1961.

Bess' cookbook is tried and true, composed of recipes collected over 20 years. Many of the recipes are the author's originals. The cookbook is a revised and updated version of Bess' first book, which came out before Christmas in 1961.
A resident of Wausau for 35 years, Bess became known as Grandma Bess, as she baked her cookies to both give away and to sell. She had two freezers to store her cookies, baking an average of 20,000 each Christmas season.
It was there she was encouraged by family and friends to put out a cookbook of her cookie recipes. "My sister and my friends said, 'Bess, we can't ask you for more cookies…why don't you compile your recipes in a book." She says. It took her two years to compile her recipes. She had 1,000 books printed at the time to see how it would go. It proved to be a successful venture, resulting in six more printings and a sale of well over 35,000 cookbooks.
The Hoffman's moved to the Los Angeles area in 1970, where Bess has continued to make her cookies.

In the new "Cookies by Bess," there are additional cookie recipes, new frostings, fillings and cookie baking tips. The book, which has been taken over by her son, Richard, and his wife, Toba, came out about five months ago. It is being distributed nationally, so publicizing it is keeping Bess and Abe on the move as they travel the country from coast to coast. And they are thriving on the activity.
"I don't like the word retired for people who like to go places and do things," says the perky Mrs. Hoffman, who adds, "I never use old in my vocabulary."
One of her big thrills was recently meeting radio commentator Paul Harvey in Chicago. "He came out and said, 'This must be Bess…'"

The mother of four and grandmother of 11, Bess is an example of how interests and activities can keep a person young. "I love to talk to senior citizens my age or older." Keep busy, she tells them. "I always end my talk with 'To be happy is to make someone else happy.'"
Bess says she baked cookies as a means of relaxing when her twins were small. "After I put them to bed…that's when I did my baking and thinking."

As the children were growing up, she always had two cookie jars going.
"I used to bake for churches as well as the temple," says the Jewish woman whose love for life and people is infectious.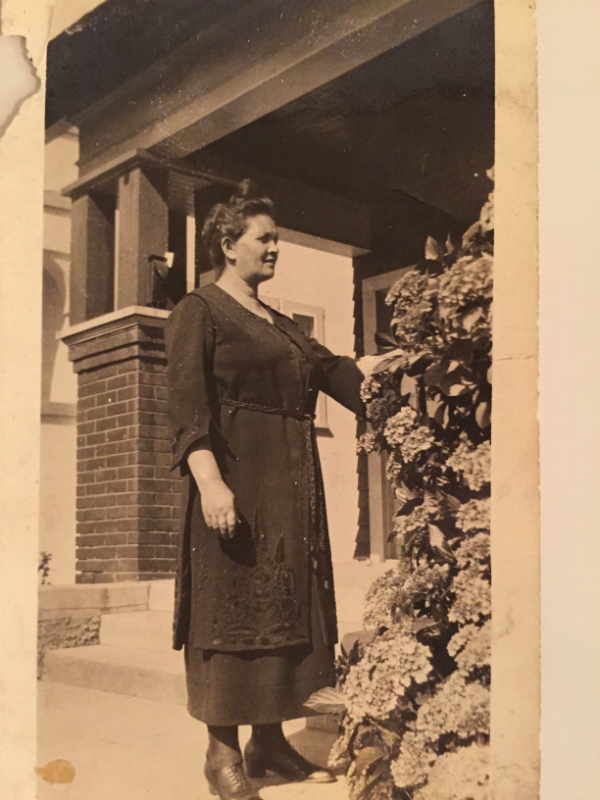 Many of her early recipes came from her mother (Anna Lazar pictured above), she says, "a little of this and a little of that."
"I'm just a butter girl from Wisconsin," Bess says with a smile. "I use only butter in my recipes…there is no substitute for butter. The cookies will take better and last longer." However, she notes, there are a few recipes calling for shortening.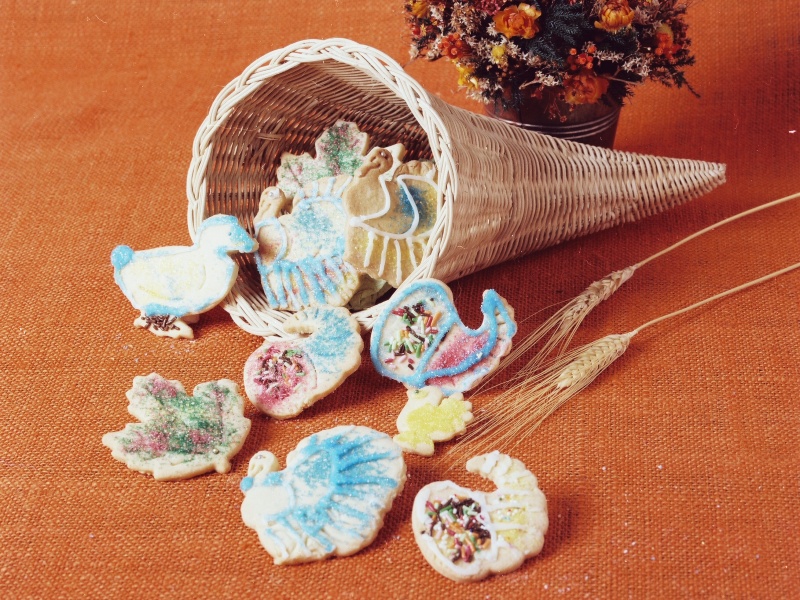 A lot of Bess' cookie creations have to do with her imagination. For example, she makes several cookie variations with her Rich Flavored Christmas Cookie.
"I never know what I'm going to do with the frosting…it just comes."
When Bess bakes her cookies, she makes five different batches of the same type of cookie at a time. One day it may be ball cookies, another, sliced cookies.
Bess gets everything out and ready the night before she plans to bake. "I take the eggs and butter out an hour or so before baking."
She works with four to five plans and bakes only one cookie sheet at a time. "I have two ready to go, then while the first one is baking, I ready the third one, and so one. I always preheat the oven 15 minutes before baking."
Always cool your cookies on a cooling rack, Bess advises. After they are cool, you can pile them up. And always wash the pan after each baking so it's clean and fresh for the next baking, she says.
Bess has given numerous demonstrations of her cookie making, including one in November at the Fox Valley Technical Institute in Appleton.
Following are some of Bess' recipes…:
It is so much fun to read these archived newspaper articles!  I can almost see Grandma Bess speaking with the journalist, sitting round the kitchen table, drinking a cup of coffee from a hand painted coffee cup, a beautiful plate of cookies on the table ready to share.
Grandma Bess truly loved to bake, she loved to share her recipes and baking tips, and she loved life!
XXOO,
Janet