This is the second time I've made Coconut Bars from Cookies by Bess. The first time around the bar cookies didn't turn out so good. Don't get me wrong, they tasted great, but the chewy topping didn't set up quite right making them difficult to remove from the pan.
This time around, my Coconut Bars turned out perfect! Still tasting great of course, they also set up nicely and were easy to remove from the pan. What did I do differently? I used a slightly larger baking pan. The 8×8 inch pan was just too small. Spreading the crust and topping out a bit more with the 7×11 inch pan was enough for the topping to bake and set up perfectly!
The crust for Coconut Bars is frankly, outstanding! The brown sugar cut in with the flour and butter made such a light and wonderfully sweet crust that was held together perfectly without eggs or other liquid.
What a pleasure to make Coconut Bars not once but twice! A unique crust topped with a coconut sweet and sugary topping that stays soft and chewy and bakes up with a layer of crispy sugar on top. YUMMY!
I'm rating Coconut Bars 2-stars for cookie baking difficulty. A few extra steps involved, including cutting in the butter with the flour and brown sugar. This step takes a good amount of extra time and "elbow grease"…but well worth the effort in the end!
After pulling my ingredients together I got started. If you've read my other cookie blogs, you know I'm not a fan of shortening. I always substitute butter for shortening. It's a 1:1 substitution, so easy to make!
To start the cutting I process, I sifted together the flour and brown sugar and cut the butter into chunks. I made sure the butter was nice and soft. This makes it easier, especially when you are using a fork for the cutting in process.
The cutting in process, when using a fork, takes time and patience. Just blending and mixing and blending and mixing…
Until the consistency stays the same. In this case, the mixture was a fine mixture, but it never came together into a dough.
I poured the crust mixture in the 7×11 inch pan…
And pressed it into a crust. It was amazing to me how the crust came together easily and quickly. In about 60 seconds, I was ready for the next step.
Mixing the topping together took another 60 or so seconds.  Eggs, brown sugar, a little flour, vanilla, and of course a ton of shredded coconut!
I spread the topping on the hot crust after baking it for 10 minutes.
I was ready to bake for a second time.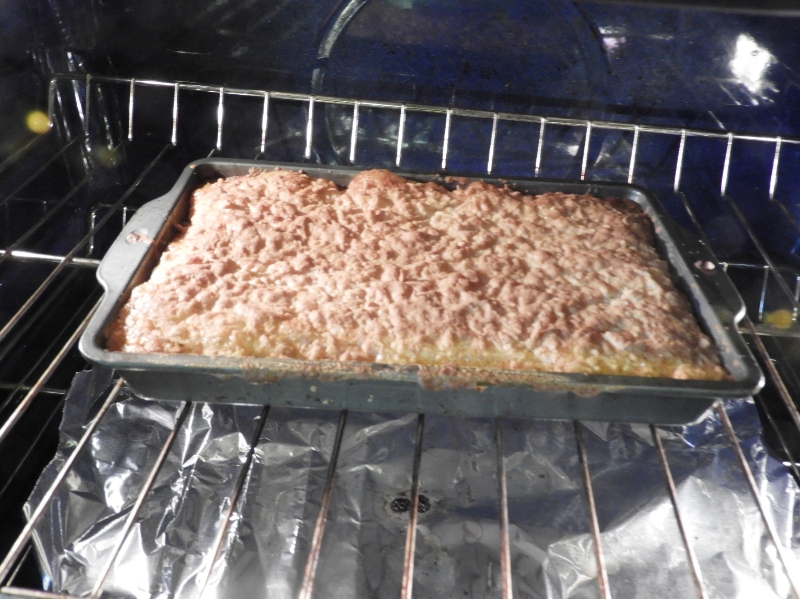 The topping puffed up and formed a hard crispy top while baking.
The topping settled down a bit after cooling.  Okay, the baked cookies aren't the prettiest right out of the oven…
But check them out after cutting into bars and removing from the baking pan!
The 7×11 inch pan seemed to be the perfect size! The bars are nice and thick. The topping is chewy, the crust is firm, the crispy thin top layer just perfect!
What a wonderful bar cookie! Just check out all that texture, all that chewy goodness and that crispy thin layer on top.
Coconut Bars from Cookies by Bess are a top notch bar cookie! If you love coconut, or even if you don't, you are going to love these Coconut Bars.
Try them one, twice, or many many times…you and everyone else will love them!
Enjoy!
XXOO,
Janet
Print
Coconut Bars
Ingredients
Crust
1 cup sifted flour
1/3 cup brown sugar
½ cup shortening
1/8 tsp salt
Topping
2 eggs
1 cup brown sugar
2 Tbs flour
¼ tsp salt
¼ tsp baking soda
1 tsp vanilla
1 ½ cups chopped shredded coconut
Instructions
Crust
Sift together flour, brown sugar, and salt. Ct in shortening. Press mixture into greased 8x8x2 inch pan. Bake at 375 degrees for 10 minutes. Note: best is 7×11 inch pan is used.
Topping
Beat eggs slightly, add sugar. Add sifted flour, soda and salt to eggs. Fold in vanilla and coconut. Spread evenly over hot baked crust. Bake 20 to 25 minutes longer at the same temperature. Cool and cut into squares.
Recipe Yield
Makes about 2 - 3 dozen bar cookies 1x