Cinnamon Nut Tea Cake Bars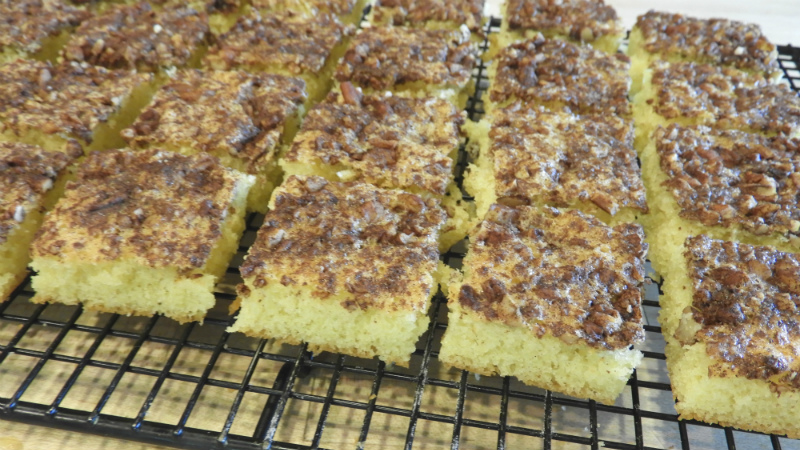 This recipe title is a bit confusing…am I making a tea cakes or tea bars? I was expecting the recipe to have two versions, one resulting in a tea cakes and another tea bars…well, what I got was one recipe and  wonderful Cinnamon Nut Tea Cake Bars!
After making Cinnamon Nut Tea Cake Bars, I decided I should change the title just a bit.  The original Cookies by Bess recipe says, "Cakes or Bars", I just decided to eliminate the "or" to make Cake Bars…which I realized is exactly what was intended!
Cinnamon Nut Tea Cake Bars are little bitty cakes with a sprinkle of cinnamon and nuts on top. Really the best of all cake and cookie worlds! Being a cake, the bar cookies aren't too sweet. They are actually a rich and buttery tasting cake that is light and airy. The cinnamon spice on top is the perfect compliment. And Cinnamon Nut Tea Cakes are the perfect complement for your tea!
I'm rating Cinnamon Nut Tea Cake Bars 2-stars for cookie baking difficulty.  Somewhere between 1 and 2-stars is more accurate, but I'm rounding up just because of the pouring and sprinkling required.
As I pulled my ingredients together, I realized I needed 4 eggs…I don't think I've made too many recipes with 4 eggs.
Mixing the butter, sugar and eggs together wasn't difficult, but the butter didn't completely together.  I hoped the dry ingredients coming next would help!
The flour did help, but I still saw some bits of butter in the mixture.  I tried to mix by hand to help blend them in a bit more.
After mixing the dough together, I realized the mixture was more like a cake batter…hence the "Cake" in the recipe title. The recipe title was starting to make a little more sense…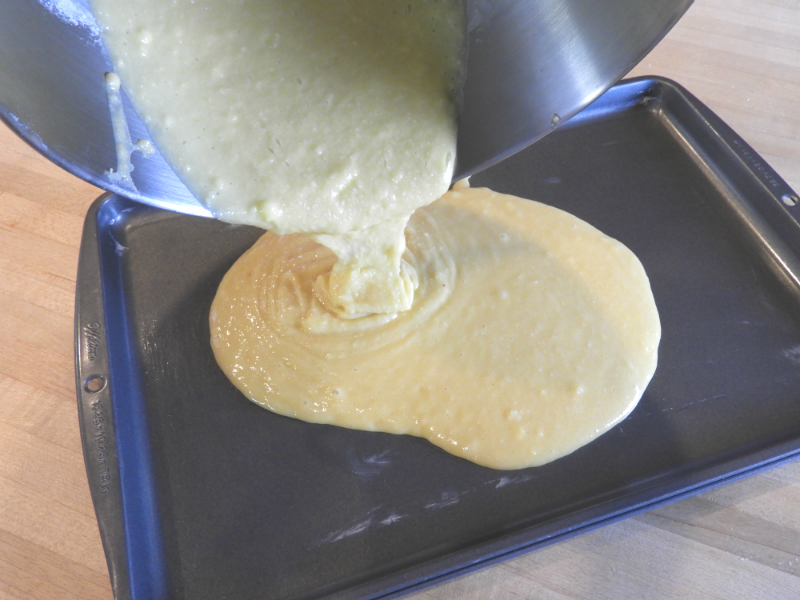 The recipe calls for a "shallow pan about 11×16 inches". I pulled out and measured all my jelly roll pans. I had a 10×15, 12×17, but no 11×16 inch pan. There is a whole teaspoon of baking powder in the batter, so I knew it was going to rise while baking.
Based on the amount of batter, I decided to go with the smaller pan. I crossed my fingers and started pouring the batter.
Almost ready to bake!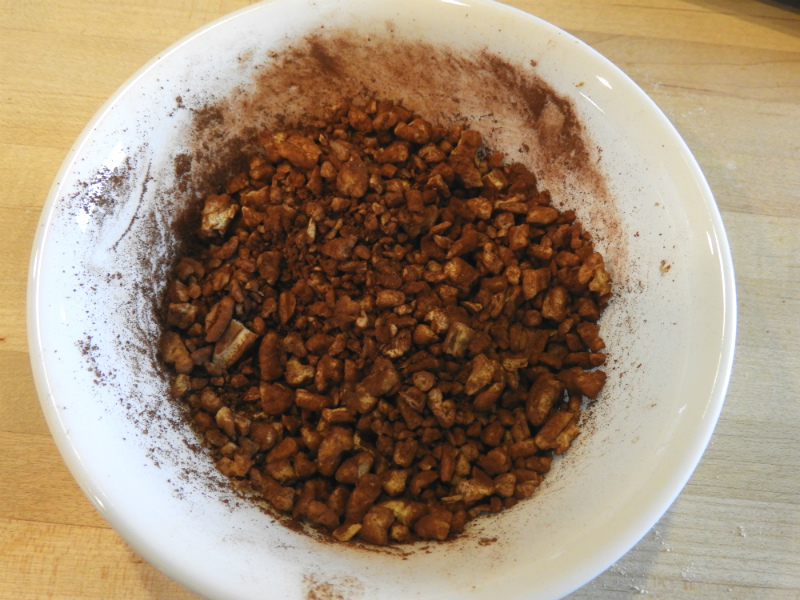 Next, I mixed together the cinnamon and chopped nuts…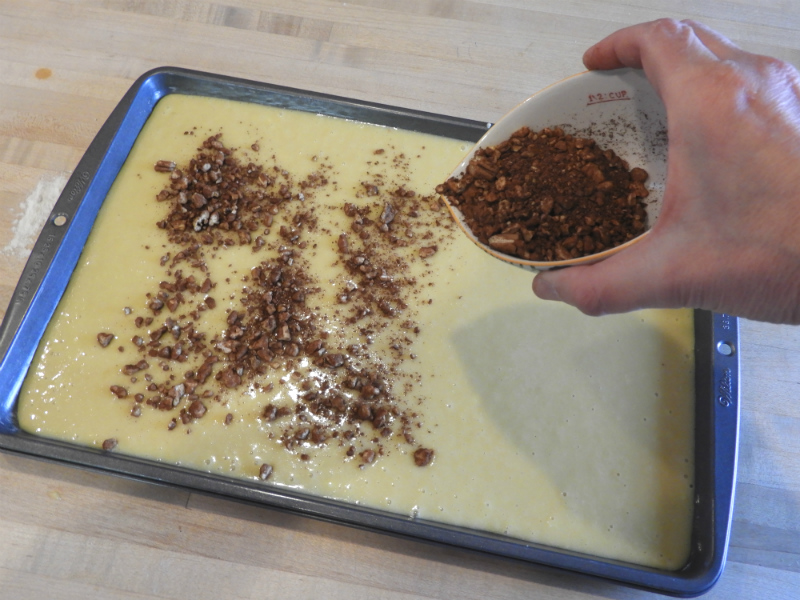 And sprinkled the mixture over the batter. What a pretty picture! I love the rich creamy color of the cake batter with the spicy cinnamon color on top.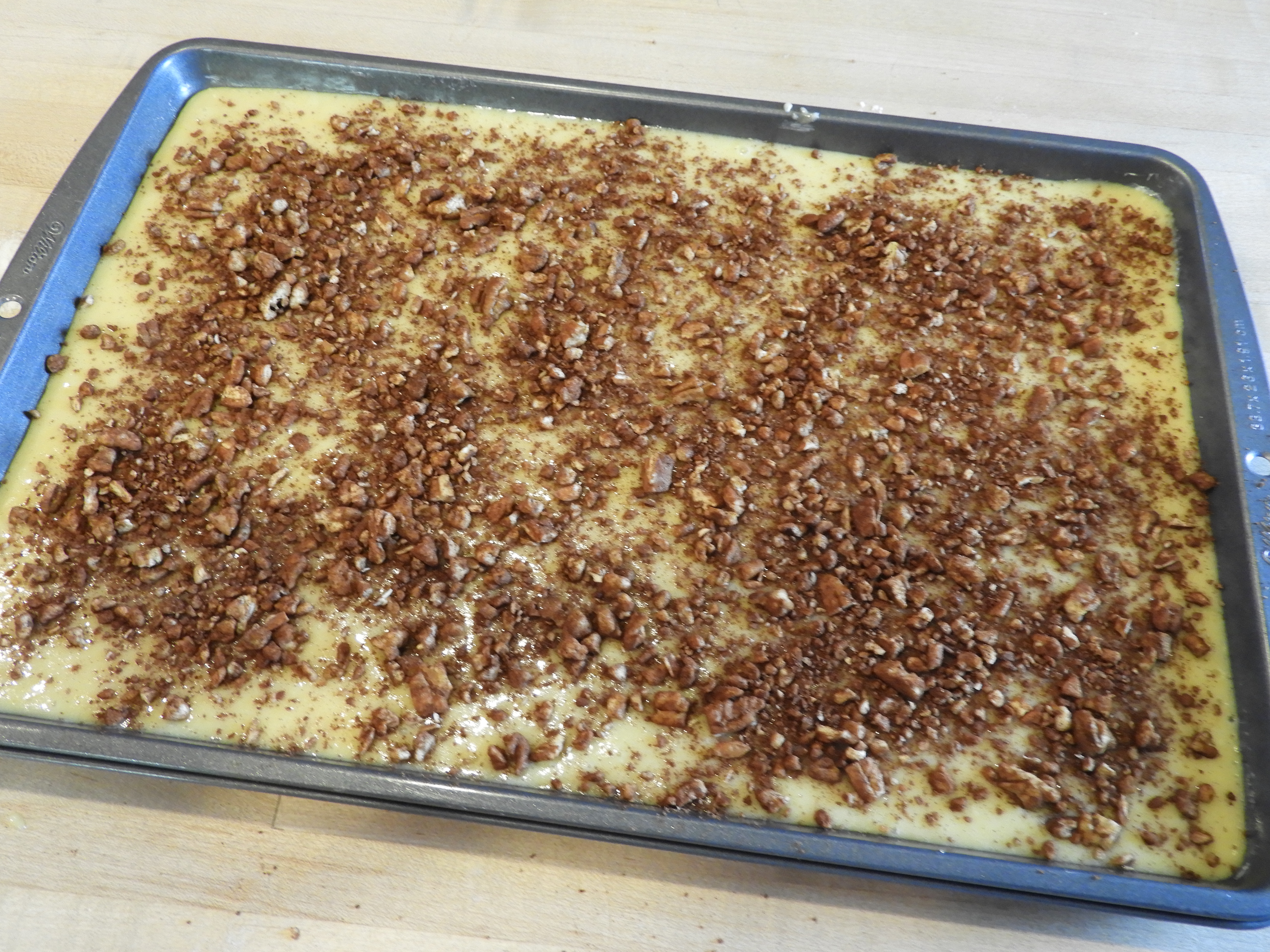 Ready to bake!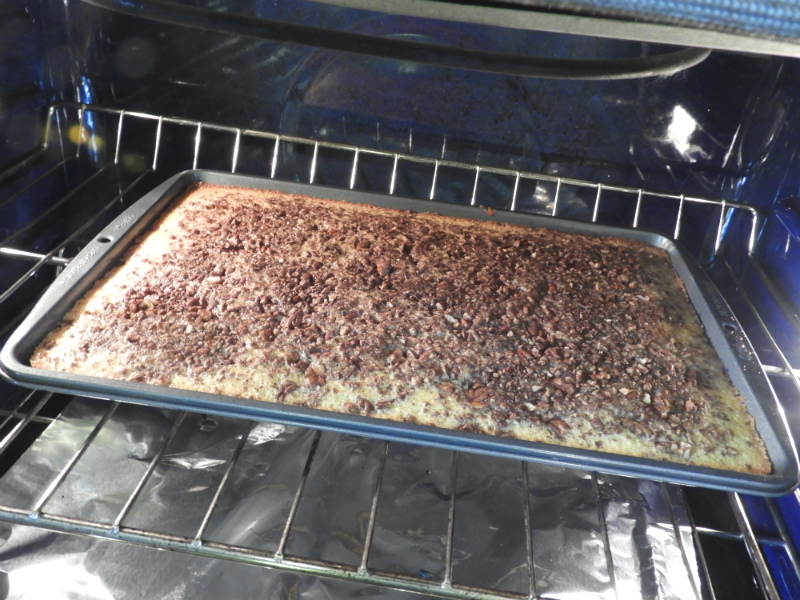 As expected, the batter raised up some while baking. Luckily, it didn't over flow…whew!
The edges of the cake browned within about 20 minutes, so I decided to take them out a few minutes early.
I let the cake cool completely before cutting into bars. The cake was easy to cut and remove from the jelly roll pan. The consistency was a little spongy and a bit dry…exactly what a tea cake should be!
The cinnamon and nuts on top add the perfect flavor and texture!  Aren't they gorgeous!
As I removed the cake bars from the baking pan, I was just amazed at how perfect these cookies look! I could wait to taste one!
The flavors are subtle and wonderful! First, I taste the rich buttery cake, then the spicy and nutty topping. I was looking for my cup of tea before I finished my first bite!
Perfect for tea, coffee or any time. Cinnamon Nut Tea Cake Bars are exactly that! A wonderful cakey, spicy, nutty cake bar cookie that will keep your tea drinking friends coming back for more and more!
XXOO,
Janet
Print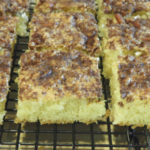 Cinnamon Nut Tea Cake Bars
Ingredients
¾ cup butter or shortening
1 cup sugar
4 eggs
1 tsp vanilla
1 cup sifted flour
1 tsp baking powder
½ tsp salt
2 tsp cinnamon
½ cup chopped nuts
Instructions
Cream butter and sugar until light and fluffy. Add eggs and mix well. Add vanilla and mix. Add sifted dry ingredients and mix thoroughly. Spread in shallow greased pan about 11×16. Sprinkle with mixture of 2 tsp cinnamon and ½ cup chopped nuts. Bake at 375 degrees for about 25 minutes. Cool and cut into squares.
Recipe Yield
Makes about 5 - 6 dozen cookies 1x