One of the things I love best about the Cookies by Bess cookie book, are all the unique cookie recipes! It has been so much fun to make so many cookie recipes I never would have made if I weren't Grandma Bess' granddaughter. Cinnamon Nut Squares is one of those recipes I might have passed over if I were just scanning recipes to decide what to make. I'm so glad I made Cinnamon Nut squares! It's a wonderful bar cookie that will satisfy your spicy, nutty, sweet cravings!
Cinnamon Nut Squares combines all your favorite ingredients like brown sugar, pecans, and cinnamon. The cookie is a not too soft/not too hard dense bar cookie full of brown sugar and cinnamon flavors. The pecans on top add the right amount of crunch and rich nutty flavor. All partner together for make a wonderful bar cookie you will think about and crave long after they are gone.
I'm rating Cinnamon Nut Squares 1-stars for cookie baking difficulty. The recipe is a basic bar cookie recipe that is easy and quick to make. Nothing difficult and no steps that take additional time or effort.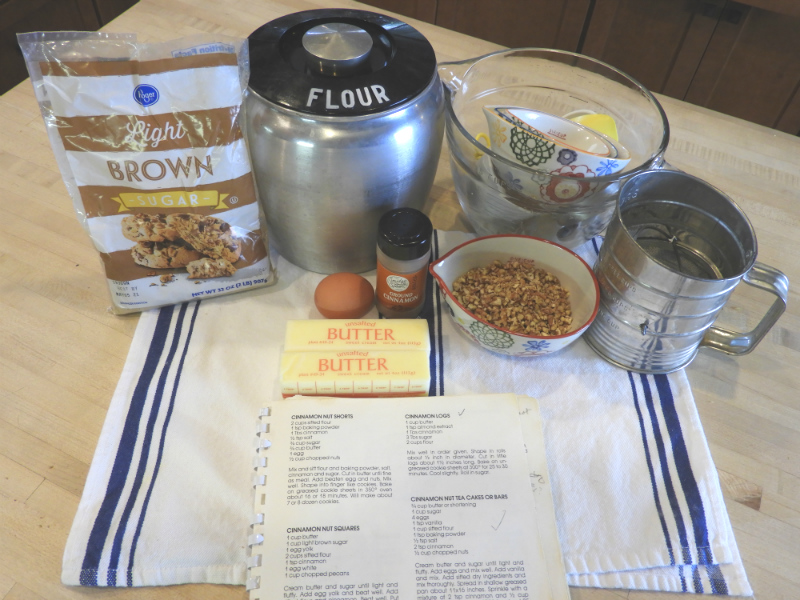 All ingredients were in my baking pantry, easy to pull together and get started blending the butter and browns sugar.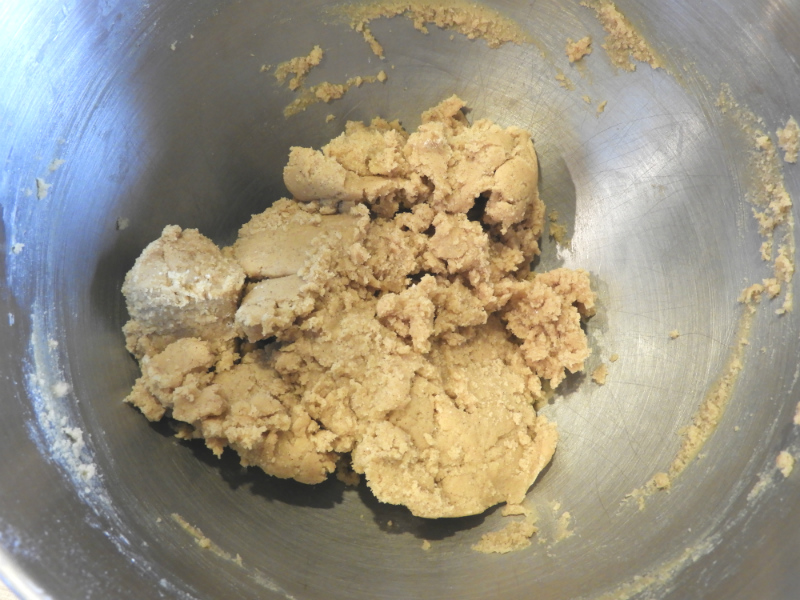 After adding the egg yolk, sifted flour and cinnamon, the dough mixed together nicely.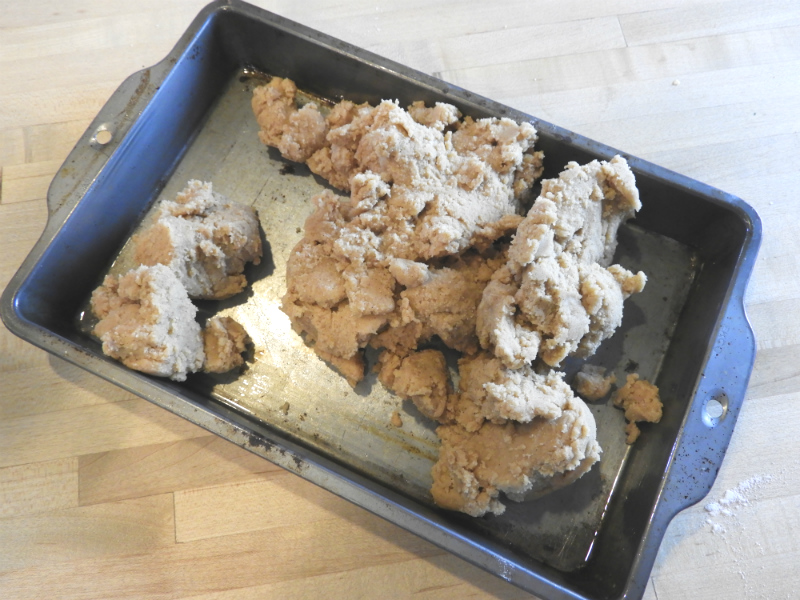 The dough was a good consistency for spreading in the greased baking pan. This is when I could tell the bar cookies were going to be a dense or solid cookie.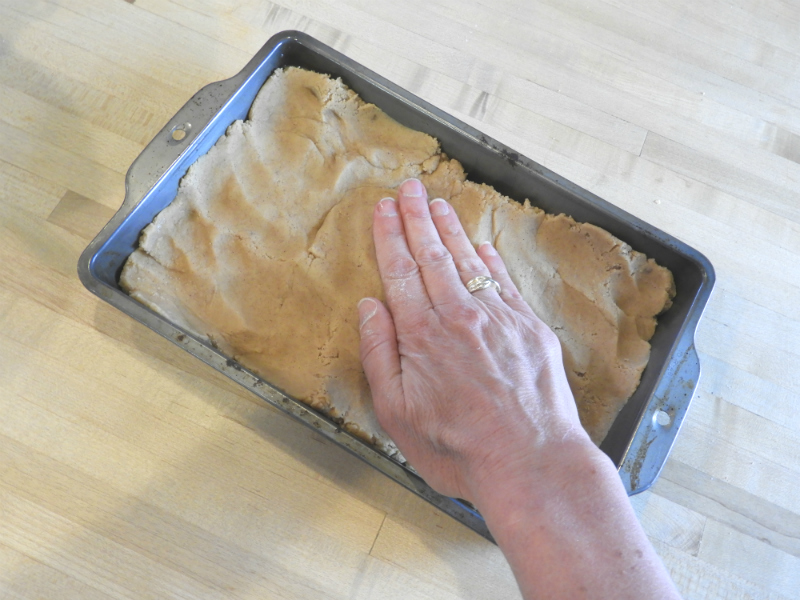 Packing the dough in the 7 1/2 x 11 1/2 baking pan, I could tell the end results cookies were going to be thick.  The cookies would be more crisp if the recipe called for a 13 x 9 inch pan or even a jelly roll pan.  I'm glad the recipe calls for a smaller pan!  I think this adds to the uniqueness of these cookies.  I love the dense and thick result!
Next, I used my fork to slightly beat the egg white…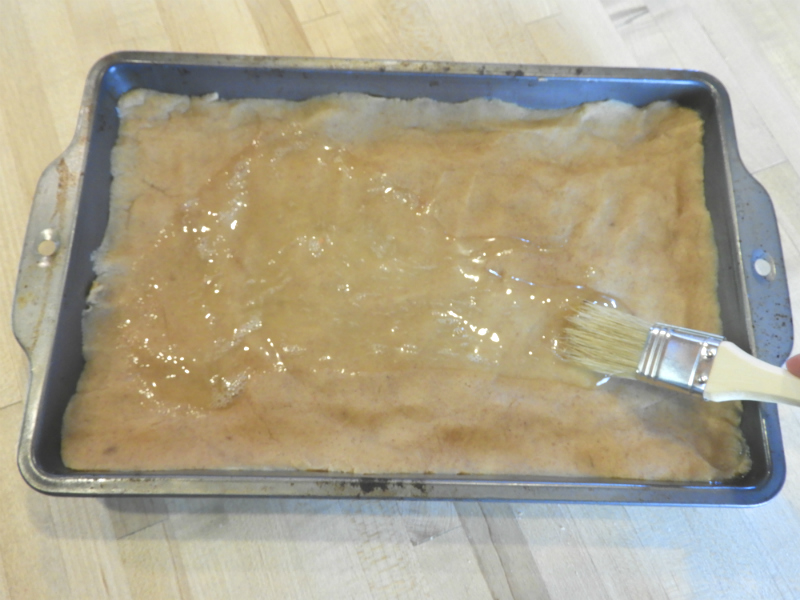 Then I spread the egg white on top of the cookie.
Finally, I sprinkled the chopped pecans…
And I was ready to bake!
The bars bake in a slow oven for 45 – 50 minutes. This made sense to me based on the dense consistency of the dough. The bars were browned nicely around the edges when I took them out of the oven.
Just look at these solid bar cookies! The cookies are a bit crunchy around the edges, but are nice and soft when you bite into the cookie.  The pecans on top not only add great flavor and texture, they certainly fancy the cookies up a bit!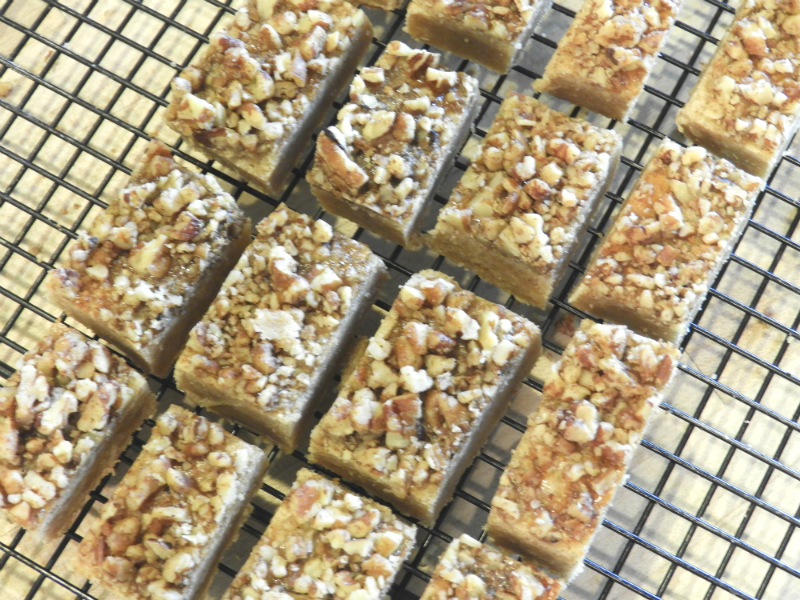 Cinnamon Nut Squares are a really nice bar cookie that hard to compare to other cookies. They aren't like a brownie, they aren't too crunchy, they aren't too soft, they are dense but not hard…they are just a wonderfully unique bar cookie that is full of cinnamony, nutty, and brown sugary flavors.
Another Cookies by Bess cookie that you are going to LOVE!
I hope you try these unique Cinnamon Nut Squares!
Enjoy!
XXOO,
Janet
Print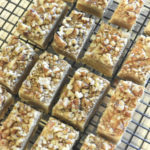 Cinnamon Nut Squares
Ingredients
1 cup butter
2 cut light brown sugar
1 egg yolk
2 cups sifted flour
1 tsp cinnamon
1 egg white
1 cup chopped pecans
Instructions
Cream butter and sugar until light and fluffy. Add egg yolk and beat well. Add shifted flour and cinnamon. Beat well. Put into greased 7 ½ x 11 ½ x 1 ½ inch pan. Beat egg white slightly with fork. Spread over dough in pan and cover with chopped nuts. Bake at 300 degrees about 45 – 50 minutes. Cut into squares while hot. Can dust with powdered sugar if desired.
Recipe Yield
Makes about 2 - 3 dozen cookies 1x