Talk about a diverse cookie! Cherry Choco Surprises have so many options, even the recipe spells a couple of them out! To be honest, reading the recipe was a little confusing…you would think Cherry Choco Surprises have cherries in them…and they do, but not in the main recipe, the cherries show up in the recipe addendum.
The main recipe tells us to shape the dough into finger-like cookies, but no mention of cherries. The cookie addendum, called Cherry Cookies, tells us to shape the dough into balls around a cherry. Interesting, a little confusing, but in the end whether the cookies have cherries or not, I love them! I love the oatmeal in the dough, the chocolate all versions are dipped in, the nuts I dipped (some of) them in, and of course the cherry I hid in some…I love all the options, all the flavors…I love these cookies!
Cherry Choco Surprises are rated 2-stars for cookie baking difficulty. All the steps involved in the different versions add a bit of difficulty, but to be honest, not really that much. In usual Cookies by Bess fashion, Cherry Choco Surprises are a fancy cookie that isn't really hard to make, all the steps just add a bit of time. The end result cookies are ALWAYS worth it!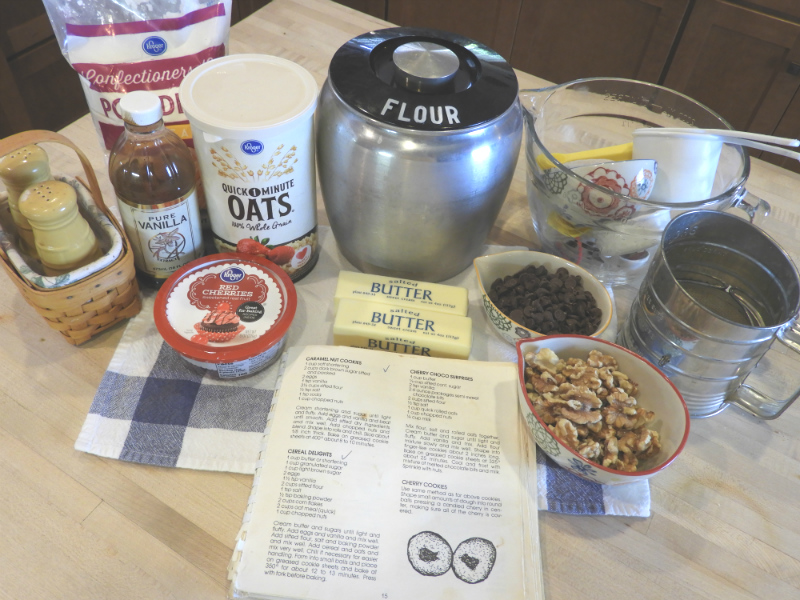 One of the reasons I decided to make Cherry Choco Surprises is because I had some candied cherries in my baking pantry. They aren't available in my grocery store all year round, generally just around the holidays. So January was the perfect time for me to make these cookies!
Mixing the dough together was quick and easy! Once mixed, the dough seemed a bit dry.  It was actually perfect for shaping the fingers and balls!
When I originally decided to make Cherry Choco Surprises, I just assumed I would be making cherry filled cookies. But when I read the recipe again, I realized I was going to make a couple different cookies.
Shaping the finger like cookies was easy enough, so I started with them. I wasn't sure how the shaping the dough around a cherry was going to work…it ended up being easier than I though because the dough was so perfect!
For the cherries…the recipe says to "press a candied cherry in the center". It seemed a whole cherry seemed to big, so I decided to cut the cherries in half.
Half cherries worked perfectly! I started by taking about a ½ to 1 teaspoon of dough, mashing it out a bit, then placing the cherry in the center.
Again, the dough was the perfect consistency for shaping around the cherry.
Finally, I rolled the dough so it was a nice smooth ball.
I decided to alternate fingers and balls on the cookie sheets.
The cookies didn't expand much while baking, so I was able to fill the cookie sheets up!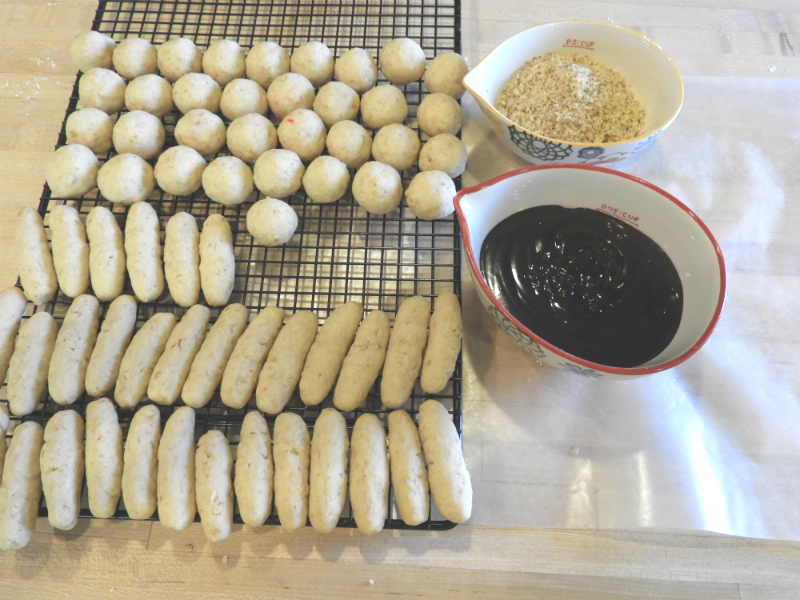 When all the cookies were baked and cooling, I melted the chocolate bits and milk. I was next ready to begin dipping.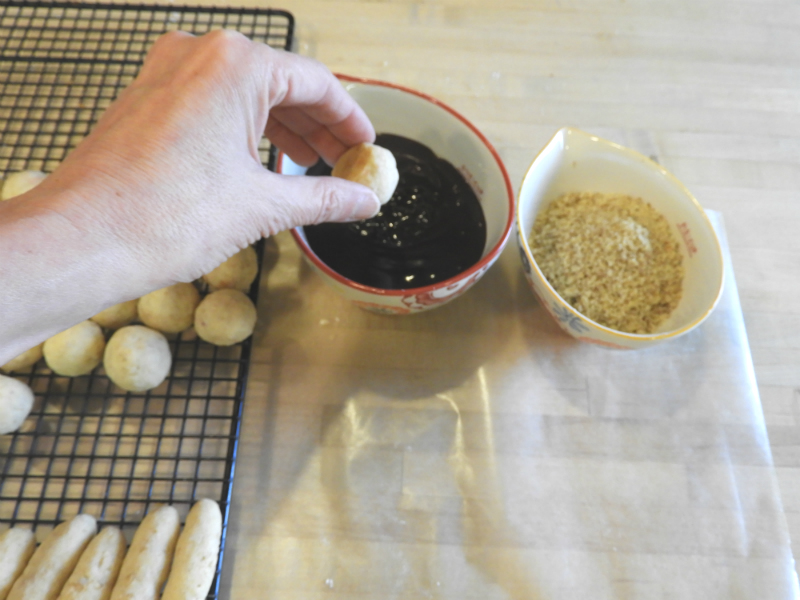 The recipe actually says to frost the cookies with the melted chocolate and milk and then sprinkle with nuts. It seemed much easier to just dip the cookies in the chocolate…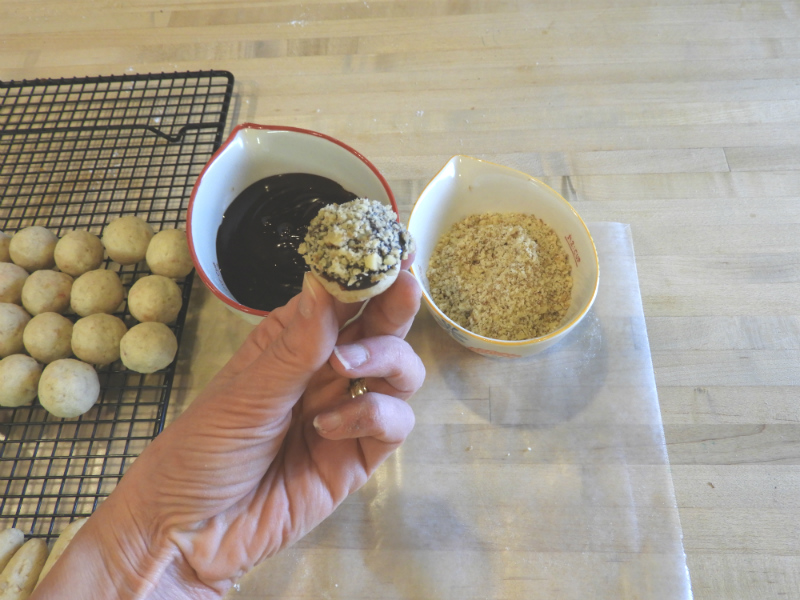 …and then dip in nuts.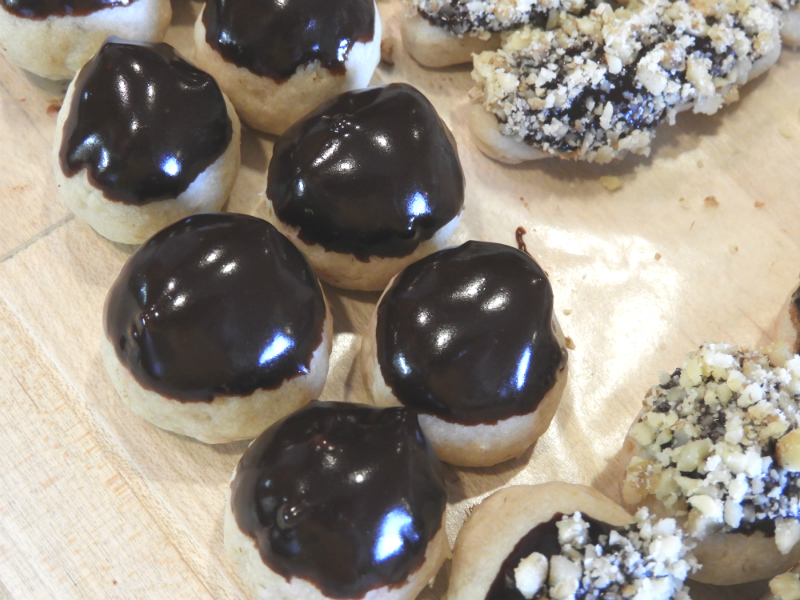 As I was dipping and dipping, realized the Cherry Cookies dipped in chocolate looked like yummy chocolate covered cherries…I decided to leave some plain (without nuts). Don't they look awesome?!?!?
Just look at all these wonderful cookie options! My only regret is that you don't know there is actually a cherry in the Cherry Cookie…but what a wonderful Cherry Choco Surprise when you bite into them!
I think Cherry Choco Surprises are such a wonderful and fancy cookie! I just had to find a fancy plate to serve them on ?
You have to try Cherry Choco Surprises! Fancy, fun, and filled with a wonderful surprise!
XXOO,
Janet
Print
Cherry Choco Surprises
Ingredients
1 cup butter
½ cup confectioner's sugar
2 tsp vanilla
2 – 6 ounce packages semi-sweet chocolate bits
2 cups sifted flour
½ tsp salt
1 cup quick rolled oats
1 cup chopped nuts
¼ cup milk
Instructions
Mix flour, salt, and rolled oats together. Cream butter and sugar until light and fluffy. Add vanilla and mix. Add flour mixture slowly and mix well. Shape into finger-like cookies about 2 inches long. Bake on greased cookie sheets at 325 degrees about 25 minutes. Cool and frost with mixture of melted chocolate bits and milk. Sprinkle with nuts.
Notes
Cherry Cookies
Use same method as for above cookies. Shape small amounts of dough into round balls, pressing a candied cherry in center, making sure all of the cherry is covered.
Recipe Yield
6 - 7 dozen cookies 1x
Cookie Category:  Molded or Shaped